You can't miss The Henry when you drive by it on Camelback Road. The office building turned restaurant and Fox Restaurant Concepts headquarters is the home to the newest Arcadia/Central Phoenix neighborhood restaurant. The Henry is an American brasserie that serves lunch and dinner during the week and breakfast, lunch and dinner on the weekends. You can also stop by in the early morning to pick up some breakfast, coffee, pastries, and fresh pressed juices from the group's Juby True brand.
My husband and I stopped into The Henry on an early Sunday evening and found the placed packed as if it were a Saturday night. We were seated inside with a view of Camelback Mountain. When perusing the menu there were several creative non-alcoholic drinks listed like the Chai Lime Ginger Beer and Orange Hibiscus Cooler. There was also an inventive cocktail menu. Looking at the full bar and the lounge seating at The Henry, I made note that it would be the perfect location for a get together and some libations.
Since we were starving, we ordered the Swedish Meatballs to start. Made with chicken, huckleberries, dill and Greek yogurt I had to try them since I am sucker for anything with huckleberries in it.
Moving on to dinner I went healthy and ordered the the Thai Peanut Black Cod. My husband ordered the Korean Style Skirt Steak at the recommendation of our waitress.
When reading reviews of The Henry almost every one raved about the Bread Pudding. I'm not one to pass on dessert so we completed our meal with an order of the Bread Pudding. Yum!
The Henry is located at 4455 E. Camelback Road in Phoenix.
Some unique offerings and attributes of The Henry include: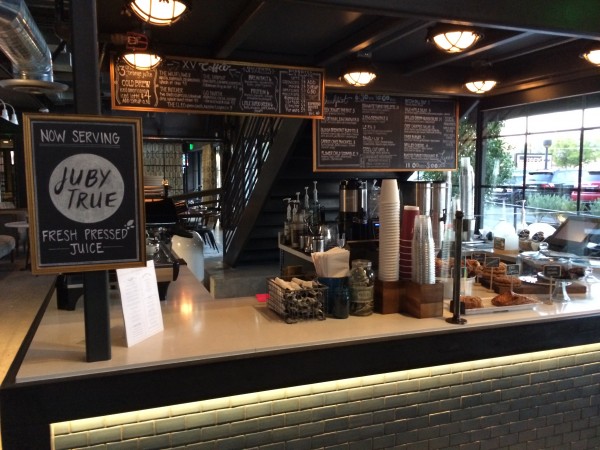 The XV Coffee Bar and Larder
Open daily at 6:30 a.m. serving breakfast and lunch, coffee, fresh baked goods and featuring a pickup window for grab-and-go and takeout orders. This caffeination station will serve a proprietary blend roasted especially for The Henry.
The Henry Test Kitchen
An additional exhibition kitchen to be used  for cooking classes, wine-pairing parties, private events, charity functions and serves as the test kitchen for all of Fox Restaurant Concepts' chefs.
The Henry Lounge
Featuring large community tables, couches and comfortable seating, The Henry Lounge offers diners a place to work and meet, or simply to relax and enjoy free Wi-Fi and a cup of Joe.
The Henry Bar & Cocktail Program
The Henry's cocktail program combines custom craft cocktails with old-time favorites. A dual-sided beverage cart serves customizable bloody Marys and Bubblinis — all prepared tableside. The House Browns Menu Guests features highly sought after bourbons, whiskeys, ryes and scotches.