Sometimes, a girl just needs a day to pamper herself. I recently had one of those days. Ahhhhhhhh!
I whole-heartedly live by the philosophy of taking time to slow down when life gets a bit too crazy.  One of my favorite places to slow down is the Spa at Camelback Inn. I've been multiple times, and I always leave relaxed and refreshed. I've had spa days with girlfriends and on my own – either way it's a little slice of tranquilty. This particular day I treated myself to a swedish massage and a manicure (ladies, the manicure lasted a week!), both of which put me in the perfect state of mind. I spent the rest of the day lounging by the pool and reading, just indulging in a little "me time." In between lounging and reading, I ordered food from Sprouts, the Spa's restaurant, which was delivered directly to my lounge chair. Can you say "lazy"? It's definitely the way to lunch after a morning of pampering. I enjoyed the Pomegranate Salad and Dungeness Crab Cake – yum and yum!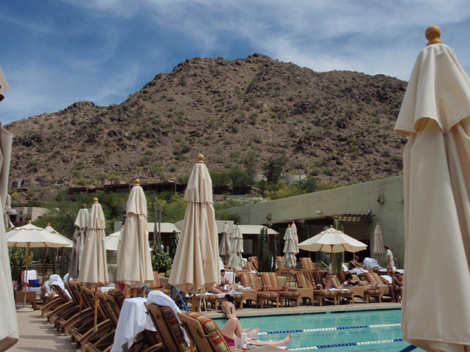 I was sad for my reign as a lady of leisure to end; but alas, I knew I would eventually have to return to the real world. Can't wait to do it again!