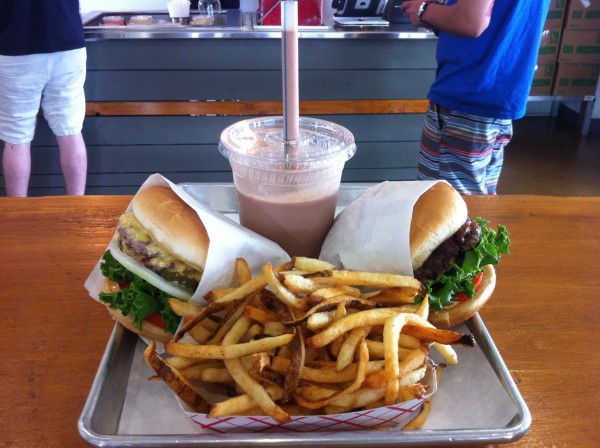 I'm pretty sure if I had to choose a last meal it would be a cheeseburger with fries and a chocolate milkshake. This, coming from someone who refuses to eat at any type of fast food establishment. I admit it, I am a picky eater. However, I have found the perfect place that meets my strict food rules of a meal being made of real food, locally sourced and that tastes delicious at The Stand.
The Stand is locally owned and takes a stand to provide their customers with good food, made from, "locally grown, never frozen, hormone free and fresh and natural as possible" ingredients. You'll find that the menu at The Stand is pretty simple with burgers, tacos, fries, chips and salsa, chips and guacamole, Mexican street corn (seasonal) and a small variety of milkshakes.
I ordered The Standard with Cheese and my husband ordered The Standard. We got an order of fries and a chocolate milkshake to share. Delicious.
What I really liked about The Stand, aside from their commitment to good food, was that I did not go into a food coma later that afternoon from such an indulgent meal. I chalk it up to their use of fresh ingredients and will use that as an excuse to go back again and again to The Stand.
The Stand is located at 3538 E. Indian School Road in Phoenix.