The Velo aims to carry a wide-variety of bikes, from cruisers to mountain bikes, and its Bicycle Nomad Cafe serves Arizona-based coffee to help riders perk up.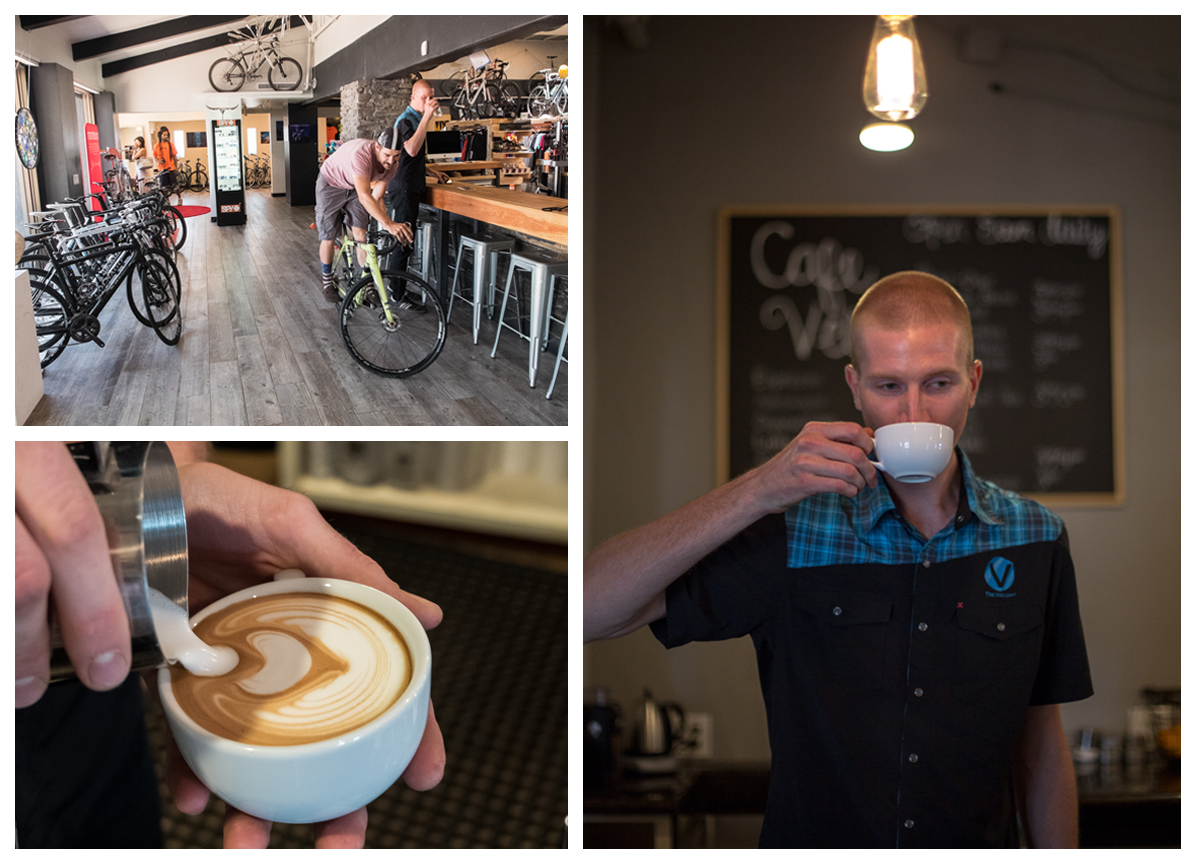 Photos by Mark Lipczynski
Update: Bicycle Nomad Cafe now operates inside The Velo, and serves Arizona-based Press Coffee Roasters and Maya Tea Company in addition to healthy snacks and other beverages. 
Coffee and cycling. Whichever comes first in a rider's day may not matter so much as the nature of the relationship between the two: That one appears to necessitate the other, and that if rider Y logged X miles this morning, they likely either a) drank coffee before, b) drank coffee afterwards, or c) both.
"There are very few sports as social as cycling," says Jason Boles, owner of The Velo, a new, barely six-month-old bike and coffee shop alloy in the arts district of downtown Phoenix. "There wasn't a place like it and we wanted to make our shop a stopping point [where] you can just hang out or get your bike serviced—and sip on a great coffee while you do it."
Speaking of great coffee, The Velo offers Press Coffee Roasters, which roasts some of the highest-quality beans in the Valley. Rest assured, the cold-brewed coffee goes down smooth. The cappuccino you'll sip on is no slouch either, crafted by seasoned Valley cyclist, mechanic and head barista Scott Hodnefield.
"Cyclists drink a lot of coffee," says Hodnefield, who, depending on the morning, could be found either fixing bikes or fueling bike-folk by pouring latte art or shaking up something called a "shakerato."
The espresso drink is made with simple syrup and ice combined in a martini shaker, producing a chilled drink with a kick, a little sweetness and, like a good beer, a nice frothy head. It's definitely an eye catcher for someone who might've just expected a bicycle tune-up from the new neighborhood bike shop.
With proximity to ASU's downtown Phoenix campus, The Velo aims to carry a wide-variety of bikes, from cruisers to mountain bikes, but certainly caters to the high-end and performance market—riders who actively compete or operate at near-competition levels, with an extensive inventory for women cyclists.
"Both [cycling and coffee] have been historically been community-based." Hodnefield says. "Side by side, that's advantageous for both."
The Velo and Bicycle Nomad Café
828 N. 2nd Street, Phoenix
602-759-8169