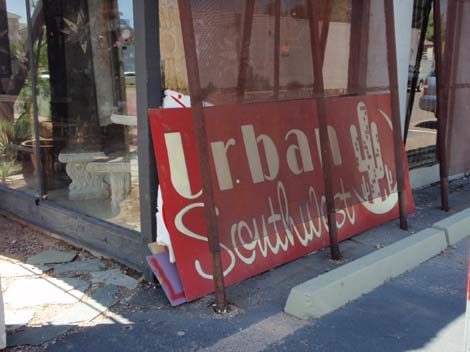 I just discovered a great new shopping spot for home furnishings and decor – Urban Southwest at the corner of Camelback and 10th Street. What a fun, new find! Part of the store is actually an old house so there's lots of little nooks and crannies to explore. My favorite room is filled with vintage iron pieces of all shapes and sizes. They have a fantastic collection of old wood doors, too. There's also loads of accessories for both the home and garden including a variety of  candle holders. And if you love rustic wood furniture like I do, you really need to stop by and check 'em out. Oh, I almost forgot, they do custom pieces as well.
This store isn't just about selling products, it's about selling products that are friendly to our environment. Many of their pieces are made from recycled materials, recyclable materials and renewable materials. And much of the wood furniture is made from used lumber. So the next time you want a little something new (or old) to freshen up your home, think Southwest Urban and think green!
It's plain and simple…Urban Southwest offers the perfect pieces to fit my eclectic style. What's your style? For a sneak peek of what's "in store" for you, visit them at www.urbansouthwest.com.