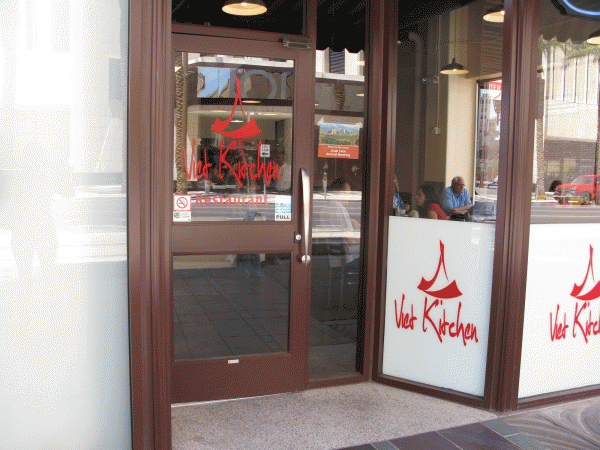 I'm always happy when someone from the office is so excited about a place that they want to share it on our blog. Kim is our Marketing Programs Manager, and here's her take on the Viet Kitchen Restaurant:
I was excited when I found out my favorite Vietnamese restaurant from North Phoenix opened up a second location in Downtown Phoenix (UPDATE: The downtown location has closed). Growing up, my mom cooked pretty much everything Viet Kitchen has on their menu, so I have a tough time deciding what to get every time I am there.
I usually end up leaving completely stuffed because I feel the need to order a couple of items just to get my fill until the next visit. A must have each time is the Vietnamese soup Pho, and my favorite is the Prime Pho (PHÒ TÁI).  On this visit, I decided to get the Vietnamese pancake called Danang Sunrise (BÁNH XÉO) for an appetizer. My friend decided to venture away from the soup and tried their Viet Style Filet.  Next time I think I will get the Spring Rolls and a Banh Mi sandwich.
See more photos on Flickr.
Downtown Phoenix – CLOSED
114 W. Adams St. (NW corner of 1st Ave. and Adams)
602-262-5535
North Phoenix
20235 N. Cave Creek Rd., #108 (NE corner of N. Cave Creek & E. Beardsley Rd.)
602-788-5535