*UPDATE* Vitamin T has closed.
CityScape in downtown Phoenix seems to be celebrating another grand opening of another business, shop or restaurant every week. Thursday, Aaron May's much-anticipated eatery, Vitamin T, opened to a crowd.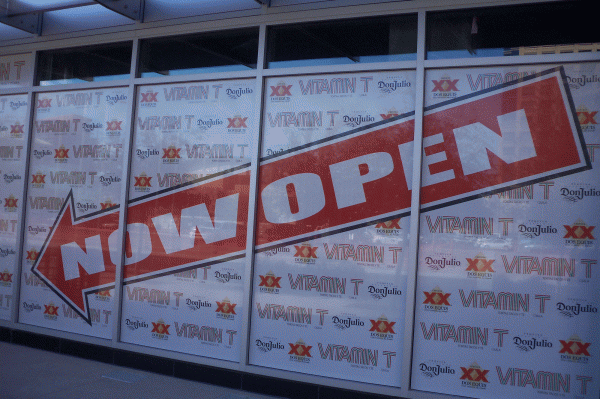 Chef Aaron May is known for his other things-we-love-about-town, Over Easy, The Lodge,  Iruña, 18 Degrees, Mabel's on Main, (and previously Sol y Sambra and Autostrada). But Vitamin T is totally different from all these; it refers to "Vitamina T" in Mexico, referring to the four Ts: tacos, tamales, tortas, tequila. All of which, and more, are available at the new digs.
It's designed to be reminiscent of Mexican street food: you order at a counter (albeit indoors), your food is prepared in front of you, and there aren't any seats – just barrels on-end outside to stand around (for now, anyway). The flow actually works out pretty well, as they've been busy in their opening days. It's also perfect for grabbing a bite pre- or post-game at US Airways or Chase Field, both just a block or two away from Vitamin T's location on the east side of CityScape.
When you go to dig into your food, it's immediately obvious that this is not the a run-of-the-mill Mexican food chain. The tacos, tortas and tamales all have a fresh mix of cabbage, green onion, cilantro and lime juice, and usually more (top it with your own fresh salsa from the salsa bar too). The barbacoa tacos are incredibly tasty, due to the coffee and chili de arbol-rubbed beef brisket, but the pibil with slow cooked pork shoulder and the free range chicken are also winners.
If you're on the hungrier side, go for the tortas. The sandwiches are huge (one customer exclaimed, "Ohmygosh this is so heavy in the bag!"), and will keep you full, if not readying you for a siesta. You can also try an Aaron May favorite – the Sonoran Dog, which is a bacon-wrapped all beef hot dog in a bolillo roll with the [Mexican] fixin's and black bean spread. No, it's not one of the 'T's but it's a signature, nonetheless. You can't really go wrong with anything here.
Vitamin T (at CityScape)
1 East Washington St.
Suite 175
Phoenix, 85004
602.688.8168