Looking for things to do both this year and on the other side of 2017? We've got details below on top weekend events in Phoenix.
December 31
Clemson University and Ohio State University take the field at University of Phoenix Stadium for a New Year's Eve showdown, but before you head through the gates on game day, catch the action at official pre-game parties. Start the day at the traditional NBAZ Fiesta Bowl Parade, where colorful floats, balloons and local celebrities make their away along the two-mile Central Phoenix route. 
Entry to the afternoon's Fiesta Bowl Fan Fest is included with every ticket, and includes team pep rallies, spirited performances from bands and cheerleaders and interactive games. And for the pro tailgaters, the APS Fiesta Bowl Stadium Club Pregame Party is packing big screen TVs, an all-you-can-eat buffet and drink tickets into its fan experience for an additional cost. 
Parade: N Central Ave and W Montebello Ave, Phoenix 85012
Fan Fest and Stadium Club Pregame Party: University of Phoenix Stadium - Great Lawn, 1 Cardinals Drive, Glendale 85305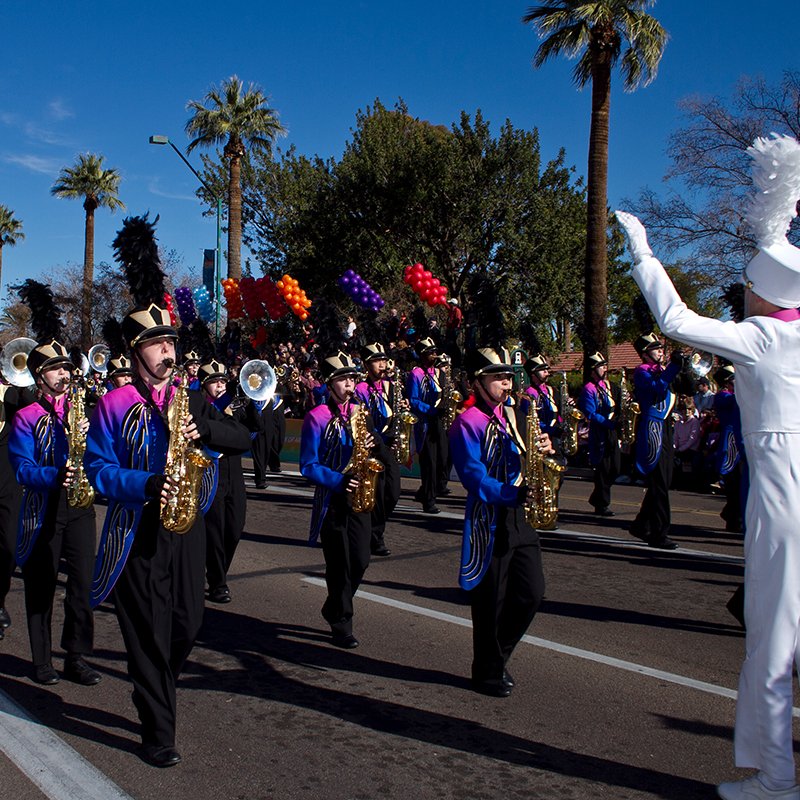 NBAZ Fiesta Bowl Parade. Photo via Twitter
December 31
Where do you see yourself ringing in 2017: Gatsby-style, with 1920s inspired cocktails on a third-floor rooftop lounge overlooking downtown? Maybe a two-stage musical block party, or enjoying fireworks with champagne and an LED ball drop? Our New Year's Eve blog has the details and lots more ideas (including some early family-friendly fun at the Phoenix Zoo, too). 
Snow Week at the Arizona Science Center
Through January 1
Snow and science collide for wintry fun at the Arizona Science Center. Included with general admission is the chance to play in 60 tons of snow piled outside, plus daily demonstrations, interactive science experiments and crafts for the family.
600 E. Washington St., Phoenix 85004
(602) 716-2000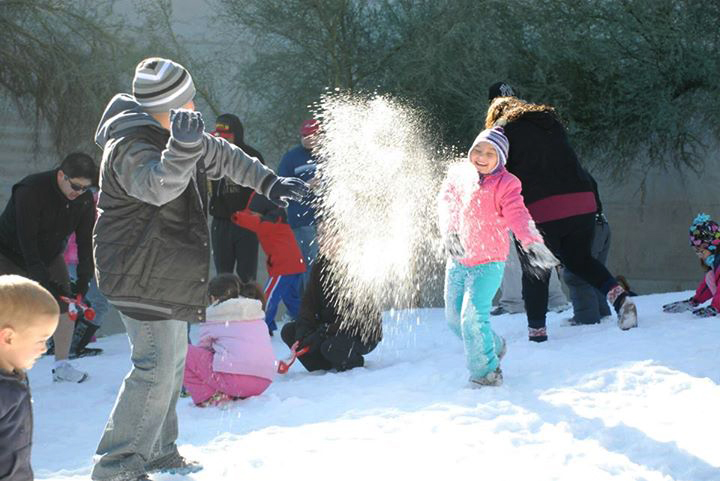 December 30-31
If you haven't seen the Desert Botanical Garden's signature holiday event yet (or if you're hoping to experience it again), this Friday and Saturday are your last chance. As of this posting, tickets still remain for evening admission to stroll beautiful garden paths lined with 8,000 hand-lit luminarias bags, sparkling trees and performance groups including mariachi bands, flamenco dancers, native flute music, a stargazing station and more festive entertainment. 
1201 N. Galvin Parkway, Phoenix 85008
(480) 941-1225
Nature Connects: Art with LEGO Bricks
Through January 2
Explore the paths of the Phoenix Zoo, and you'll find a few animals that are a bit different than the others. The installations in the Nature Connects exhibit are made from millions of LEGO pieces and artfully depict larger-than-life mammals, insects, birds and more critters. See them before they're gone next Monday. 
455 N. Galvin Parkway, Phoenix 85008
(602) 286-3800

Nature Connects at the Phoenix Zoo. Photo via Facebook