Enjoy this beautiful spring forecast with our top things to do in Phoenix this weekend: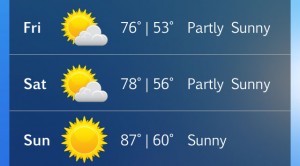 Enjoy the great outdoors
78 degrees for the high on May 9? We'll take it! We all know the kind of weather headed our way in the coming weeks and months, so let's get out there and enjoy this spring weather while we can.
Need some tips on where to go? Check out our blog series with the guides from Arizona Outback Adventures. They're chock full of great recommendations and insider tips.
Schnepf Farms' Peach Festival: May 9-10, 16-17
It's all things peachy at this annual festival at the bucolic Schnepf Farms. In addition to myriad peach cuisine, this family-friendly fest includes hay rides through the orchards, live music, carousel rides and more.
Artopia and Big Brain Awards: May 9
Join New Times at downtown's Monarch Theatre this Saturday for their annual celebration of the city's talented artists. Mix and mingle with fellow art lovers while taking in the large collection of art curated for this showcase.
Mother's Day Brunch: May 10
We don't need to remind you Mother's Day is this Sunday because you've already made your plans and secured flowers, right? Well, just in case you haven't, check the link above for local restaurants serving up special Mother's Day brunches and lunches.
Diamondbacks v. Padres: May 7-10
The DBacks take on division rival Padres this weekend, and Friday night's game will be topped off with a fireworks show in the skies above Chase Field. Be sure to check out the new Food Truck Alley just outside the west gates, and the lineup of craft beers on tap at the new The Draft Room.