Fans of food, beer, and art, clear your schedules. You're going to like what you see in our top things to do this weekend in Phoenix:
Final weekend of the Antonio Berni exhibition at Phoenix Art Museum: Through September 21
This weekend is your last chance to see the fantastic Antonio Berni exhibition, Juanito and Ramona. The exhibit spans nearly three decades of work and chronicles the tales of the eponymous fictional characters. The highlights of the exhibit are the assemblages, which Berni created with trash, machine parts, oil cans, and other discards. Check out our sneak peek of the show before you go.
Arizona Restaurant Week: September 19-28
"Where are you going for Restaurant Week?" If you're at all into the Phoenix food scene, that's a question you're likely to hear over the next 10+ days. With a whopping 168 (and counting) restaurants participating this fall, that question has become all the tougher to answer.
For those not familiar with Arizona Restaurant Week (which also happens each spring), each participating restaurant offers either a $33 or $44 three-course prix fixe menu that showcases their cuisine. That price is often a substantial saving over the normal combined cost of the three courses. Some places even include a drink in the money-saving deal. So whether you're looking to revisit an old favorite or try a new spot, make sure to take advantage of the deal somewhere this week.
Downtown Chandler Art Walk: September 19
Art fans, head to downtown Chandler this Friday night for their monthly art walk. More than 40 artists will have shop set up while live music keep the crowds entertained. Check out these downtown Chandler restaurants if you're looking for dinner and a drink.
Junk in the Trunk Vintage Market: September 20
Looking to add something to your abode that's a little more unique than Ikea's mass-produced goods? Rise and shine Saturday and head to WestWorld of Scottsdale for the Junk in the Trunk Vintage Market. Held a few times throughout the year, this popular event allows patrons to peruse the goods —such as one-of-a-kind furniture, home furnishings, clothes and more— of more than 100 vendors hand-picked by the event's organizers. It's $10 to get early-bird entrance at 8 a.m. and $5 to head in after 10 a.m. We say the earlier the better, as the selection of unique items will dwindle throughout the day.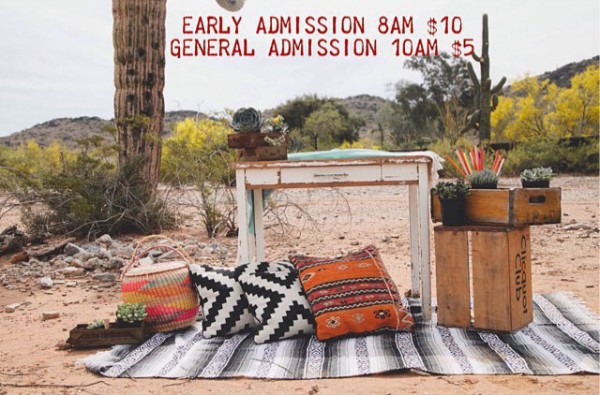 Downtown Phoenix Urban Ale Trail: September 20
Here's a trail even non-hikers will enjoy. Spend the afternoon sampling craft beers while exploring some of downtown's (and a few of uptown's) best bars and restaurants. The trail includes spots such as Angels Trumpet Ale House, Carly's Bistro, Phoenix Public Market Cafe, and The Arrogant Butcher, where guests can sample craft beers for $2-$3 each and get a snack to go with it. Be one of the first 300 to stop by the trail's base camp at District American Kitchen and Wine Bar and you'll be taking home a commemorative growler.