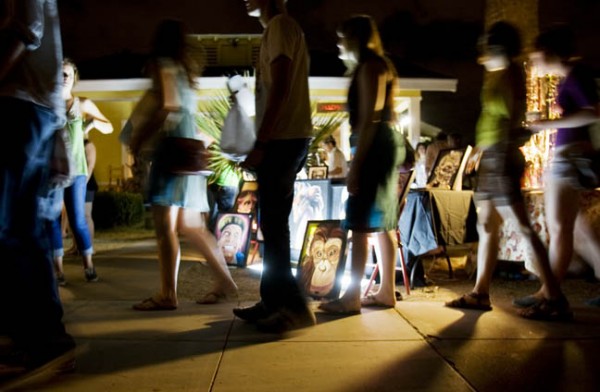 First Friday is here again! The heat won't stop us from enjoying all of the fun that First Friday has to offer. Here's a quick roundup of what's going on this Friday night.
"Luck Nothing" by Jeff Falk and Annie Lopez Opening Reception at Willow North Gallery 2811 N. 7th Avenue, 6-10pm, Free
Local artist Jeff Falk's collage works are featured, as well as the photography of Annie Lopez.
Arizona Diamondbacks vs. Los Angeles Dodgers Chase Field 401 E. Jefferson Street, 6:40pm, $12 and up
This season has been an exciting one for our home team. Make sure to stay after the game for a fireworks display.
Buy tickets for the Arizona Diamondbacks vs. Los Angeles Dodgers game.
"In Your Head and Under Your Bed" Opening Reception at Modified Arts 407 E. Roosevelt Street, 6-9pm, Free
Ten artists are featured in this exhibit at Modified Arts inspired by the subconscious and dreams. Pieces range from paintings to sculptures to fabric designs.
Kendal Hathaway Artist Reception at Sutra Midtown Yoga 2317 N. 7th Street, 7-9pm, Free
Yoga studio turned art exhibit, Sutra Midtown always puts on a great show for First Friday. During the opening reception, Sutra will be collecting art supplies (Items Needed: acrylic paint sets, watercolor sets, oil pastel sets, packages of paintbrushes, canvases, watercolor paper, charcoal sets, packages of clay, glue/hot glue, beads, feathers, etc. ) for the Bergamot Institute and will be serving seasonal sangria.
First Friday at the Phoenix Art Museum 1625 N. Central Avenue, 6-10pm, Free
Enjoy free Museum admission every First Friday! Experience great art from around the world, delight in a drink from ARTenders and enjoy a variety of entertainment on the First Friday of every month.
For August, giddy up to a mix of bluegrass, Old-Time, cowboy/country, folk and originals performed by the Back Porch Bandits. Banjo player Josh Tharp, mandolin monster Billy Parker, bass boy Joel Dowling and guitarist/ringleader Ken Clemmer will have you dancing in no time. So dust off those boots and come boogie with the bandits!
Adults Night Out at Arizona Science Center 600 East Washington Street, 5:30 – 9pm, Free
Explore the Center's exhibit galleries on the First Friday of each month from 5:30 to 9pm. Free for everyone. Please leave children at home. Additional evening options include: A lecture presentation at 7 p.m. (free); and an IMAX film or planetarium presentation at 8:15 p.m. (Regular admission fees apply for film and planetarium presentations.) Additional fees apply for entrance to featured exhibitions.
Betsy Ganz at Practical Art, 5070 North Central Avenue, 7-9pm,  Free
Snacks and drinks will be served. Make sure to browse around the store to find that perfect gift for that upcoming birthday, anniversary, etc.
First Friday Mobile Food Court, 408 E. Roosevelt Road, 7pm
Try the delicious mobile cuisine of Riteway Catering Company, Sunshine and Spice, Short Leash Hot Dogs, Sweet Republic, Jamburritos Cajun Grille — Express, and Frufrupops.