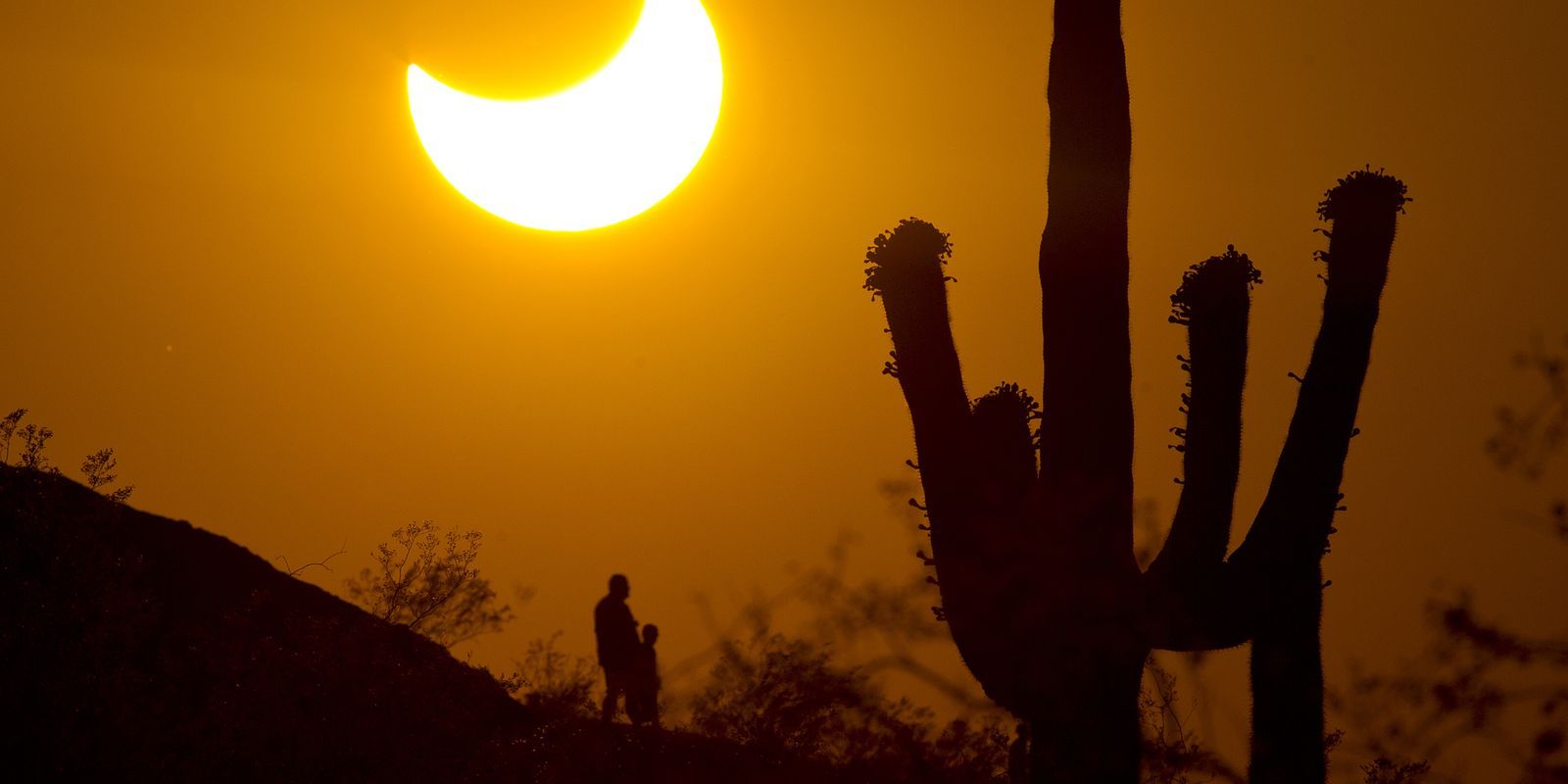 Photo by Cheryl Evans/The Arizona Republic
Bad news: Arizona doesn't lie in the August 21 solar eclipse's path of totality—the only area in which one can see a total solar eclipse.

Good news: Phoenix residents and visitors can still witness a partial solar eclipse. We'll see about 60%-65% of the sun blocked out in the Greater Phoenix region. 

More good news: Only 188 years until Arizona lies in the path of totality for 2205's total solar eclipse!
Here are places in Greater Phoenix hosting events for 2017's solar eclipse:
 
8/19, 1 p.m. - 3:30 p.m.
53 N MacDonald Dr, Mesa 85201
AMNH is joining the School for the Future of Innovation in Society at ASU and the School of Earth and Space Exploration at ASU for a pre-eclipse party on Saturday August 19. 
The festivities include pinhole camera activities, guest speakers, model solar eclipses and lots more. The event is included with the price of museum admission.
 
8:30 a.m. - 12 p.m.
600 E Washington St., Phoenix 85004
The science center's party includes hands-on activities such as rocket launches, eclipse art, creating your own solar eclipse viewer, special discounts on planetarium shows and more. The first 500 guests will receive a pair of solar viewing glasses.
9 a.m. - 12 p.m.
Tempe Campus - Hayden Lawn and Interdisciplinary Science and technology Building IV
View the eclipse safely through the university's solar telescopes. They'll also provide free solar-safe viewing glasses. Admission is free, and parking is available for $3 per hour at the school's Rural Road parking structure.
9 a.m. - 12 p.m.
Southern and Dobson Campus - 1833 W Southern Ave, Mesa 85202
Red Mountain campus - 7110 E McKellips Rd, Mesa 85215
Both of MCC's campuses will be taking part in festivities that include make-it-yourself solar viewers and demonstrations. A limited supply of solar viewing glasses will be provided. The Southern and Dobson campus will also have free planetarium shows at 9, 9:30, 11 and 11:30.
Day and times vary by location

Several branches of the Phoenix Public Library system will be hosting family-friendly festivities in the days before and during the eclipse. Visit the library system's website for details.