What's New(s) in Greater Phoenix
Winter 2019
If you're looking for a reason to Visit Phoenix, you've come to the right place.
Sign up for our What's New(s) monthly e-newsletter here and Visit Phoenix's Media Relations department will send the inspiration to you.
Jump to: Headlines | Grand Openings | Events | Airline News
Headlines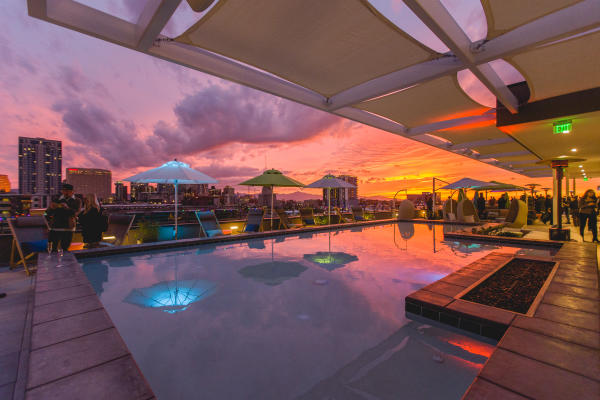 Sunset view at From The Rooftop. Photo credit: Cambria Hotel Downtown Phoenix Convention Center.
Have A Drink on the Roof of Phoenix's New Hotel Cambria
The Cambria Hotel Downtown Phoenix Convention Center, which features unique and upscale amenities that appeal to modern guests, opened its doors Nov. 26. The hotel, located in the Roosevelt Row Arts District, features a rooftop bar with 360-degree views of the city, several large art pieces, including murals that will span the height of the building, and an on-site restaurant featuring globally inspired dishes made with local ingredients. Cambria's restaurant Poppy is led by chef Nate Cayer, formerly the executive chef of The Godfrey Hotel in Chicago.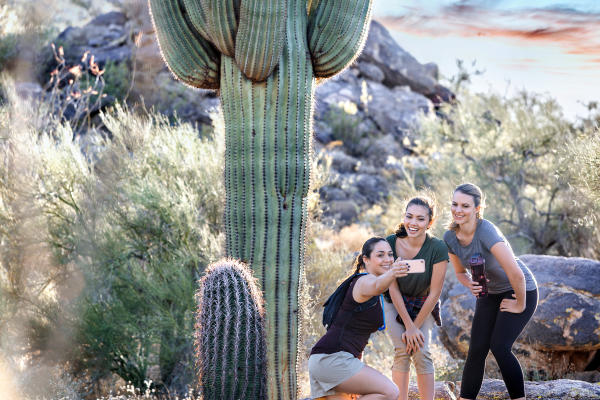 Hiking at South Mountain Park and Preserve. Photo credit: Ellen Barnes.
Travel Channel Names Phoenix a Top 6 "Jump-off" City 
In Travel Channel's 2020 Leisure Travel Forecast, Phoenix is listed as one of the top 6 "jump-off" cities with attractions that draw thrill seekers. According to the article, more than half of Americans are in search of adventure as a part of their travel planning for 2020. Travel Channel highlights Phoenix's diverse landscapes, food scene, scenic views and hiking trails that give visitors of all levels the adventure they are seeking.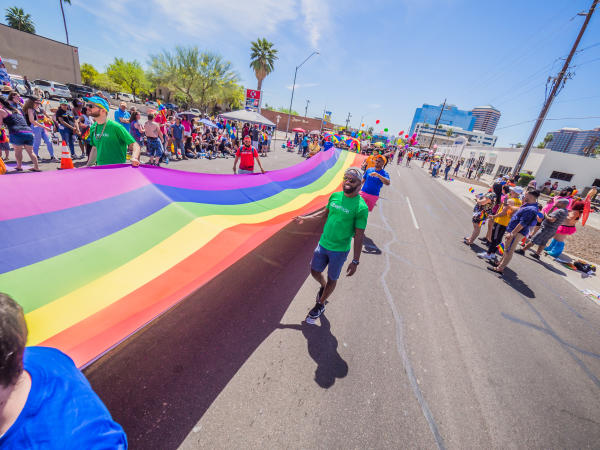 The 2018 Phoenix Pride Parade makes its way down Third Street. Photo credit: Visit Phoenix/nightfuse.com.
Phoenix Lands among top 10 Destinations for Pride Journeys in 2019
Pride Journeys' Year in Review for 2019 named the top 10 cities for LGBTQ+ travelers – and Phoenix made the list! The blog's article highlights the Phoenix Pride festival and parade as well as some of the other unique, local spots that celebrate the LGBTQ+ community. The 40th annual Phoenix Pride festival will take place April 4-5, 2020.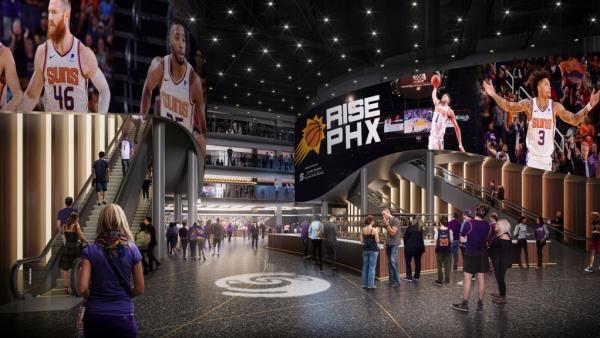 Renderings reveal the future Casino Arizona Pavilion. Credit: Phoenix Suns.
PHOENIX SUNS UNVEIL RENDERINGS OF REIMAGINED TALKING STICK RESORT ARENA
The Phoenix Suns recently revealed the first images of how Talking Stick Resort Arena will look after it gets an extensive facelift, at the price of $230 million, over the next two years. The 27-year-old arena, which is owned by the city of Phoenix, will have its infrastructure, technology and amenities all upgraded to the point where the Suns prefer to call it a "reimagining" rather than a renovation.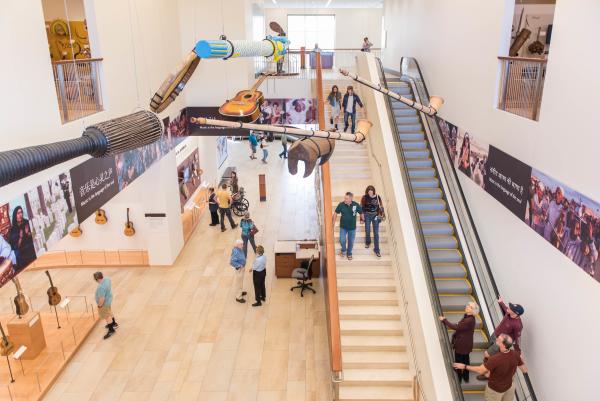 The Musical Instrument Museum is home to more than 7,000 instruments from around the world. Courtesy photo.
Savvy in the Southwest
The 2019 Tripsavvy Editors' Choice Awards recognized Phoenix for its exceptional businesses across multiple categories, including the Musical Instrument Museum, which has been classified as a "Hall of Fame Winner." Tripsavvy bestows this honor to businesses that impresses their year after year, with fewer than 1% making the cut.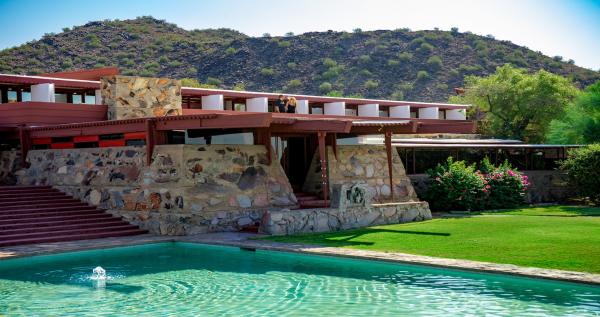 Taliesin West in Scottsdale, Ariz. Photo credit: Foskett Creative, Frank Lloyd Wright Foundation.
Taliesin West added to UNESCO World Heritage List
The Scottsdale winter home and studio of architect Frank Lloyd Wright, along with seven of the architect's other designs, was recently added to the UNESCO World Heritage List. Located in Scottsdale, about 25 miles northwest of downtown Phoenix, Taliesin West opened in 1937 and, today, the site offers five different tours year-round.

 
Grand Openings
NEW MEDITERRANEAN RESTAURANT IS NOW OPEN
Downtown Phoenix's new restaurant, Condesa, is bringing new life and an infusion of Mediterranean cuisine to the city. The full dinner and cocktail menu launched Dec. 9 and reflects many international influences, including from Spain, Israel and Morocco. From a falafel waffle sandwich and a pastrami short rib to shared veggie plates and charcuterie, you're invited to find your flavor at Condesa. 
ROOSEVELT ROW WELCOMES ANOTHER CRAFT BEER BAR
From the owners of the Wandering Tortoise and the Sleepy Whale, The Theodore has arrived. The new downtown Phoenix bar features 25 options of beer on tap as well as a selection of beer to take home. The space offers bar and lounge seating as well as a wrap-around dog-friendly patio.
Events
BARRETT-JACKSON COLLECTOR CAR AUCTION
Jan. 11-19, 2020
Widely regarded as a barometer of the collector car industry, the auctions have evolved over the years into world-class automotive lifestyle events where thousands of the world's most sought-after, unique and valuable automobiles cross the block. Witness auction action at its best, capture the car of your dreams, learn more about collector cars through "Behind the Hobby" symposiums, mingle with celebrities, experience heart-stopping thrill rides in the latest vehicles from America's top automakers, shop in the vast Exhibitor Marketplace and more.
2020 Cactus League Spring Training Schedule Released 
February 2020 
Spring training fans will be singing "Take me out to the ballgame" a bit earlier next year. According to the recently released Cactus League Spring Training Schedule, the 2020 season will open Feb. 22 – making it one of the earliest starts in the league's history – and conclude March 22. Arizona hosts 15 teams for Spring Training, but who will have the strongest start to their 2020 season?
Wild Rising art exhibit travels from Spain to Desert Botanical Garden
Through May 10, 2020
Desert Botanical Garden's newest art exhibition, Wild Rising by Cracking Art, comprises of more than 1,000 animal sculptures made from colorful and recyclable plastic. With 12 installations, visitors are invited to see 20 penguins posing among the cactus, snails stunningly positioned atop of the Garden's butte and 40 majestic grey wolves guarding the Sybil B. Harrington Cactus and Succulent Galleries.
Airline News
Sky Harbor named Top Airport in the US by WSJ
November 2019
Earlier this month, the Wall Street Journal released its rankings of the 20 largest airport in the United States, with Phoenix Sky Harbor International Airport topping the list. Rankings were based on five measures of operations, such as on-time arrivals; five measures of values, such as airfare; and five measures of convenience, including a grade from readers. With short waits, fast Wi-Fi, positive restaurant reviews, and cheap average rideshare cost to get to downtown, Phoenix excelled in several of the 15 categories.
 
Frontier launches new Phoenix flights with a fare sale 
December 2019
The Denver-based ultra-low-cost airline launched flights to four new destinations from Phoenix this month, including San Diego, Salt Lake City, Detroit and Fargo, North Dakota. It's a period of rapid growth for Frontier at Sky Harbor. In September, it launched a nonstop between Phoenix and Las Vegas. On Dec. 12, it kicked off service from Phoenix and Newark, a route recently abandoned by Southwest as it consolidates its New York operations into LaGuardia Airport.
Fly Between Phoenix and Hermosillo with American Airlines 
December 2019 
Beginning Dec. 18, American Airlines added an additional flight from Phoenix to Hermosillo, Mexico, the largest and capital city of Sonora. Flights to Germany, Canada, London, and Costa Rica have resulted in an economic impact of more than $3 billion dollars to the Phoenix metropolitan area. The flight will be operated by American Airlines partner, SkyWest Airlines. It will be one of 10 cities that Phoenix Sky Harbor International Airport offers service to.
For more events in the Greater Phoenix area this season, click here. For more information on these, or additional, media opportunities, contact Visit Phoenix's Media Relations team.