The outdoor enthusiasts around here will tell you Phoenix is a mecca for urban hiking. "Urban" doesn't mean you're sacrificing views, or the sense of losing yourself in sublime wilderness: It just means no matter where you are in Greater Phoenix, you're guaranteed to be a short drive from a great trail. Lace up your shoes and get moving with this guide to essential hikes around the city. You'll also find a map of trailhead locations at the bottom of this post.
Tip: Our winter weather may hover around a high of 67°, but remember to pack water, no matter what the temperature. For more on hiking safety, see information on the Phoenix Parks and Recreation trails page.
Difficulty Rating: Easy
Double Butte Loop and Hole-in-the-Rock Trail in Papago Park
What better way to ogle the uncanny red sandstone formations of Papago Park than hiking around (and inside) them? The smaller two of these beautiful buttes can be explored on an easy dirt loop that starts in the West Park parking lot, accessible from Galvin Parkway. Then, drive across the street to the park's east side for a quick climb up rocky stairs to peek out from the cave-like Hole-in-the-Rock, a popular landmark (and prehistoric solstice-tracking tool) with views of an oasis and distant city skyline.
Distance: 2.3 mile loop and 825 ft out and back (Hole-in-the-Rock)
PDF Trail Map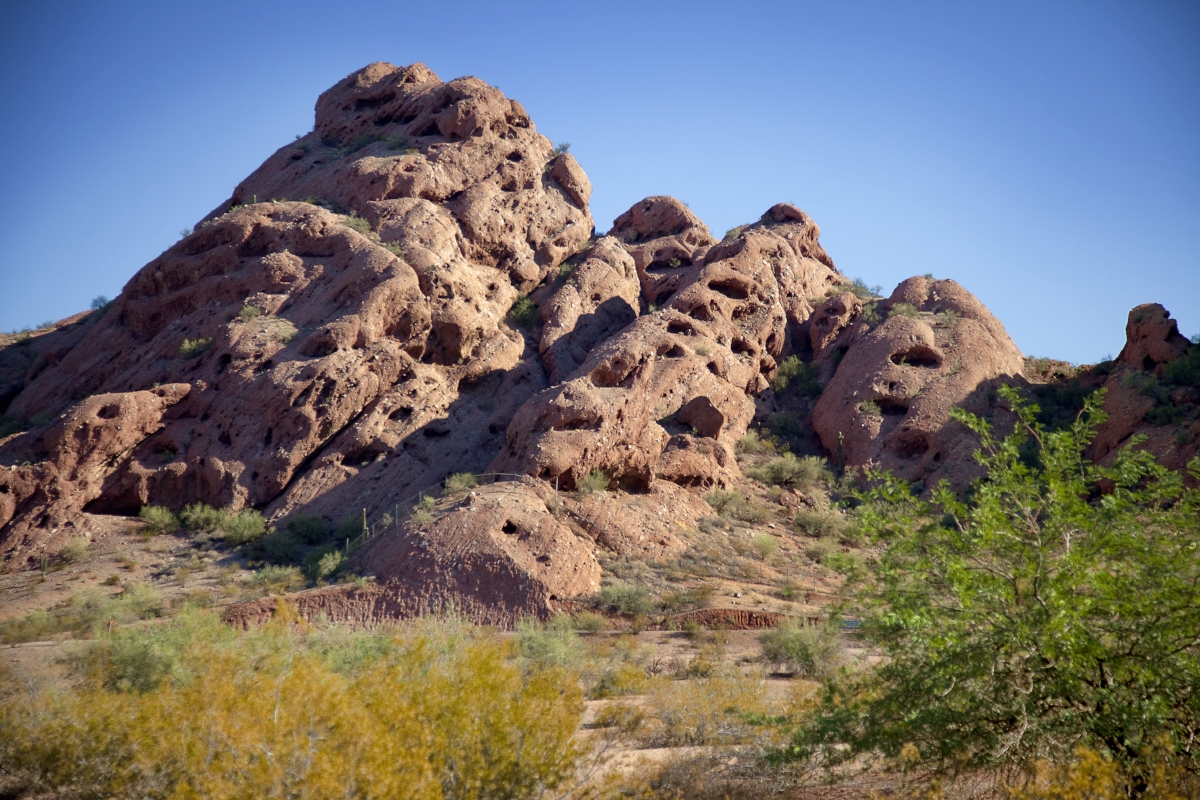 Papago Park
For an easygoing introduction to quintessential Sonoran Desert scenery, this trail is your pick. The flat, meandering path lets you take your eyes off your footing to scope out towering saguaros, tangled ocotillos, bristling bushes of cholla and the banded ridgeline of nearby Pass Mountain.
Distance: 3 mile loop
PDF Trail Map
Saguaros, ancient petroglyph carvings, wide paths and rocky outcroppings along this easy trail provide a slice of Sonoran Desert beauty without tricky footing or much elevation gain. Sighting the namesake waterfall at the end of the trail is rare, but possible if you come after a rain. Park entrance is $6.
Distance: 1.8 miles out and back
PDF Map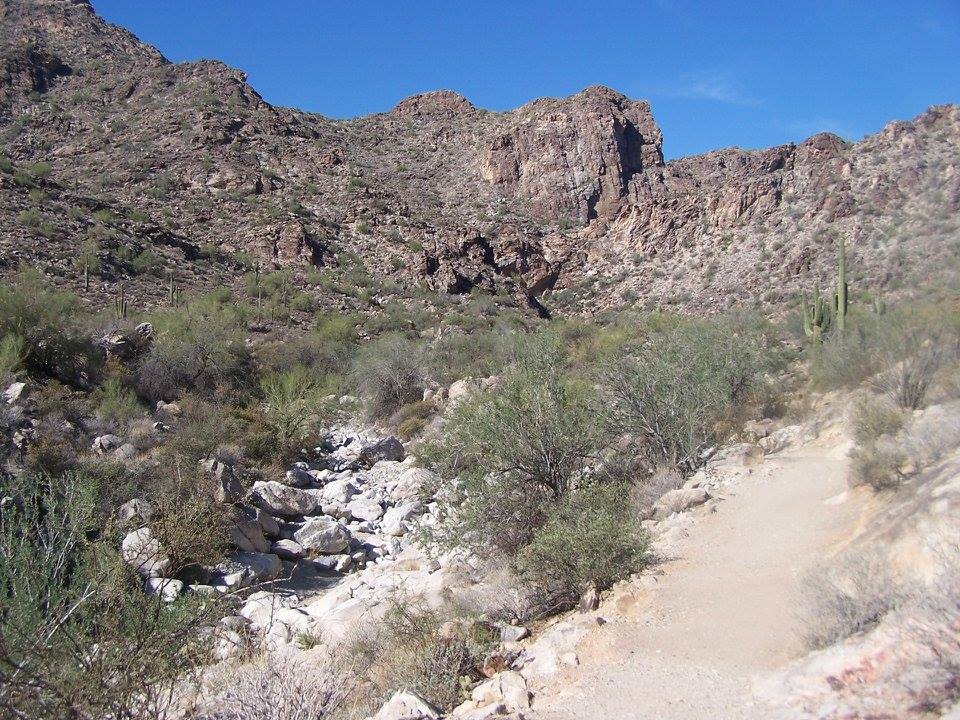 Waterfall Trail. Photo via White Tank Mountain Regional Park
This paved trail includes two half-mile loops that start near the South Mountain Environmental Education Center's disabled accessible parking spots. While both feature water fountains, shade ramadas and benches for resting, the Interpretive Loop offers educational signage on the surrounding desert life, while the Challenge Loop is a slightly steeper grade.
Distance: .5 mile loops
PDF Map (look in the center on the north side)
Difficulty Rating: Medium
This steep trail leans toward the more difficult side of a moderate hike, but if you're up for the challenge, it's a must-see for views, desert flora and fun rock formations. Start at the Mormon Trailhead and connect with the National Trail to head south. That was the hard part: The remainder of the hike is for peeking at petroglyphs, playing around a natural tunnel and tight squeeze through "Fat Man's Pass." The lollipop-shaped loop brings you back to Mormon Trail for your descent.
Distance: 4 miles out and back
PDF Map (look up in the northeast section for Mormon Trailhead, then follow it south for Hidden Valley)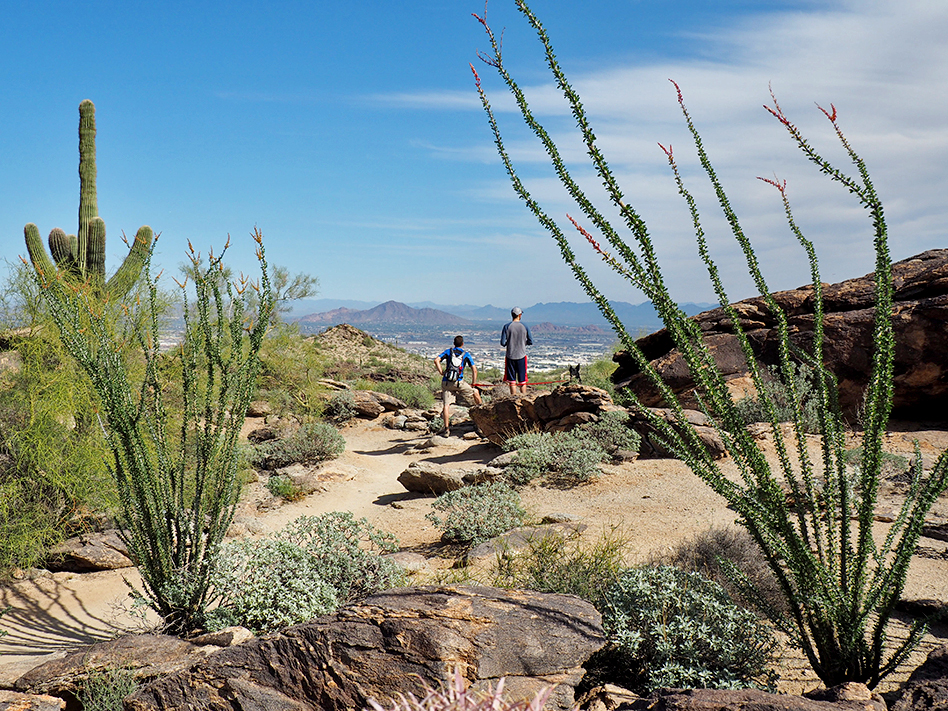 Hidden Valley via Mormon Trail
A groomed pathway provides easy footing for soaking up the scenic views, spotting wildlife and greeting passerby—it's a popular trail, and not without reason. The incline to 2,750 feet is gradual and well-maintained, and while you won't be able to clamber on the true "pinnacle" of granite at the top, the trail still offers raw panoramic views of the desert unfolding below.
Distance: 3.5 miles out and back
PDF Map
In just under a mile on this short trail, you'll climb more than 450 feet, but the burst of breathlessness is worth the views up top. The summit looks out south over the Phoenix Mountains Preserve, and is a less crowded and more moderate hike than popular summits of Camelback and Piestewa (see the "hard" section for details on these). The trailhead is accessible from 16th street. If you'd like to continue your hike, join up with the Circumference Trail that runs a 2.6-mile route through the rocky desert at the mountain's feet.
Distance: 1.2 miles out and back
PDF Map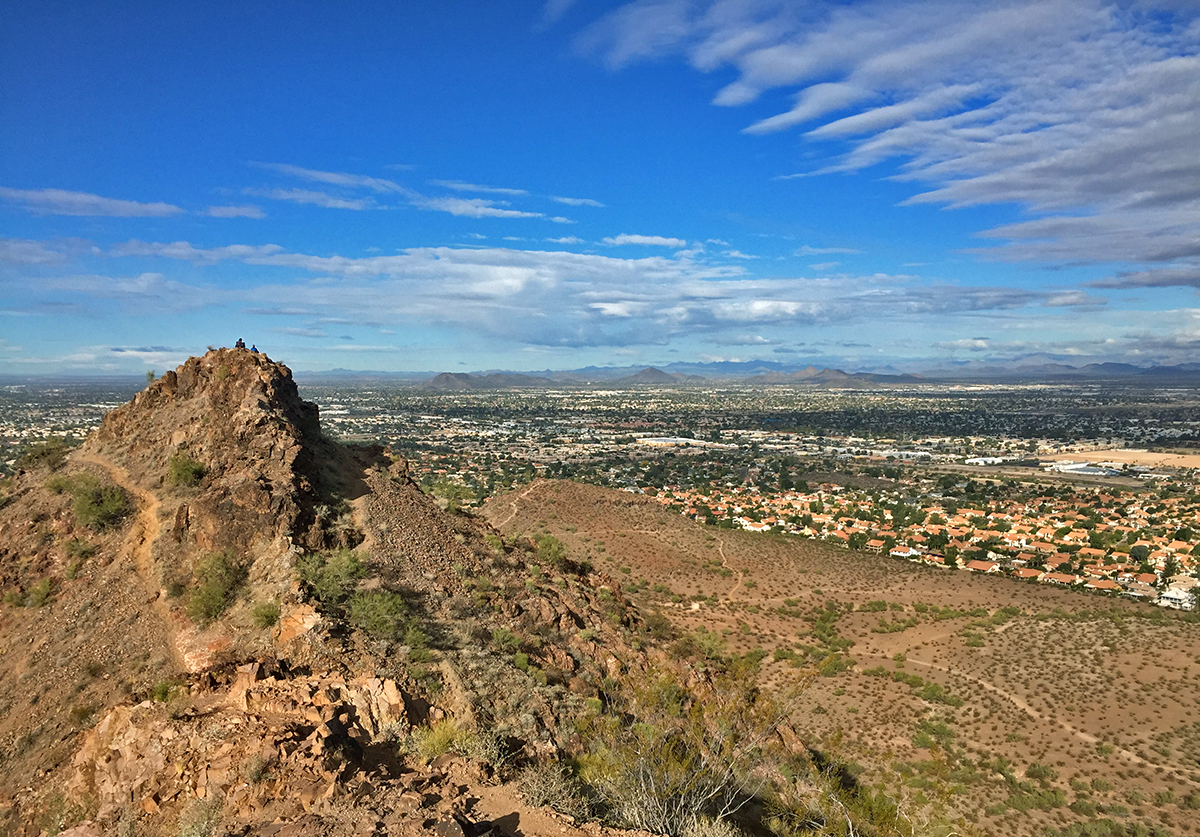 Lookout Mountain Summit
The newest area in Phoenix's desert preserve system offers this rolling loop trail through wild and undeveloped desert, notable for its diversity of plant life and spring wildflowers. If you want to add some elevation, there are two summits accessible from the loop: Dixie Mountain Summit is .22 miles to the top and rated difficult, and the Western Vista Trail is .34 miles to the top and rated moderate.
Distance: 3.82 mile loop
PDF Map (look in the southern region)
Start out through thick hills of saguaros, end in a lush riparian area. It's possible on this one short hike, which begins on the Maricopa Trail and angles across a plateau into Jewel of the Creek Preserve. The refreshing riparian habitat is filled with colorful creek-side cottonwoods and willows. Head back up Spur Cross Road to reconnect with the starting point.
Distance: 3.5 mile loop
PDF Map (look in southeast region)

Dragonfly Loop in Spur Cross Ranch Conservation Area
Difficulty Rating: Hard
The summit of Camelback is one of the highest hikes in Phoenix and arguably the best view you can achieve here on two feet. That means this trail stays very busy, but don't let it deter you from tackling the Phoenix landmark. Echo Canyon Trail climbs from the north side parking lot to a height of 2,704 feet (and we mean climbs – you'll need your hands free for 1,200 feet of elevation gain, some scrambling up a steep slope at the beginning and hopping boulders near the peak). Save some time to relax and enjoy the 360-degree beauty at the top.
Distance: 2.4 miles out and back
PDF Map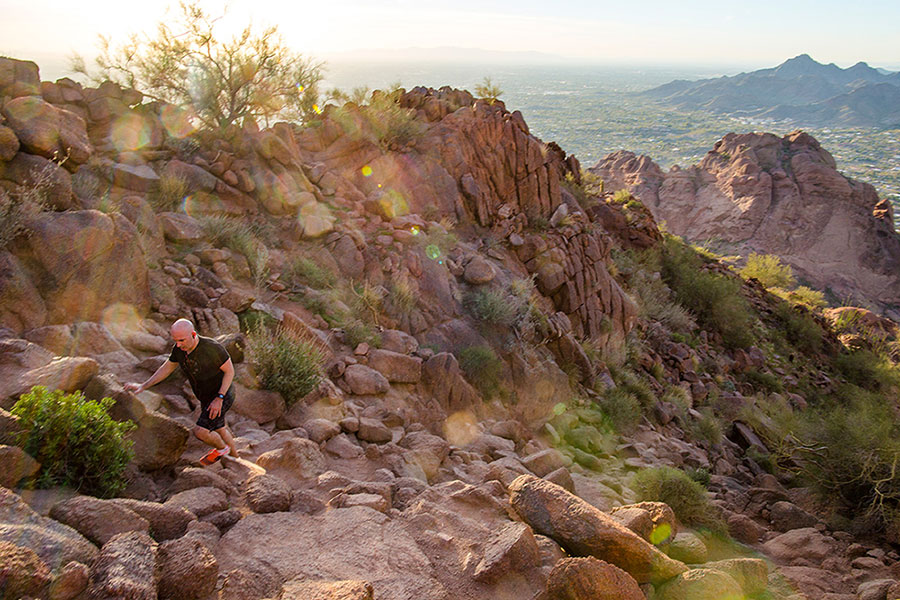 Echo Canyon Trail on Camelback Mountain
Yes, there is an opportunity to take a thumbs-up photo with this trail's signature formation. To get there and enjoy the views, otherworldly upland boulder fields and desert flora along the way, you're going to need to gain some elevation. The trailhead's north side starts you out with a series of strenuous switchbacks. Once you're up in the land of boulders, keep an eye out for rock climbers and enjoy the trail until you reach the Thumb itself.
Distance: 4.6 miles out and back
PDF Map (look in north section)
A close second in popularity to Camelback Mountain, the summit of this trail is beloved with hikers seeking a challenging trek with a big scenic payoff. If you consider yourself in this category, come ready for a busy and breathless ascent from 1,400 to 2,608 feet. Don't miss the views along the way – the peak's schist rock composes most of the stair-like trail, and is dotted with cacti, ocotillo and wildflowers in the spring.
Distance: 2.4 miles out and back
PDF Map (look in the southeast corner)

Summit of Piestewa Peak. Photo by aznaturalist on Wikimedia
If other trails seem like a walk in the park, you're probably ready to tackle this exhilarating climb in the Superstition Mountains. Start on the Siphon Draw Trail through the airy open desert until you hike up inside a basin of smooth, polished rock. You'll have some time to admire its beauty before it's evident you're going to need to clamber up it on all fours. Once at the top, additional obstacles include another hand-over-hand rock face and a rugged, unmarked trail. A flat clearing awaits you at the end with staggering views out to the west. Pack a lunch for energy before making your way back down.
Distance: 6 miles out and back
PDF Map
Green label: Easy
Yellow label: Medium
Red label: Hard