Where To See Petroglyphs In Phoenix
Our past is all around us here in Phoenix. Take a hike through history on these desert trails with ancient petroglyph rock carvings.
In this region, petroglyphs — rock carvings made by scratching away the dark layer of a rock's surface to reveal the lighter rock underneath — vary from several hundred to more than 7,000 years of age. Here's where to see the creations left behind by ancient native civilizations.
Please help us keep these sites preserved for future visitors by not touching the rock carvings, staying on the trail and packing out everything you came with (nothing more). For additional details, check out the National Park Service's tips for visiting a petroglyph site.
This trail is regarded as the best South Mountain trail for petroglyph sightings. Holbert Trail, rated as a difficult hike, also connects hikers to Dobbins Lookout, a popular spot for panoramic views of the city.
Hidden Valley via Mormon Trail
This moderately difficult trail offers easy-to-spot petroglyphs, panoramic views of Phoenix and a natural rock tunnel.
Another popular South Mountain hike, this easy-to-moderate 1.5-mile trail is also a wonderful spot for springtime wildflower viewing.
14251 S. Desert Foothills Parkway, Phoenix
This 2-mile trail in White Tank Mountain Regional Park is good for all skill levels. In addition to ancient petroglyphs, hikers will see a variety of cacti and, of course, a waterfall (assuming it's flowing).
20304 W. White Tank Mountain Road, Waddell
This is a short but sweet 1.5 mile trail (3 miles round trip) in the ruggedly scenic Superstition Mountains. Hikers will find not only petroglyphs at the end of this trail, but also an oasis of natural pools and a waterfall (seasonally).
Hieroglyphic Trail, Gold Canyon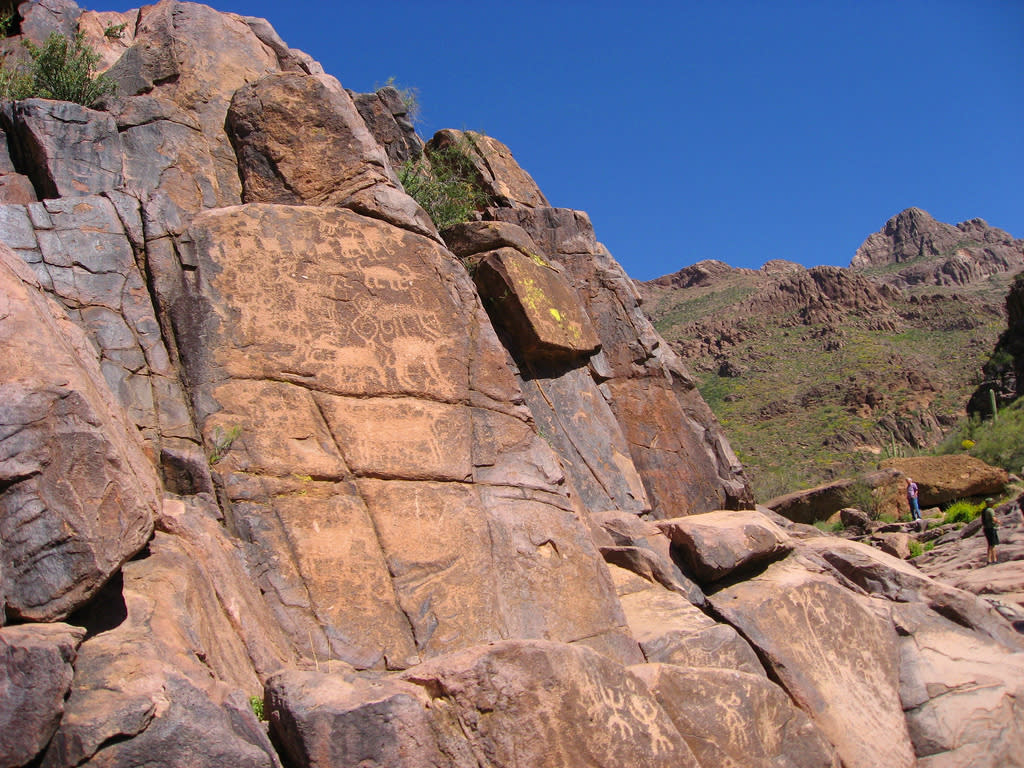 Hieroglyphic Trail. Photo credit johnida/Flickr.
The largest concentration of petroglyphs in the greater Phoenix area is at this archaeology museum and Sonoran Desert preserve. More than 1,500 ancient petroglyphs are in view on the half-mile trail loop.
3711 W. Deer Valley Road, Glendale
Hikers will find several petroglyph displays throughout the seven miles of trails in this conservation area. Spur Cross Ranch also teems with desert wildlife. Keep an eye out for coyotes, snakes, javelinas, a wide variety of birds, and other desert critters. The area's trails vary in difficulty.
44000 N. Spur Cross Road, Cave Creek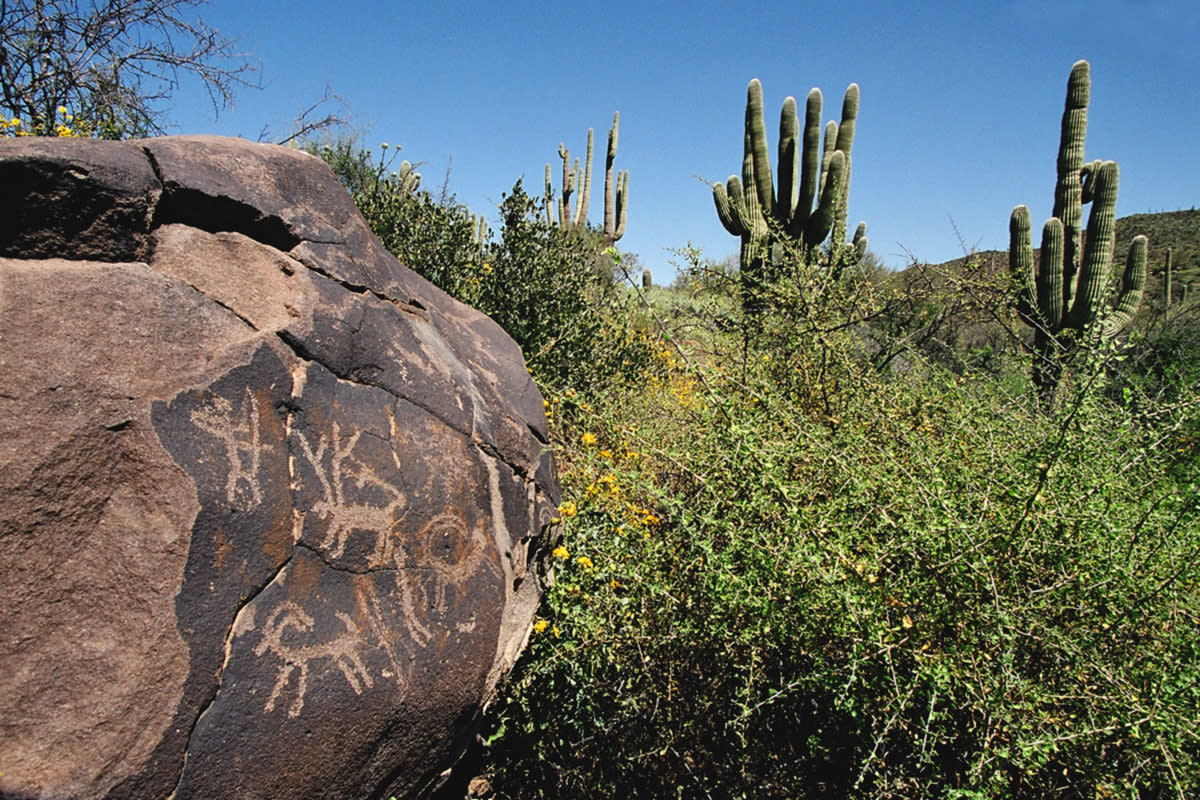 Metate Trail in Spur Cross Ranch Conservation Area. Photo via Maricopa County Park.