Thinking Ahead: Sustainability
Greater Phoenix is at the center of a statewide boom that's seen a 20% increase in tech-related jobs on the sustainability spectrum. Today, these early game changers are passing the torch to newcomers that range from renewable energy, electric vehicles, global semiconductors, material science and, of course, stewards of this land.
Phoenix City Council adopted eight 2050 environmental sustainability goals that articulate the community's desired long-term environmental outcomes that would fulfill the general plan aspirations of a sustainable desert city in the following areas: water stewardship, transportation, waste, building and land use, parks, clean air, local food systems, and parks, preserves and open spaces.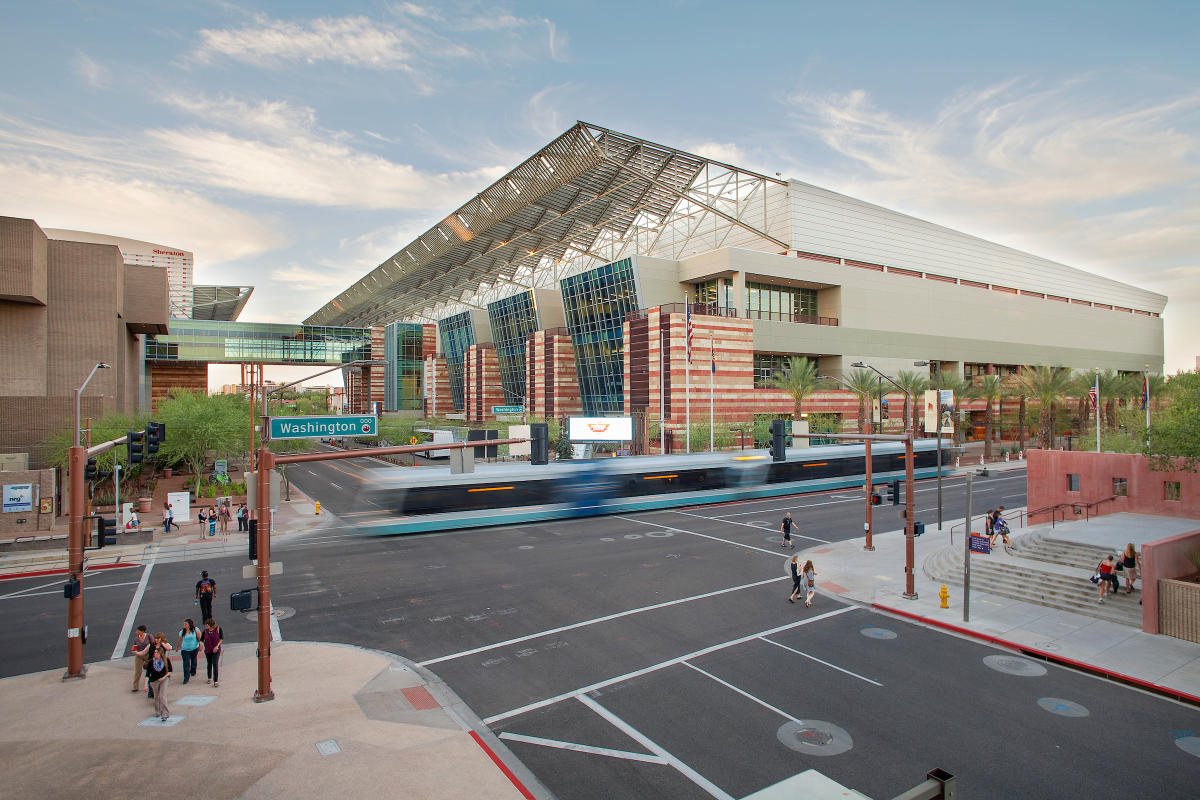 Water Stewardship - Provide a clean and reliable 100-year supply of water.
Water stewardship continues to be a perpetual goal for Phoenix. The city has been proactive over the last century building the necessary infrastructure and systems to provide a clean and reliable supply of water for the foreseeable future. Phoenix is a net-positive contributor to groundwater using only 2/3 of its allocation from the Colorado River and diverting the other 1/3 toward groundwater recharge. Additionally, the city recycles an amazing 89% of its wastewater for uses such as irrigation and power plant cooling.
Transportation - Make walking, cycling, and transit commonly used and enjoyed in every Phoenix neighborhood.
Achieving this goal will result in 90% of the population living within one-half mile of transit and 40% of the population choosing to commute by walking, biking, or transit.
Waste - Create ZERO WASTE through participation in the "Circular Economy."
This includes expanding the current recycling program to remove commonly recycled products from the waste stream, increasing the number of products that are recyclable by incubating local businesses to capture new products from the waste stream, and encouraging the retail industry to provide products that are either 100% recyclable or able to be repurposed at end of life.
Building & Land Use – Ensure all new buildings will be "net-positive" in terms of energy and materials, meaning they will produce more energy than they consume.
This goal will apply to all new construction after 2050. At the community scale, the goal will be to establish fifteen vibrant compact complete centers where the majority of services needed by each community are provided locally
Clean Air - Achieve a visibility index of good or excellent on 90% of days or more.
Depending on the year, Phoenix currently achieves good or excellent visibility rating on 70-80 percent of days. The city implements a wide range of air quality programs to reduce ozone and particulate pollution (dust and smoke).
Local Food Systems - ​Increase community access to fresh and healthy food by creating a vibrant food system.
Phoenix will establish a sustainable, healthy, equitable, local food system by eliminating food deserts; increasing urban agriculture; establishing farmers markets in each of the city's urban villages; and significantly reducing the rates of hunger, obesity, and diet-related disease.
Parks, Preserves & Open Spaces – Ensure all residents will live within a five-minute walk of a park or open space.
This goal calls for adding 150 miles of paths, greenways, and bikeways throughout the city, and transforming an additional 150 miles of canals into vibrant public space. The city also will reduce urban heat-island through green-infrastructure (such as "cool roofs," permeable pavement, and stormwater capture) and double the current tree and shade canopy to 25% by 2030.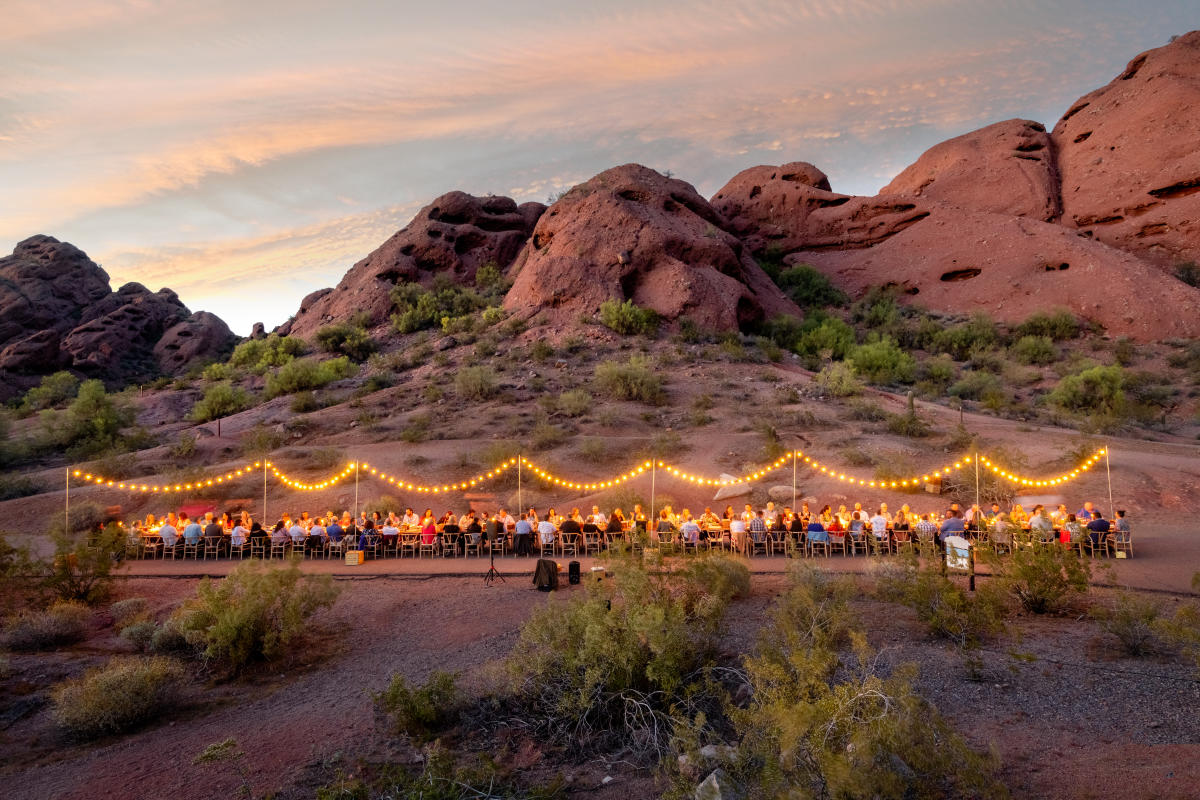 THE ROLE OF THE MEETINGS & CONVENTIONS INDUSTRY
The necessity of colleagues and coworkers gathering to create, innovate and explore new ways of thinking remains a critical piece of professional society. However, the challenges of climate change can't be ignored. Planners continue to seek out destinations that not only offer the type of experiences and accommodations that make an event successful, but also those that are conscientious of the environment.
Greater Phoenix, in addition to working toward aggressive 2050 sustainability goals, boasts a number of event venues that place great importance on the environment and preserving it.
Known for its immersive and collaborative farm-to-table dinners in unexpected places, Cloth & Flame intentionally designed its experiences to foster connections – connection with the land, with others and with yourself. Having produced hundreds of events in unconventional spaces, this Sonoran Desert-based operation invites your attendees to escape the hustle and bustle of the meeting agenda, and the city, to enjoy a chef-prepared meal among wild landscapes and under stars. In terms of sustainability, Cloth & Flame pays to lease land for its community dinners, so areas that might otherwise be developed can act instead as a source of income for the landowner. In addition, 10% of every dinners' proceeds are donated to great coalitions that work to preserve migratory routes and wild places in our inimitable states.
A spectacular arena that is integrating ideals of Footprint, a locally based, plant-based fiber technology and material science company that's creating a healthier planet by reducing dependency on single- and short-term-use plastics. With a goal of becoming a carbon-neutral and plastic-free venue, Footprint Center is seen as an innovation lab for the community, partners and visiting groups. And having hosted the NBA and WNBA Finals in the past year, there is no need to fret about the championship-level service events will receive.
Providing some of the most environmentally friendly transportation options in Greater Phoenix – including accessible and efficient rail transport from Phoenix Sky Harbor International Airport to the convention center ($2) – Valley Metro Rail, bus, and vanpool prevented 248 million pounds of greenhouse gases and 9.8 million pounds of criteria air pollution from entering the earth's atmosphere in fiscal year 2019. This is equivalent to taking over 23,000 cars off the road.
Holding itself to the highest standard of sustainability, because the future of Phoenix depends on it, the PCC has implemented thoughtful, green thinking and design to achieve its goal as a premiere meeting and event space that will withstand the environmental tests of the future. Initiatives include contributing over 41 tons of compost feeds plants in city parks, watering its living wall and garden using condensation from the HVAC system, purchasing 31,000 chairs made from recycled car batteries and seatbelts, recycling more than 460 tons of material each year, 732 solar panels which generate enough output to power 14 homes for a year.
To learn more about these unique, environmentally friendly venues and Visit Phoenix's commitment to sustainability, contact a member of our sales team.