State-of-the-Art Stays in Downtown Phoenix
Downtown Phoenix's Reimagined Hotel Landscape
Downtown Phoenix's rapid growth includes major hotel renovations and new state-of-the-art stays
In Phoenix, meetings are our specialty. And, with a diverse portfolio of conference-friendly accommodations, an award-winning convention center, convenient airport access, and a burgeoning downtown scene, Phoenix is in full bloom.
More than $5 billion has been pumped into a 1.7-square-mile zone in the downtown core, which includes new and improved office space, shops, restaurants, entertainment venues, convention and academic facilities, and hotels.
Greater Phoenix is home to more than 69,000 rooms at over 500 hotels and resorts, and the city's downtown core offers more than 4,000 hotel rooms, with additional accommodations on the horizon.
• The Cambria Hotel Downtown Phoenix Convention Center, a 127-room property in downtown's Roosevelt Row, opened in November 2019. The $26 million hotel features a rooftop bar (From The Rooftop Bar & Lounge, pictured above) with 360-degree views of the city and can accommodate up to 499 guests; 900 square feet of indoor meeting space; several large art pieces, including murals that span the height of the building.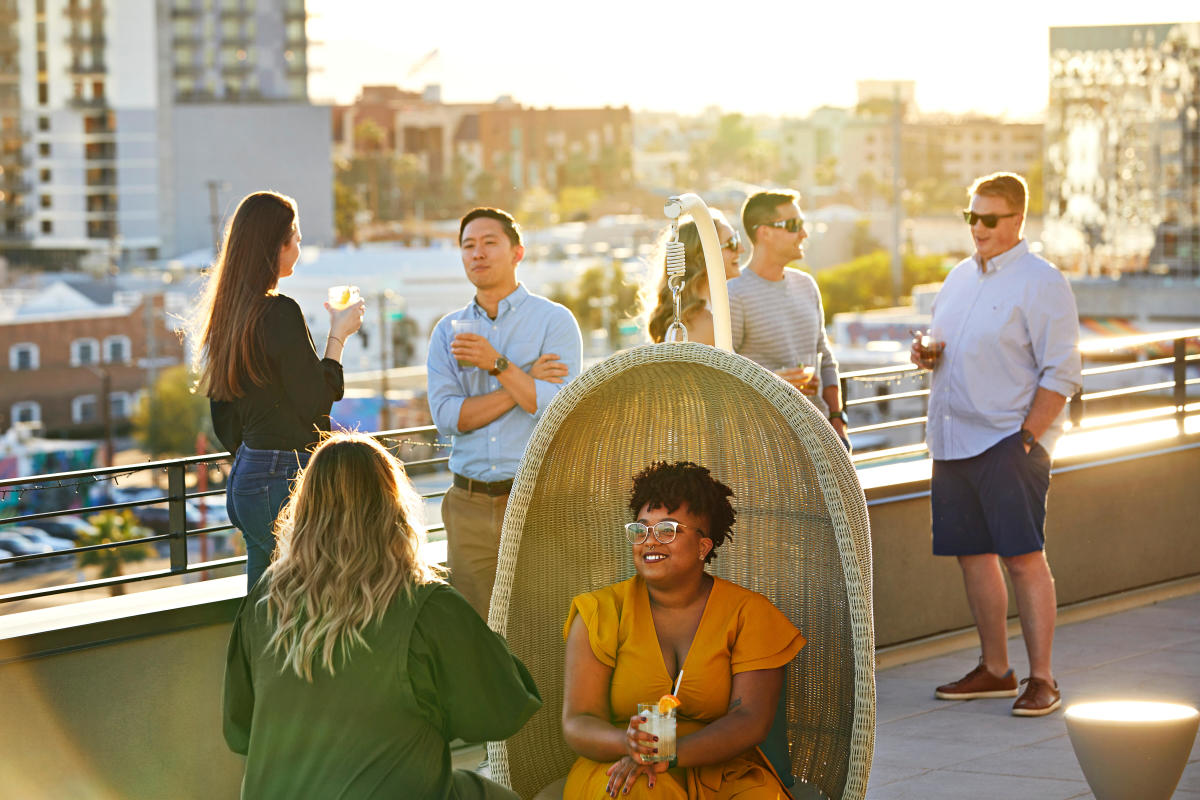 Convention attendees enjoy the rooftop views at the Cambria Hotel.

 

• The Sheraton Phoenix Downtown, a short distance from the city's convention center, is in the process of revamping its guest rooms, lobby, meeting space and culinary offerings.  The 1,003-room property – the city's largest – was selected to become the prototype for Marriott's portfolio-wide rebranding of Sheraton. Guest room renovations are projected for early 2020 completion, with the lobby, restaurant and meeting space updated to reflect the new brand identity by the second quarter.

 

• Following an exterior refresh last year, the Hyatt Regency Phoenix (pictured above) completed floor-to-ceiling renovations of its 693 guest rooms as well as the revitalization of meeting spaces and three new meeting rooms. The 24-story hotel, located across the street from the Phoenix Convention Center, also revealed a new patio, an expanded rooftop courtyard and renovated third-floor pool deck – all for enjoying Phoenix's perfect weather. In addition, the hotel opened Barrel & Bushel, an indoor/outdoor gastropub-style restaurant helmed by chef Chelsea Cummings (formerly of Weft and Warp at Scottsdale's Andaz Resort & Bungalows), in late 2019.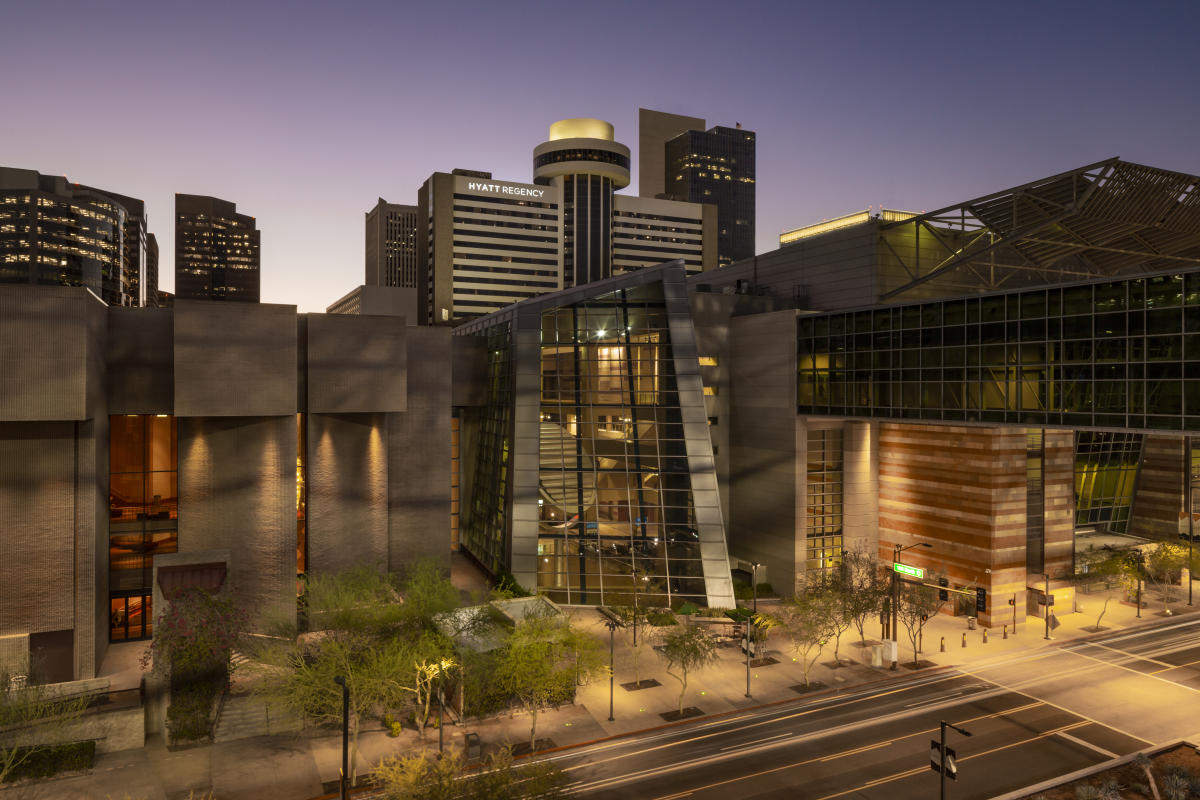 A view of the Hyatt Regency Phoenix behind the Phoenix Convention Center.

 

• Neighboring Renaissance Phoenix Downtown Hotel completed a $12 million renovation on their lobby and exterior in 2017 and has now shifted focus to remodeling their guest rooms – splitting the construction between 2019 and 2020 (summer). The Renaissance's rooms will get fresh carpet, wall coverings, lighting, window treatments and walk-in showers

 

• After breaking ground in September 2019, the AC Hotel by Marriott Phoenix Downtown opened in February 2021. The 13-story, 199-room boutique hotel features 3,400 square feet of meeting space, two media salons and a boardroom. Additionally, the AC Lounge is home to an outdoor patio with water features and fireplaces, and an indoor/outdoor lobby bar overlooks the Arizona Center — a mixed-use space located half a mile from the Phoenix Convention Center — that underwent a $25 million renovation to office space, dining, entertainment and outdoor amenities in 2019.