Camelback Mountain
Located just 20 minutes from downtown Phoenix, Camelback Mountain is one of Phoenix's best hikes and most popular attractions for thousands of visiting hikers each year. Two difficult trails ascend 1,420 feet to a summit resembling the hump of a camel's back, affording 360-degree views of the surrounding city.
Part of the Phoenix Mountains Preserve, Camelback gets its name from its two rock formations that resemble the head and back of a kneeling camel. It became a city park in 1968, and sits right next to Phoenix's Arcadia neighborhood — a great dining spot — and the town of Paradise Valley.
Please note: Camelback Mountain is closed from 11 a.m. to 5 p.m. on days with excessive heat warnings. 
Trailhead hours: Sunrise to sunset
Both Cholla Trail (currently closed) and Echo Canyon Trail are rated extremely difficult, challenging hikers with exposed rock, strenuous climbs and sections of hand-over-hand climbing. Dogs are prohibited at all Echo Canyon and Cholla Trail areas.
Echo Canyon Trail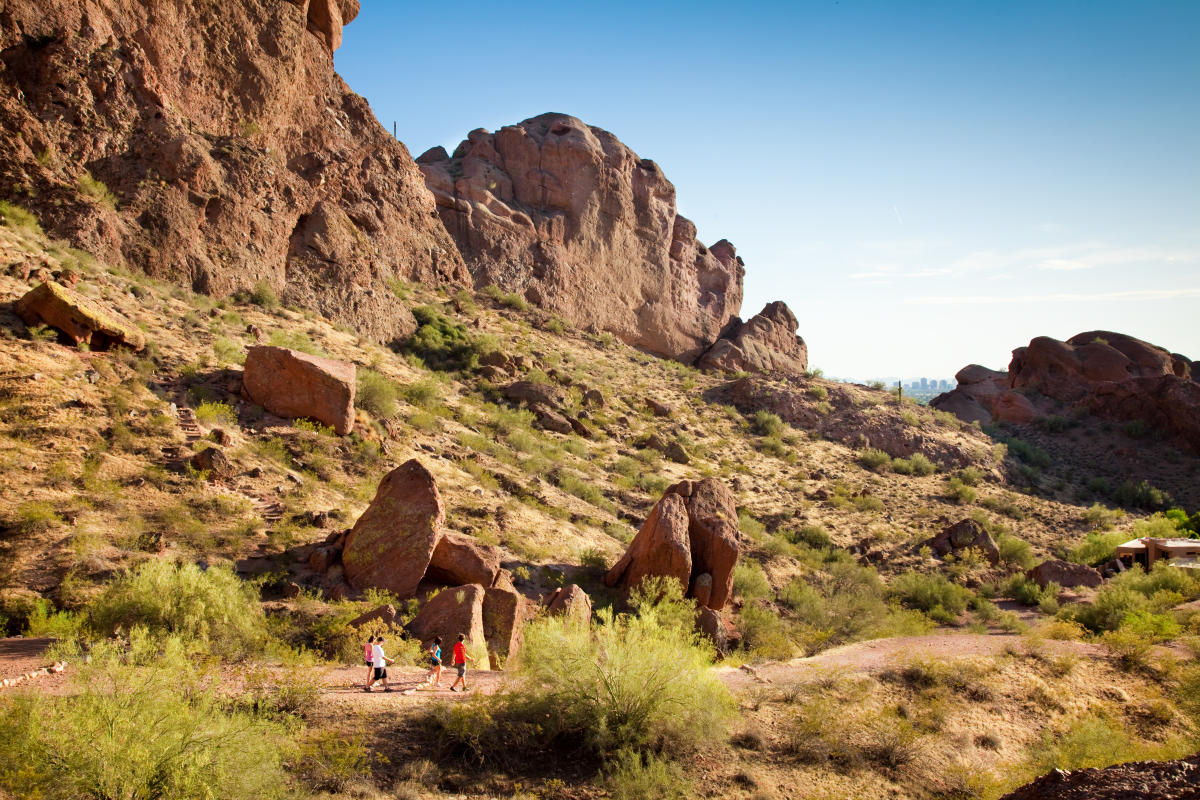 Distance: 2.5 miles out-and-back
Time: 2-3 hours roundtrip
Trailhead: 4925 E McDonald Dr, Phoenix. This trailhead has restrooms, benches and water. The parking lot is busy and will typically remain full from early morning throughout the day on weekends
What to expect: This steep and rocky ascent requires assistance of handrails and climbing to reach the top, but the 360-degree views from the summit are worth it.
Phoenix's desert preserves, including Camelback Mountain, are home to native species such as the desert tortoise, Chuckwalla lizard, cottontail rabbits, and rattlesnakes (hike with caution). Plant species include the saguaro, cholla and prickly pear cacti, as well as native trees such as mesquite and palo verde. Learn more about the Sonoran Desert here, or if you're looking to see more of the desert's birds, check out some top bird watching spots.