Meet Outdoors in Phoenix
Greater Phoenix resorts pair modern amenities with natural settings for safe and memorable meetings.
Alfresco isn't a fresh take in the Greater Phoenix area. Enjoying the great outdoors is a way of life here. Sure, we love our golf and iconic desert hikes, but our symbiosis with nature's gifts touches every element of our lives.
In the current business climate — where planners are seeking outside-the-box (and -building) venues more than ever — destinations with a different point of view are going to be counted on to deliver memorable, safe environments for visiting groups.
The Greater Phoenix area is home to over 69,000 guest rooms at more than 500 hotels and resorts, including a wide variety of accommodation styles. With more than 40 full-service hotels adorning this lush desert landscape, there's more than enough room for your attendees to stay and play safely.
There are also new accommodations and venues to explore — 17 new properties with more than 1,900 rooms opened in 2020 alone — further embracing the indoor/outdoor lifestyle Phoenix has always celebrated. And many of the same venues where locals have been walking down the aisle for years, if not decades, marry the best of the region's modern amenities with its natural, wondrous scenery.
Now is the time to return to Phoenix to step outside and gain a new perspective on how to bring out the best in your delegates by taking advantage of these luxurious settings, unique outdoor venues, paired with pristine service, opportunities for exploration, relaxation and dedication to getting business done.
Everything is always more fun in the sun (and at sunset), and that's just what you and your attendees will experience in Phoenix. Yes, the world is different than it used to be — to that end, we invite you to rediscover a city you only thought you knew.
We're ready to help you create grander, more authentic moments at some of these impressive venues:
Things will definitely be looking up for attendees as they step onto this beautiful hotel's rooftop terrace. The view at From The Rooftop truly elevates the experience of gathering with the picture-perfect downtown skyline as the backdrop.
With smaller groups leading the return to in-person meetings, this setting is the ideal size to comfortably enjoy an open-air reception, cocktail hour and/or networking session. With 2,000 square feet, From The Rooftop holds 175 guests for an event that can only be experienced here. On-site catering from the scratch kitchen, creative cocktails, inviting furniture and local art help round out what will be an unforgettable night.
As a Waldorf Astoria resort, Arizona Biltmore is naturally the spitting image of luxury. An institution in Phoenix for more than 90 years, the 39-acre property continues to reinvent itself to surprise even its most loyal guests. Included in its 200,000 square feet of combined indoor and outdoor flexible function space is the fabled Terrace Court and Event Lawn. These extraordinary outdoor venues come with spectacular mountain views of Piestewa Peak and an air of elegance that can't be matched elsewhere. Major renovations modernizing this icon include:
Spire Bar, an outdoor bar designed to become the resort's social hub is also situated to be a perfect extension of the nearby Event Lawn. The 30-foot spire, a tribute to Frank Lloyd Wright, will be a visual icon.
Synthetic turf will allow greater numbers on the Event Lawn, and high-tech lighting will increase the ambiance for evening events.
The new Tierra Luna Spa emphasizes rooms and facilities that can be indoor or outdoor, including many new outdoor treatments based on Naturopathy.
Saguaro Pool is an adults-only escape from a long day of meetings. Cabanas include TVs and mini fridges, and music lingers well into the night.
Hit the links for stellar golf or find a trail great for your group at Phoenix Mountains Preserve.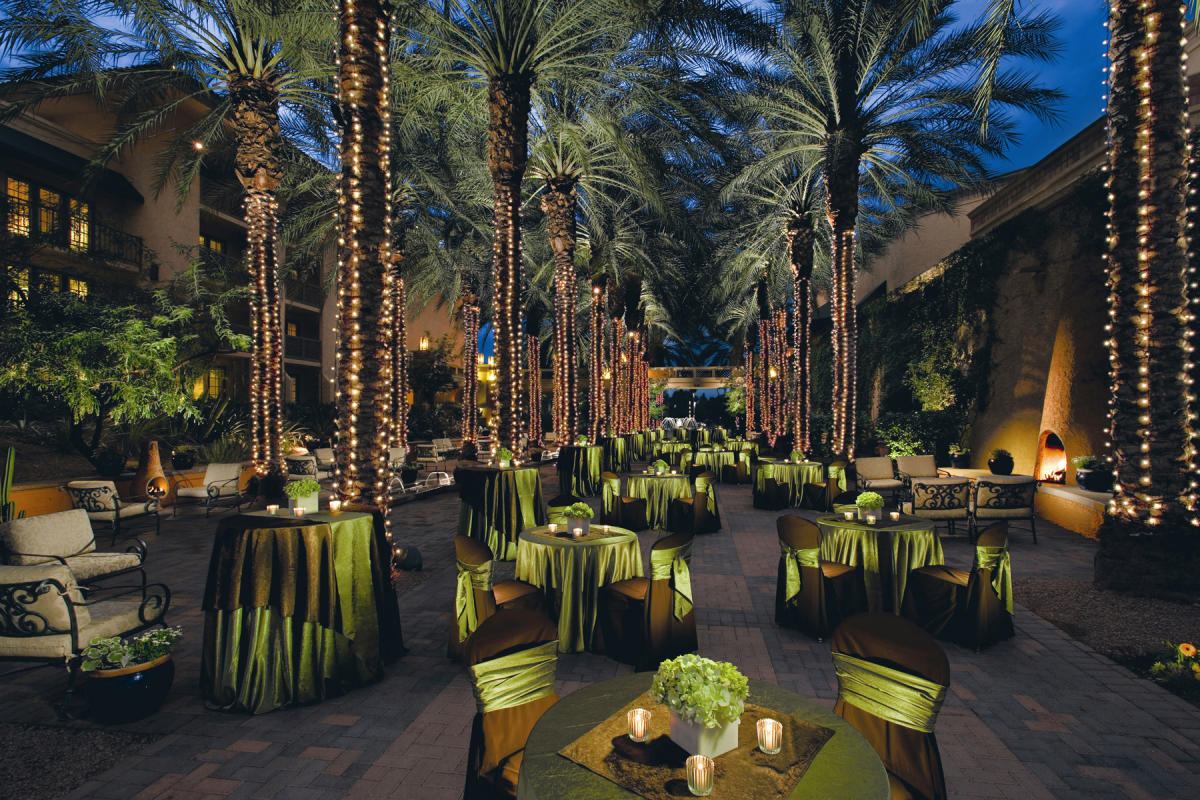 Paseo Garden is just one of the event spaces available at the Arizona Grand Resort & Spa.
Courtyards and fountains are not just for weddings. At Arizona Grand Resort & Spa, the region's only AAA Four Diamond all-suite resort, your group will find a little (or a large) slice of heaven at one of many outdoor scenes, including the Plaza Courtyard, Palm Court, Fountain Circle, Paseo Garden and Island Green — perfect for soaking up one of Greater Phoenix's iconic sunsets.  
Add a fairy-tale finish to your next meeting at this sophisticated resort. Groups large and small will find inspiration and rejuvenation — and the experience of a lifetime — at these picturesque venues:
Attendees can make a grand reentrance into events at Isle of Capri. Columns, blooming flowers, a splashing fountain and two bridges bring a personal feel to any occasion.
The Ballroom Lawn, where pre-events and breakout activities can take place, looks toward the mountains of the Phoenix Sonoran Preserve.
The Sunset Lawn is an immersive venue for large groups, particularly if the three Grand Ballrooms (a combined total of 84,000 square feet) are incorporated into the evening.
Smaller groups may appreciate the Wildflower Terrace and Sage Court, both of which maximize the natural landscape to bring out the best in any event.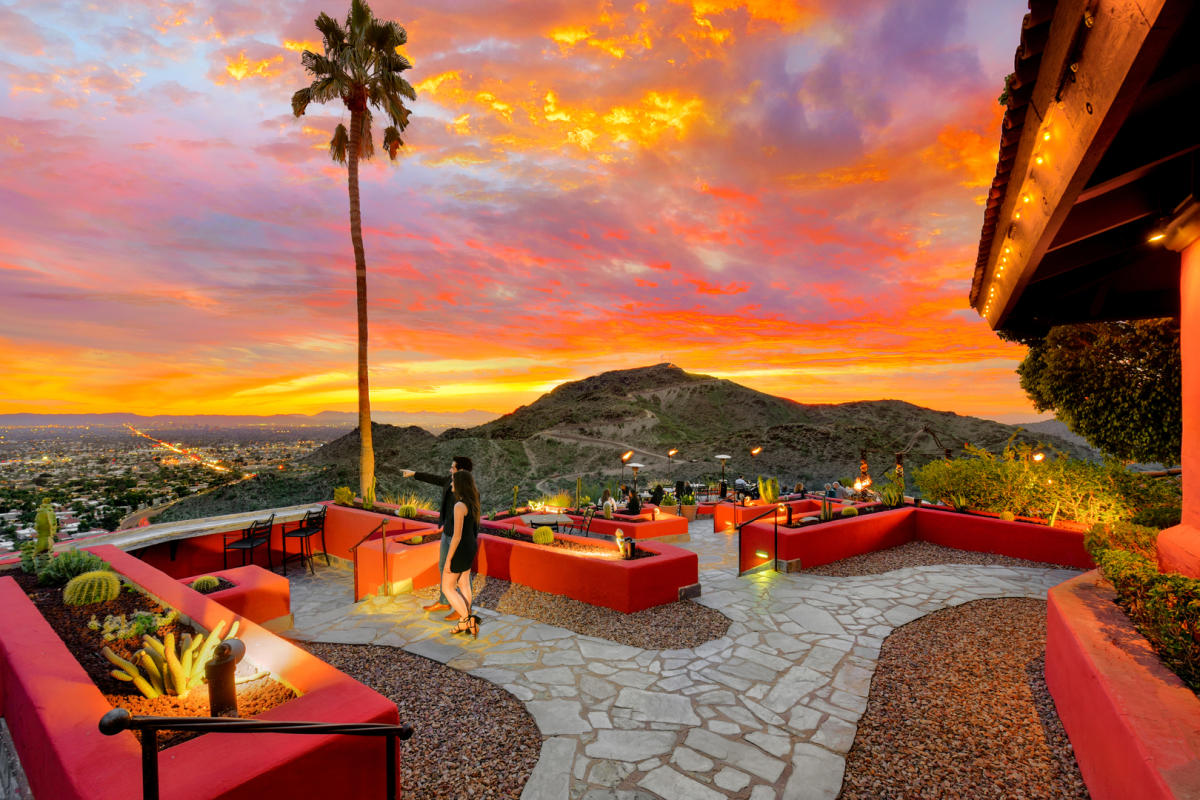 Different Pointe of View restaurant that doubles as an elegant event venue with mesmerizing views.
Waterfalls and mountain peaks are among the backdrops planners can select for exquisite outdoor functions.
Take the new perspective theme literally at the AAA Four Diamond Different Pointe of View restaurant that doubles as an elegant event venue. Floor-to-ceiling windows overlook an expansive patio and beyond to the mesmerizing desert landscape. Groups will feel like they are on top of the world here.
Hidden Valley pairs modern audiovisual equipment and experts with the rustic landscapes of Phoenix Mountains Preserve.
For a more intimate reception, consider Falls Terrace, which features cascading waterfalls and azure pools with elevated views of North Mountain Park.
Ride off to a venue that feels a world away (but is only 15 miles from Sky Harbor International Airport). This resort that takes advantage of nature's bounties: a perfect blend of mountains and water. Set in the heart of the Gila River Indian Community Reservation, home to the Pima and Maricopa tribes, a stay here includes easy access to Koli Equestrian Center, famous for its world-class horse rides and Western-themed team-building activities and soirees. Hemapik Lawn, nearly 34,000 square feet, easily holds up to 1,000 attendees for a cocktail reception or 600 for a seated meal, while Akimel Lawn and Patio have a sweet spot for groups about half that size.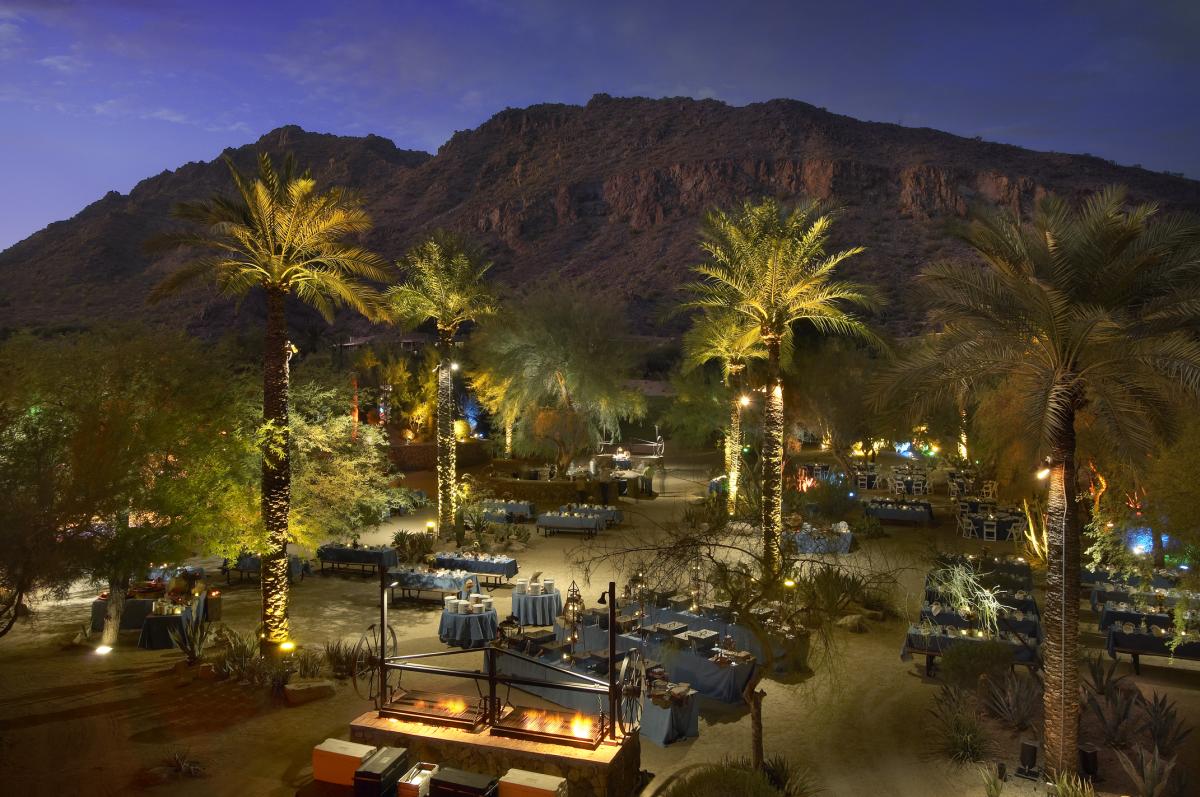 The Phoenician offers outdoor spaces, including Jokake Inn, set against the majestic Camelback Mountain.
The historic Jokake Inn and breathtaking East Lawn are just two of this resort's many outdoor venues that serve as colorful and stylish backdrops to any special event. In total, there is 160,000 square feet of indoor and outdoor space to plan events at this recently renovated AAA Five Diamond Scottsdale property that is part of Marriott's Luxury Collection.
An open-air venue for up to 200 attendees, Marshall's Outpost Pavilion flows out to the luscious greens here. For a higher vantage point, Northern Sky Terrace holds up to 400 with views of the acclaimed 27-hole golf course designed by Scottsdale golf architect Scott Miller.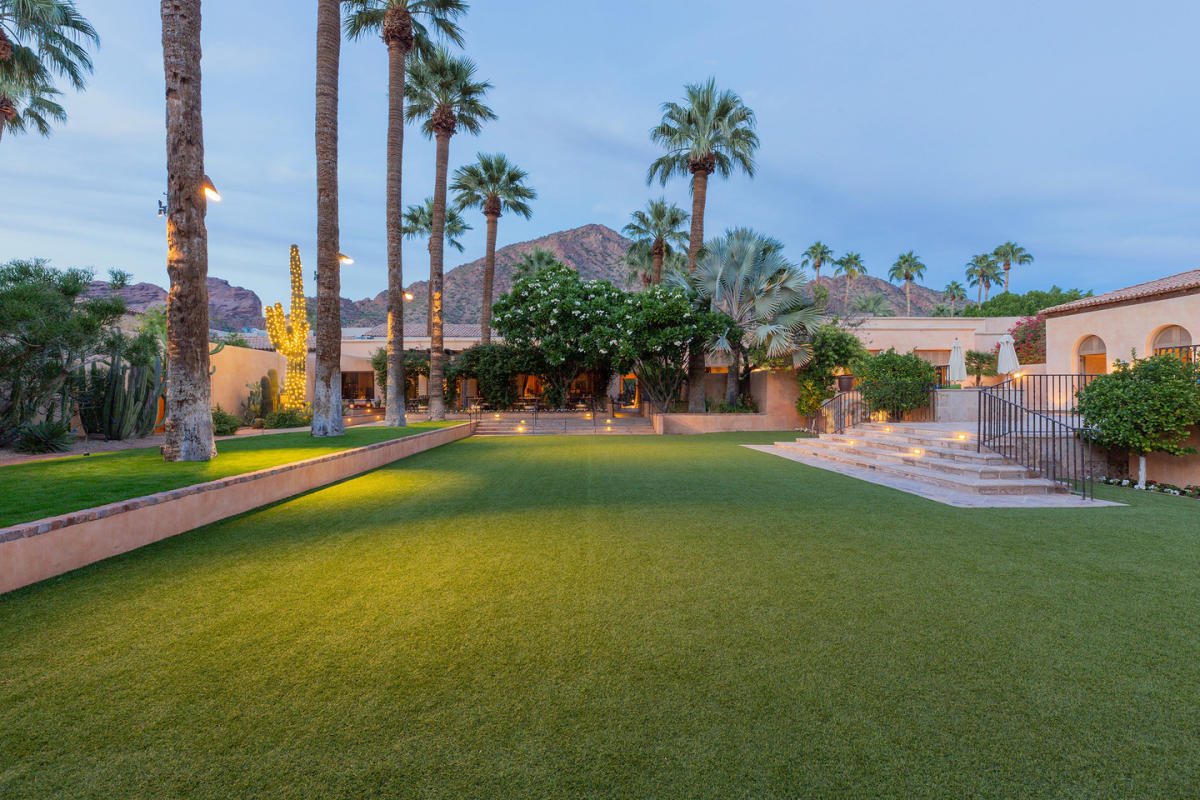 Vernadero Lawn offers unparalleled views from the heart of the resort.
Find the size and personality you are looking for in a private event with four distinct outdoor on-site options at this enchanting Spanish Mediterranean mansion.
Algeria Garden, an outdoor courtyard tucked behind stone walls and accented with vibrant flowers, is the perfect fit for a group of about 100.
Vernadero Lawn, the heart of the resort, has the best sunset views on Camelback Mountain. The venue accommodates up to 180.
Camelback Vista is an almost-secret garden that now sports a fireplace and patio as part of a recent renovation. Up to 180 attendees can enjoy a truly intimate function here.
Orange Grove was also renovated in 2018 and is another can't-miss site for groups of up to 200.
Whether you're planning for a group of a few or a larger delegation, Greater Phoenix has an incredible spectrum of sophisticated meeting facilities, impeccable service and plenty of room for meeting as well as exploring, pampering and unwinding. This marriage of service and presentation is the stuff dreams are made of.