Charitable Opportunities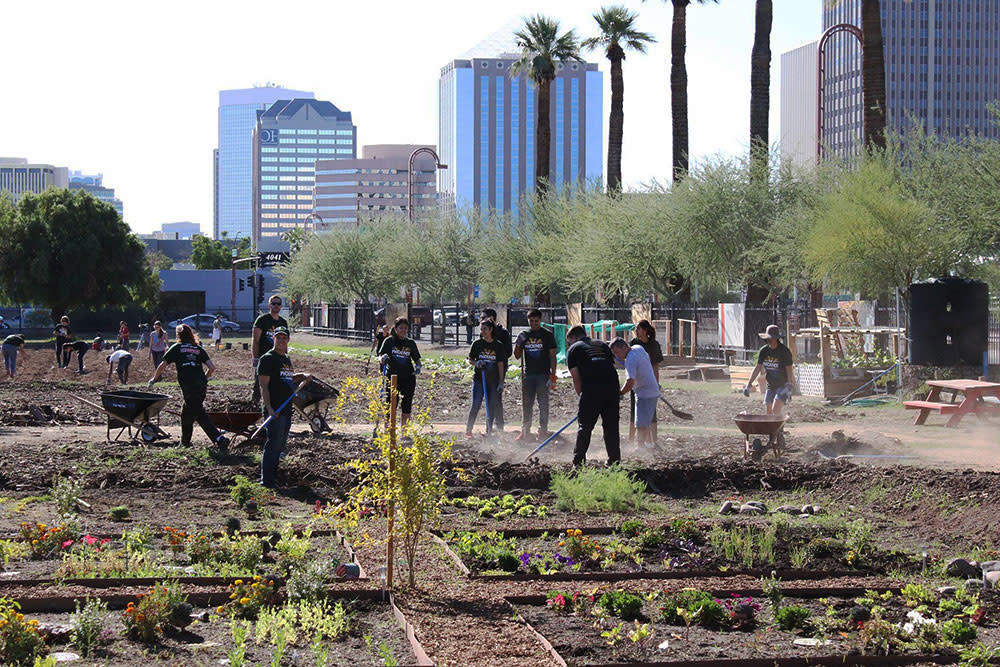 Keep Phoenix Beautiful

Turn team building into a charitable opportunity and give back to your host city with these opportunities for voluntourism, service projects, and other chances to practice corporate social responsibility. For more information on these volunteer programs, volunteer opportunities, and to connect with these organizations, please contact Kylie Leslie at kleslie@visitphoenix.com or (602) 452-6227.  
On average, teachers in America spend $500 to $1,200 each year from their own pocket on school supplies for their students — sometimes even as much as $4,000. Students cannot learn and become productive members of society without the essentials for learning, such as paper, pencils and other basic school supplies. Treasures 4 Teachers bridges the gap between the need for school supplies and available resources in our Phoenix community. Donations include reusable foam signage with a blank side, posters, and more. Accepted items can be found here.
Estimated Cost: Cost of donations, transportation to drop off donations (pick up available for over 20 boxes)  
Distance from Phoenix Convention Center: 8.5 miles, 15 minutes 
One Warm Coat is a national non-profit organization that works to provide a free, warm coat to any person in need. One Warm Coat supports individuals, groups, companies and organizations across the country by providing the tools and resources needed to hold a successful coat drive. 
Estimated Cost: Transportation to drop off donations (some non-profits may provide a pick up option at no cost) 
Distance from Phoenix Convention Center: Four Locations for Drop Off 
Phoenix Rescue Mission: 5 miles, 15 minutes 
UMOM New Day Centers: 3 miles, 10 minutes 
Maggie's Place: 7 miles, 15 minutes 
Mentoring All Americans for Leadership: 16.5 miles, 25 minutes 
Street Medicine Phoenix is a student-driven interprofessional health care and social justice team consisting of students and faculty primarily from the University of Arizona, Arizona State University, Midwestern University and Northern Arizona University. The premise of SMP is simple: bring the services to the people. Individuals experiencing homelessness lack access to community resources and health care services for many reasons including transportation limitations, lack of awareness, fear of stigma, and distrust of institutions. Conventions and groups can help by donating medical supplies and personal wellness items from this Amazon wishlist.

Estimated Cost: Cost of donations 
Distance from Phoenix Convention Center: Donation drop off can be arranged at Phoenix Bioscience Core (0.3 miles from Phoenix Convention Center, 6 minute walk)
Feed My Starving Children (FMSC) offers volunteers a one-of-a-kind experience. You'll hand-pack rice, soy, dried vegetables and a nutritionally complete blend of vitamins and minerals into bags, which are then sealed, boxed, placed on pallets and shipped to our incredible partners working hard to reach the neediest children around the world. 
Estimated Cost: Transportation for volunteers to/from warehouse and the opportunity to donate funds to cover food packed (optional)  
Distance from Phoenix Convention Center: 15.8 miles, 20 minutes 
Volunteers help make Ben's Bells that get distributed in our communities, and the "Be Kind" ornaments and merchandise that are sold in their shops, helping to fund their open art studios and kindness education programs. Group experiences include an in-depth look at our background and mission, a kindness educational activity, and hands-on painting or clay work. There is a 30 volunteers maximum. 
Estimated Cost: 1-10 people = $100; 11-20 people = $175; 21-30 people = $250 total  
Distance from Phoenix Convention Center: 0.5 mile 
Pack emergency food boxes with non-perishable items, sort food or repack bulk produce. St. Mary's can accommodate groups up to 60 people.  
Estimated Cost: Transportation to warehouse  
Distance from Phoenix Convention Center: 5 miles, 15 minutes 
Through FMSC MobilePack™ events, you can engage in an impactful meal-packing experience just about anywhere. No matter your location in the United States, a MobilePack gives you the chance to instill compassion in your community and improve the lives of malnourished children around the world. This experience requires at least 500 volunteers (Spring, Winter, and Fall)*. 
Estimated Cost: A minimum goal of packing and paying for 108,864 meals ($0.24 per meal, about $26,000*)  *MiniPack available in Summer months, which requires only 250 volunteers and half the meal contribution  
HandsOn Greater Phoenix coordinates and executes all aspects of company volunteer projects, both on-site and off-site, including project planning, site inspection, acquisition of supplies, volunteer orientation and leadership, team-building elements, and transportation.  All your team has to do is show up, volunteer and have fun! Projects include:  
Paint murals and playground games at an elementary school  

Cook and serve a meal for veterans  

Build stuffed animals for children living in shelters  
Create superhero capes for youth in foster care  

And many more!  
Estimated Cost: About $50-100 per volunteer depending on the activity 
Ben's Bells are colorful ceramic flowers hung in communities throughout the world as symbols of kindness for people to find and take home. Studio To-Go provides the entire Studio experience at your location! We'll bring all the materials and staff needed to set up a studio right there in your office, classroom, or meeting place. Studios To-Go can accommodate up to 100 people and up to 2 hours of painting.  
Estimated Cost: About $500 for 100 participants  
In an effort to aid those experiencing homelessness, the Phoenix Rescue Mission's Hope Coaches travels the streets of Phoenix, offering water, assistance, and Hope Totes to the homeless they meet. Groups can donate Hope Totes containing these items.
Estimated Cost: Supplies and transportation to deliver totes to PRM Donation Warehouse (5 miles, 15 minutes from Phoenix Convention Center) 
No Child Hungry works with corporate and community groups to collect, pack, and provide nutritional meals to hungry children, families, and those who care for them around the corner and around the world. Meals can be distributed locally to groups' chosen organization or we can manage the distribution locally or internationally. 
Estimated Cost: Dependent on number of attendees, minimum of 10,000 meals minimum or about $3,000 
Hygiene for the World aims to prevent the spread of disease by working with corporate and community groups to collect, pack, and provide hygiene kits. In addition we can create customizable kits (backpacks, comfort kits, baby bags, etc.) to support the groups' chosen cause. Kits can be distributed by the group or we can manage the distribution details locally or internationally. 
Estimated Cost: Dependent on number of attendees; kits start at $5 per kit assembled