Let's Rally
Capitalize on the buzz (and venues) of Greater Phoenix's sports scene for your next meeting 
With the Phoenix Suns demanding global attention well beyond the regular season for the second consecutive year, and Greater Phoenix on the clock for Super Bowl LVII (Feb. 12, 2023), this city's position in the sports world has reached a fever pitch — and we're just getting started. 
Also on the horizon, Greater Phoenix is set to host both the Men's and Women's NCAA Final Four tournaments in 2024 and 2026, respectively. In the meantime, college bowl games, spring training and the WM Phoenix Open — the PGA Tour's best-attended event — are perennial favorites among locals and visiting fans.  
This city has also played host to All-Star games three times for the NBA, twice for the WNBA and once for the MLB and NFL (Pro Bowl). 
But meeting planners don't need to score tickets to the next mega event to tap into all this action. Here's a look at the teams, venues, atmospheres and energy that are available year-round — as well as Visit Phoenix's invitation to capitalize on the buzz of this city's sports scene for your next once-in-a-lifetime event. 
Take a page out of Phoenix's mega event playbook and bring die-hard fan energy to your next meeting or convention.
Read More
Chase Field
Located next door to Footprint Center — a pillar of the Legends Entertainment District — is Chase Field, home to the Arizona Diamondbacks. While this field is best-known for hosting the 2001 World Series, a feat which earned the D-backs its first championship trophy, it's maintained popularity among meeting planners due to its location: across the street from the Phoenix Convention Center.
Additionally, the ballpark offers unique meeting experiences both on and off the field. Meeting planners can choose from the Diamondbacks Club House, which is only available in the off-season because it includes a tour of the locker rooms; the Audi Lounge and the Draft Room, both of which overlook the field; Legends Suites and Conference Center, which offers incredible views of Phoenix; the indoor/outdoor Game Seven Grill; La Terraza, a Latin-themed space with colorful murals; and The Plaza, which offers wide open space with an outdoor, elevated stage. There are also a number of private suites available for smaller meetings. 
The venue offers versatility with its retractable roof and ability to transform into a concert venue for the likes of Sir Elton John as well as a football field for the Guaranteed Rate Bowl, the only college bowl matchup between members of the Big 12 and Big Ten Conferences.
Public tours are available Monday through Saturday year-round, and offer visitors a behind-the-scenes look at the famous right field pool, the Coors Light Strike Zone, as well as several unique features.


Chase Field in downtown Phoenix, home of the Arizona Diamondbacks.

 
Cactus League Spring Training
Each spring, 15 MLB teams play more than 200 games across 10 Greater Phoenix ballparks at part of Cactus League Spring Training. With group ticket offerings, you'll just have to choose between private suites or front-row seats before retreating to convenient nearby accommodations. 
Footprint Center
Every summer, the Mercury rises as this city's WNBA team — led by Diana Taurasi — hosts opponents at Footprint Center. And, from October to April, Devin Booker and the Phoenix Suns light up the same court. As if perfectly timed with the area's new name and multifaceted renovation, both teams hosted The Finals at the downtown Phoenix arena in 2021.
The $230-million project added nearly 70,000 square feet of new fan amenity space — and fan-focused features throughout — as well as the state's largest sports bar, a new glass-framed main entry and grand lobby, a new 8,500 square-foot interactive, LED video wall that can be programmed with dynamic content. 
A variety of premium offerings, including clubs, suites, premium seating options, themed bars and other social spaces, have also been reimagined. Existing suites have been turned into mini suites, theater boxes (small groups of boxes with shared dining areas) and all-inclusive party boxes with access to exclusive lounge spaces — dark back-of-house spaces on the east and west sidelines offer 10,000 square feet of premium clubs — all just steps from the Phoenix Convention Center.
This combination of events landed the locally based company with the arena's naming right on the radar of a global audience. Founded by former Intel managers, Footprint is a plant-based fiber technology and material science operation that aims to replace short-term plastic use for a healthier planet. To that end, the arena's concessions have replaced most single-use plastic with items made of plant-based fiber.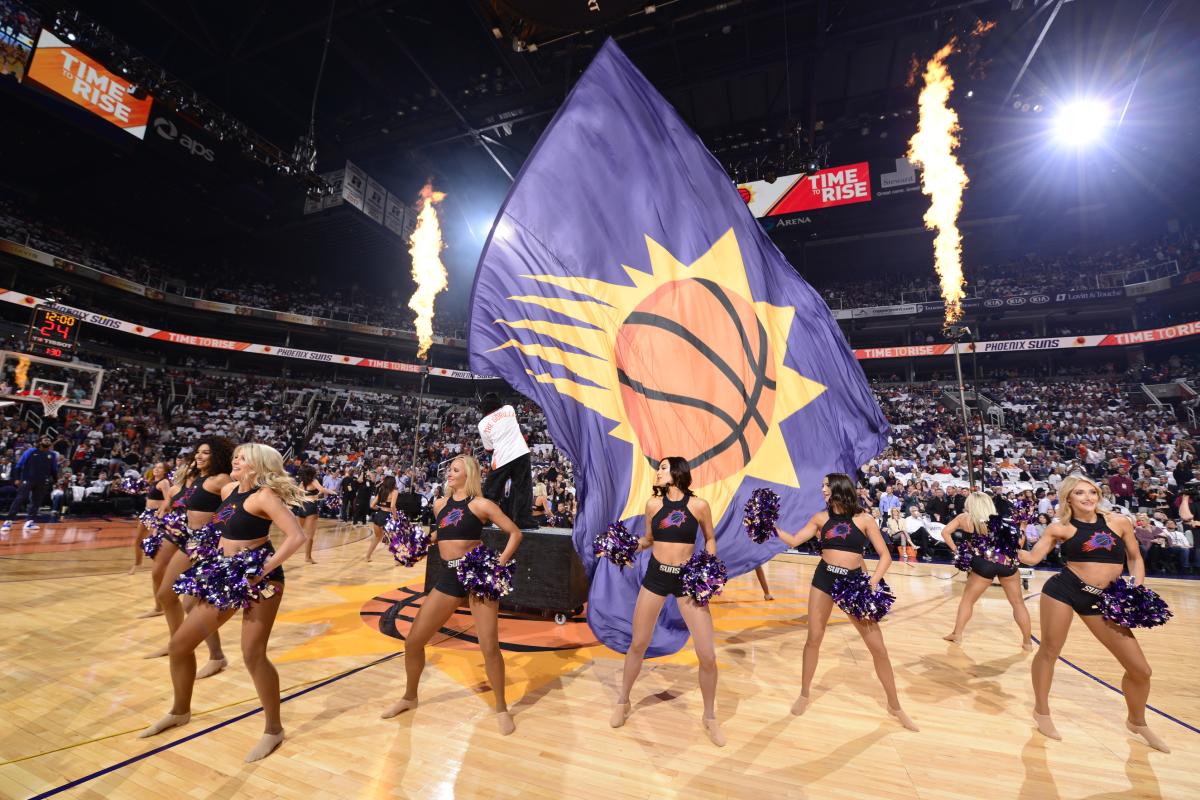 Footprint Center in downtown Phoenix, home of the Phoenix Suns.
State Farm Stadium
As the most iconic venue in the Southwest, State Farm Stadium routinely hosts sporting events, concerts, trade and consumer shows, corporate events and special occasions — that's in addition to sporting events ranging from the NCAA Final Four and the Fiesta Bowl to Arizona Cardinals home games and Super Bowls XLII, XLIX and LVII (Feb. 12, 2023).
Offering event facilities year-round for groups of any size, the functionality and flexibility of this venue allows event planners to tailor every detail for groups as small as 20 to as large as 20,000 and up. Choose from the stadium floor (160,000 square feet); AZSTA Grand, home to the Arizona Cardinals Brew Haus on game days; a variety of lounges, including the Bubble Lounge, the first champagne bar in the NFL; and the visiting team's locker room and more. 
The State Farm Stadium team is ready to assist with every detail and provide its signature trademark: exceptional customer service.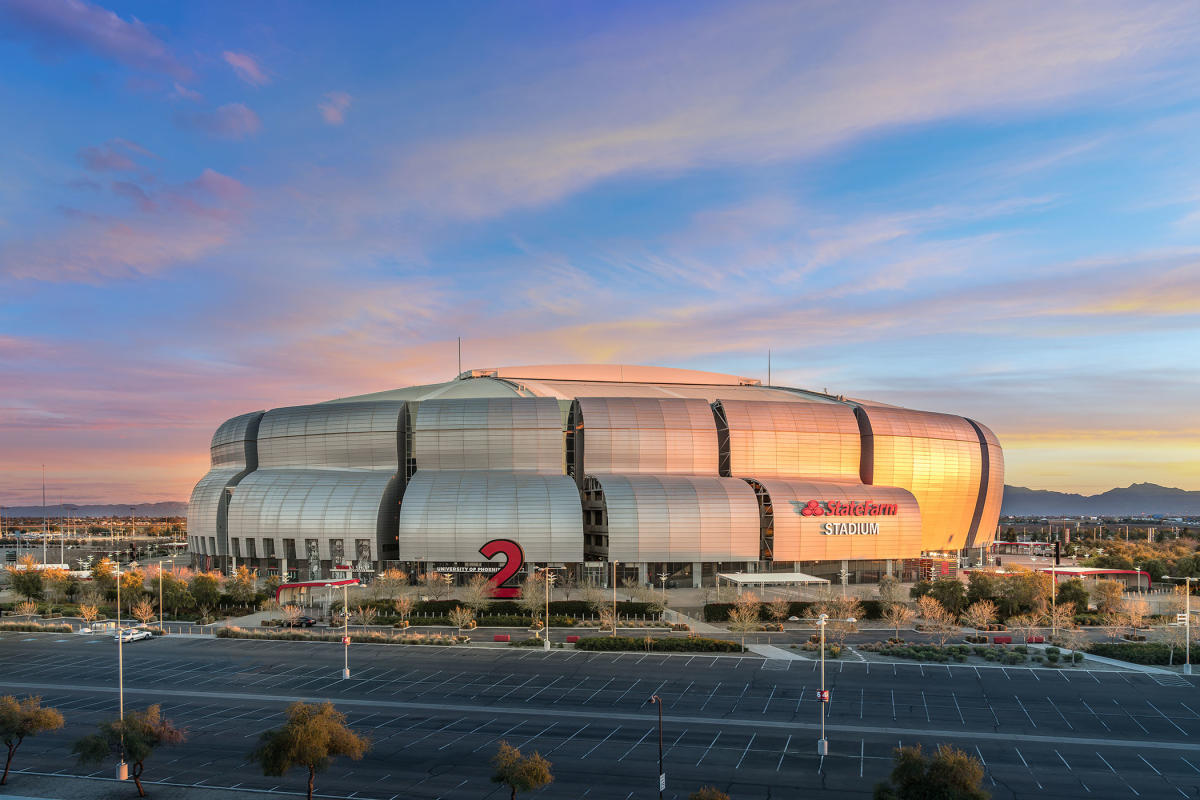 State Farm Stadium, home of the Arizona Cardinals.


International

On Feb. 13, 2002, the Mexican national team played its first-ever game in Arizona. A year later, State Farm Stadium opened, bringing a whole new world of possibilities for the presence of the country's most popular soccer team in the Valley. Since then, Mexico has played in Arizona 10 more times, including nine at the Cardinals' stadium. 

The Mexico National Team continues to make regular visits to State Farm Stadium:  versus Honduras in 2021 for the quarterfinal matchups in the CONCACAF Gold Cup soccer tournament and versus Uruguay in 2022 as part of Mexico's four friendlies in preparation for the World Cup in Qatar. The US Women's and Men's National Teams also have this pitch as a stop on their tours.

Game Changers

Just beyond the great lawn — a tailgating favorite that can also be converted for events — sits new, outdoor event venue. Heritage at Sportsman's Park is home to a garden patio, full-service kitchen within its three-level pavilion space (10,000 square feet). Additionally, VAI Resort — on pace to be Arizona's largest — will occupy 60 acres and offer a 7-acre body of water, a 360-degree concert stage, 13 restaurant concepts, a 20,000-square foot spa and wellness center, over 40,000 square feet of flexible ballrooms and meeting spaces and more than 1,200 rooms spanning eight stories. The resort, which is projected to open in 2023, is part of the State Farm Stadium complex (under a quarter mile from door to door).
TPC Scottsdale
As part of the PGA Tour's FedEx Cup, the WM Phoenix Open returns to the Sonoran Desert each February. Known as both the "Greenest Show on Grass" for its sustainability efforts — it's the world's largest zero-waste event — and as The People's Open, for short, the tournament annually brings golf's biggest names to TPC Scottsdale for the tour's best-attended event (700,000 fans across five days in 2020).
Open since 1987, this 36-hole desert-style course was among of the first in the series of PGA Tour developments to feature stadium mounding for spectators, although the designers (Jay Morrish and Tom Weiskopf) could never have anticipated just how popular this event would become. The tournament also welcomes fans, visitors, celebrities, corporate events and more to this one-of-a-kind experience that offers skyboxes, suites, clubs and tents to choose from — all conveniently accessible from dozens of area hotels and resorts.
Wild Horse Pass
Home to the Phoenix Rising FC as well as Rawhide Western Town & Events Center, Wild Horse Pass is a space that simultaneously celebrates the region's past, present and future. Just steps from the USL Championship soccer action, you'll find Sheraton Grand resort and Gila River Resorts & Casinos, complete with fine dining, entertainment, meeting space and all the other amenities you and your attendees have come to expect for your event. 
Phoenix Raceway
Phoenix Raceway has been the premier motorsports venue in the Southwest since 1964 and hosts two NASCAR race weekends each year: The Ruoff Mortgage 500 kicks off race season in March and NASCAR Championship Weekend takes place each November, crowning four champions over three days.
As the area's second-largest outdoor venue (behind Sun Devil Stadium), Phoenix Raceway regularly welcomes crowds up to 42,000 and also hosts a variety of events throughout the year, including corporate meetings and conferences, concerts, charity events, holiday festivities, driving schools and Segway tours.
No matter what time of year your next event will take place, there are top tier stadiums, arenas and ballparks to accommodate groups of all sizes, and our convention services team is ready to custom-tailor these experiences to deliver die-hard fan energy.
We invite you to find out what all the buzz is about.