Local bootmaker stitches colorful, custom leatherwork in his Central Phoenix storefront.
By Jackie Dishner
Truth is, I've never owned a pair of cowboy boots, but a guy in our party of 20 at the restaurant singled me out to share this testimonial because he heard I'm a writer:
"If you ever wanna buy a pair of these, go see David Espinoza over on 16th Street. Get 'em custom," he said, reaching down to pull the bottom of his black jeans up, revealing a colorful pair of cowboy boots with some fancy stitching and design. 
"Oh, they're nice," I acknowledged. He nodded, and conversation with the rest of the table ensued. But this stranger's words stayed with me. 
It's why, two years later, I find myself in front of the bootmaker's shop, in a part of central Phoenix that looks under renovation with new buildings replacing old and modern restaurants opening up. The sign on the façade of his rust orange stucco building in between it all reads: BOOTMAKER.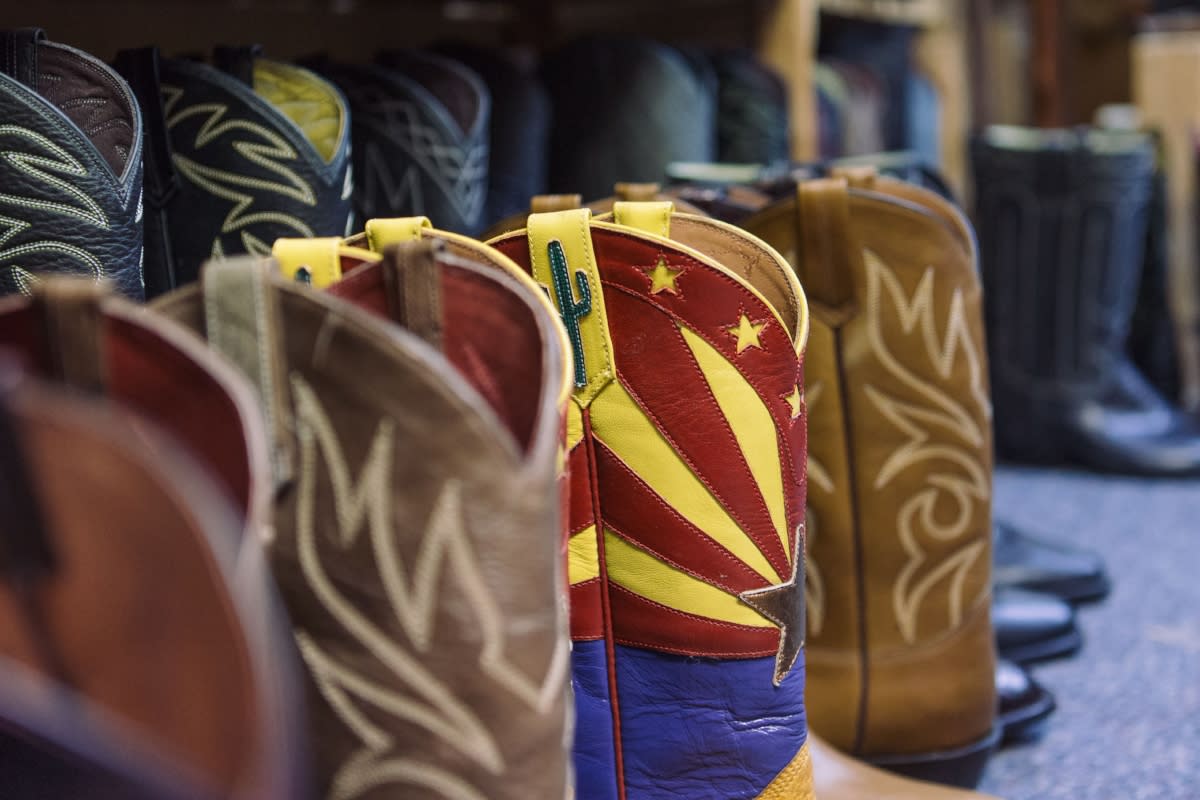 I'm curious to see what's inside when a short-haired woman walks out the door. I ask if she was there to buy boots. 
"Oh, no," she says, "David's repairing my leather purse. It's an heirloom I inherited from my mother. Fifty years old. I'm hoping he'll be able to tell me what kind of lizard skin it is and match it. He's real good at things like that." 
Inside, I'm greeted by an immediate whiff of leather and dye, and a room stocked with fully-built boots. At least 200 pairs of handcrafted cowboy boots of varied colors, skins, textures, cuts and sizes stand floor-to-ceiling atop wooden shelves lining two walls and filling carpeted space in the center of the room. Off to the right, tooled leather belts hang from the ceiling like a curtain. Behind it, I hear the sounds I'll later see up close during a tour: the whir of vintage Singer sewing machines, the tapping of a hammer to an unfinished heel, some chatter in Spanish by his team of three artisans, boot makers in their own right—each having migrated to the U.S. from different parts of Mexico where they learned their craft.
A bearded man with glasses and skin as smooth as unstained cowhide suddenly appears from behind the leather belts. He's dressed in a button-down shirt, slacks and suspenders. He offers me a seat in the store. I can't help but look down to check out his feet. His bright boots are colorful, too. All blue. He catches my glimpse.
"Are those yours?" I ask.
"I can't get away with wearing boots I don't make," he says, and introduces himself.
David Espinoza, the "maestro" to his three assistants, now in his 70s, tells me he started learning as a young boy growing up in Phoenix the craft that would lead to bootmaking. In college, he earned money by making purses, belts and sandals for friends. He bought his current business in 1990, from the bootmaker he apprenticed with during the 1970s. That was Jesse Bogle, the bootmaker who used to operate a shop on Van Buren Street near Tovrea Castle. Bogle is credited with teaching the craft to Paul Bond in Nogales and to Nudie Cohn, the costumer who became famous in the 1950s for dressing Hollywood stars in flamboyant western wear. Espinoza would later put boots on his own set of celebrities, Glen Campbell among them.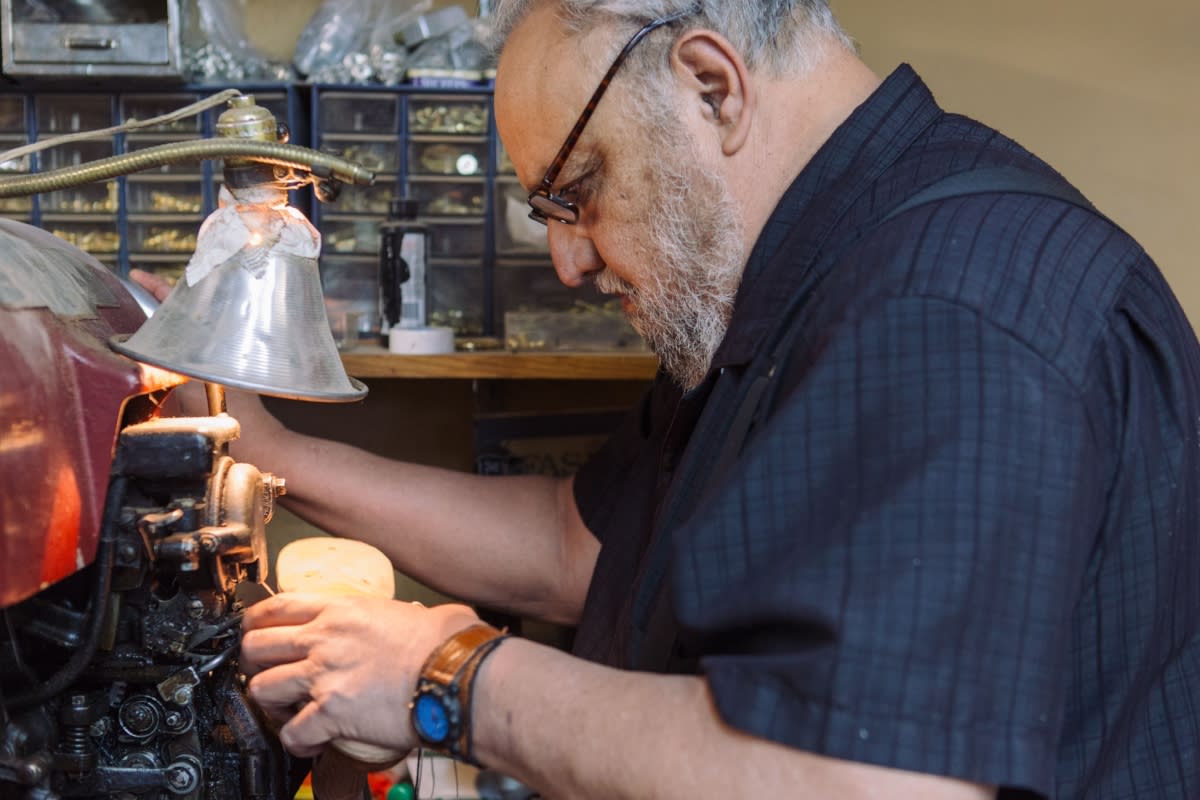 "I originally wanted an art studio," he says, "some place where I could go do my art and then go out back for a sip of wine or a smoke. I wasn't ambitious." But his keen eye and artistry transformed what was once just a hobby into a successful business, attracting repeat customers who come in to get fitted for custom boots that range in price: $500-$6,000. His most outrageous design request was for an all-alligator pair. He made tie-dyed boots once for a woman who dyed the leather herself. The owner of a junkyard wanted a pair—but they had to be purple. A popular design he makes has the Arizona flag on front, goatskin on top, ostrich on bottom. He generally fits working cowboys and businessmen.
On a stroll through the shop, I run into large leather pieces hanging from the ceiling.
"That's the ostrich and alligator department," he kids. 
In the dusty workroom, I spy shelves full of vasts—wooden foot models used to size shoes—and there's an assortment of dies, custom-ordered from Ohio. The guys use them to cut out leather patterns. Spools of thick colorful threads are arranged over the sewing machines. He has four. All vintage.
The artisanal process, he says, mostly pre-dates the Industrial Age, and it's messy. You have to have a lot of patience for all the steps. Although still involved in the design and the finish, his employees now do the bulk of the work. It takes about six weeks to complete a single pair. In between custom orders that trickle in, one to five per week, his guys are building standard product seen on the shelves out front. He won't become a chain like Boot Barn, but Espinoza, changing with the times, is going retail.
"People don't want to learn the craft, anymore," he says, calculating his last apprentice came a few years back. "I've got another five to 10 more years in me before I sell the shop and the inventory, too."
In that case, I guess, I've still got time to "get 'em custom."
If you go:
Bootmaker David Espinoza
4409 N 16th Street, Phoenix 85016
(602) 263-8164
LeatherBootsAndBelts.com