Photo by Adam Rodriguez
For one Phoenix transplant, visiting Desert Botanical Garden is a life-balancing ritual.
By Sally J. Clasen
 
When I moved to Phoenix in 1984, it wasn't love at first sight. I was born in the Midwest, and Phoenix's arid landscape contrasted so sharply with my green, precipitation-filled upbringing that I considered the Southwest's most populous city more of a post-college pit stop than a place to call home.
Sure, the endless sunshine, the shopping, the golf courses, the sparkling swimming pools, the restaurants, the nightlife and the outdoor recreation were seductive and distracting. But, in my mind, Phoenix was just a zip code to explore until I found my true environmental digs. It took awhile, even a move back to the Midwest for four years, to make me realize that there was life—my life—in Phoenix.
And it was a cactus-filled sanctuary rooted in the middle of my urban existence that changed my view.
I had driven past the Desert Botanical Garden many times, mostly on my way to spring training baseball games or to cut through town to get somewhere else. I figured if you saw one cactus, you had seen them all, so meandering through a collection of seemingly ubiquitous plants struck me as a waste of time. But one particular day I was drawn to this flora footprint sandwiched between city streets and suburban boundary lines.
The minute I entered Desert Botanical Garden, my entire being was hit with an unexpected force of nature. That force has since tethered me to Phoenix, grounding me to this desert metropolis in a way I never thought possible. 
While I expected to see a few of Arizona's signature saguaros during that initial visit to the garden, I was awestruck by its majesty and magnitude. I had no idea I would enter a surreal world in the shadow of Papago Buttes where trails snake through more than 50,000 plant displays. It was—and is—an incredibly diverse and succulent ecosystem, a thriving and blooming desert with plant species from around the world. How had I so arrogantly dismissed such a beautiful place?
Nature, as it often does, sent me a powerful and swift message that day. It forced me to open my eyes, take off my sunglasses and adjust my focus. I began to understand how transformative it could be to stop and smell the (desert) roses. I was intrigued by organisms that wear their spines on the outside and have built-in water-saving features. How brilliant!
Soon I started noticing cactuses at stop signs, in private gardens, outside corporate buildings. Desert living took on a whole new complexion for me. I became aware of the beauty of my habitat. It was filled with the iconic saguaro and so much more—unusual succulents with playful names like agave, jumping cholla, prickly pear, ocotillo and a host of other native plants that are colorful and inspiring.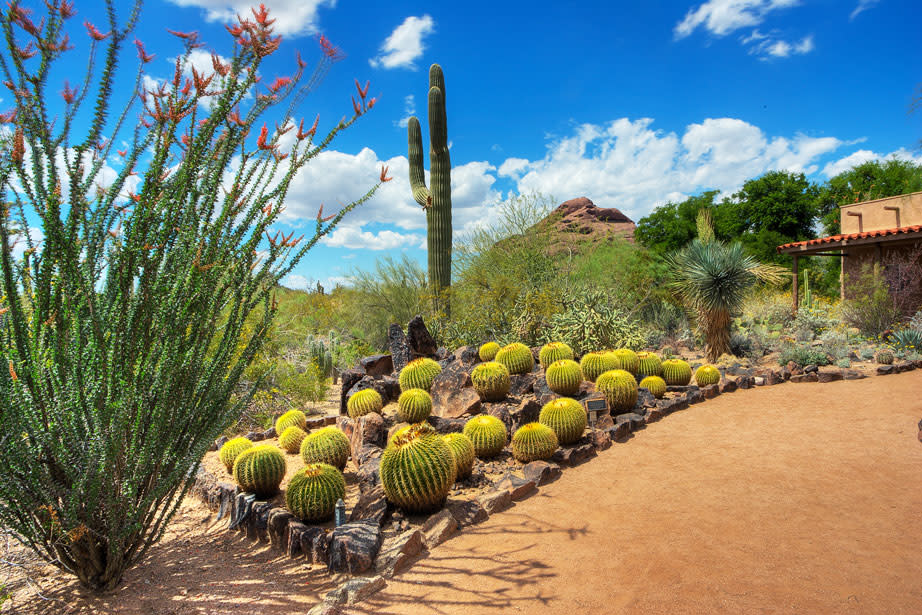 Photo by Adam Rodriguez
On one of my fist visits to Desert Botanical Garden—or, as the locals call it, "DBG"—I learned about ecological convergence, which is botany talk that refers to how unrelated organisms evolve similar traits to adapt to their shared environment. It occurred to me that, as a transplant to Phoenix, I was learning to appreciate the exquisite uniqueness of my home courtesy of this transformative place. The garden changed my perceptive biology. I suddenly realized that not only could I fit in here, but I could bloom and grow. Phoenix was exactly where I was supposed to be, and I've been a resident here ever since.
In the years since, the DBG has become my "cabin in the woods". I often retreat there to escape the sometimes congestive grip of big-city living, to observe my native environment up close, to clear my mind and restore my balance. A visit to the garden also allows me to return to "civilization" with more appreciation, respect and purpose.
While it doesn't have a Golden Pond, I'm constantly amazed at how peaceful the garden is and how I'm able to get lost in a desert wilderness in the heart of a bustling metro area. Certainly Thoreau would agree that one can learn a valuable lesson in self-preservation and permanence from a towering, centuries-old saguaro that on first glance seems uncomplicated, but upon closer inspection reveals a sophisticated infrastructure that relies solely on itself to survive in the elements.
Thank goodness Gertrude Divine Webster and Gustaf Stark had enough conservation foresight in 1939 to establish the DBG and make certain a substantial swath of Phoenix's desert environment would be preserved as the city inevitably expanded and became more urban. Besides being a visually stunning plant sanctuary, the DBG is an educational gem with ever-changing exhibits, programs, events and research efforts that promote the Sonoran Desert as a vital ecological resource. It is for this reason—and not just its beauty—that the Desert Botanical Garden is a Phoenix Point of Pride.
When people ask me what they should do while visiting Phoenix, I tell them, without hesitation, to go to the DBG to experience the living desert in all its glory. Sometimes the only visual point of reference for visitors who travel here is a panoramic desert vista seen from a thoughtfully appointed resort guest room or zero-edge pool. And no one is more a fan of that vantage point than I am.
Yet I believe the energy and spirit of Phoenix, and those who reside here, is rooted more deeply in an unforgettable cactus garden in the middle of the city.
Desert Botanical Garden
1201 N Galvin Pkwy, Phoenix 85008
(480) 941-1225