Fried chicken, pork chops and oxtails might not change the world, but they've been part of the winning recipe for Mrs. White's Golden Rule Cafe in downtown Phoenix for nearly six decades.
When Elizabeth White, a single mother of four, moved from Texas to Phoenix and opened her landmark restaurant in 1964, parts of the city were segregated. Unfazed, she was determined to provide for her family and welcomed everyone to her soul food establishment, which was first located at 1029 E. Jefferson St., before moving down the street to its current home at 808 E. Jefferson St. in 1976.
"In the early '60s, we weren't making money. But then government jobs were created, and people had money to spend," she says. "We persevered. All you need is word of mouth, which will kill you or make you. It made us."
While a person's skin color determined who you could do business with at the time, Mrs. White saw things differently.
"We welcomed everybody and didn't have any trouble," she recalls. "They all had the same money. We trusted everyone the same. Color didn't make any difference to me. God knows your heart."
That philosophy made her a trailblazing business owner and Phoenix icon.
Over the years, she has fed generations of diners from every walk of life, ranging from celebrities and professional athletes to dignitaries and politicians, including Devin Booker, Jesse Jackson, James Brown and Senator John McCain, who was a regular. "You can't name them all," says her son, Larry White Sr., of the cafe's famous clientele.
Many restaurants try to reinvent their concepts, but not much has changed at Mrs. White's, where the simple, homemade menu and unpretentious decor remain largely locked in a time capsule — except for a few paint jobs and a restroom expansion.
Of course, there was that one time Larry Sr. cut menu items and shut down breakfast operations while his mother was away in Texas.
"I put up a sign explaining we opened at 10:30 a.m. instead of 7 a.m. and took five meats off the menu," he says. "All we needed was chicken, pork and beef."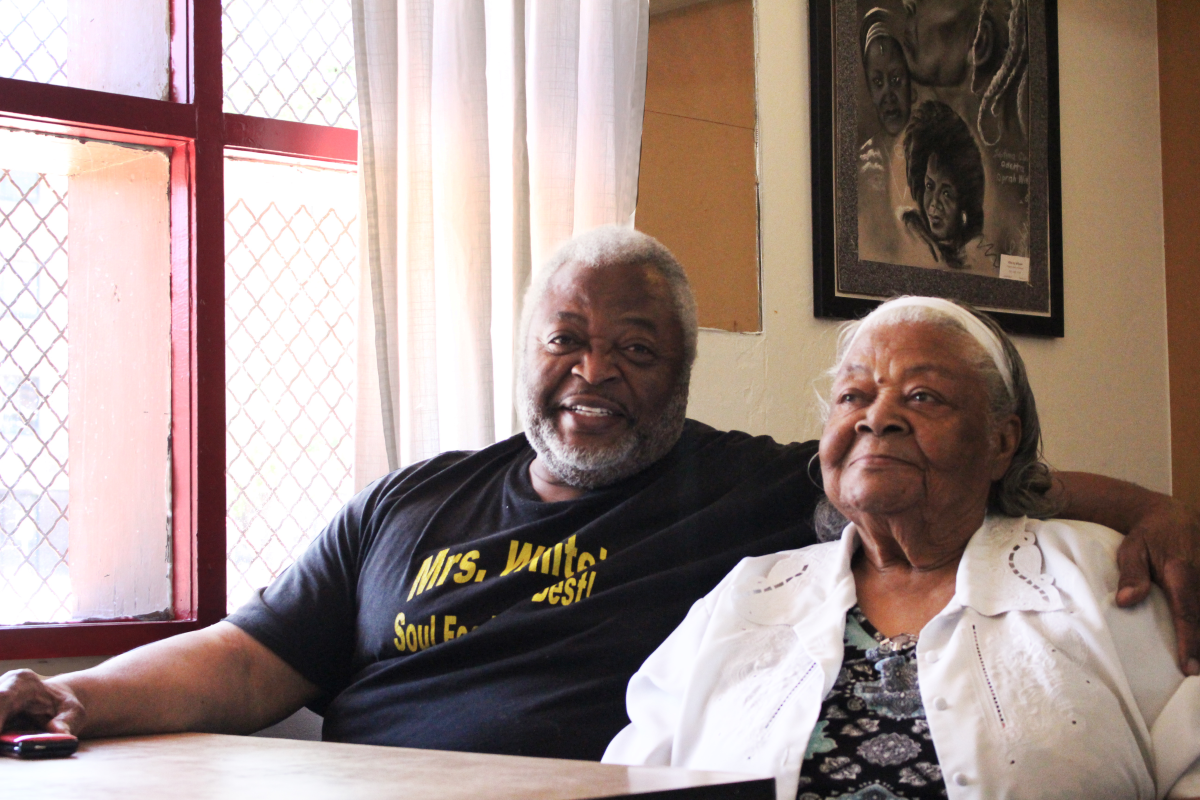 Today, Larry White Sr. is carrying on the day-to-day operations of the restaurant his mother, Elizabeth White, founded in 1964. 
The days of being open 24/7 are long gone, too — a schedule that was once necessary for Mrs. White to support her family and pay back the 0 percent business loan she received.
The cafe has weathered civil rights movements, economic recessions, Valley Metro Rail construction and, now, a pandemic. Yet as other restaurants have folded, Mrs. White's Golden Rule Cafe has thrived. She attributes the cafe's longevity to sticking to her original business plan — serve plenty of good, old-fashioned comfort food.
"You have to be consistent in the recipes, in the amounts you give," she explains. "Some of it is attitude, too. I like to have a good attitude and for others to have a good attitude. You can't tell people to act one way if you're not going do the same."
Mrs. White says she officially retired in her 80s, but is still protective about what goes on in her namesake eatery. On occasion, she can be found in the kitchen making a peach cobbler or washing dishes — and noticing every operational detail.
"I want it to stay right and clean, make sure the food is served hot and customers are treated well. I want it to be like I'm here," she says.
And for good reason.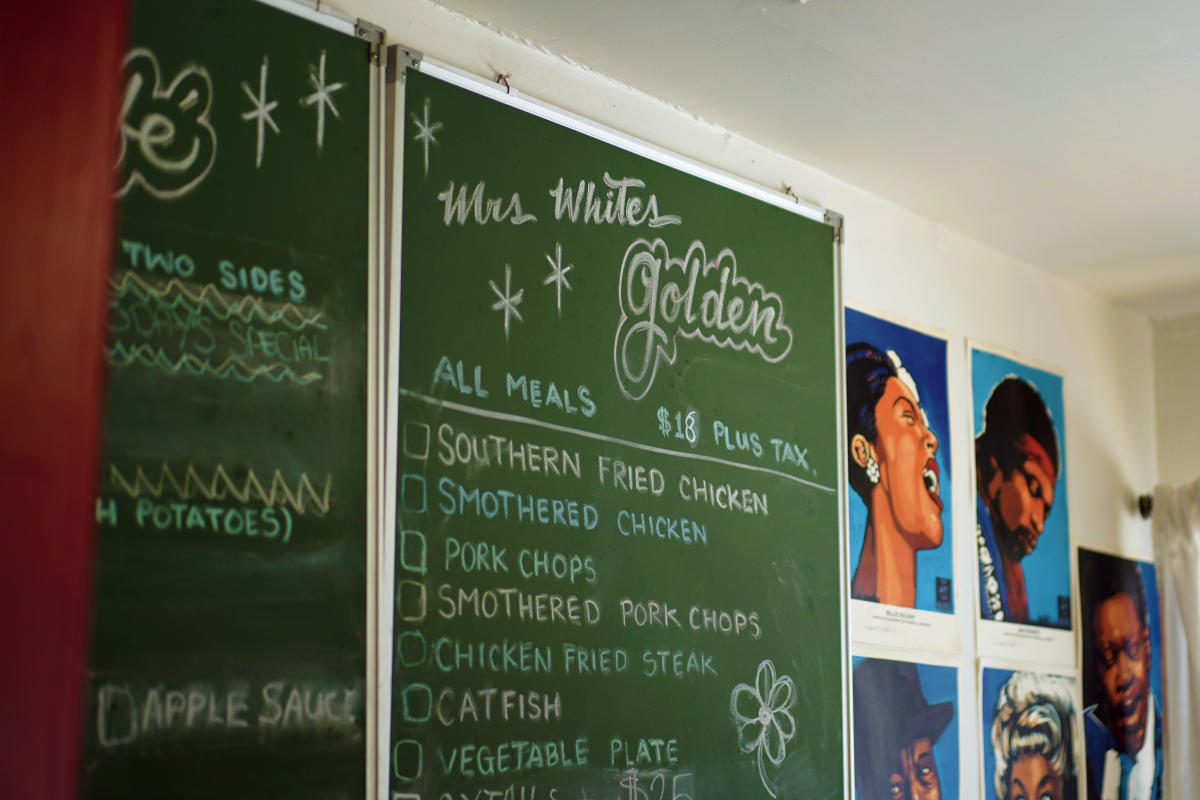 Mrs. White's soul food classics have been drawing diners to the cafe for nearly six decades.
Mrs. White's entrepreneurial spirit, work ethic, recipes and consistency paved the way for Phoenix's fried chicken scene. Today, her family members are not only following her example, but they're expanding this chicken empire.
Larry Sr. does the payroll and manages the day-to-day operations with his daughter, Kianna, at Mrs. White's. And Larry White Jr., who grew up and bussed tables at the cafe, opened his own trifecta of restaurant concepts — Lo-Lo's Chicken & Waffles, Monroe's Hot Chicken, and Brunch & Sip — all featuring down-home fare made with fresh ingredients reminiscent of his grandmother's cooking. (Check out our interview with Larry Jr.)
"The crazy thing is, the last thing I wanted to do was own a restaurant. It's hard work and takes a toll on your family. It's a lifestyle I didn't want," Larry Jr. says of his journey creating concepts that showcase modern takes on soul food classics. "I didn't realize they were grooming me for a trade."
Not only did his grandmother inspire him to branch out, but she also gave him his first opportunity to perfect the chicken and waffles recipes he would later become known for (as a house specialty on her late-night, weekend menu for five years).
Mrs. White also instilled in her grandson the foundation for restaurant success: "Treat people right, don't take shortcuts and serve quality food, and they'll come back," says Larry Jr.
And, above all, stick to what you do best.
Connect with the White Family
Mrs. White's Golden Rule Cafe
808 E. Jefferson St, Phoenix
602-262-9256
Hours: Monday – Sunday, 10:30 a.m. – 7:30 p.m.
Facebook | Instagram
Lo-Lo's Chicken & Waffles
1220 S. Central Ave., Phoenix 
602-340-1304 
Hours: Monday – Friday, 10 a.m. – 9 p.m.; Saturday, 8 a.m. – 9 p.m.; Sunday, 8a.m. – 6 p.m. 
366 N. Gilbert Road, Gilbert 
480-207-6173 
Hours: Monday – Friday, 5 – 9 p.m.; Saturday, 8 a.m. – 9 p.m.; Sunday, 8 a.m. – 6 p.m. 
3133 N. Scottsdale Road, Scottsdale
480-945-1920 
Hours: Monday – Friday, 10 a.m. – 9 p.m.; Saturday, 8 a.m. – 9 p.m.; Sunday, 8 a.m. – 6 p.m. 
3400 E. Sky Harbor Blvd., Phoenix (airport Terminal 4, B wing, pre-security)
Hours: Monday – Sunday, 7 a.m. – 9 p.m. 
Website | Facebook | Instagram
Monroe's Hot Chicken
45 W. Jefferson St., Suite K, Phoenix
602-872-7100
430 N. Scottsdale Road, Suite 108, Tempe
480-687-0007
Hours: Monday – Sunday, 11 a.m. – 4 p.m.
Website | Facebook | Instagram
Brunch & Sip
3950 E. Indian School Road, Phoenix
602-675-1459
Hours: Monday – Thursday, 8 a.m. – 2 p.m.; Friday – Sunday, 8 a.m. – 3 p.m.
Website | Facebook | Instagram