This border-culture-born, bodega-served link that's famously wrapped in bacon and served with an assortment of toppings is perhaps one of the most known/not-known regional culinary icons.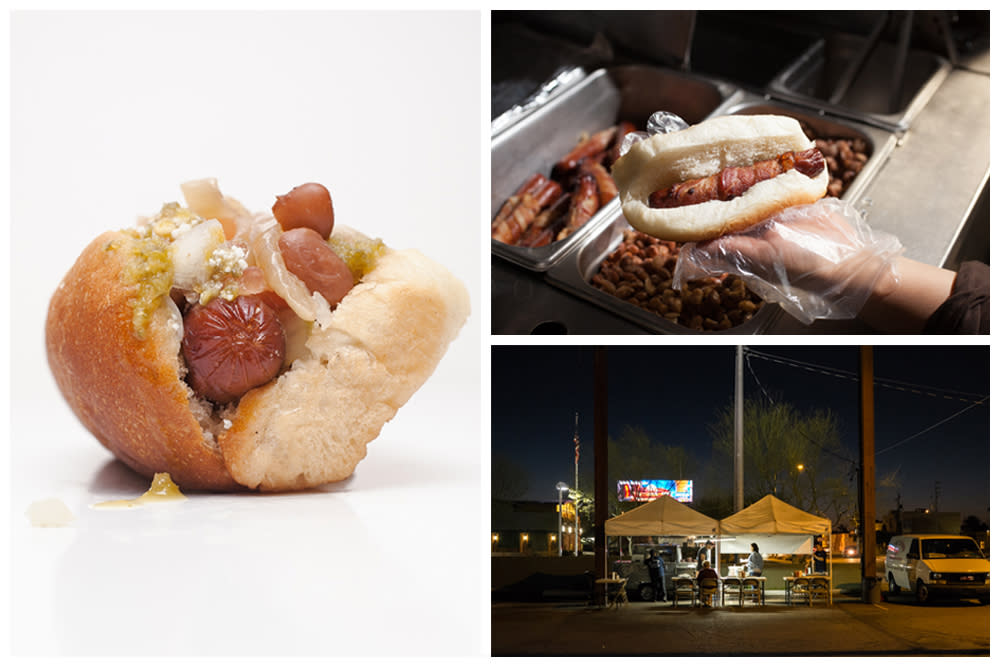 Photos by Mark Lipczynski
It's perhaps one of the most known/not-known regional icons—amongst culinarians, at least—of the Southwest: the Sonoran hot dog. This border-culture-born, bodega-served link is famously wrapped in bacon and served with an assortment of toppings including beans, chopped tomato and onion, canned mushrooms, mayonnaise, yellow mustard and avocado puree.
Although the Sonoran hot dog is native to the Mexican state of Sonora, most Phoenicians living outside of predominately Latino neighborhoods haven't heard of the unbridled, bacon-wrapped beacon. Foodies who pride themselves on knowing about food genres others don't, of course, are always the exception.
The diversity of hot dog styles in the U.S. is certainly on par with that of its pizza. The regional takes and stylistic differences have long since butted heads—the domestic $1 New York City slice vs. the Chicago deep dish, for instance, or the imported Roman pizza vs. the Neapolitan thin-crust pie—and hopped from their hometowns to nestle up against one another in most any large city.
 

But today's hot dog styles have yet to fully escape the gravitational pull of their hometown haunts. With the exception of the loosely defined, well-traveled Chicago dog (where would we start?), more narrowly-defined styles like Michigan's Coney Island dog—a frank topped with beef (never bean) chili, chopped white onion and a yellow mustard—can be challenging to find far from the source. Similarly, it's very unlikely you'd find the Sonoran dog outside of the Southwest.
So we should count ourselves lucky because in Arizona, Sonoran dogs are easy to come by. By one estimate, there are nearly 200 establishments in Tucson that offer a Sonoran dog, and Phoenix itself is no weak link, so to speak, hosting many stands and eateries that serve the two items that go better together: the Sonoran hot dog and Mexican soda. Catering to local business people by day and the bar crowd by night, Sonoran dogs may, in fact, be the only street food, outside a smattering of taco stands, that Phoenix can lay claim to.
Most Sonoran hot dog stands can be found in Latino neighborhoods and typically on the west side, such as the popular La Pasadita restaurants and food trucks with four locations west of Central Avenue. There's also the La Frontera food truck, which parks on 16th Street and Van Buren in central Phoenix.
 

But perhaps the most popular Sonoran hot dog stand is Nogales Hot Dogs, which sets up shop each night at 7 on the southwest corner of 20th Street and Indian School Road. The cash-only eatery is home to just a handful of folding tables and an awning, sometimes a TV playing telenovelas. An order with everything, or con todos, gets you the beans, tomato, mushroom, onion and mayo—all nestled in an irresistibly warm and steamy bun that's softer and sweeter than an American hot dog bun and shaped like a Mexican bolillo roll—with the avocado puree, mustard, and cotija cheese awaiting you at the table.
Both covered in toppings and shrouded in mystery, the Sonoran hot dog awaits you.