Ashley Macias always knew she wanted to be an artist. She sold her first works, pencil drawings of aliens, for 25 cents to her grade-school classmates during recess. Today, the self-taught artist still uses imagery from other life forms, but now her style is influenced by humans, animals and plant organisms — things found in nature — and it can be found on a much grander scale throughout downtown Phoenix.
Macias' fantastical art, a mix of psychedelic and abstract shapes and symbolism, resides somewhere between the cosmos and planet earth, a dream-state creative space where she feels most comfortable. Eyes are a key element in her work, because they represent the quest for introspection.
"I like the embodiment of capturing things as they are, and working them into how I perceive them. I like to manipulate basic reality, and the ideas of illusion and perspective, because it might not mean the same thing to another person. That's exciting to me," says Macias, who was named Phoenix Magazine's Best of the Valley: Surrealist for 2020. "Art is for everyone and can influence people in different ways. It helps expand our reality."
Born in Laguna Nigel, California, and raised in Tucson and Phoenix, Macias attributes her recent successes to living downtown and focusing more seriously on her art for the past 10 years. As a full-time artist, she's explored a variety of materials — such as acrylics, spray paint and ink — and mediums including illustrations, mixed media and, more noticeably, murals and street art that can be found throughout downtown Phoenix, especially the Roosevelt Row Arts District.
She was commissioned to create a sprawling rooftop-deck mural at the Cambria Hotel Downtown Phoenix Convention Center — which sits opposite iconic Phoenix sunsets each evening. Another large-scale solo project, a mystical Mexican creature called an alebrije, wraps around the interior walls of The Golden Margarita (formerly Paz Cantina). She also collaborated on the larger-than-life "Arizona" mural wall on The Rebel Lounge concert venue's north side, and her latest piece will add "a splash of elements, color and forms" to the forthcoming dance-inspired atmosphere of Industry, a new bar near the Melrose District that will begin take-out service this fall.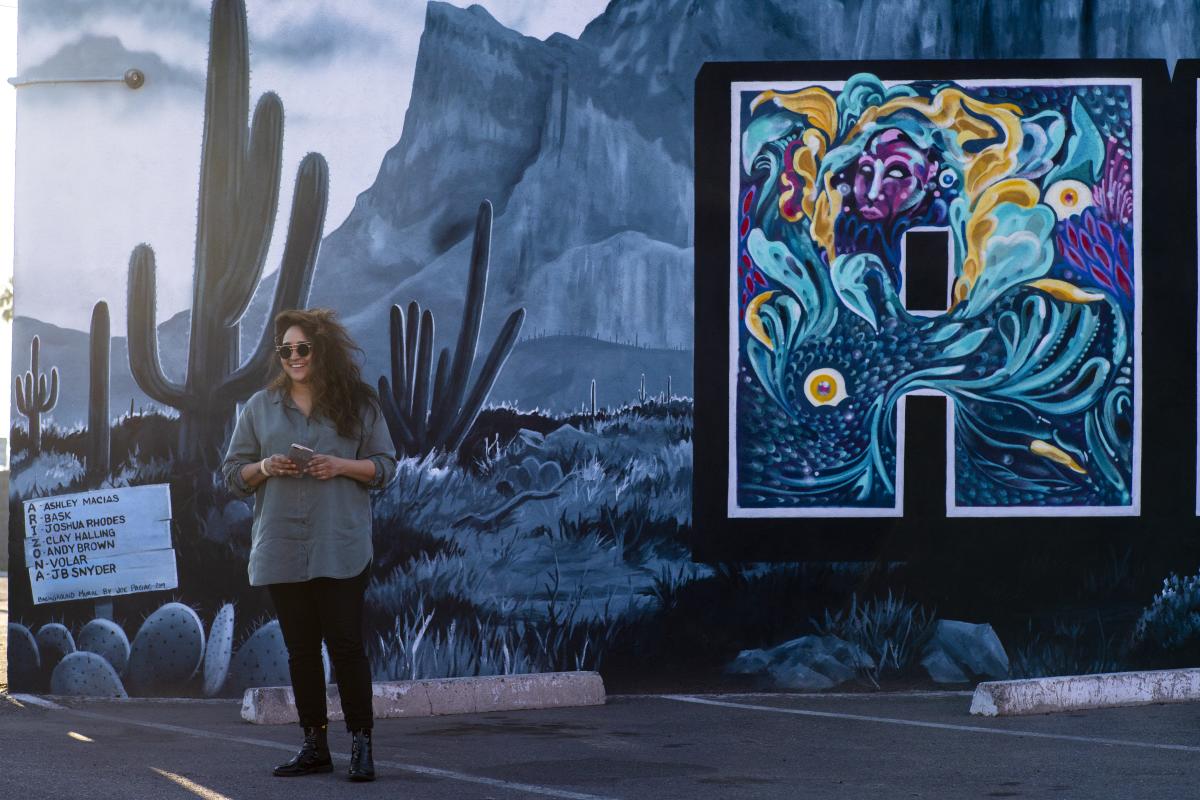 Additionally, her work is currently featured on merchandise sold by Support Phoenix Artists, a project that was launched this year to help fund future murals in the Valley. Hila Lanciano, a Phoenix-based jewelry maker who is also Macias' roommate, is spearheading the effort.
"It's a community collaboration," Macias says, "a platform that will, ultimately, be very helpful in shedding light on local talent."
While Macias doesn't necessarily feel her portfolio of work makes any single political or social statement, one theme her art does embrace is inclusivity. As a queer, Hispanic woman, Macias understands what it's like to be a member of marginalized communities that face racial and social injustices.
"My art comes from a spiritual place. In some ways, my personal experiences tie to my work — in a very metaphysical, cosmic way; how we grow and regrow in a broader sense," she explains. "I try to make art that is more transparent to everyone. I make bold statements in ways that are not so obvious. It's basically interpretation."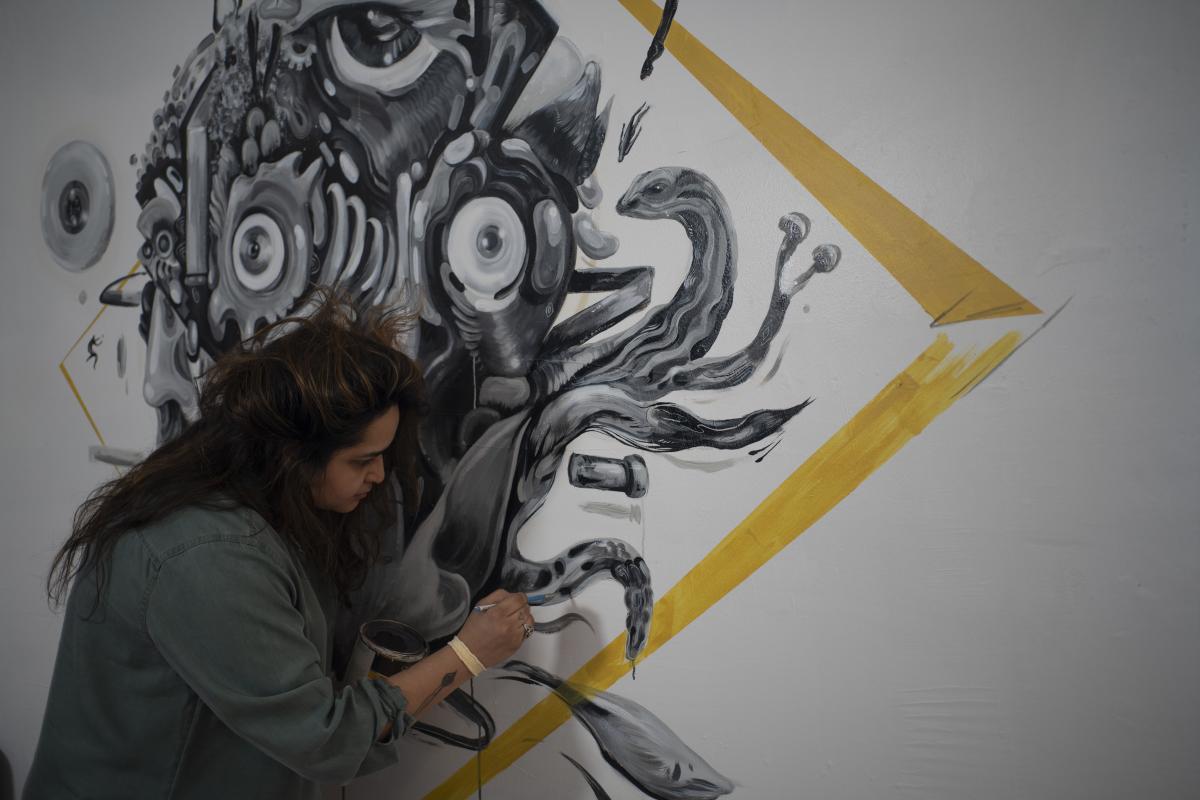 In spring 2020, Macias had the opportunity to convey her support and advocacy for social justice as one of six artists who contributed to a Black Lives Matter mural at Third Street and McKinley, behind Lacuna Kava Bar. Macias' portion of the mural is a raised fist wrapped in a rainbow ribbon.
"Peoples' place and roles in society are being challenged when they are just trying to be who they are," Macias says of the project's inception. "It can be difficult for anyone who is defined as [other]. It felt personal to stand with individuals with different stories and pain, and fight for something greater. It matters to me."
According to Macias, working with other local artists on collaborative projects, like this one, helps her learn to mold styles and absorb new ways of making art — perspectives she may not encounter working on solo projects.
"It's important that we are encouraging expression in the arts and motivating creative atmospheres," she says. "Public murals tell a story, they have a profound impact on community and offer exciting new comprehensions of the world around us."
Macias's paintbrush is one voice among a palette of artists who have brought the culture and history of Phoenix to the forefront of the conversation by turning walls, businesses and alleyways into canvases.
"Sharing diverse perspectives — and brightening otherwise bland walls — bridges the gaps between our neighboring communities and connects us," she says. "We're sending a message out of beauty and it represents new ideas and it represents possibilities. There's something really magical happening here."
For more information on Ashley Macias, check out her work on Instagram.