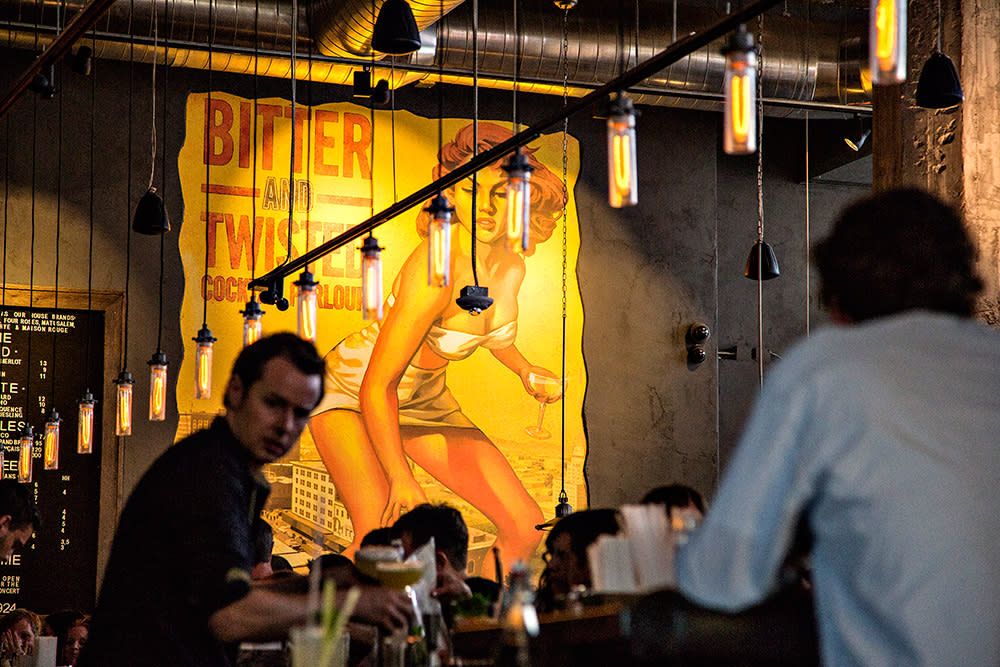 Some may say Bitter & Twisted, the emerging hotspot nestled on the ground floor of the historic Luhrs Tower in downtown Phoenix, is ripe with disparities.
Partners Ross Simon, a Scotsman, and Bob Tam, who was born in Hong Kong, come from completely opposite ends of the earth. The restaurant-slash-bar with one of—if not the—most ambitious cocktail programs in greater Phoenix is housed in, of all places, the former Prohibition headquarters of Arizona.
And the menu? The behemoth bar menu contains 116 cocktails listed in a snazzy book, whose design is inspired by cult classic B-movie Forbidden Planet. The food menu, on the other hand, is small in comparison, filled with a handful of thoughtful and inspired offerings.
All of these polarities beg the question: How does this place even work?
The answer can be found in the differences themselves, which make Bitter & Twisted not only unique, but undeniably enviable.
Manning the bar is Simon, a Scotsman turned Phoenician (OK, he's still a tried-and-true Scot) whose bar slinging has earned him a veritable laundry list of recognitions and accolades. His no-holds-barred approach has branded him a maverick of sorts, a renegade not afraid of pushing the mixology envelope.
Overseeing the kitchen is Bob Tam, whose deep roots in Asian cuisine have sprouted an adventurous style the likes of which the Phoenix food scene has yet to encounter.The menu says it all, from the Angry Panda (crisp anchovies, charred peanuts, Sichuan chiles served in lettuce cups) to the Betelnut pork belly, inspired from Tam's days at the James Beard award-nominated restaurant in San Francisco, where he began his culinary career.
But what he does with Ramen is, well, you'll have to see—and taste—for yourself. The Ramen "Momo" Burger is made with a crisp ramen "bun," sesame soy and Sriracha soba, caramelized onions, pepper jack cheese and jalapeno mayo. This is not your run-of-the-mill bar burger by any means.
At Bitter & Twisted, noshing while sipping is highly encouraged. The menu is tailor made for it, filled with street-food focused fare of small bites, shareable plates, and dishes perfect for snacking. Served with a cocktail (or two), frosty beer bottle, or tall glass of wine or bubbly, consider yourself parked. You're not going anywhere for awhile.
Edit: An updated menu has launched since this post introducing brand new cocktail and food offerings. Check out the website for more details.
Bitter & Twisted Cocktail Parlour
1 W Jefferson St, Phoenix 85003
602-340-1924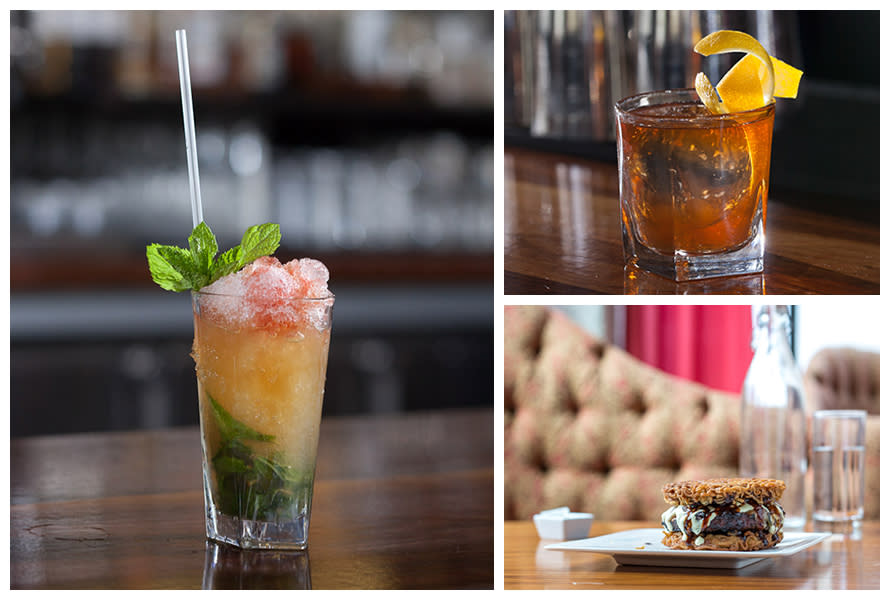 Photos by Mark Lipczynski