Greater Phoenix is one of only 13 destinations in the United States to claim teams from all major professional sports leagues. And the metro area hosts some of the most notable sporting events in the country — from the NFL's Super Bowl and MLB's Cactus League Spring Training to NCAA and NASCAR championship events — drawing spectators from all over to share in the atmosphere and energy.
As a sunny, sports-centric city, Phoenix welcomes visiting fans year-round — no matter who they're rooting for. But the city also has a sports identity all its own. This is best glimpsed during a game day in downtown Phoenix, where the NBA's Phoenix Suns, WNBA's Phoenix Mercury and the IFL's Arizona Rattlers play at Footprint Center, and (just a block away) the MLB's Arizona Diamondbacks play at Chase Field. All four in the same weekend, if you time it just right.
"The energy on game day, it's undeniable," says Luis "Weezy" Egurrola, in-arena host for the Suns and Mercury, and coach and lead choreographer of the Suns Solar Squad and the Mercury Hip Hop Squad. "There's a buzz ... the city comes alive."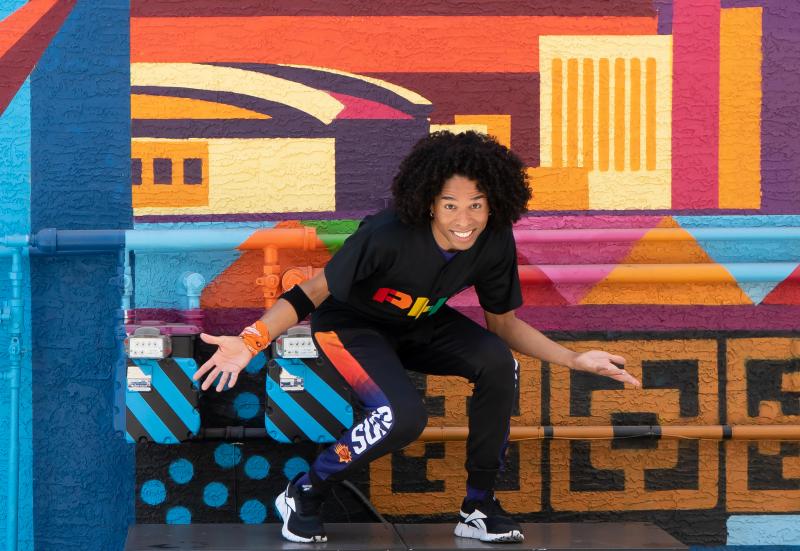 Luis "Weezy" Egurrola, in-arena host for the Suns and Mercury, outside Majerle's Sports Grill. Visit Phoenix/Foskett Creative

As the city's most-recognized hype man, and also a fixture in downtown's sports scene, Weezy offers some of the best ways to tap into this buzz for your next game day itinerary.

"There are so many sports teams in downtown Phoenix'" he adds, noting that these venues are located next to one another — and easily accessible by Valley Metro Rail — making for a walkable, visitor-friendly game day experience.

In downtown Phoenix, game day starts well before the first pitch or tipoff.

"The amazing thing is [that] you can never get here too early, there's so many things that you can do," he says.

If you have time, be sure check out the murals and shops in the Roosevelt Row Arts District. Then hit CityScape or the historic Warehouse District for a variety of options, including The Duce, an action-packed prohibition-era warehouse-turned-bar (with a boxing ring!) and globally renowned mixology concept Bitter & Twisted Cocktail Parlour.
Historic Hooping
For the ultimate fan experience, pay a visit to Majerle's Sports Grill. Named for its owner and Phoenix Suns legend "Thunder Dan" Majerle, who played for Phoenix from 1988 to 1995, and from 2001 until his retirement a year later. Majerle's opened in 1992 and is often considered the place to revel in game-day spirit. Recently, the restaurant and local nonprofit Artlink hosted a call for artists to pitch ideas for a mural on the side of the building; the winning artists painted a scene that showcases – fittingly – a big, bright sun.
On the west side of Footprint Center fans will find another dynamic mural — a nod to the city's Black history in sports. The artwork, "I Am Black History," depicts Phoenix Mercury player and social justice advocate Skylar Diggins-Smith; 2014 WNBA champion and two-time Olympic gold medalist Brittney Griner, Cheryl Miller, the first head coach and general manager of the Mercury; and the first Black professional athletes on the Suns inaugural roster in 1968-69. On game day, this is the hottest spot for pre-game selfies. Check out additional larger-than-life murals walls here.
In front of the arena, the pavilion is punctuated by 7489 Taurasi Way signage. Since 2017, this designation also stands proudly to a moment in Phoenix sports history: Phoenix Mercury superstar Diana Taurasi's accolade as the league's all-time leading scorer with 7,489 career points. Taurasi has played her entire 18-year career with the Mercury and is considered one of the WNBA's greatest players of all time, winning three championships and earning two Finals MVP awards, plus five Olympic gold medals.
Once inside the area, look for Weezy in person. Not only will he be on the mic amplifying the infectious energy throughout the arena. But his talented dance teams bring impressive hip-hop performances to center court during Suns and Mercury home games.
Take Me Out To The Ballgame
In addition to being home to the home of the 2011 World Series champions, Chase Field has many amenities and designations that will make your day at the ballpark unique. For one, there's a swimming pool and hot tub out in right field. For two, it's now home to DTPHX Kitchen + Bar, Arizona's first sit-down restaurant by Food Network celebrity chef Guy Fieri.
Fans of all sports will also find adrenalin-pumping action inside two of the city's newest sportsbooks: Caesars Sportsbook at Chase Field, located in the plaza next to the field, and FanDuel Sports Betting, located on the north side of Footprint Center.
And, if you find yourself downtown on a Friday (or on Fourth of July) and there's a Diamondbacks game in full swing, hang around after the final inning to watch a fireworks spectacular over Chase Field. Though the show is mesmerizing from outside the stadium, it's even more stunning from inside, as the retractable roof reveals the night sky and the fireworks sparkling above.
No matter how you choose to soak up Phoenix's game-day spirit, you'll be in good company, Weezy promises. "One thing I love about our sports teams is they're not just about the sports, they're about their fans."
Chase Field
401 E. Jefferson St., Phoenix
Footprint Center
201 E. Jefferson St., Phoenix