As one of the country's largest self-guided art tours, Phoenix's First Friday Art Walk sprawls across downtown city blocks in the Roosevelt Row and Grand Avenue arts districts, winding past countless of local businesses, pop-ups, galleries, shops, venues and art-related spaces.
The monthly gathering – free and open to all ages – is widely known as an immersive experience that engages all five of the senses via live music, performances, culinary delights and more. From such muralists as Ashley Macias and boutique retailers, including Phoenix General, to such live-music venues as The Nash and countless restaurants, including Trapp Haus BBQ, a First Friday experience is many things to many different types of attendees. 
For local artists, this event serves as a platform for amplifying messages of heritage and identity, and highlighting cultural influences and community. Much more than just an attraction, this event serves as the heartbeat for local creators, and a networking opportunity where emerging and established artists converge, which adds an element of authenticity that keeps locals and visitors coming back month after month.
While many aspects of this city's First Friday Art Walk are technically considered pop-ups, there are brick-and-mortar businesses that work all month to cultivate this arts community and the artists that contribute to it. Here is a closer look at two organizations working to preserve art and culture from one generation to the next.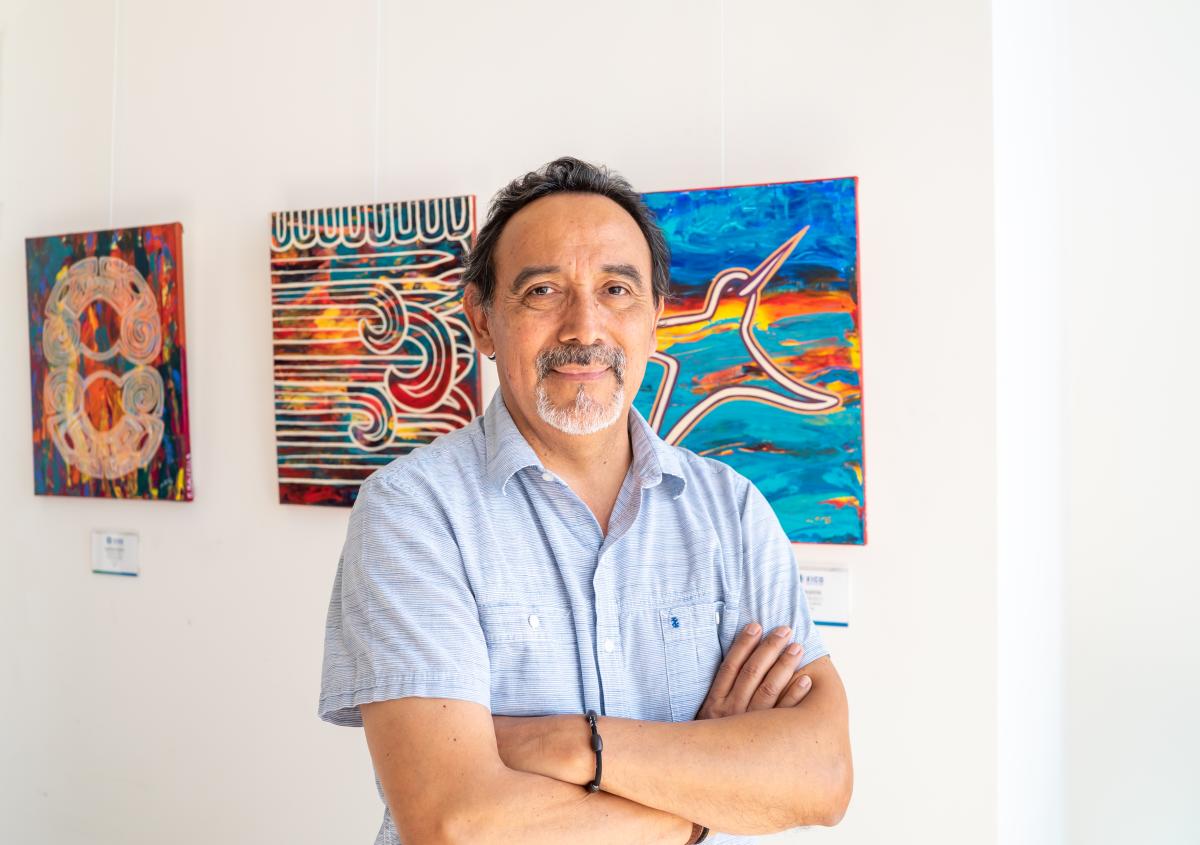 Agustin Vargas, director of curatorial services and programs at Xico.
Among the most eye-catching photos ops along Roosevelt Street is a trio of shipping containers. As part of the monthly event, these mini galleries are opened up to reveal canvas works by local artists hanging inside. By contrast, the exterior of these containers also serves as a canvas for rotating artists to display their work. Known as "UNCONTAINED," the container mural project features the work of Indigenous and Latino artists. 
The shipping containers are hosted by Xico Inc., an art space located off Roosevelt Street. Founded in 1975, Xico gives Latinx and Indigenous artists opportunities to hone their craft. Operating under the belief that art is transformative and can be a way to honor and preserve one's heritage, Xico's founders offer local artists access to various forms of programming, from exhibitions and artist-led classes to open studio space and professional development workshops.
Xico's curatorial director Agustin Vargas, an architect and artist with a decades-long career, notes the importance of First Friday as a means to give artists – both emerging and established, and from represented and underrepresented communities – a chance to connect with one another.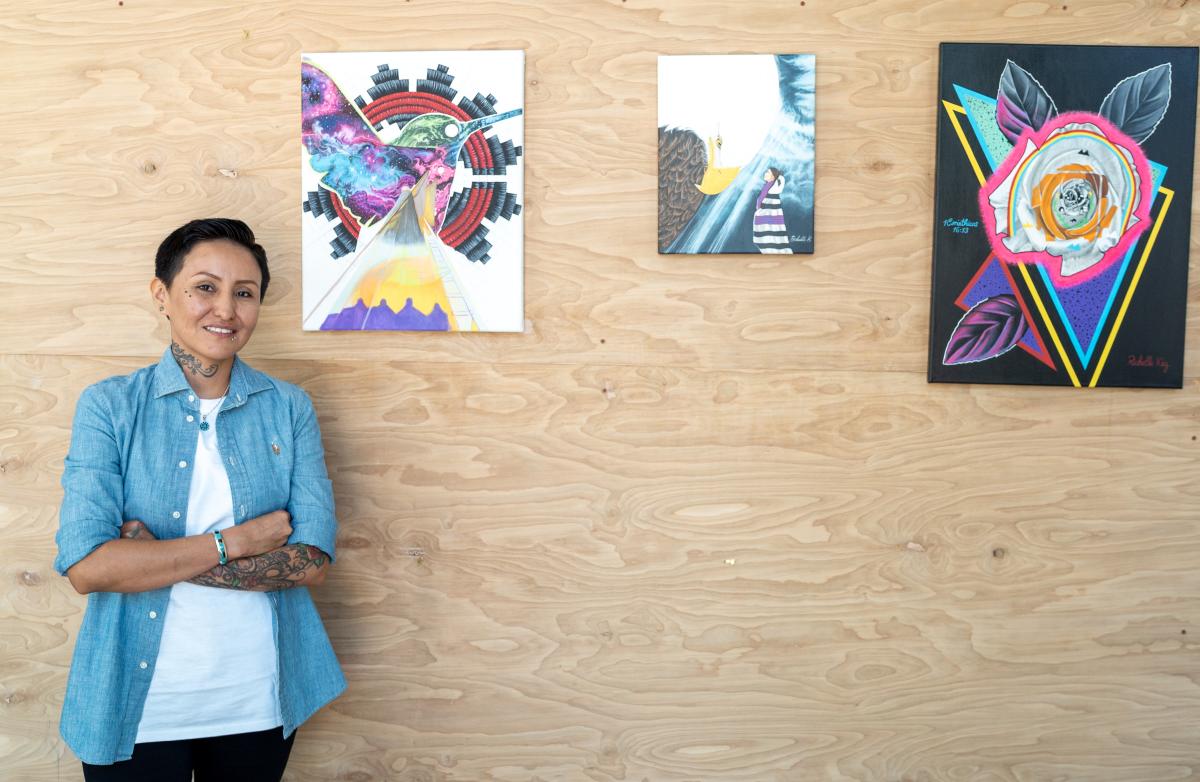 Richelle Key (Navajo) displays her work at Cahokia on a First Friday.
Another Roosevelt Row-based organization, Cahokia SocialTech + Artspace, offers hands-on support and resources with the mission of empowering Indigenous artists to collaborate, create, display and sell their art. Cahokia founders Eunique Yazzie (Navajo) and Melody Lewis (Mojave, Hopi, Tewa) say their mission is to
 want Indigenous artists to feel as though they belong and are welcome to contribute to a larger narrative of Indigenous culture, art and representation.
"Cahokia is a hot spot for new, emerging Indigenous entrepreneurs and artists that want to present their work in a highly visible arts district in downtown Phoenix," says Eunique Yazzie.
New-to-the-scene artist Richelle Key (Navajo) discovered this first-hand when she was introduced to Cahokia by a fellow artist while attending a First Friday event. The founders gave her a chance to showcase her work on a larger platform, which led to several additional opportunities she otherwise might not have had the visibility to secure. 
According to Lewis, working with the Roosevelt Row Community Development Corporation, a group that helps curate First Friday, has uplifted the work of Indigenous small business owners throughout downtown Phoenix.
"This relationship has also provided access to opportunities with neighboring establishments who see value in what we're building and want to be a part of," she adds.
For attendees, First Friday Art Walk is an authentic experience that celebrates local creatives. But for Phoenix's artist community, including the businesses and organizations that support them, it's an evening that transcends a month's worth of work to become a platform for visibility, storytelling, networking and cultural preservation. Find out more by visiting Xico, Inc. and Cahokia SocialTech + Artspace:
Xico, Inc.
829 N. First Ave., Suite 101, Phoenix
Hours:
10 a.m. to 6 p.m. Monday & Tuesday
10 a.m. to 7 p.m. Wednesday–Friday
2 p.m. to 9:30 p.m. ​First & Third Fridays
Closed ​Saturday & Sunday
Facebook | Instagram
Cahokia SocialTech + Artspace
707 N. Third St., Suite 130, Phoenix
Hours:
10 a.m. to 5 p.m. Monday–Friday
6 to 10 p.m. Frist Fridays
Saturday & Sunday by appointment
Facebook | Instagram