Editor's Note: Phoenix Coqui has since moved into a brick-and-mortar restaurant located at 4041 N. 15th Ave., Phoenix. Grand opening coming soon.
Nearly every evening, as the sun sets over Puerto Rico's capital, the city's flavorful nightlife is ushered in by a chorus of chirping that fills the air: the eponymous croak of the coqui.
The small tree frog is native to the Island of Enchantment, where Phoenix food truck owners Alexis Carbajal and Juan Alberto Ayala began their journey as partners, both in business and life.
"Almost anywhere that you go, you'll hear it at night," Carbajal says of the coqui frog's call. "We kind of adopted [the coqui] as our mascot … if something represents us, it's that it's small and it's loud."
In 2017, Carbajal and Ayala launched Phoenix Coqui, a Puerto Rican food truck with a name that's truly meaningful to boricuas — Puerto Ricans, especially those living in the United States — to match the warm service and family atmosphere the truck brings to wherever it sets up shop.
Thanks, in part, to the food truck's participation in various community festivals, word's getting out that this is one of the best places to order up some authentic Puerto Rican favorites, including portable comfort food.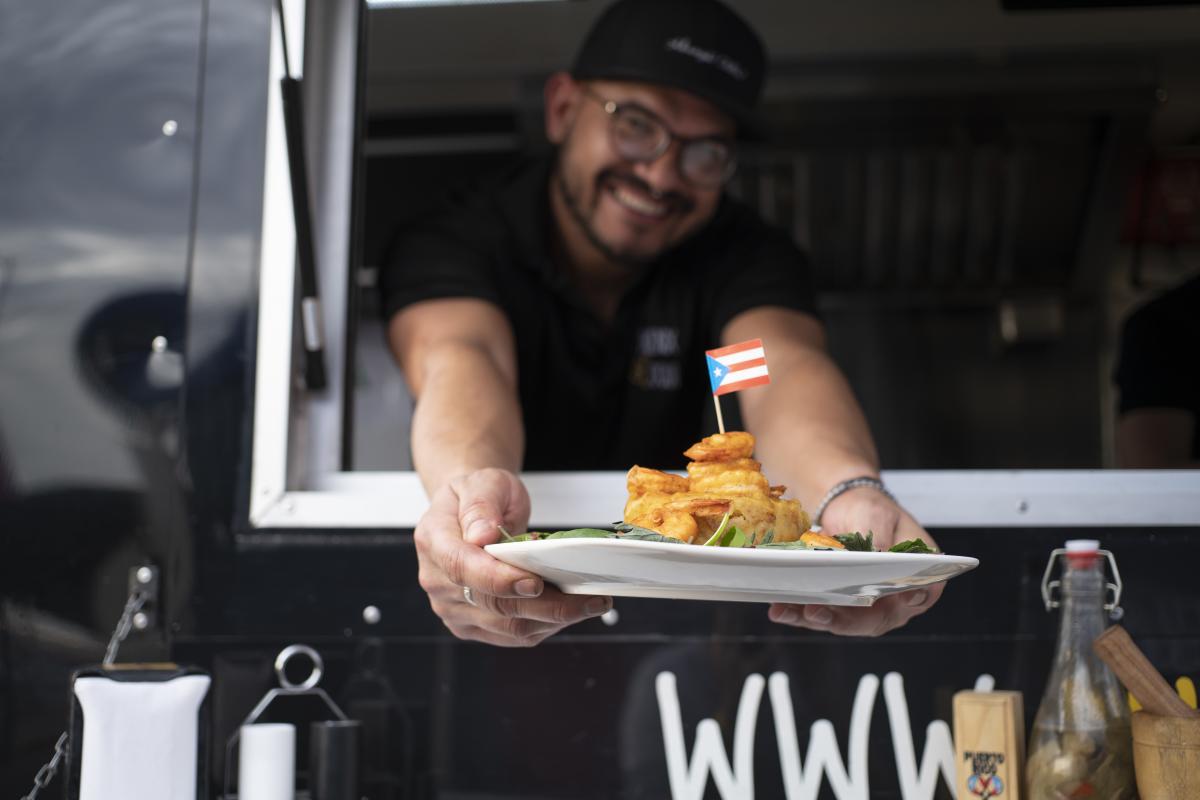 This recipe for success began in 2013, when Carbajal traveled to Puerto Rico for the first time. He recalls not only falling in love with the sandy beaches, palm trees, tropical breezes and distinct cuisine, but also with Ayala, a native of Toa Alta, on the island's northern side.
It wasn't long before Carbajal moved to Puerto Rico and the duo started dreaming of starting a business together. "We knew what we wanted," Carbajal says. "We wanted a food business and we wanted it to be mobile. It just came down to which of the two places had the best opportunity for us."
The pair already had all the right ingredients. Ayala's background in restaurant management and other aspects of the culinary industry, including the influence of his grandmother's cooking, positioned him as "the mastermind behind the recipes and preparation of the food." And Carbajal brought nearly a decade of experience working in startups, which accounts for the other half of the business, including marketing and social media.
They ultimately decided to return to Carbajal's hometown of Phoenix to launch their truck, and they've found a home and community in the Melrose District, one Phoenix's eclectic neighborhoods that is best-known for its LGBTQ+ bars and antique shops — and now Puerto Rican cuisine that draws foodies from all walks of life.
The truck serves a regular menu featuring such items as the Tripleta, a three-meat sandwich made with pork, chicken, ham and garlic-mayo. Other popular staples include tostones, fried plantains with garlic-mayo for dipping; pernil, pulled pork served with rice and salad; and empanadillas, flaky turnovers filled with your choice of beef, chicken mushrooms or cheese.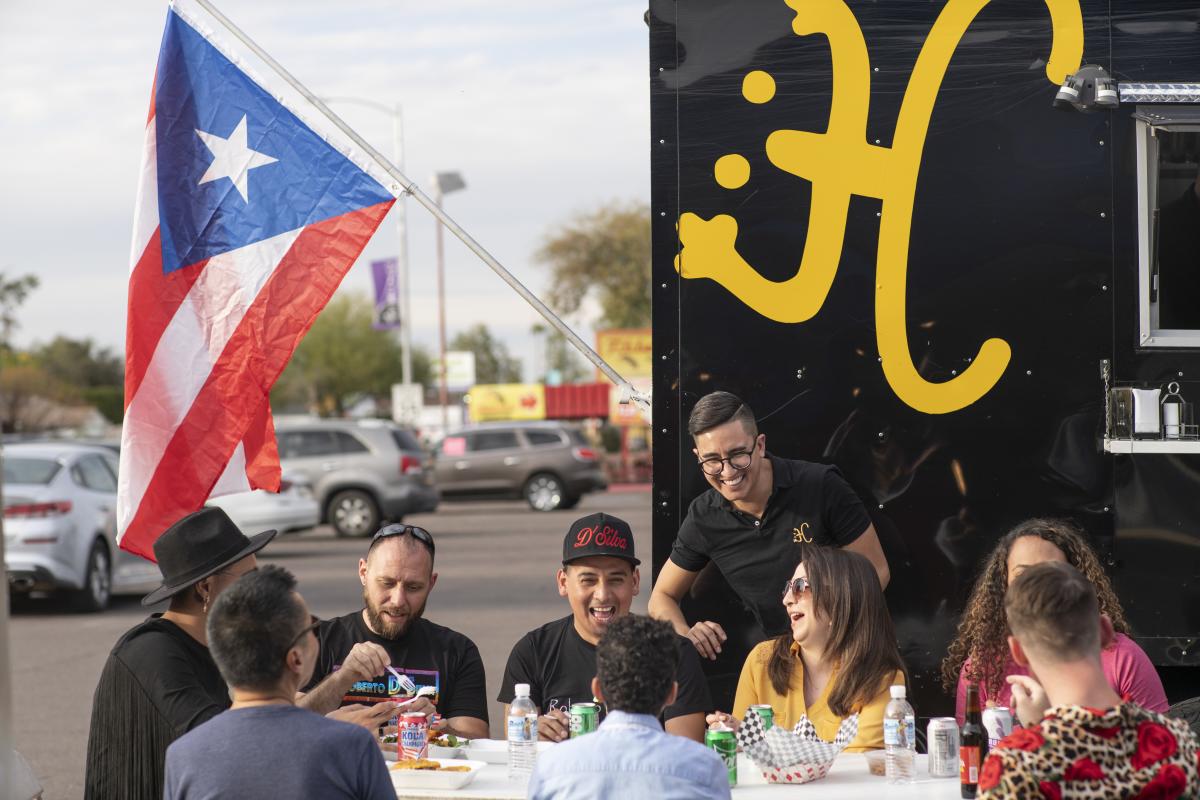 On the special menu, which varies, customers can look forward to rotating items that include pollo guisado, chicken in tomato-garlic sauce served with white rice and kidney beans (chicken stew), alcapurria, fried green banana dough filled with seasoned ground beef (fritters), and mofongo, fried green plantains mashed and mixed with garlic, seasoning and pork rinds and topped with jumbo shrimp. 
According to Carbajal, both Phoenix-based Puerto Ricans as well as Caribbean cuisine enthusiasts have told the couple that Phoenix Coqui's food reminds them of home cooking in Puerto Rico.
"I think that's probably the biggest compliment we receive … besides coming back for seconds," he laughs. "We try to use our position here … to bridge that gap and provide people with some more awareness about Puerto Rico and Puerto Rican culture."
But even as both Carbajal and Ayala say they take pride in the fact that their food is authentic and made with love,' the pair also agrees their business is about more than feeding customers. Both say Phoenix Coqui is also a place for the community to come together; the food is just the centerpiece.
"That's the magical thing about our little food truck," Carbajal says. "We see it right before our eyes, people connecting. Building community is really at the heart of what we do."
Phoenix Coqui currently operates outside The Rock, 4129 N. Seventh Ave., in the Melrose District on Fridays and Saturdays from 12 to 7 p.m. and Sundays from 11 a.m. to 3 p.m.
For information on menu items, click here, and follow the Phoenix Coqui on Facebook and Instagram for updates and future pop-ups.