A stroll along Phoenix's historical canal system promises artful waterfalls, craft beer, homemade paella and a bat cave.
 
My hiking friends are a hardcore bunch. They have marched me up and down virtually every trail in the vast Phoenix Mountains Preserve, and whisked me northward for hikes up to peaks still covered with snow in June.
Recently, inspired by a slightly throbbing knee, I proposed a more level playing field. "Why don't we take a power walk along the canal in Phoenix?" I suggested tentatively, knowing that a sans-incline walk through an urban neighborhood might be met with skepticism.
After all, Greater Phoenix's canal system offers some of city's best barrier-free urban exploring. With 180 miles of paved and hard-packed paths, that's more miles of canals than Venice and Amsterdam combined.
Following a bit of wariness, they agreed, and on a fine Saturday morning we set off on a 5-mile walk along the canal banks through the Arcadia and Biltmore neighborhoods of Phoenix. Besides fresh air and exercise, we discovered art and poetry, history lessons, beer brunches, flourless chocolate cake and paella cooked in four-foot pans, and architecture. And bats. Thousands of bats.
Getting started
Our stroll was on the banks of the Arizona Canal, which stretches nearly 39 miles from east of Scottsdale through Phoenix and into Peoria. It's part of the 131 miles of canals operated by Salt River Project (SRP), the utility company that brings water and power to Greater Phoenix.
The modern canal system dates back a little more than 100 years, developed to serve the community's then-burgeoning agricultural needs. But the origins of the canals stretch into ancient history. Between 300 and 1450, the indigenous Hohokam people lived and farmed in the Salt River valley — what is Greater Phoenix today — and built some 500 miles of ditches to bring water from the river to irrigate crops. In the late 1800s, more than 400 years after these agrarian Hohokam mysteriously disappeared from central Arizona, settlers followed the vestiges of these early irrigation ditches to shape the current canal system.
While the canals are technically a utility corridor, meant to deliver water to a desert metropolis, they've historically been associated with recreation.
"The canals were always part of the social fabric of the area," says SRP principal analyst James Duncan, who oversees the canals' recreational and special-event use. "Instead of cross streets, people used to describe where they lived by the canals and the laterals. The canal banks were places where people walked, rode bicycles and horses, and picnicked. They used to swim and even water ski in the waters."
For decades, SRP never officially encouraged or discouraged recreational use of its canal system. In fact, by the 1950s, when large equipment replaced horse-drawn rigs to clean out weeds and aquatic growth from the canals, the canal banks began to resemble industrial sites — not very conducive to evening strolls.
But a 1964 agreement with Maricopa County formally sanctioned recreation along the canal banks, meaning that SRP officially allowed walking, running, biking and horseback riding along its packed dirt and gravel banks. Swimming, water skiing and fishing were out, for liability purposes.
Canal-side recreation got a further boost in the 1980s when SRP released white amurs, a kind of Asian carp, into the canal waters to provide eco-friendly control of weeds and moss, drastically reducing the need for heavy equipment.
Cities along the canals began constructing paved multi-use paths, making biking and stroller-pushing easier. More recently, cities and neighborhoods have begun to view the canal system as an amenity instead of just a utility corridor. That has led to the installation of public art, seating areas, landscaping, murals and ramadas. A half-mile stretch of the Arizona Canal through downtown Scottsdale boasts art — namely during its annual interactive art festival in November, Canal Convergence —  as well as places for special events, pedestrian bridges, landscaped walkways and easy access to canal-side shops and restaurants.
Our canal sojourn, however, began at 56th Street and Indian School Road, the site of the Arizona Falls (pictured below), a place along the canal where, in the early 1900s, Phoenix residents picnicked and held outdoor dances. In 2003, artists Lajos Heder and Mags Harries revived the old gathering place. Taking advantage of a 20-foot elevation drop in the canal, they created an outdoor water "room," which enveloped us in walls of water that flowed overhead and into the canal below. Nearby, signage explains the art and the site's restored hydroelectric plant. A small plaza includes water-inspired poetry engraved into the concrete.
Farther west, at 48th Street, we found a circular bench and more interpretive signage that explains some of the canals' history, as well as a listing of crops — alfalfa, cotton, dates, citrus — irrigated by canal water.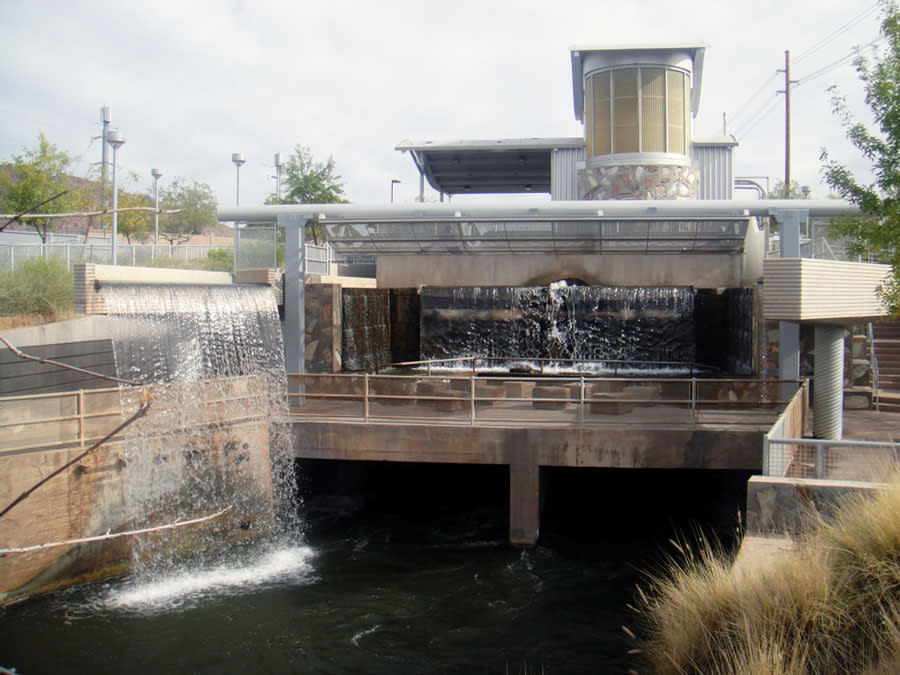 Views and brews
As we trekked along the canal, we had views of Camelback Mountain and peeks into backyard gardens of houses abutting the canal banks.
We also discovered that food and beer are great temptations oh-so-easily available along the canals.
Near 49th Street, O.H.S.O Eatery + Nano Brewery lured us from our walk with its canal-accessible patio, menu of comfort food and weekend beer brunch, which features their craft brews. At 40th Street, we found Chelsea's Kitchen, with a tree-shaded canal-side patio, taco platters, pan-roasted short ribs and a signature white sangria.
Nearby, we stumbled upon James Beard Award-winning chef Vincent Guerithault's Saturday morning Camelback Farmers Market, set up in the parking lot of his Vincent's restaurant (October through April). Wine, flourless chocolate cake, pizza and that paella cooked in a giant pan rounded out other market offerings, including local vegetables, honey and breads.
At 24th Street, nearing the end of our walk, we veered off the canal banks again, this time into the refined ambiance of the Arizona Biltmore, the 1929 resort designed by Albert Chase McArthur, in collaboration with his mentor, architect Frank Lloyd Wright. The lobby has an illustrated timeline of the hotel's history and details about the architecture, and an adjacent hallway serves as a photo gallery, with images of famous guests and events. We ducked into the hotel's airy Frank & Albert's (now McArthur's Restaurant & Bar) for coffee.
Yes, bats
And the bats? It turns out that a flood-control tunnel parallel to the canal serves as an urban bat cave for thousands of Mexican free-tailed and canyon bats that roost near the openings at 24th and 40th streets. According to the Arizona Game and Fish Department, the bats arrive in April to have their young in the tunnel and, by October, start heading back to Mexico for the winter. The bats are most active in summer. You can stand by the tunnel entrances at dusk and watch thousands of bats emerge in a fluttering cloud for their nocturnal feeding.
"The bats are a great urban wildlife-watching opportunity," Arizona Game and Fish Department's bat expert Angela McIntire told us. "Contrary to myth, they're not a danger to the public. But just like any kind of wildlife, don't touch or pick up a bat if it's on the ground."
By late morning, our canal power walk came to an end, at least for that day.
According to SRP's Duncan, there will be more to explore and enjoy along the canals in the future. The city of Phoenix is planning to spend $5 million for upgrades to segments of the Grand Canal — which runs from approximately from the Pueblo Grande Museum  to just beyond the Melrose District — including pedestrian crosswalks for busy streets, public art, lighting and more paved pathways. 
And, as part of the 2021 PHX Mural Project Fest, the Grand Canalscape received a makeover in the form of dozens of sustainability-focused murals by some of the city's best-known artists (from 15th Avenue to 7th Street). 
Right now, Duncan says, some 57 miles of the canal banks are paved, and he predicts that, eventually, all the canal banks will sport paved pathways. "We estimate that more than 750,000 people use the canals banks annually, and that's probably a conservative figure. The canal system is a great, linear trail that connects a lot of special places."
Bats, brews, cake, architecture. murals. We'll be back for another urban hike, to explore more of the canal banks and their special places throughout Greater Phoenix.
For information on canal bank recreation, as well as a map and distance calculator, visit www.srpnet.com/water/canals/recreation.aspx.