The Tamale Store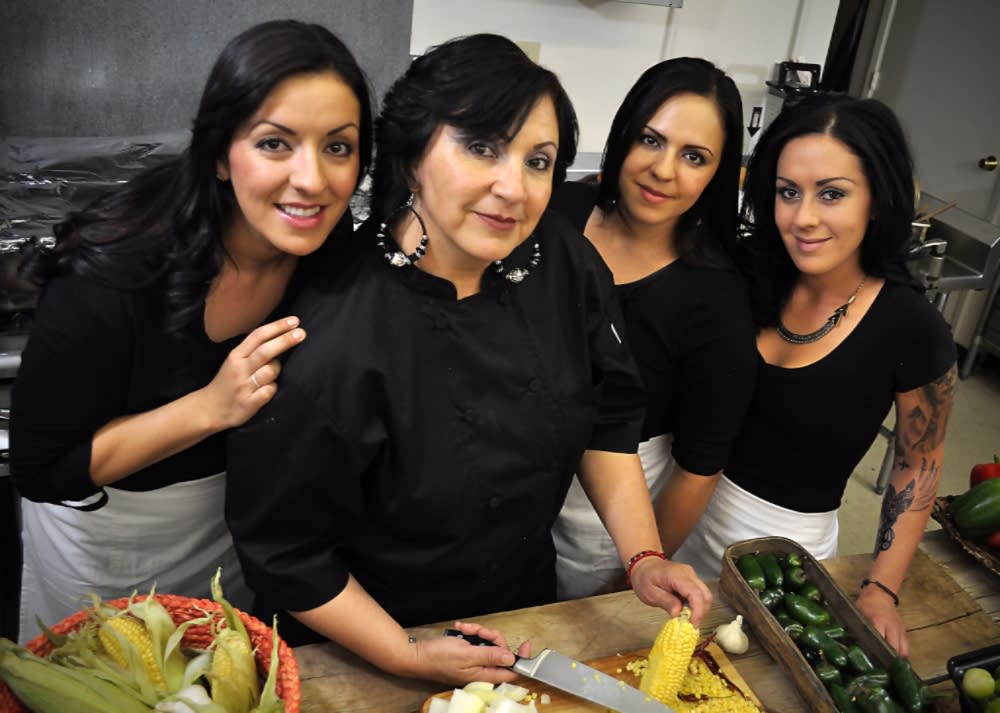 From left to right: Pauline Pimienta, Martha Castillo, Maria Stanzak and Caroline Pimienta
In her quest to create the perfect tamale, Martha Castillo built a family business with a cultish following.
by Teresa Bitler
Martha Castillo has been obsessed with tamales for as long as her daughter Pauline Pimienta can remember. 
Even when Castillo and her ex-husband, Joe Pimienta, owned a restaurant in Mexico City and later a catering business and food truck in Phoenix, Castillo preferred serving tamales to tacos, burritos and other Mexican food staples. 
"She always loved tamales, but she didn't think you could just focus on one food," Pauline says of her mother, who speaks little English and prefers to leave interviews to her daughter. 
Castillo traveled back to Mexico to taste authentic tamales, sent her own tamales to relatives for their input, and served countless renditions to Pauline, her two sisters and her younger brother. The singular goal of all this tamale R&D: to perfect her recipe. 
Still, she might have never pursued a business devoted exclusively to tamales if it hadn't been for the downturn in the economy. Fewer construction sites meant fewer hungry workers, and, as a result, the food-truck business dried up. That freed Castillo to focus on her passion, and she spent three years perfecting her recipe before selling her tamales at the Phoenix Public Market's farmers market in 2008 and then at her physical location, The Tamale Store, on Cave Creek Road.
Her tamales were an instant hit, winning accolades from The Phoenix New Times as the "Best Tamales in Phoenix" in both 2009 and 2010, and garnering recognition from Phoenix Magazine as the "Best Local Product of the Month" in 2011. (The Tamale Store's salsa also was recognized as a "Best Local Product of the Month" by Phoenix Magazine in 2015.)
What sets Castillo's tamales apart? According to Pauline, it's the masa. A good tamale has a flavorful masa served in the right proportion of 40 percent to 60 percent filling, although she admits her mother might disagree with her on the key component. 
"She would say it's love," Pauline says. "You have to love what you do, because that love comes through in the food." 
Ironically, Castillo's tamales don't contain an ingredient many consider essential: lard. After years of experimenting, she found a blend of canola and olive oil created the taste and texture she wanted without the dietary negatives. Her tamales are also shortening, preservative, gluten, trans fat and soy free—and she sells several vegetarian and vegan options.
Castillo's most popular tamales, by far, are the red-and-green-chile pork tamales, followed by the green corn and cream cheese tamale made with New Mexican Hatch chiles. Pauline's favorite, though, is the recently added Arizona cornbread with Colby jack tamale; she says it strikes just the right balance of sweet-savory-spicy.
All of the tamales are handmade, wrapped in real corn husks for authentic flavor. Each one weighs in at a whopping half pound.    
In addition to the core menu, which hasn't changed much in the past eight years, The Tamale Store usually has two or three seasonal tamales on the menu, such as Pina colada in the summer and pumpkin in the fall. 
Although Castillo was the driving force behind The Tamale Store, it is very much a family business. Pauline decided against attending Ivy League law school because she's as passionate about tamales as her mother. Her two sisters, Maria Stanzak and Caroline Pimienta, work at the store, as does her younger brother, Eddy Pimienta, when he is not attending classes at Northern Arizona University. Her father, Joe Pimienta, is also a regular fixture, despite being divorced from Castillo. 
"My parents have always made an awesome team as business partners," Pauline says. 
In January, the family is looking forward to helping Castillo accomplish the impossible when they open a restaurant dedicated almost solely to tamales. (They may add a few items, like tacos or burritos, for people who don't want tamales.)
"We have a menu, but we don't have a location yet," Pauline says. 
Until then, you can find The Tamale Store tamales at Whole Foods and AJ's Fine Foods throughout Greater Phoenix, and the shop's online calendar lists the upcoming farmers markets where the Castillo clan will be selling fresh tamales. 
15842 N. Cave Creek Road, Phoenix
(602) 435-2604
thetamalestore.com