Chef and restaurateur Doug Robson, who was born and raised in Mexico City, shares his favorite spots in town for cuisine inspired by his hometown.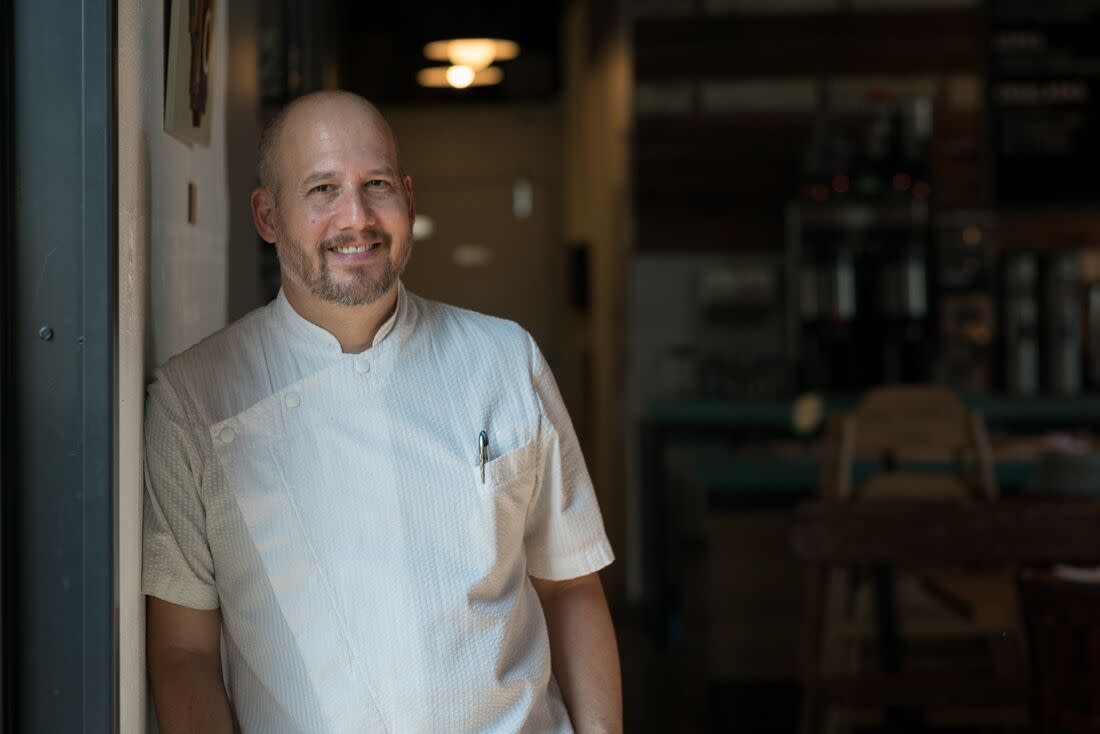 (Photo by Mark Lipczynski/ BITE Magazine)
By Sally Clasen and Mark Lipczynski for BITE Magazine
Chef and restaurateur Doug Robson, who was born and raised in Mexico City, says it's difficult to pinpoint what Mexico City cuisine is because it's a melting pot of flavors and experiences.
"Mexico City is one of the most cosmopolitan places in the world, so it's hard to wrap your arms around a culinary definition. Food there is influenced by a mix of people, including French, German, Jewish, Chinese, Japanese, Lebanese, as well as Aztec and Spanish cultures," says Robson, whose parents are of French-Vietnamese and English descent.
"It's a diversity of food that ranges from taco stands with carniceros (butchers) preparing their meats in taquerias, to middle-of-the-plate fancy restaurants. Mexico City has phenomenal steak and seafood houses too, not just great tacos and tortas."
One thing Mexico City cuisine isn't? Chimichangas, Robson says. 
A common characteristic, however, is that chefs, especially those in Mexico City, share an interest in ingenuity and change. "They take a cultural reference and spin it in a way they think is different," he says.
"There's a creative freedom with cooking. I give you five ingredients and I use the same five ingredients. Then we apply our own experiences and techniques to come up with something different," says Robson. "The best restaurants get creative. That's the lure of food and what Mexico City-style cuisine is all about."

For Robson's downtown Phoenix restaurant, he took culinary license with an innovative take on his childhood favorites.
The urban eatery is known for its modern perspective on street tacos and a highly sought-after sweet and chunky Guacamole Classico made with organic avocado, jalapeños, lime juice, white onion, charred tomato and citrus wedges.
928 E Pierce St, Phoenix
(602) 327-0880
Otro Cafe

Robson's restaurant in uptown Phoenix features everything from flapjacks and chilaquiles to burgers, as well as tacos, tortas and burritos selections. And a spicier, Serrano version of his famed guacamole.
The concept pays homage to the neighborhood joints of his birthplace where breakfast, lunch and dinner are served all day.
6035 N 7th St, Phoenix
(602) 266-0831
The Mission

It's no accident that old and new worlds collide at The Mission, where the influences of Spain, Central and South America and Mexico intersect for sophisticated, but casual elegance. The emphasis here is on homemade corn tortillas, arepas and salsa. In addition, a plancha (grill) fired by pecan and mesquite wood creates aromatic profiles for the meats dishes, including the signature pork shoulder tacos.
"Matt Carter does a really great job with Latin cuisine influences at The Mission," says Robson. "It's elevated with a thoughtful presentation and interesting flavors. It's more indicative of what you would see and taste in Mexico City today from a culinary perspective."
3815 N. Brown Avenue, Scottsdale
(480) 636-5005
7122 E. Greenway Parkway, Scottsdale
(480) 292-7800

As a practiced chef in Phoenix, Aaron Chamberlin is known for his take on classic American cuisine. His latest venture, however, takes on a more refined approach to Southwestern cuisine, featuring lighter fare with a blend of flavors and ingredients that cast a wide culinary net from Baja to Texas and Colorado to Mexico.
The Chile Colorado enchilada made with braised pork, Chimayo chile and restrained toppings is indicative of the revamped Southwestern fare. Diners also can select from revitalized tacos, cowboy steaks, green chile burgers, smoky rancho beans and grilled trout prepared with vegetables in an refreshed environment designed by local artist Gennaro Garcia.
"Aaron's twist on modern Southwest offers hints of Mexico City," says Robson. "Between the Southwest elements and Genaro's design, it's reminiscent of restaurants in Mexico City neighborhoods like La Condesa."
1006 E. Warner Road, Tempe
(480) 474-4328