Welcome to LGBTQ+PHX, where we highlight the people and places of Phoenix's LGBTQ+ community.
Since he's no stranger to the stage, Phoenix drag performer Eddie Broadway has a fitting name. With nearly 10 local, state and national titles under his belt, he's a pageant king who's mastered the art of wowing his audience.
This year, Broadway represented Arizona as he competed against five other transgender men for the title of Mr. Trans USA 2020 – and he won, bringing the national title with him back to Arizona. 
Following his participation in the National Trans Visibility March in Washington, D.C., Broadway sat down with us to share his experiences representing Arizona on the national stage, his favorite Phoenix spots, and where you can catch him performing throughout the rest of his reign.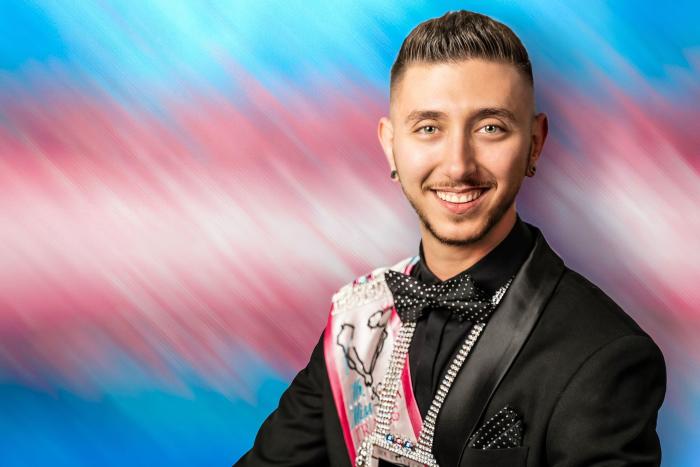 Eddie Broadway, Mr. Trans USA 2020. Photo credit: Paulann Engelhoff.
How would you describe your performance style to anyone who is not familiar with it?
'Eddie' is very eclectic. I like to think of his style as adaptable, but with passion. Everything that Eddie does has a passionate component to it. That is probably why my last name is Broadway. Broadway isn't just about the happy musicals, it's also about the tearjerkers, dramas, and emotional plays. Eddie tends to be on the darker side of things, but he isn't afraid to do some country or some cheesy love song.
What made you decide to compete for the title of Mr. Trans USA?
Much more thought went into this than any other title previously. I have spent years building the [stage] name and brand of Eddie Broadway, and kind of lost the trans man behind Eddie in the shuffle of his success. This was the first title that didn't require me to be a drag performer, but rather about me as a trans man and trans activist. This year is about … the man behind Eddie and the trans community at large.
What did the role of Mr. Trans Arizona require of you?
For me, it was an opportunity to show people this system, to be a part of the new brotherhood and to be incredibly visible. It required me to be present and show up as my authentic self.
Everyone who competed was challenged in one category to wear a costume representative of their state. What can you tell us about yours and how you chose it?
I chose to not only represent the Phoenix, but also the flames and ashes from where the Phoenix rose. My designer and I also had the idea of it being like "the boy on fire," which is similar to "The Hunger Games." We are at a very pivotal part of our history, where the transgender community is rising from the ashes of adversity and this was my way of symbolically representing our struggle, but also the fact that we will rise in spite of this adversity. 
Was there anything you learned about Phoenix or people's perception of Phoenix while you were out of town for this competition?
Honestly, myself and my counterpart, Miss Trans Arizona Naomi St. James, showed them what Phoenix is really about. We showed them integrity, grace, passion, and drive. And that, in my opinion, is exactly what Phoenix is about. [We're] incredibly diverse and definitely a city to not underestimate.
When you head out of state for a pageant, how do you represent Phoenix? What do you boast about the city?
When I go out of state, I have a cactus shirt that I wear at least once. I have people mention, "Oh look at Arizona with their cactus shirt." I wear that proudly knowing that I am part of Phoenix and its culture. Depending on where I go, I also am usually freezing cold and boast about our lovely weather that time of year. That usually ends with, "you know, I have always wanted to visit Phoenix." I talk about our rich community as well, both in downtown life and LGBTQ+ life.
If someone were to ask you what Phoenix's LGBTQ+ community is like, how would you reply to them?
I always tell them that it is extremely expansive, but also incredibly small. There are several subsects of the community, [and] we have a crazy amount of LGBTQ nightclubs.
What's your favorite piece/tidbit of Phoenix LGBTQ+ history?
My favorite part is that Monica Helms, Phoenix native, created the transgender flag that we use today.
Editor's note: In 1999, U.S. Navy veteran Monica Helms assembled the white, light blue and light pink stripes as a symbol of solidarity for her community. This year, to commemorate the 20th anniversary of the flag's creation, she was honored as the grand marshal in the Phoenix Pride Parade in April. In June, Phoenix Mayor Kate Gallego issued a proclamation celebrating this anniversary as well.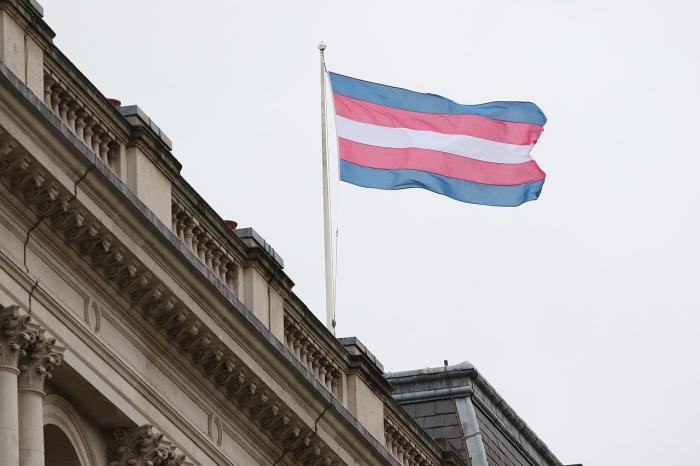 The Transgender Pride Flag, created by Phoenix native Monica Helms.
Can you recall how you felt the first time you saw drag in Phoenix?
I genuinely think that it was Barbra Seville at Phoenix Pride in, I believe, 2010. I loved watching her and the other performers. It didn't really hit me, though, that I could do this until I saw Sisterzz Twisted Perform at Cash Inn Country for the Halloween show.
Fast forward to today, which is your favorite Phoenix drag show to attend and why?
There are a couple, but right now I very much enjoy Dahl Haus [every third Sunday at The Rock], The Queer Agenda [Tuesday nights at Stacy's @ Melrose], and Late Night Snax [every second and fourth Sunday at The Rock], because of the diversity, the creativity, and the performance art aspect of these shows.
Which is your favorite Phoenix drag show to be cast in and why?
Again, I love being in Dahl Haus and Queer Agenda. These shows have helped me find a deeper part of who Eddie is as a person, artist and entertainer. The energy I receive is about my art and nothing else, and it's something that can't be explained.
How about your favorite place for a happy hour? And drink of choice?
I tend to gravitate to The Rock [in the Melrose District] for all my drinking needs. I am a simple man; a couple shots of tequila and I am good.
As for local restaurants, what's your favorite dish and where do they serve it up better than anywhere else?
I take my wife to Hearth '61 for most holidays, birthdays, anniversaries, and the Niman Ranch tenderloin of beef is by far the BEST steak I have ever tasted in my entire life.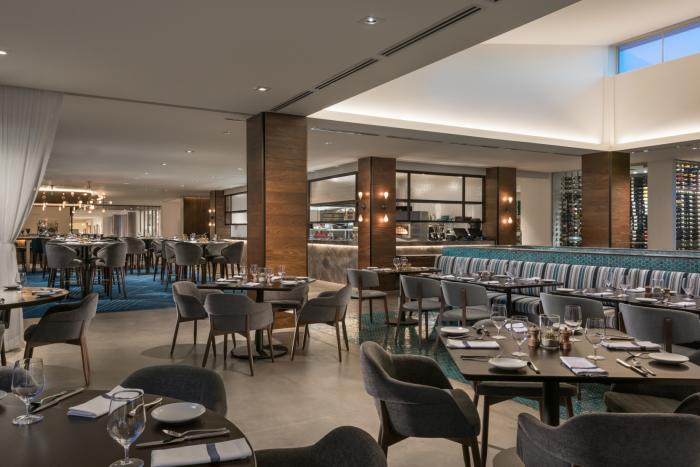 Hearth '61 at Mountain Shadows.
When you have guests visit you, what's one place you must take them to experience while they're here?
I usually take them to a lot of downtown venues first: Valley Bar, The Van Buren, Crescent Ballroom and so on. I like to show them our eclectic scene downtown and have them get a taste for what it's really like to be in Phoenix.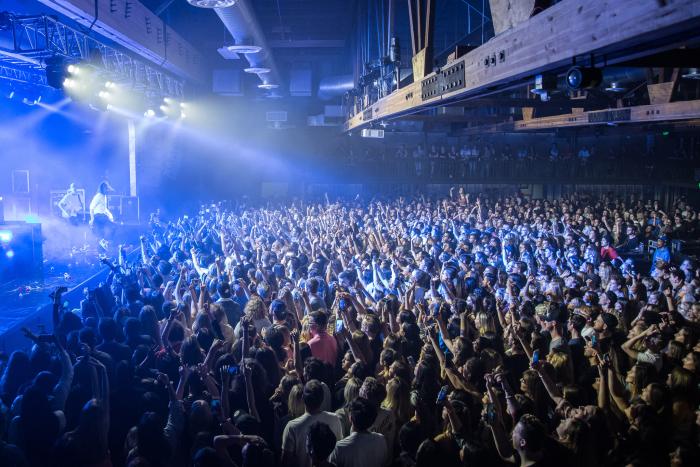 The Van Buren
What's your favorite thing about our city?
I really enjoy watching the city change. I have been in the downtown scene for almost 10 years and I have really seen it evolve ... I see the art and hear the music and see the safety of being LGBTQ+ downtown, and I immediately feel at home. 
What's one Arizona or Phoenix experience that's on your bucket list?
Havasupai for sure is on my list. I still can't believe I have never been. My wife wants to take me, and we haven't made it happen yet. But we will! I also have not been to FORM [at Arcosanti] yet and need to make that happen as well. 
What else does year ahead, as Mr. Trans USA, entail? 
This title is essentially what I make of it. I still am figuring out my plan of action, but I will be working with my counterpart, Miss Trans USA Bianca Nicole, to hopefully develop a blog/podcast to talk nationally with individuals about their experiences, and hopefully educate people on a wider scale.
Where to see Eddie Broadway on stage:
AFABulous, an all AFAB show
8:30 p.m. every second Saturday of every month
Boycott Bar
301 N. Seventh Ave., Phoenix
The Queer Agenda
9:30 p.m. every third Tuesday of the month
Stacy's @ Melrose
4343 N. Seventh Ave., Phoenix
Intoxicating Tuesdays
9 p.m. every Tuesday (excluding the third)
BS West
7125 E. Fifth Ave., Scottsdale