Sunshine, glitter, and messages of love are synonymous with Pride Month, which is observed each June. In Phoenix, however, the colors of the rainbow emerge in what other cities might consider the off-season. Among the array of celebrations that take place worldwide, Phoenix is among the last major cities to host a Pride festival.
Since 2021, Pride essentially swapped weekends with Rainbows Festival, which now takes place each spring. 
"[Rainbows Festival is] kind of a vacation and it's also kind of a kickoff," says Mike Fornelli, executive director of Phoenix Pride. "It puts you in that pride month feel way early." At the same time, Phoenix's festival and parade round out the calendar year.
The Phoenix Pride festival and parade dates and headliners were recently announced: Under the theme "Believe In Yourself," the weekend of events will take place Oct. 15 and 16. Gayle, Vincent and En Vogue will headline the main stage, while drag queens Sherry Vine and Kimora Black will join Sir Elton, the ultimate Elton John tribute, in the VIP Experience.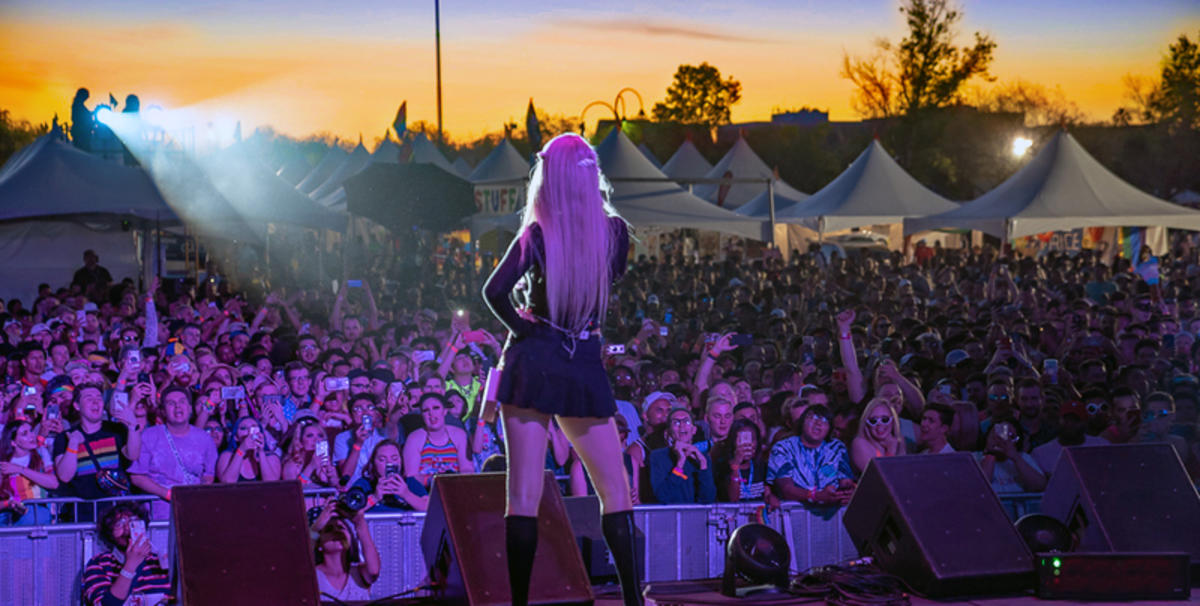 The 2022 Phoenix Pride Festival will take place Oct. 15-16 at Steele Indian School Park. Photo courtesy of Phoenix Pride. 
In 2021, organization celebrated its 40th anniversary.
"This is a tremendous milestone for the Greater Phoenix LGBTQ+ community, and really for the community as a whole," says Fornelli. "The past four decades of history have carried our community further than many imagined could be possible ... We have come a long way from that first march to the Arizona Capitol that became the genesis of Phoenix Pride, and I think that those who were there would indeed be proud of how far we have come – and of the fact that we continue forward in our efforts to secure equity for everyone in our community and beyond."
As you might imagine, Phoenix has transformed considerably throughout the past four decades. Today, the nation's fifth-largest city is home to a vibrant arts scene, award-winning dining experiences and an eclectic gayborhood – better known as the Melrose District, which serves as an epicenter for LGBTQ+ festivities year-round.
"Phoenix is one of the most welcoming cities," says Fornelli. "… [C]orporations are getting more involved in the community because they … understand how important the LGBTQ+ community is. Everybody wants to be part of it."
For 2022, event organizers are anticipating more than 50,000 revelers at the two-day festival. For visitors, where to stay is an important consideration. And, with nearly 500 hotels and resorts in Greater Phoenix, the possibilities are as diverse as those seeking them out.
"The hospitality industry throws its doors wide open," says Ryan Thomas, formerly the senior sales manager at Residence Inn/Courtyard by Marriott Phoenix Downtown. "We have a robust lineup of incredible hotels – from select service to luxury resorts – across Phoenix. No matter what you are looking for, know that you are coming into a very inclusive environment."
Pride is more than a weekend celebration in Phoenix – it's a year-round priority. And that was especially evident in 2021, Phoenix Pride celebrated "40 Years of Fortitude," with a respectful nod to those who took a stand for equal rights over the years.
"Our government leaders are so supportive of LGBTQ+ issues, and that's important," says Fornelli, adding that both a rainbow and transgender flag flew from the state Capitol and from city hall, commemorating the 50th anniversary of Stonewall and the 20th anniversary of the transgender pride flag, which was created in Phoenix.
Phoenix Mayor Kate Gallego made a proclamation in 2019 for each milestone anniversary, asking residents to remember and recognize the impact they had on our LGBTQ+ community. "The Mayor's Office, Councilwoman Laura Pastor and Secretary of State Katie Hobbs were instrumental in making this happen," says Phoenix Pride via its website.
The year prior, two Phoenix intersections became the home of permanent Pride installations.
"In working with the city, we were able to install rainbow crosswalks [in 2018]," says Fornelli, in reference to the intersections of Central and First avenues at Portland Street (downtown) and Seventh Avenue at Glenrosa (in the Melrose District).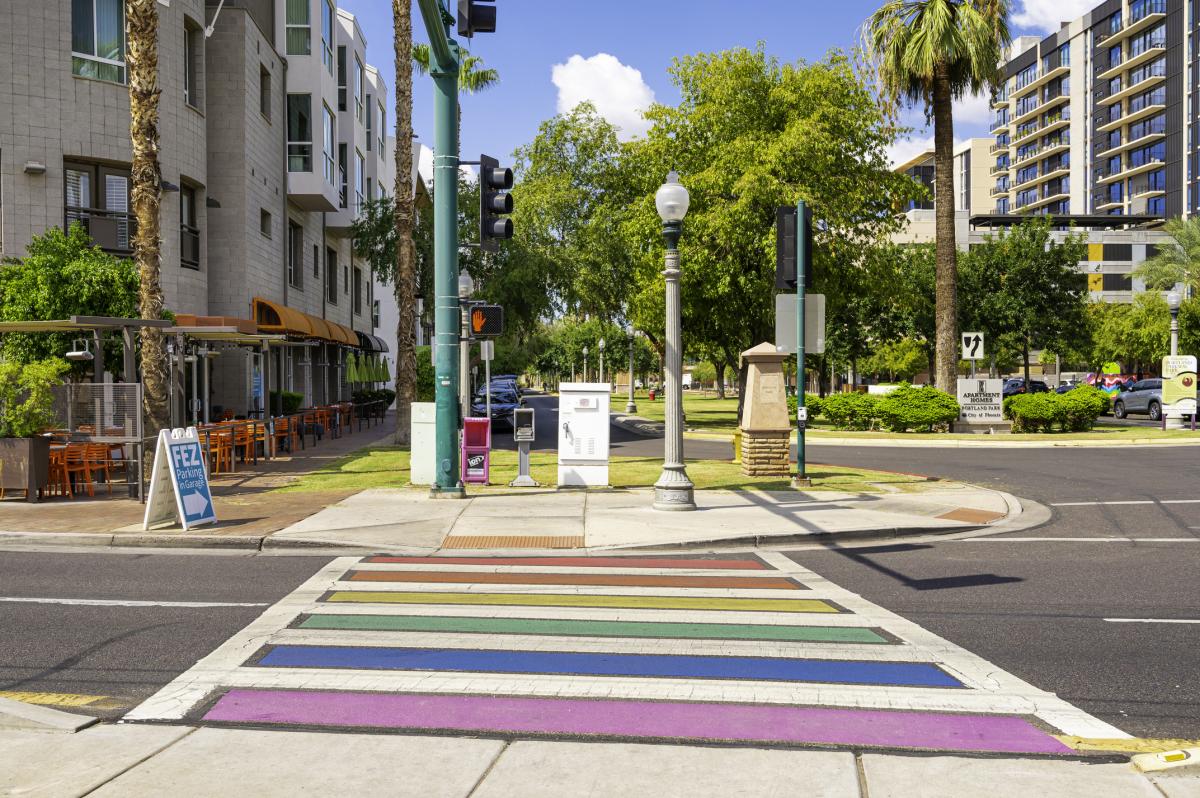 One of Phoenix's two rainbow crosswalks, located at Central and First avenues at Portland Street in downtown.
Still, the annual festival and parade create and unparalleled Phoenix experience for local and visiting members of the LGBTQ+ community and their allies.
"Not only is the weather here beautiful, but it is incredible to see the community and camaraderie at Phoenix Pride," says Thomas, whose career as drag queen Kadee Christian Starr included a performance at the 2019 festival. "The atmosphere is inspiring … You see people of every age, every ethnicity, every shape … it is a truly inclusive event and I believe that is because of the people of the city of Phoenix."
At the 2022 festival, attendees can expect an entertainment-packed line up: Local drag entertainers and musicians will perform throughout both days, followed by big-ticket headliners.
The festival also includes a larger-than-life dance pavilion featuring DJs, light shows and art installations; a VIP experience, a KidSpace, an Arts Expo, and an 18-and-over tent featuring burlesque and go-go dancers.
Dozens of food trucks and vendors will offer attendees local fare, and approximately 300 exhibitors will showcase local businesses, resources and, of course, retail.
The parade consistently promises nearly 300 entries each year (check parade route below). For 2021, the community grand marshals included the Greater Phoenix Equality Chamber of Commerce (GPECC), which also celebrated its 40th anniversary that year.
"We have shared roots … [i]n our hearts, both organizations want visibility and support for all," says Deanna Jordan, executive director of the GPECC. "Pride and the Chamber both share a common goal: celebrating our diversity and empowering people to live an authentic life, personally or professionally."
Jordan credits the local nonprofit and political organizations – as well as its business community – for creating space for Phoenix's the LGBTQ+ community to not only exist, but flourish.
"[Our community is] amazing and diverse," says Jordan. "I think Phoenix is more welcoming than outsiders expect, and we have amazing places and destinations to share … Come and visit, Phoenix won't disappoint you!"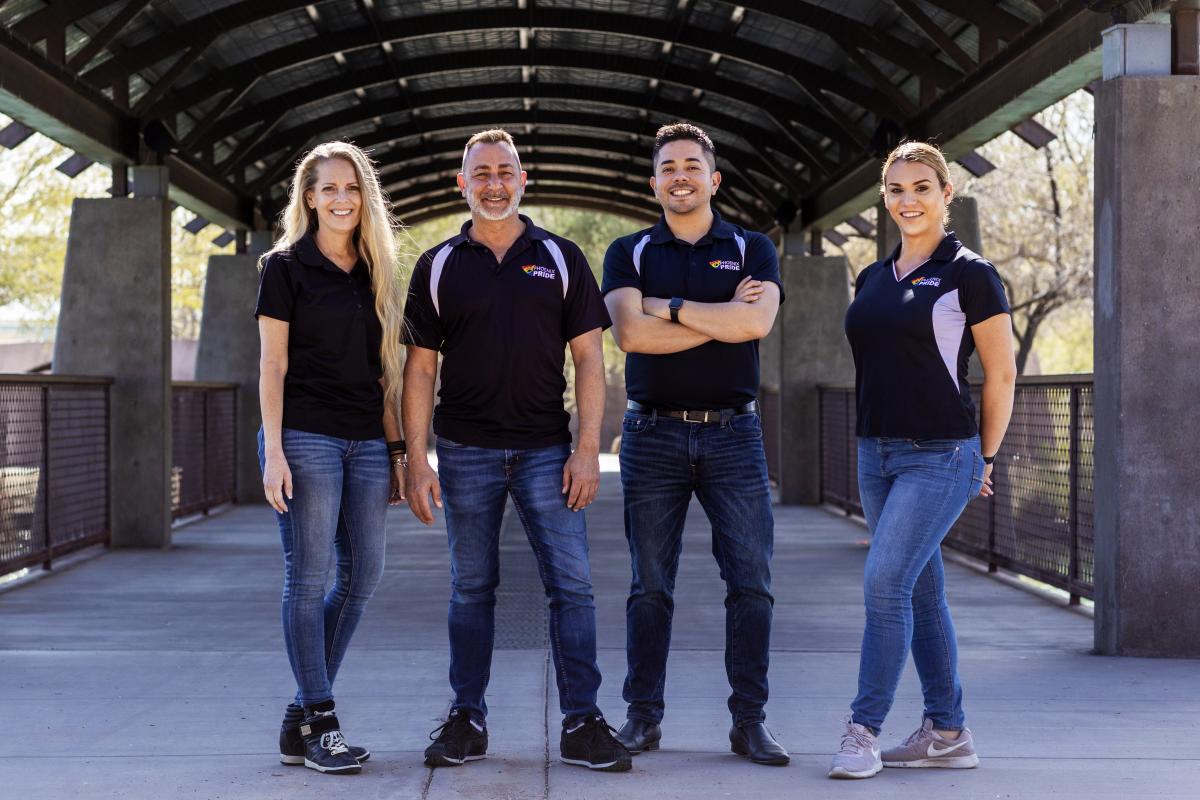 Meet the Phoenix Pride staff (L to R): Stella Kowalczyk, volunteer and events manager; Mike Fornelli, executive director; Victor E. Avila, (former) development manager; Eva Steele, program manager. Photo credit: Mark Lipczynski.
Phoenix Pride 2023 Festivities:
Oct. 21 & 22, 2023
Steele Indian School Park
300 E. Indian School Road, Phoenix
Oct. 22, 2023
Begins: 3rd Street & Thomas
Ends: 3rd Street & Indian School
To learn about more events during Phoenix Pride, check out our LGBTQ+ events page here.