Phoenix drag queen dishes on community, competition and cuisine
Welcome to LGBTQ+PHX, where we highlight the people and places of Phoenix's LGBTQ+ community.
When it comes to drag, bigger is always better. From wigs and eyelashes to costume reveals and death drops, exaggeration with a flair for the dramatic is what sets this art form apart. And Phoenix's Espressa Grandé is as big as it gets. In October 2019, the self-described comedy queen represented Arizona at the Miss Gay America Pageant in St. Louis, where she ranked among the top eight drag queens in the country – on her first attempt.
Now that she's back in town, Grandé sat down with Visit Phoenix to share more about her experiences representing her community on the national stage, her Phoenix favorites, and where you can catch her performing each week.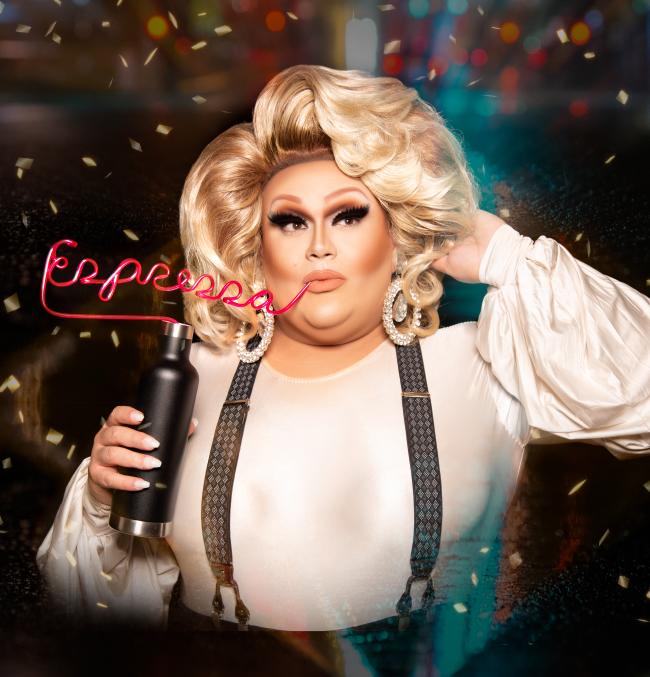 If someone were to ask you what Phoenix's LGBTQ+ community is like, how would you describe it?
Our community is a melting pot of humans – transplants, locals, real family, chosen family, snowbirds, repeat visitors – and that is what makes it so great to be a part of. Phoenix becomes different once you've experienced it for yourself. It's not all air conditioning and swimming pools; it's artistry, culture, activism, nightlife and the great outdoors. Our community is so tight-knit that even we forget we have bragging rights as the nation's fifth-largest city ... We're forward thinking, more progressive than outsiders might realize, and we take care of our own. Just as the city itself has blossomed, so has our community.
When you head out of state for a pageant, how do you represent Phoenix? What do you boast about the city?
In Phoenix, we're fortunate enough to have more LGBTQ+ bars than you might find in other cities – most of which offer a platform for the art of drag. This is amazing because these stages offer more opportunities for performers to get in front of an audience and perfect their craft and they also serve as venues for folks from all walks of life to access this form of creative expression. As drag grows in mainstream popularity, it's important to remember that we're doing this for anyone who enjoys it … everyone is welcome.
Was there anything you learned about Phoenix or the perception of Phoenix while you were out of town for the Miss Gay America pageant?
[T]he national team always has their eye on the talent coming out of Arizona. This year was no different. What I realized through that experience was that people outside of Arizona see us. They see our hard work, our dedication, our unique flavor – and they admire us for it.
What's your favorite piece/tidbit of Phoenix LGBTQ+ history?
One of my absolute favorites is one of the newest additions to the LGBTQ+ history books, and that is the rainbow crosswalk in the Melrose District (at Seventh and Glenrosa avenues). For me, the crosswalk is history realized. It's a nod at our past and a bridge to the future. It's visibility, which is something I committed to long before drag. This landmark serves as a tangible representation of the lives we live every day, not just during pride month or at a once-a-year celebration, and it's a welcoming reminder that everyone has family here in Phoenix.
Additionally, something many people don't realize is that, the Transgender Pride flag was created here in Phoenix. 
Editor's note: In 1999, U.S. Navy veteran Monica Helms assembled the white, light blue and light pink stripes as a symbol of solidarity for her community. This year, to commemorate the 20th anniversary of the flag's creation, she was honored as the grand marshal in the Phoenix Pride Parade in April. In June, Phoenix Mayor Kate Gallego issued a proclamation celebrating this anniversary as well.
How about your favorite place for a happy hour? And drink of choice?
Assuming I'm not in hip pads and pantyhose, I like to sip my Truly [hard seltzer] with raspberry vodka through a reusable straw on a patio. Phoenix has some of the best patios, by the way. For anyone who hasn't ordered a cold one from a shirtless bartender who's glistening under the misters at an outdoor bar, you haven't lived. [Speaking of great patios], the Thunderbird Lounge is the newest addition to the Melrose District that has a midcentury modern aesthetic with throwback favorites, including a jukebox and arcade games. There's also some elevated Phoenix history tied up in this watering hole, too, but you'll just have to Google it for yourself.
As for local restaurants, what's your favorite dish and where do they serve it up better than anywhere else?
Considering she's a delicate size 22 Italian, obviously I can't pick just one. And, despite all the worshipping of Chipotle that goes down on my Instagram feed, I would say The Parlor Pizzeria and Welcome Diner. The Parlor is making headlines – much like yours truly – as one of America's top 25 pizza joints (USA Today) and No. 1 pizza in Arizona (Food Network). So naturally, I'm a rebel by ordering the amazing Parlor Burger. I'm also a big fan of their made-from-scratch ranch dressing and rosemary fries. As for Welcome Diner, this place is an entire scene. From weekend brunch to late-night cravings, this is the place to try if you're looking for unique experiences – and flavors – in downtown (the people watching won't disappoint either). The Koko biscuits with fried chicken and the Poutine fries are transcendent!
On those nights where the show's over and the makeup comes off, where are you headed for the best afterhours scene in town?
If it isn't The Rock or Stacy's @ Melrose for a nightcap, it's definitely late-night grub. I am not too proud to dive into a big order of carne asada fries from Filiberto's, or the Tripleta fries from Phoenix Coqui, Arizona's only Puerto Rican food truck. Bonus: It's gay-owned and operated. You can find them parked outside The Rock Fridays, Saturdays [from 4 p.m. to 2 a.m.] and Sundays [4 p.m.-midnight]. So, to recap, pure comfort food. It takes a lot of energy to look this cheap!
Who was the last concert you went to in Phoenix and where was it?
Kacey Musgraves at Arizona Financial Theatre  … was such an amazing concert for so many reasons. From helping me relive my country roots to seeing how much of an ally she is for LGBTQ+ community, it was such an emotional and exciting concert to be at.
When you have guests visit you, what's one place you must take them to experience while they're here?
Hands down, catching a show of some kind at The Van Buren. A highlight was seeing Trixie Mattel, a comedy drag queen from "RuPaul's Drag Race" there. It was my first experience at the venue and it stole my heart. The vibe is so chill, but simultaneously electric. It's definitely one of my favorite places in Phoenix for sure.
What's one Arizona or Phoenix experience that's on your bucket list?
Earlier this year, I toured Frank Lloyd Wright's Taliesin West, which was recently named a UNESCO World Heritage Site, and catching Form, the annual music festival that takes place at Arcosanti is definitely on the bucket list.
What's your favorite thing about our city?
The thing I love most about Phoenix is the fact that I can live 100% authentically me … When I realized this is a place you can just be you, the sky was the limit. After this realization, so many doors opened, and opportunities presented themselves to me. In hindsight, it makes complete sense that this is a city composed of so many transplants.
Where to see Espressa Grandé on stage:
Thank Grandé It's Friday
7 p.m. every Friday
The Rock
4129 N. Seventh Ave., Phoenix
602-248-8559
Follies
7 p.m. select Saturdays
Kobalt at Park Central
3110 N. Central Ave., Suite 175, Phoenix