Ariel Bracamonte's passion project is a game changer for downtown Phoenix's bar scene.
By Sally J. Clasen
As a boy growing up in the Phoenix suburb of Glendale in the 1980s, Ariel Bracamonte would ride his bike to the local arcade, where he and his friends would watch other people play video games. Bracamonte's band, themselves, almost never dropped a quarter into the machines. 
"We were broke," Bracamonte says.
 Still, he was intrigued by how the console video games looked and worked. His fascination led to an adult obsession of buying and restoring upright vintage arcade games, a hobby that has morphed into a classic collection of 100 plus games from the '70s, '80s and '90s. 
Asteroids Deluxe. Bubble Bobble. Donkey Kong. Frogger. Ms. Pac Man. Punch Out. Strider. WWF WrestleFest. These are just some of Bracamonte's prized games. And nearly half of his collection is now in rotation at Cobra Arcade, a bar he co-owns in the Roosevelt Row Arts District in downtown Phoenix. 
The idea to open an arcade bar specifically featuring vintage games had been on Bracamonte's mind for years, yet he didn't start putting the concept into play until 2012. 
"I wanted to create a fun gathering place where people could play video games, have a drink and just relax," he says. "Video games should be played in a social environment."
After several failed attempts—the result of poor business relationships and city-zoning issues, he says—Bracamonte hit the jackpot by partnering with the local restaurant/entertainment firm Genuine Concepts (the team behind popular hangouts like Crescent Ballroom and The Vig) and building owner Chuckie Duff.
"It's a dream come true," says Bracamonte, who has previously owned an auto body repair business as well as a fireworks operation. "I don't know how to run a bar, but I know how to run a business. Every time I come here I'm happy. I finally have the full burrito. I wanted to open the first legitimate vintage arcade bar in the Valley. I wouldn't have been able to do it without this partnership."
Bracamonte also has amassed a network of creative friends who have helped shape the artistic gaming vibe at Cobra Arcade. An ardent supporter of the local arts community, he's given free rein to several artists to put their mark on the consoles as well as the bar's environment. Artists Lalo Cota, Pablo Luna, Chris "Volar" Sanchez, Noelle Martinez and Anthony Garcia helped transform the interior walls with pops of color and black-and-white, gaming-inspired art and geometric designs.
The Medusa-like mural next to the bar's entrance was done by nationally known street artists EL Mac and David Choe. Inside, the tubular ceiling lights are a nod to the iconic arcade game Super Mario Brothers. 
The featured attraction, of course, is Bracamonte's impressive collection of retro arcade consoles. All 41 in the current lineup have been modified with a unique paint job, custom joy stick or some other artistic element supplied by Bracamonte or one of his friends. 
Some collectors and gamers in the arcade industry cast a judgmental eye at Bracamonte's refurbishing techniques—like his putting wallpaper that resembles barn siding on a video cabinet. But he's sees it a different way. 
"I look at the video games as a canvas," explains Bracamonte, a self-taught artist who is naturally mechanical. He's rebuilt the CRTs of most of the games with TV tubes he buys at thrift stores. "I know how to restore them, too. Some of these games have 30-year-old technology. I don't just 'destroy' them by putting crazy art on the sides."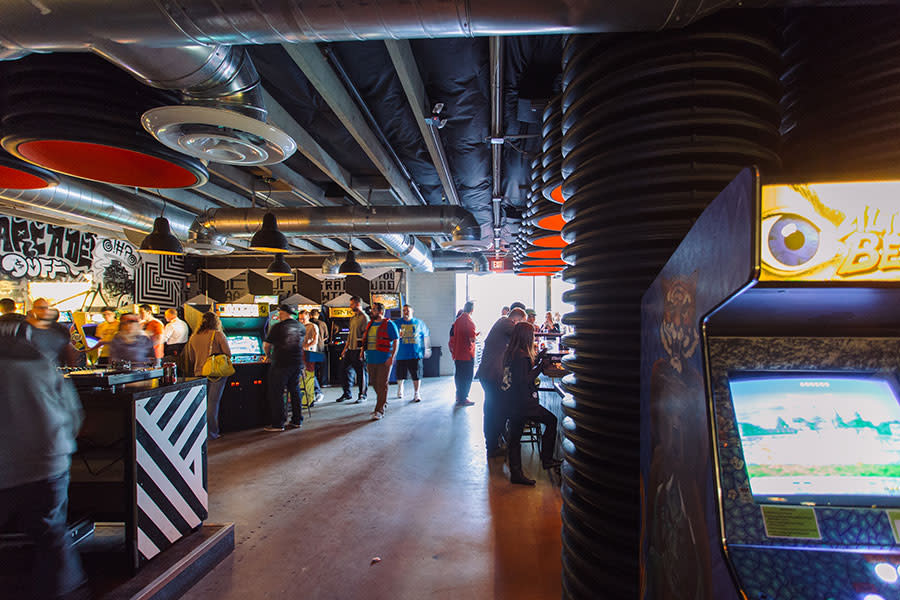 To see the customized games up and running is a personal thing for Bracamonte, who is highly protective of his machines. It's not unusual to find him polishing them and making sure they are in working order before the bar opens every day. "I love to clean things because I'm proud of Cobra Arcade and the games," he says. "They are like my kids."
Bracamonte has his favorites but confesses he's never been a great gamer. He is still a game watcher, taking note of what his customers are playing. That helps him decide which games make the bar's rotation, which he changes every few weeks. 
He knows his customers are savvy, and likes it when they stump him with questions about a particular arcade game. If he doesn't own it, Bracamonte happily sets out on a mission to find it, restore it and add it to his repertoire. 
"Some (consoles) look like I retrieved them from the trash," he says. 
Bracamonte repairs the games in his backyard and stores them anywhere he can find a spot, including his living room. "My house looks like Pee-Wee's Playground," he says. 
Cobra Arcade draws a diverse crowd, and the bar is frequently packed. "We're attracting all age groups, young and old," Bracamonte says. "It brings out your inner-child. Everybody has a favorite game." 
Right now, there's an added perk: The games are free—no quarters required. Bracamonte is awaiting legal approval to charge customers for playing. But, even when he gets it, he says, the kid in him will trump the businessman.
"When we do charge," he says, "it probably will be five games for a buck."
CobraArcadeBar.com
801 N 2nd St, Phoenix 85004
(602) 595-5873