There's nothing more captivating than sitting in a wide circle among an audience immersed in a Hoop Dance performance. And for Phoenix-based, five-time hoop dance World Champion Tony Duncan, being at the center of that stage is where he shines brightest.
With the ornate details of his colorful regalia punctuating his intricate footwork, Duncan moves with utter precision, speed and symmetry — all the while spinning and weaving as many as 16 colorful hoops in wide, cadenced arcs.
This exhilarating piece of performance art by one of the hoop-dance masters is a joy to behold. But it's even more fascinating when we learn about Duncan's story, and his absolute dedication to the art form.
For Tony (San Carlos Apache and Mandan, Hidatsa and Arikara Nation) and his wife, Violet (Plains Cree and Taino from Kehewin Cree Nation), hoop dancing is a familial event, passed down from their parents and on to their four children. And together they are sharing this creative and colorful expression with the masses.
In 2012, the pair starred in the music video for Nelly Furtado's "Big Hoops (The Bigger the Better)." That summer, Tony performed alongside the Canadian singer throughout Europe and Asia, as well as at the Billboard Music Awards.
"She wanted to bring a Native representative and I am honored she chose me," Tony writes on an Instagram post following a performance with the singer at the 2016 NBA All-Star Game in Toronto.
The Duncans on the set of Nelly Furtado's "Big Hoops (The Bigger the Better)" video shoot.

If hoop dancing has a message and a mission, it is to teach its practitioners and observers alike the importance of respecting and honoring all life. As Duncan reminds us, "We are all connected in this great circle of life, and we celebrate that connection with the hoop dance."

The dancers use hoops to simulate images and shapes that represent the many beautiful creations of "Mother Earth." Viewers may recognize various symbols in the hoop designs throughout the dance, including an eagle; a flower blooming; a butterfly, which represents love and transformation; the ladder of life, a snake; and two worlds, simultaneously representing traditional ways and modern society.

The first record of modern, ceremonial Native American hoop dancing appeared in Taos, New Mexico, in the 1930s. Originally created by Taos Pueblo peoples, it served as an active, expressive means of healing physical, emotional and spiritual ills. 

Today, hoop dancing has evolved into a beloved intertribal activity that is widely shared at social gatherings and other celebratory events. The dance, which incorporates up to 50 hoops, is largely free-form and dancers continue to create new ways to showcase their talents — which has resulted in an immense increase in popularity.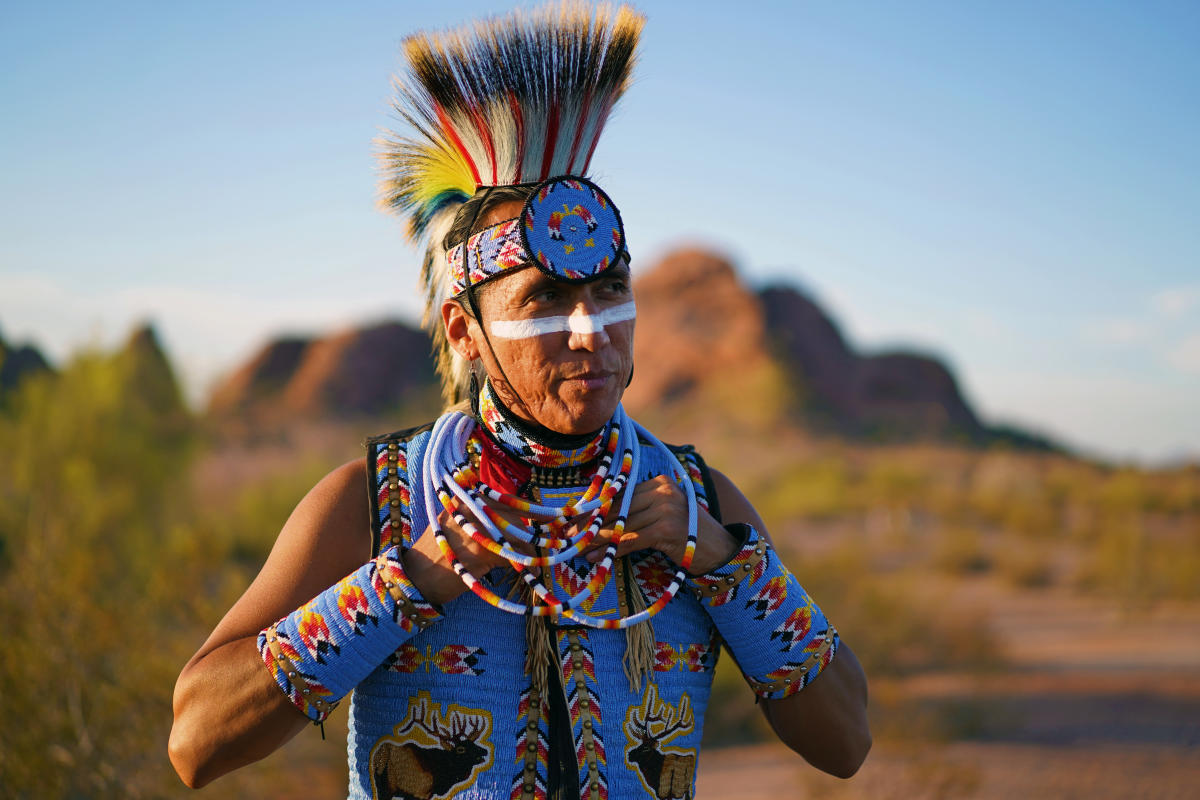 Tony Duncan, five-time Hoop Dance World Champion.
Since 1992, the World Championship Hoop Dance Contest, an American Indian and Canadian First Nations hoop dancing competition, has taken place each spring at the Heard Museum in Phoenix. It is here that Tony has earned all five of his world champion titles.
The Duncan family has made hoop dancing their passion and tradition. Tony was taught to perform it when he was just 5 years old, when it was passed down to him from his father, Ken Duncan. Now, in that same spirit of tradition, Tony has passed it along to his son, Naiche, as well as the his three daughters, Nitanis, Manaya and Mia.
As children's author and storyteller in the Native American oral tradition, Violet has taken the art form a step further by authoring three award-winning children's books on the dance. "When We Dance," "Let's Hoop Dance!" and "I am Native," which shares a glimpse of a multigenerational Native family passing down traditions.
"When we dance, we dance for our ancestors — those who have passed, those who are not yet born — we dance for Mother Earth, Father Sky, respecting everything that surrounds us," Violet shares. "Being in Arizona, I get to step back and look at the beauty that is here. And what better way than share it through a beautiful dance."
We're sharing this dance, Violet adds, with those who want to celebrate its beauty.

Violet Duncan, who shares the art of hoop dancing in her award-winning children's books, pictured with three of her children (left to right: Naiche, Manaya and Mia).

"It's not just a form of entertainment ... it's a way of life for our family," Tony continues. "Hoop dancing teaches us how to live our lives, about living in balance, and how we're all connected here on Mother Earth. Each one of us on this planet has no more importance than any other. We're all a part of that great circle. In this way, from generation to generation, the circle, the stories and the traditions that hoop dancing symbolizes continue." 

And continue they will, thanks to the Duncan family's collective efforts.

"I'll be performing the hoop dance until I have white hair and I'm an elder," Tony muses, "continuing to pass down traditions and teachings to my children and their children. That's how we keep the 'hoop' strong."

 
Connect with the Duncans
Tony Duncan
Website | Facebook | Instagram | YouTube
Violet Duncan
Website | Facebook | Instagram
March 26-27, 2022
Heard Museum
2301 N. Central Ave., Phoenix