Day Trips From Phoenix
Phoenix is a hub for a number of memorable day trips that allow you to explore Arizona for the day and be back in town by night.
Grand Canyon National Park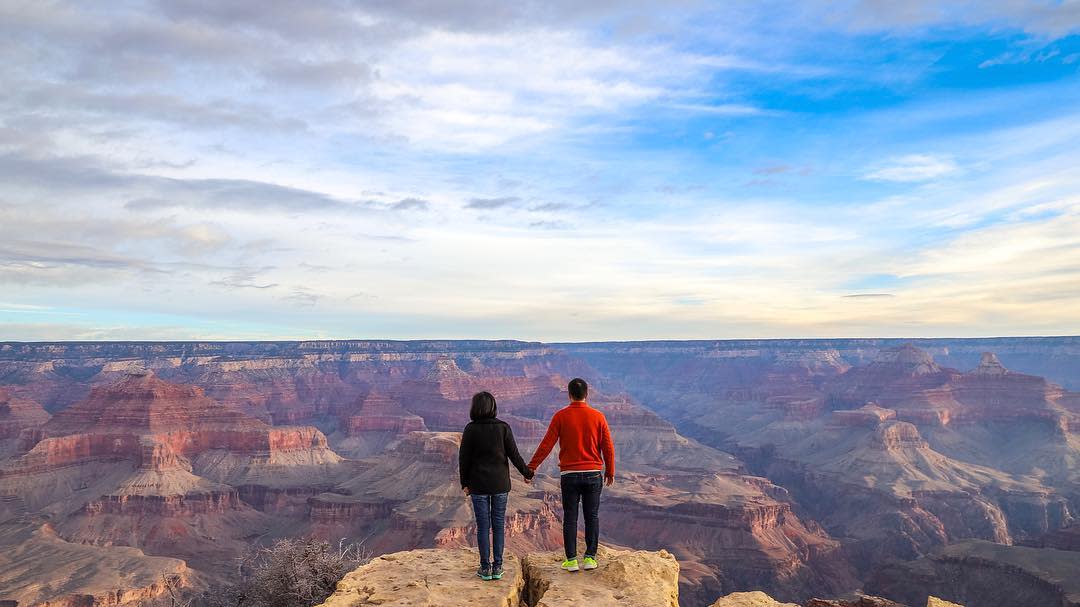 Photo by Instagrammer @sugengamin3
One of the world's seven natural wonders, the Grand Canyon offers spectacular vistas of canyon walls that have been sculpted from the earth over the millennia by the mighty Colorado River. The shifting sun creates a palette of constantly changing colors, from deep russet to pale pink, from washed granite to golden brown. The South Rim is open year-round. The North Rim is open from mid-May through October, depending on weather conditions, and lodging is available.
There are a number of ways to experience the Grand Canyon:
Air tours...
...with Maverick Helicopters, Papillon Helicopters and Freedom Flight Service. 
Guided hikes...
...with REI Co-Op Experiences and 360 Adventures.
Rafting the Colorado River...
...with Arizona River Runners and Hualapai River Runners.
By rail...
...with Grand Canyon Railway.
Get a one-of-a-kind view...
...at Skywalk at Grand Canyon West.
The south rim of Grand Canyon National Park is a 3.5-hour drive from Phoenix. Take Interstate 17 north from Phoenix to Flagstaff. From Flagstaff take Route 180 northwest to the south entrance and the park's visitor center. Or take Highway 89 to Route 64 to the park's east entrance.
Learn more at nps.gov/grca.
Sedona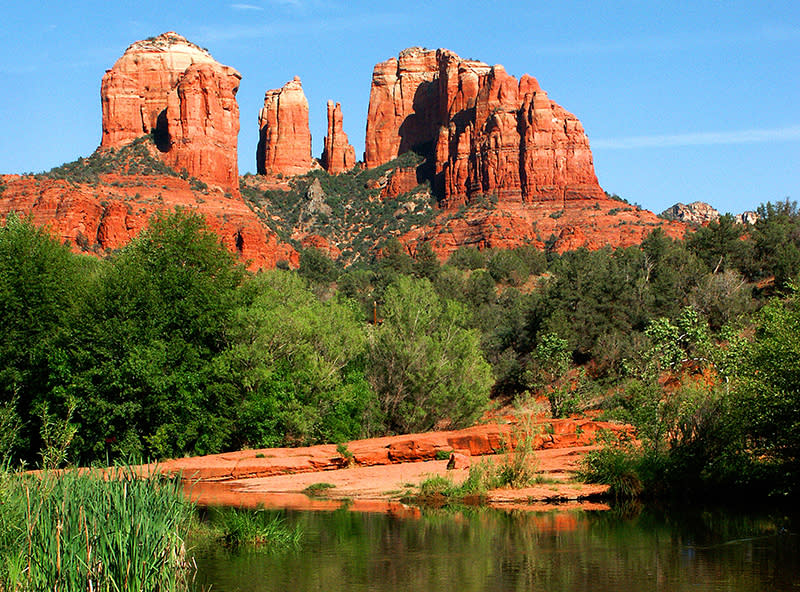 The cultural community of Sedona is a mecca for both art lovers and outdoor enthusiasts. Surrounded by the towering red sandstone cliffs of Oak Creek Canyon, Sedona's deep red-rock buttes provide a beautiful backdrop to boutiques and art galleries selling authentic Native American and Southwestern arts and crafts.
Visit Tlaquepaque (pronounced Tah-la-key-pock-ee), a shopping village named after a small Mexican town that was once that country's leading producer of crafts and glassware.
While in Sedona, explore the area in myriad ways:
Air tours...
...with Westwind Air Service and Freedom Flight Service.
Winery tours...
...with Sedona Wine Adventures.
Off-road tours...
...with A Day in the West, Adventures Out West, Pink Jeep Tours, Red Rock ATV Rentals
Scenic rail rides...
..with Verde Canyon Railroad, located a 30-minute drive from Sedona in Clarkdale. 
 
Also check out our Top 10 Things to do in Sedona at our Hot Sheet blog.
Sedona is a 2-hour drive from Phoenix. Take Interstate 17 north from Phoenix to Junction 179.
Prescott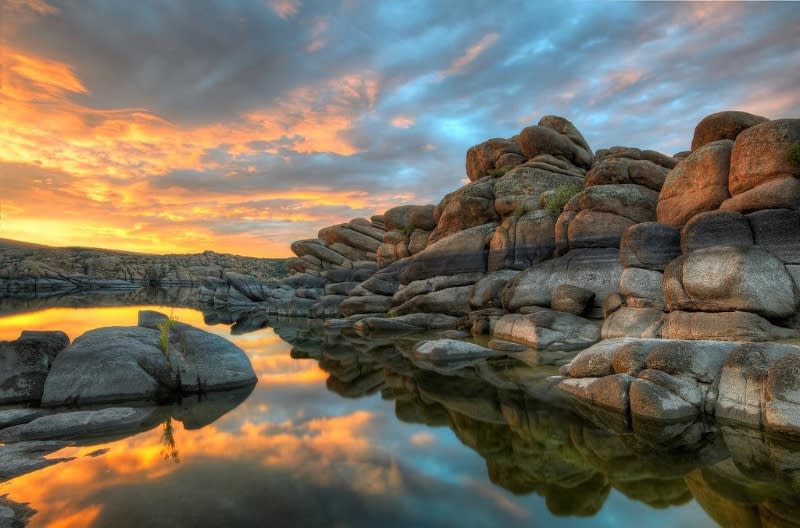 Watson Lake by Michael Wilson on Flickr.
Prescott, founded after the discovery of gold in 1863, was the first permanent capital of the Arizona Territory. While in Prescott, stop at the Sharlot Hall Museum complex. See the first territorial governor's mansion, the historic 1857 John C. Fremont House and the restored 100-year-old Bashford House.
Another point of interest is the charming town square, home of the Yavapai County Courthouse. The blocks surrounding the town square are filled with antique shops, restaurants and hotels. But, the most famous section of the square is Whiskey Row, located on Montezuma Street. Whiskey Row got its nickname during the mining days when nothing but saloons occupied the street.
Just a few miles outside the town is Granite Dells, a geological formation with two reservoirs: Watson Lake and Willow Lake. The area features distinct granite boulders and recreation such as boating and hiking.
Prescott is approximately a two-hour drive from Phoenix.The fastest route to Prescott from Phoenix is north on Interstate 17 to Cordes Junction, then northwest on State Route 69.
Flagstaff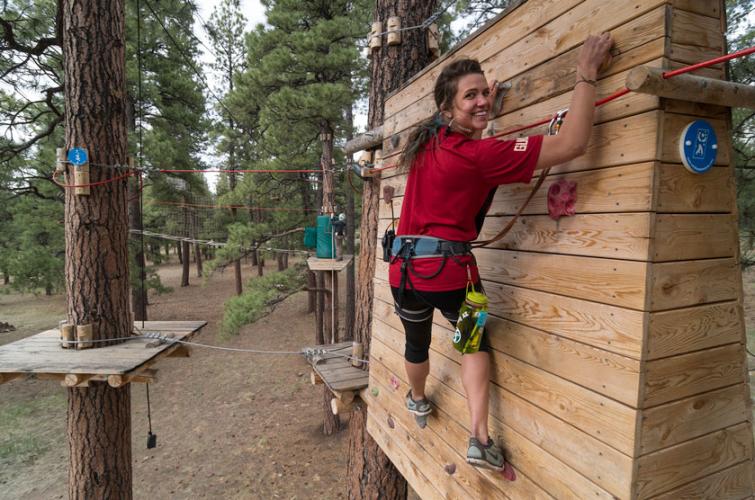 Home of Northern Arizona University, Flagstaff is located 146 miles north of Phoenix on Interstate 17. A visit to the Lowell Observatory atop Mars Hill, where the planet Pluto was discovered in 1930, is recommended. The Museum of Northern Arizona features an extensive exhibit of Native American art. Snow skiers will find some of the best conditions in the country at Arizona Snowbowl, located in the majestic San Francisco Peaks.
Get the details on those and more of our Top 10 Things to do in Flagstaff.
Flagstaff is 2.5 hours from Phoenix, north on Interstate 17.
Apache Trail
This world-famous trail was used by Apache Indians as a short-cut through the mountains to reach early Salt River settlers. The trail twists through the back of the Superstition Mountains from Apache Junction to Roosevelt Lake and the town of Globe.
The majority of the trail is unpaved but can be easily driven by most vehicles. The trail features volcanic debris, cliff-sided canyons, sparkling lakes, towering saguaro cacti and a vast array of wildflowers. The mountains are generally uninhabited, so take along plenty of water.
The ghost town of Goldfield, the Old Western town of Tortilla Flat (population 6), the Boyce Thompson Arboretum, Tonto National Monument and Weavers Needle Lookout are a few interesting points along the trail. Other scenic stops include Lost Dutchman State Park (perhaps you can find the legendary lost gold mine) and Roosevelt Dam.
The Apache Trail is a four-hour round trip from Phoenix. Directions: Leave Phoenix via U.S. 60 east to the Apache Trail. Turn left on Arizona Highway 88 to the Apache Trail. After passing Roosevelt Dam and Tonto National Monument, make the return loop to Phoenix via U.S. 60.
Mogollon Rim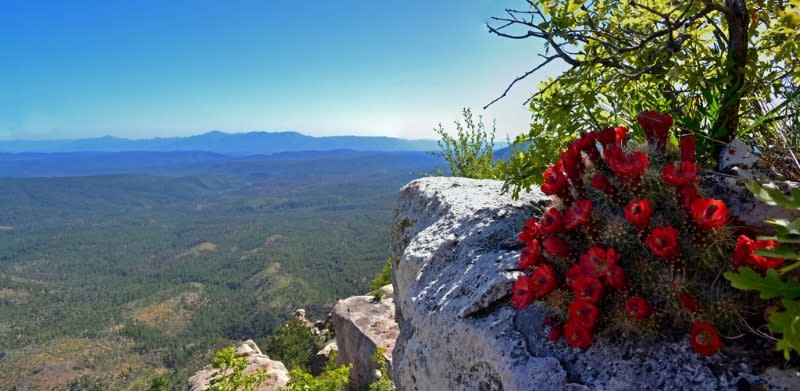 Mogollon Rim by Coconino National Forest on Flickr.
This magnificent geological fault, named after Jean Ignacio Flores Mogollon, governor of Mexico (1712-1715), is referred to locally as the "rim." The dramatic face of the rim is a multi-colored wall of rock, dotted by pine, manzanita and shrub oak. This giant wall of rock jutted upward a mile above sea level when the earth's surface shifted thousands of years ago. The rim was made famous by author Zane Grey who hunted and fished in this beautiful area. It served as inspiration for many of his novels.
From Phoenix the rim is a two-hour drive. Take Highway 87 northeast of Phoenix to Payson. Just beyond Payson, turn right on Highway 260. Continue 31 miles past Tonto Creek (a great place to picnic) to the Woods Canyon Lake exit. Turn left at the sign and you'll be on the Old Rim Road.
The road becomes an unpaved forest highway and frequently winds within a few feet of the fault line, providing a breathtaking view of the rim.
Montezuma Castle National Monument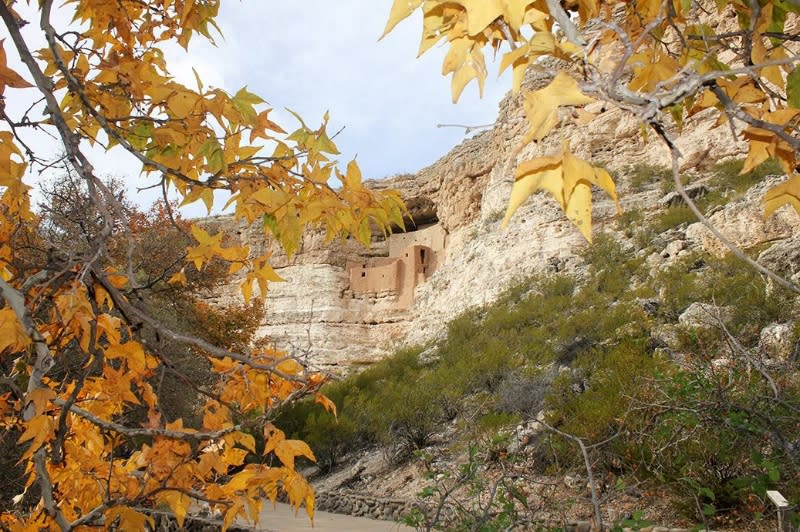 This impressive ancient Native American cliff dwelling is nestled high above Beaver Creek and is more than six centuries old. The Aztec emperor, Montezuma, for whom the castle is named, never saw the famous structure.
The Sinaguas, Pueblo Indians who moved into Greater Phoenix during the 12th century, built the dwelling from limestone and adobe. When white settlers saw it years later, they concluded only Aztecs could have designed the castle and named it accordingly. The structure was built on a steep cliff to protect the Native Americans' property rights.
About seven miles northeast of the castle on the Park Service Road is Montezuma Well, a limestone sink hole with a natural spring used by Native Americans for irrigation. The well still provides nearby Beaver Creek with a daily water supply of more than a million gallons. The well is 55 feet deep and 470 feet wide. From the parking lot at the well, follow the trail to the surrounding plateaus – the result of volcanic lava flows.
To get to Montezuma Castle, take Interstate 17 north to the Montezuma Castle turnoff just past Verde Valley. This is a three-hour round-trip.
White Mountains

White Mountains Fly-fishing by Alan English on Flickr.
Arizona's White Mountains, located in the eastern part of the state, offer a variety of attractions in a climate 30 degrees cooler than Phoenix. With an elevation of 9,000 feet, summer activities include golfing, camping, fishing, mountain biking, hiking, horseback riding and just relaxing.
In winter, the White Mountains become just that — white. Sunrise Ski Resort offers outstanding ski runs and other winter sports opportunities, including snowmobiling, ice fishing and cross country skiing. Much of the White Mountains area is on Native American land, including the Hon-Dah Casino. Rodeos, cultural festivals and parades are common events in the White Mountains region.
The White Mountains area is a four-hour drive from Phoenix with a wide range of accommodations available.
Tucson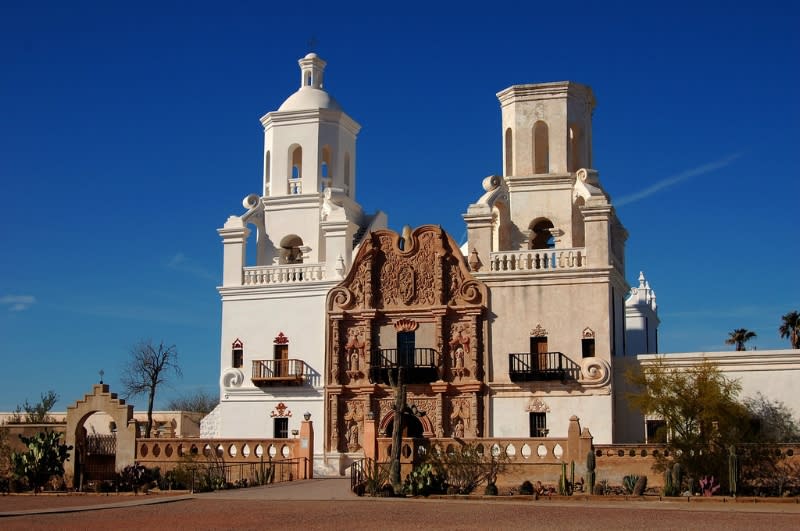 San Xavier del Bac Mission by JR P on Flickr.
Just 111 miles south of Phoenix, amid rolling foothill terrain, is Tucson, affectionately known as the "Old Pueblo." Where Pima Indians, Spanish conquistadors and adventurous Mexican settlers once lived, stands a culturally rich city that celebrates its past with colorful festivals and fiestas.
Among the intriguing excursions enticing visitors are a drive to Sabino Canyon and the Arizona-Sonora Desert Museum. South of Tucson is the San Xavier del Bac Mission, the "White Dove of the Desert." Built almost 300 years ago by Spanish missionaries, the statuesque white church is still used as a spiritual center for the Papago Indians. Visitors are welcome to explore this remarkable blend of architectural styles that is considered one of the finest Spanish colonial structures in the United States.
Tucson is two hours south of Phoenix on Interstate 10.