From egg hunts to a scrumptious brunch, we've got you covered for top Easter events in Phoenix this year.
Egg hunts, Easter Bunny Photos and More Family Fun

Hop & Shop Festival
March 24
Hop on over for a fun family street fair. Fill your Easter baskets with candy and prizes from participating shops, get a free photo with the Easter Bunny, plus enjoy a petting zoo, face painting, kids crafts and more.
Helicopter Easter Egg Drop
March 24
The public is invited to join Open Arms Church as they host their Helicopter Egg Drop. The event will feature thousands of eggs being dropped from a helicopter, inflatables, food trucks, face painting and tons of fun.
Maricopa Easter Egg Hunt
March 31
Kids will have the chance to hunt for eggs, play carnival games, meet the Easter Bunny, and much more at one of Maricopa's largest egg hunts.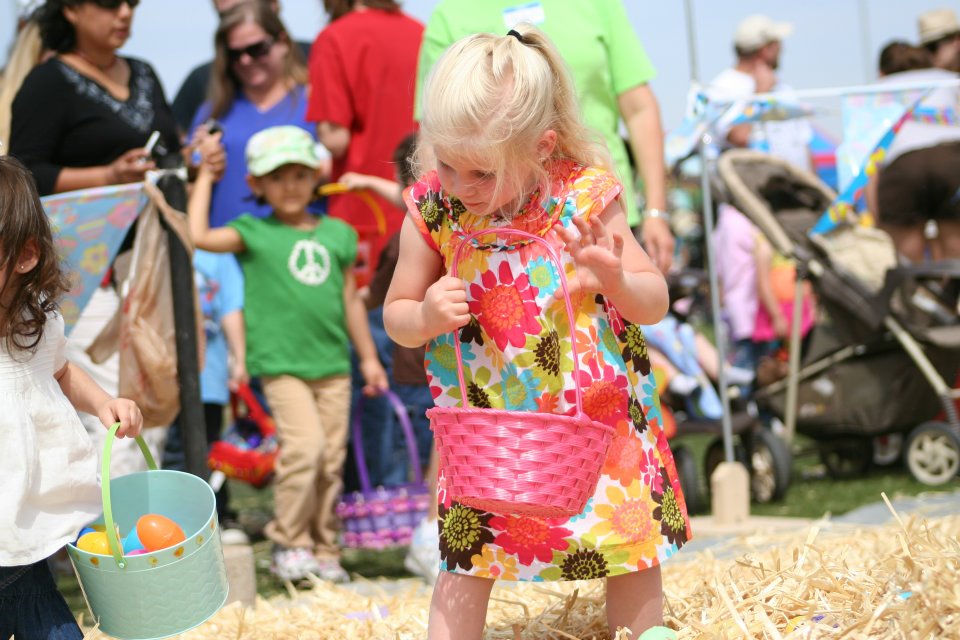 Maricopa Easter Egg Hunt. Photo via Facebook
The Wigwam's Easter Egg-stravaganza
March 31
Enjoy music, egg roll races, the Easter Egg Hunt Train Ride and games at the Wigwam's free Easter celebration. 
Dolly Sanchez Memorial Easter Egg Hunt
March 31
Here's your chance to meet Mr. and Mrs. Bunny, so don't forget your camera! There are candy hunts for eight different age groups and one for individuals with disabilities. Highlights of the event will include a petting zoo, pony rides, make & take crafts, face painting, carnival games, fun inflatables, and much more.
City of Chandler's Family Easter Celebration
March 31
Each year, the Family Easter Celebration in south Chandler provides some of the most enthusiastic Easter egg scrambles for kids up to 9 years of age. In addition to the egg hunts there will be information booths, displays, interactive amusements and photos with the Easter Bunny. Also available for purchase are food and beverages.
Easter Egg-sperience at Vertuccio Farms
March 31
Vertuccio Farms will have pictures with Easter Bunny, furry friends to pet, face painters, a train ride, and an egg hunt. Besides all the Easter activities, there will be all the favorite farm play structures, a pancake breakfast and more.
The Westin Kierland Easter Eggstravaganza
April 1
This annual egg hunt and festival, held exclusively for resort and Easter Brunch guests, features an expansive breakfast spread, family games, crafts, a 27,000-egg hunt and much more.
Easter Bunny Express
April 1
On Easter Sunday, the popular Easter Bunny Express rides again on the Verde Canyon Railroad. From small children to grandparents, everyone will delight in this spring tradition with candy, hugs and photos with the Easter Bunny.
Easter Egg Hunt in Fountain Hills
March 24
Join an egg-stravagant Easter event at Flourish in Fountain Hills. Children 7 and under can enjoy an Easter egg hunt with over 15,000 eggs stuffed with candy and prizes. Plus, the Hoppy Bunny will be available for photos during the event. 
Easter Bunny Photos at Westgate 
March 22 - 28
Bring the kids to Fountain Park to visit with the Easter Bunny and get a free downloadable photo and gift (while supplies last). You can also bring your pup for a Furry Friend Photo Day on Monday, March 26.
Easter Dining
Breakfast with the Easter Bunny at The Wigwam
March 31
Enjoy a lovely scrumptious buffet with your family and get your photos taken with the Easter Bunny at The Wigwam Resort.
Easter Brunch at The Farm at South Mountain
April 1
Gather the whole family and hippity hop over this Easter Sunday for a delicious buffet brunch. Farms in particular are a favorite bunny hang-out and the Easter Bunny will be making a special appearance for photo ops with the family, so don't forget your camera.
Easter Musical Luncheon at Organ Stop Pizza
April 1
Enjoy a relaxing lunch and music on the Mighty Wurlitzer at Organ Stop Pizza. Take the family out to enjoy all you can eat pizza buffet and salad. Non-alcoholic and alcoholic beverages will be available for additional charge.
Mowry & Cotton Easter Dinner
April 1
Mowry & Cotton at The Phoenician offers guests a family-friendly spring-inspired breakfast, lunch and dinner menu this Easter.
Easter Brunch at the Wigwam
April 1
Join the Wigwam Easter Sunday with family, friends and loved ones for a delicious Easter Buffet in the Wigwam Ballroom, or a special 4-course plated brunch at Litchfield's restaurant. 
Blue Hound Kitchen & Cocktails Easter Picnic
April 1
Blue Hound Kitchen & Cocktails at Kimpton Hotel Palomar Phoenix is putting a fun Southern twist on the traditional Easter brunch. Executive Chef Sean Currid will be preparing a picnic-inspired buffet for the holiday featuring an array of Southern classics.
Boulders Resort & Spa Easter Champagne Brunch
April 1
Join Boulders Resort & Spa for a special Easter Champagne Brunch at the Palo Verde restaurant. Indulge in everything from an ice display, a chef station, and a carving station to the delectable dessert display and sparking wine and fresh juice mimosa station.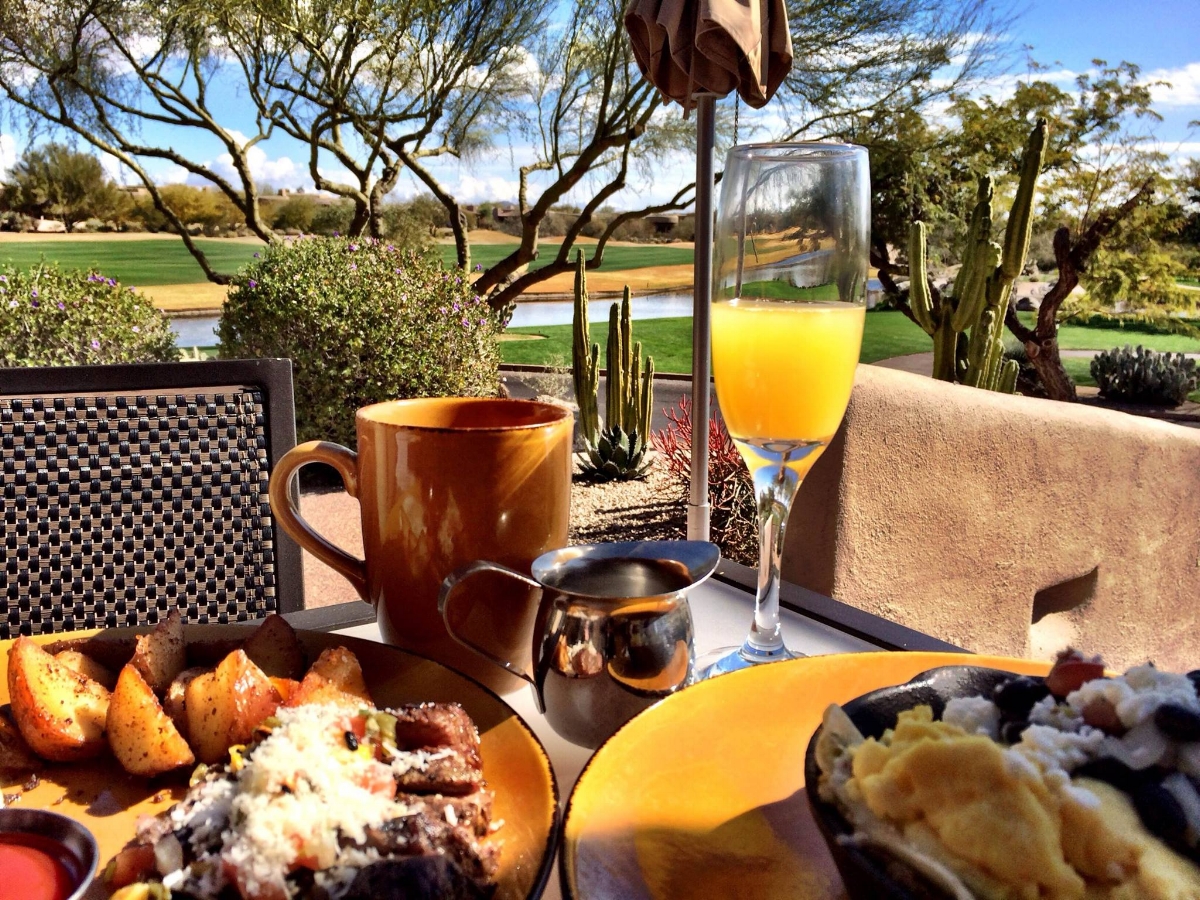 Photo via The Boulders Resort & Spa.
Easter Dining at Hotel Valley Ho
April 1
The hip Hotel Valley Ho is celebrating Easter with an Easter egg hunt, a brunch and four-course prix fixe dinner at ZuZu, and a full buffet brunch in Sands Vanue. The Valley Ho Easter Buffet features a delicious array of salads, seafood, omelets and waffle stations, and sweets. 
Easter Dinner at J&G Steakhouse
April 1
When it comes to Easter Sunday, there's nothing better than getting together and breaking bread with family and friends. But why go to all the hassle of shopping, cooking and cleaning up, when you can experience a gourmet, chef-crafted Easter dinner at the famed J&G Steakhouse?
Easter Ballroom Brunch Buffet at Royal Palms
April 1
Royal Palms brunch offerings highlight both the sea and the land with herb-crusted NY strip and an ocean station offering chilled oysters, crab claws, shrimp and a seafood stew. Also a part of the buffet is a breakfast station and sweets.
Easter Brunch at T.Cook's 
April 1
This signature brunch specialty features Chef Todd's chilled seafood display including baja prawn cocktail and crab claws, as well as a grand display of your favorite brunch selections.
Easter Brunch at the Arizona Grand Resort & Spa's Lobby Grill
April 1
On Easter Sunday the Lobby Grill will be serving up specials such as napa cabbage salad, cracked pepper & herb crusted prime rib of beef, poached jumbo tiger prawns, pan seared mahi mahi, and panna cotta cheesecake, just to name a few. 
Easter Brunch at Top of the Rock
April 1
Join Top of the Rock at Phoenix Marriott Tempe at the Buttes for a brunch buffet.
Easter Brunch at The Capital Grille Phoenix
April 1
Enjoy an exceptional prix fixe brunch including a classic Lobster Frittata, pan seared salmon with citrus crab salad and endless mimosas.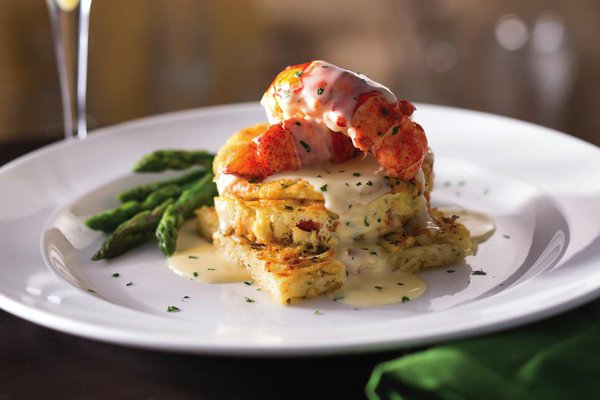 Easter Brunch at District American Kitchen and Wine Bar 
April 1
Enjoy an Easter brunch with complimentary crafts for kids. Reservations are required.
Easter Brunch at Stock and Stable 
April 1
Celebrate Easter Sunday with a special brunch menu. Why settle for a traditional breakfast buffet, when you can enjoy prime rib with two eggs, noble bread, and fruit salad, and Tillamook cheddar potatoes or salmon & eggs with grilled salmon, mascarpone, and chive. Or go with a breakfast classics spiral cut ham with two eggs, or biscuits & gravy to name a few.
Easter Brunch at Camp Social
April 1
Celebrate the Easter holiday at Camp Social with a festive brunch. Guests can enjoy live music, bottomless mimosas, camp-style Bloody Marys and plentiful specialty offerings
Easter Brunch at Salty Sow
April 1
Visit Salty Sow Easter Sunday for a specialty brunch buffet featuring breakfast and lunch items including honey rosemary dipped fried chicken & waffles, banana chocolate chip French toast and green chili pork topped with poached eggs & warm buttered tortillas. 
Easter Brunch at Roaring Fork
April 1
Roaring Fork hosts a gourmet Easter Brunch with a rugged western edge. The buffet style menu offers a bread table, savory cold & hot item station, egg & meat carving tables with ham and roast beef as well as a tasty dessert station. 
Easter Brunch at Sonata's Restaurant
April 1
Sonata's Restaurant hosts a gourmet Easter Brunch with a modern European flair, including a visit from the Easter Bunny who has special gifts for children.