From egg hunts to scrumptious brunches, dinner and more, we've got you covered on Easter events in Phoenix.
Jump to:
Easter Dining
Easter Bunny Breakfast at Omni Montelucia
April 20
Enjoy brunch and a visit from the Easter Bunny before he makes his rounds on Sunday. Savor a full breakfast with delicious fruits, breads, farm-fresh scrambled eggs, French toast, smoked bacon, crispy hash browns, desserts and more. Kids will enjoy cookie decorating stations, arts and crafts, photo ops, and more.
Price:  Adults $60, Children 3-12 $35
Breakfast with the Easter Bunny at The Wigwam
April 21
Enjoy a lovely scrumptious buffet with your family and get your photos taken with the Easter Bunny at The Wigwam Resort.
Price:  Adults $25, Children 4-12 $15
Easter Brunch at The Farm at South Mountain
April 21
Gather the whole family and hippity hop over this Easter Sunday for a delicious buffet brunch. Farms in particular are a favorite bunny hang-out and the Easter Bunny will be making a special appearance for photo ops with the family, so don't forget your camera.
Price: Adults $59.95, kids 5-10 $29.95, kids under 4 free
Mowry & Cotton Easter Dinner
April 21
Mowry & Cotton at The Phoenician offers guests a family-friendly spring-inspired breakfast, lunch and dinner menu this Easter.
Price: À la carte menu prices vary
Easter Brunch at the Wigwam
April 21
Join the Wigwam Easter Sunday with family, friends and loved ones for a delicious Easter Buffet in the Wigwam Ballroom, or a special 4-course plated brunch at Litchfield's restaurant. 
Price: $54 adults, $22 kids 4-12.  Litchfield's brunch: $60 per person
Boulders Resort & Spa Scottsdale Easter Champagne Brunch
April 21
The Boulders' Grill Kitchen & Bar will be offering a specialty champagne brunch complete with live music, a visit from the Easter Bunny, a bacon station, a fry bread station, an omelet bar, desserts and more!
Price: Adults $78, Children 12 and under $30
Easter Dining at Hotel Valley Ho
April 21
The hip Hotel Valley Ho is celebrating Easter with an Easter egg hunt, a brunch and four-course prix fixe dinner at ZuZu, and a full buffet brunch in Sands Venue. The Valley Ho Easter Buffet features a delicious array of salads, seafood, omelets and waffle stations, and sweets. 
Price: $65 adults, $19 for children 12 and under at Sands Venue, ZuZu a la carte menu prices vary
Old-Skool Hippty-Hop Brunch at Postino
April 21
No egg hunt on the agenda but still interested in getting out and celebrating this Easter? During brunch service, Postino will play old school hip-hop tracks in addition to pouring $5 glasses of rosé all day. Select locations will feature live DJ's spinning 90's hip-hop tracks. 
Price: À la carte menu prices vary
Easter Brunch at T.Cook's
April 21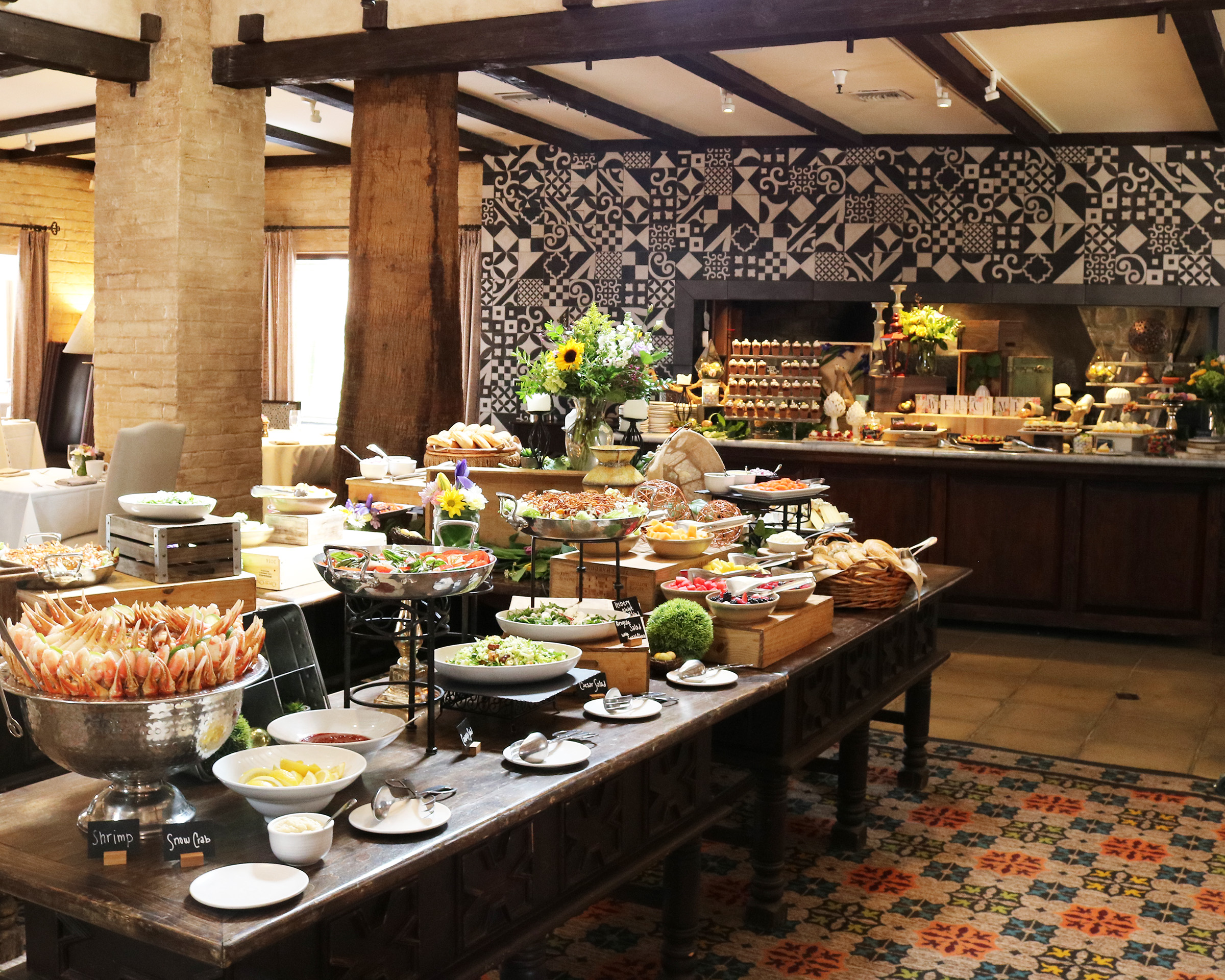 This signature brunch specialty features Chef Todd's chilled seafood display including baja prawn cocktail and crab claws, as well as a grand display of your favorite brunch selections.
Price: $95++ adults, $45 for children 6-12,children 5 and under free
Breakfast with the Easter Bunny at Dave & Buster's
April 21
Fuel up after your egg hunt at Dave and Buster's. Indulge in a breakfast buffet complete with build-your-own-burritos, win prizes, and even get a picture with the Easter Bunny himself. 
Price: $23.56 per person
Easter Brunch at Roaring Fork
April 21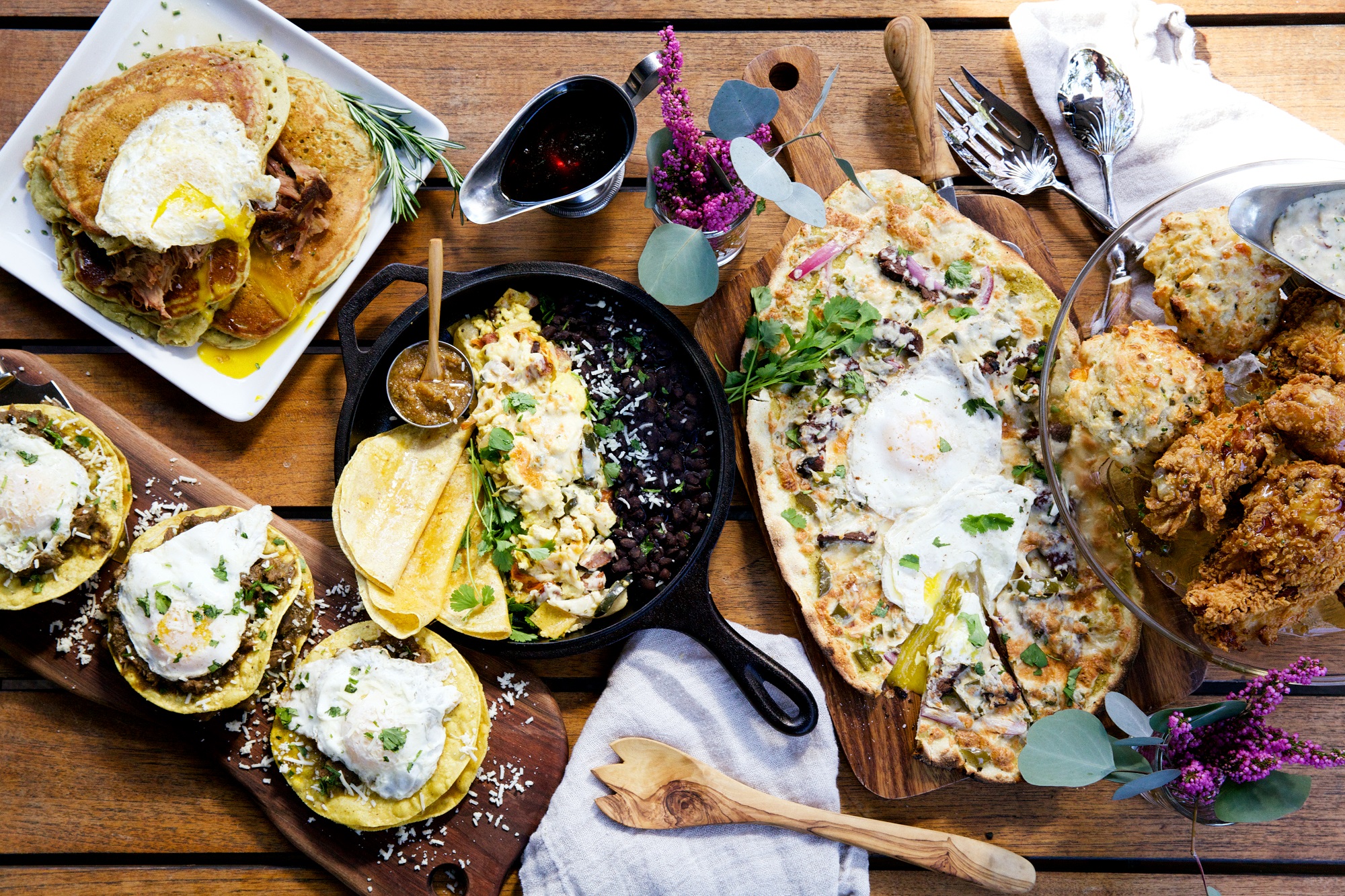 Roaring Fork hosts a gourmet Easter Brunch with a rugged western edge. The buffet style menu offers a bread table, savory cold & hot item station, egg & meat carving tables with ham and roast beef as well as a tasty dessert station. 
Price: $39 per person
Easter Dinner at J&G Steakhouse
April 21
When it comes to Easter Sunday, there's nothing better than getting together and breaking bread with family and friends. But why go to all the hassle of shopping, cooking and cleaning up, when you can experience a gourmet, chef-crafted Easter dinner at the famed J&G Steakhouse?
Price: $55 per person
Easter Ballroom Brunch Buffet at Royal Palms
April 21
Royal Palms brunch offerings highlight both the sea and the land with herb-crusted NY strip and an ocean station offering chilled oysters, crab claws, shrimp and a seafood stew. Also a part of the buffet is a breakfast station and sweets.
Price: $85++ per person, $35 for children 6-12, Children 5 and under free
Easter Brunch at Salty Sow
April 21

Visit Salty Sow Easter Sunday for a specialty brunch buffet featuring breakfast and lunch items including honey rosemary dipped fried chicken & waffles, banana chocolate chip French toast and green chili pork topped with poached eggs & warm buttered tortillas. 
Price: Adults $34.95, Children 6-12 $19.95, kids 5 and under free
Easter Brunch at Hyatt Regency Gainey Ranch
April 21
Families and friends are invited to join in on an "egg-cellent" Easter Celebration featuring a brunch buffet in SWB, live music, our "larger-than-life" Easter egg, home to a live bunny, a petting zoo and Mr. and Mrs. Cottontail as they host their 32nd annual Easter Egg Hunt.
Price: Adults $99-$109, Children 6-12 $42.50, children 5 and under free
Easter Brunch at Omni Montelucia
April 21
Celebrate with a traditional brunch to include made-to-order items such as crepes, waffles and eggs Benedict. Also choose from small bites, signature tapas, seafood, and chef-inspired seasonal pastries.
Price: Adults $99, Children 10 and under $39
Easter Brunch at Different Point of View
April 21
Enjoy Easter Brunch 1,800 feet above the Valley. Carving stations will feature slow-roasted aged prime rib and roasted lamb top rounds, savory entrees from the oven and a vibrant display of salads, seafood, and vegetable dishes and desserts.
Price: Adults $69.95, Children $44.95
Easter Brunch at The Vig
April 21
You're invited to celebrate Easter Sunday with a savory brunch while enjoying live music at The Vig. Sip on $4 Bloody Mary's and Mimosas and chow down on cinnamon skillet cinnamon rolls, eggs benedict, Monte Cristo French toast, and more. 
Price: À la carte menu prices vary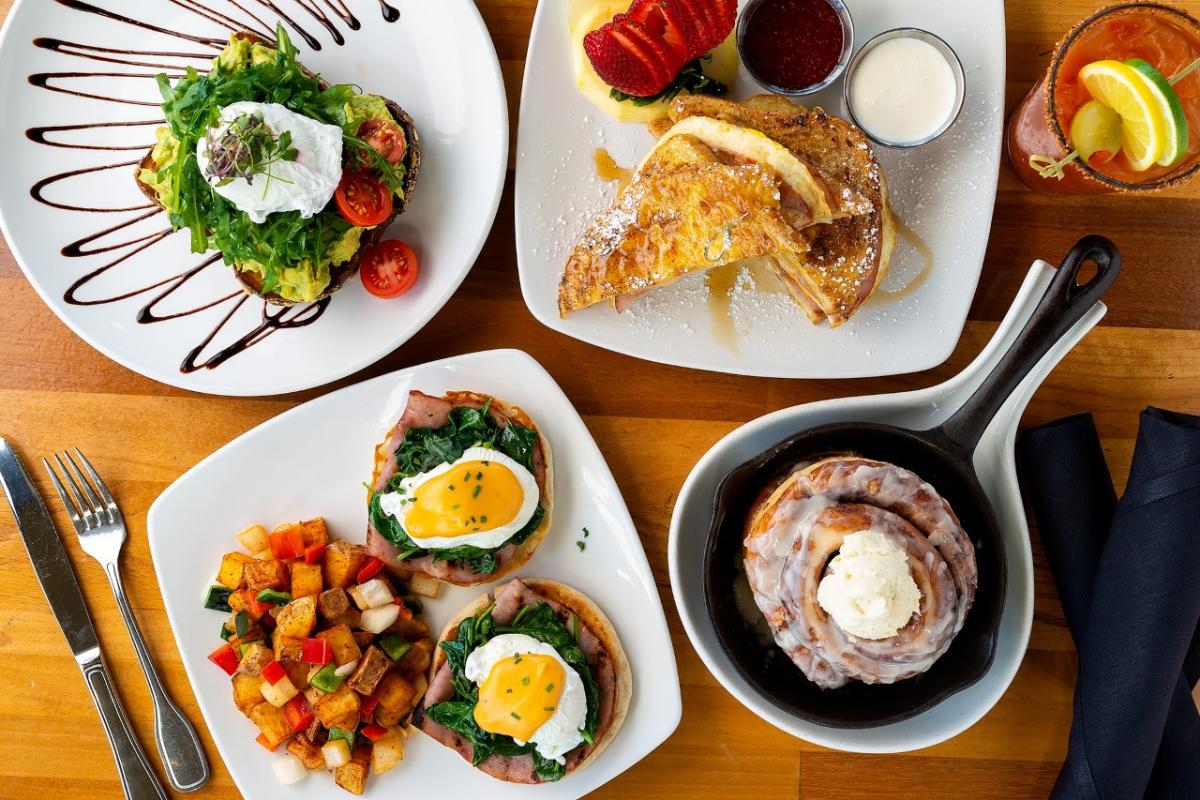 Easter Brunch at Dorian
April 21
Head to Old Town Scottsdale for a classic Easter brunch in the picturesque Dorian restaurant. Enjoy a buffet style brunch complete with your choice of salmon, prime rib, or honey cured smoked ham. 
Price: Adults $55, Children 10 and up $25
Easter at Keeler's Neighborhood Steakhouse
April 21
Celebrate Easter with a delicious brunch or prix-fixe dinner at Keeler's. Enjoy bottomless Mimosas and Bloody Marys paired with lobster bruschetta or French toast at brunch, or feast on prime filet mignon or pan seared sea bass for dinner.
Price: Adults $49, Children 10 and under $19
Easter Brunch at MATCH
April 21
Picture this: red velvet pancakes with white chocolate syrup, whipped cream, chocolate chips, and fresh berries. Dig in on this, and the entire breakfast menu, this Easter at MATCH.
Price: $12 menu special
Vegan Easter Brunch at 24 Carrots
April 21
24 Carrots Natural Café and Juice Bar hosts a picnic-style brunch buffet this Easter, with menu options including a pulled jackfruit and artichoke sandwich, confetti corn coleslaw, loaded potato wedges, and more. 
Price: $16.95 per person
Easter Specials at Liberty Station
April 21
Bottomless smoked Bloody Mary's, fried chicken with cornbread pancakes, twin lobster tails, and more specials will be waiting for you at Liberty Station this Easter.
Price: À la carte menu prices vary
Easter Champagne Brunch at University Club of Phoenix
April 21
Meet the Easter Bunny, jump in the bounce house, and join the Easter egg hunt, and of course, indulge in a delicious brunch paired with champagne.
Price: $50 members, $60 non-members, $15 children 6-12
Hit snooze and let the breakfast pros do the cooking this Easter. Celebrate with Original Breakfast House, with specials including crab omelettes, shrimp and grits, and tres leches pancakes.
Price:  À la carte menu prices vary
Egg hunts, Easter Bunny Photos and More Family Fun
Maricopa Easter Egg Hunt
April 19
Kids will have the chance to hunt for eggs, play carnival games, meet the Easter Bunny, and much more at one of Maricopa's largest egg hunts.
Dolly Sanchez Memorial Easter Egg Hunt
April 20
Here's your chance to meet Mr. and Mrs. Bunny, so don't forget your camera! There are candy hunts for eight different age groups and one for individuals with disabilities. Highlights of the event will include a petting zoo, pony rides, make & take crafts, face painting, carnival games, fun inflatables, and much more.
Easter Bunny Express
April 20
Hop aboard and participate in the hoppiest celebration at Verde Canyon Railroad. The honorable hare appears around noon, doling out handfuls of treats and armloads of hugs before bidding farewell to everyone on the train as it departs.  Adults can enjoy a spring-fresh Bloody Mary bursting with so many vegetables a rabbit would love it.
City of Chandler's Family Easter Celebration
April 20
Each year, the Family Easter Celebration in south Chandler provides some of the most enthusiastic Easter egg scrambles for kids up to 9 years of age. In addition to the egg hunts there will be information booths, displays, interactive amusements and photos with the Easter Bunny. Also available for purchase are food and beverages.
Easter Egg-sperience at Vertuccio Farms
April 20
Vertuccio Farms will have pictures with Easter Bunny, furry friends to pet, face painters, a train ride, and an egg hunt. Besides all the Easter activities, there will be all the favorite farm play structures, a pancake breakfast and more.
Easter Egg Hunt at Sky Zone
Sky Zone Peoria will be providing a Easter basket for each paid jumper on Saturday morning.