The chef behind Hana Japanese Eatery — a 2022 James Beard Award semifinalist for Best Chef — Southwest — dishes on her favorite local, independent eateries.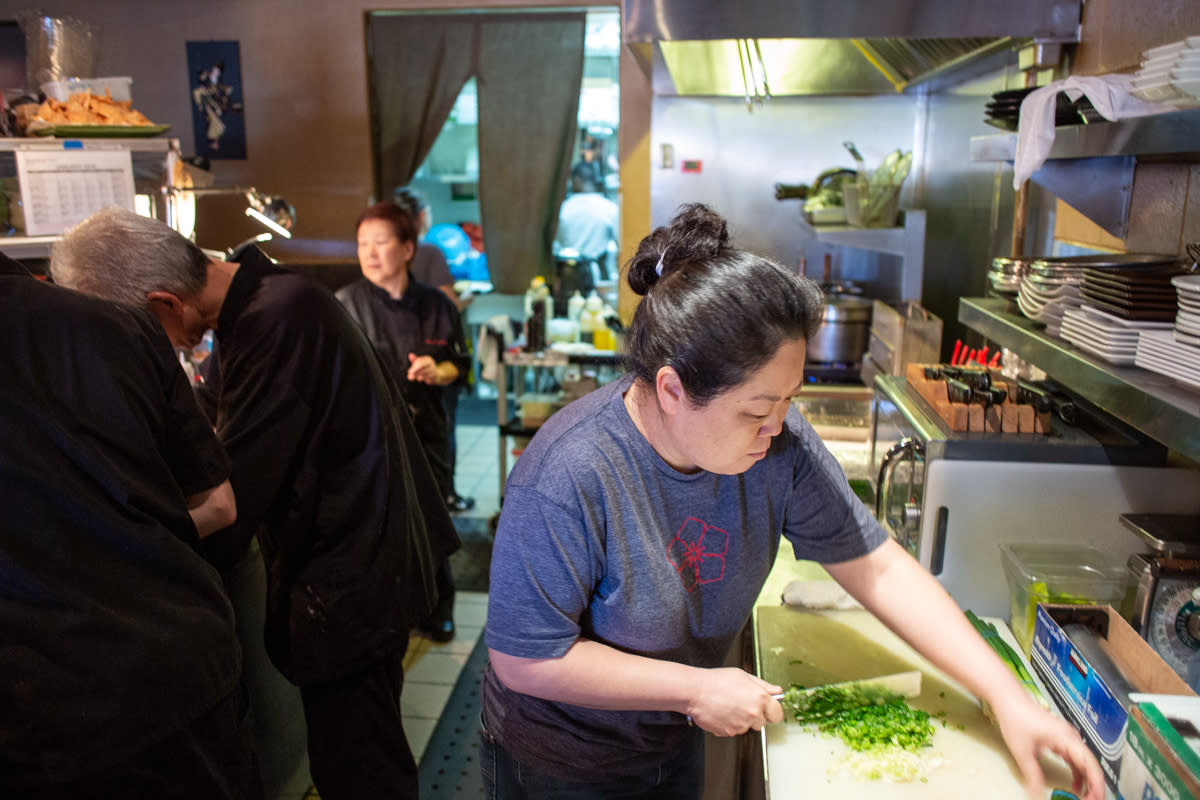 Chef Lori Hashimoto's take on dining out is consistent with many of her independent restaurateur peers: Schedules make it difficult to dine at other establishments. But when she does, she prefers to patronize "mom-and-pop spots" like Hana Japanese Eatery, the friendly, neighborhood Japanese eatery she opened in 2012 in central Phoenix with a small staff of family and friends. 
Customers flock to Hana for the fresh quality of Hashimoto's sushi and seafood, and the neighborly atmosphere of her humble restaurant at Missouri and Seventh avenues (5524 N. Seventh Ave., Phoenix) in the Uptown neighborhood. So it's not unusual for Hashimoto to seek similar qualities when she does go out to eat. 
"Small places tell you the truth," she says. "That's what keeps everybody working hard."

The diminutive, unassuming, Cambodian family-owned spot near State Route 51 and Indian School Road aligns with Hashimoto's quest for consistently exceptional food and the belief that consuming it should be a memorable experience. "This is not a fast-food place," she says.
The menu includes soups, salads, sandwiches, noodles, fried rice options and Cambodian specialities, which ignites Hashimoto's passion for Southeastern flavors — especially the lemongrass soup and beef salad. But it's the temperament of Lakhaha In, Reathray Sekong's owner, that leaves Hashimoto satiated. 
"The food is always good, but Lakhaha is a gentle soul. It's her demeanor. She is just a beautiful person."
1312 E. Indian School Road, Phoenix
480-238-0238

Given her reputation for crafting exquisite sushi and seafood dishes, Hashimoto doesn't often visit other restaurants for fish. But this coastal Italian eatery with two locations earns high marks from the chef. 
Owner Claudio Urciuoli relies on a wood-fired oven to prepare his menu of organic vegetables, grains, tapas and seafood selections that are flown in daily. "It's fresh seafood, and the execution is always spot on," Hashimoto says. "Everything is made from scratch. I never have to worry about the quality of Claudio's menu."
What she adores most about Pa'La is that Claudio is always there. "It gives diners a real sense the restaurant is one-of-kind without ... other dining affiliations."
2107 N. 24th St., Phoenix
602-795-9500
132 E. Washington St, Phoenix
602-368-3052

When Hashimoto first tasted owner Esperanza Luzcando's ceviche mixto made with le tigre chile, she was blown away by its subtle, yet powerful, essence.
"I had never heard of le tigre, but it has a phenomenal profile with incredible heat," she says. "It's so clean on the palate with an elegant balance. It's not hot on top of hot or foreboding like a lot of ceviches." 
Diners also can expect potato cakes, stuffed creamy potato dough, a variety of seafood spaghetti options, soups and a vegetarian lineup at this Peruvian gem south of Thomas Road on Seventh Street. And enduring hospitality where Luzcando's extended family makes a point to stop at every diner's table, according to Hashimoto. 
"People don't necessarily need to know you, but they want to get to know you at places like El Chullo."
2605 N. Seventh St., Phoenix
602-279-8425
With only seven tables, Alzohour registers on the petite side. Yet, it also is a grocery store and Moroccan market with cultural clothes and other Middle Eastern novelties. Owned by Zhor Saad, the quirky restaurant is located in a strip mall just west of Interstate 17 at Northern Avenue. 
"She's super nice. She's the cook, the hostess, the cashier, everything," says Hashimoto of the friendly and multi-tasking owner. 
Alzohour's made-to-order lineup includes standards like hummus, falafel, baba ghanoush, couscous, tagine and bastilla, a homemade meat pie stuffed with chicken and almonds and covered with cinnamon and sugar powder, a favorite of Hashimoto's. And the fact that the food comes out at a snail's place doesn't bother Hashimoto one bit. "I don't mind waiting for good food."
7814 N. 27th Ave., Phoenix
602-433-5191