From soups to sweet endings, we've got a roundup of delicious Phoenix fall recipes for your Thanksgiving dinner table, shared by local restaurants and resorts.
Roasted Acorn Squash Soup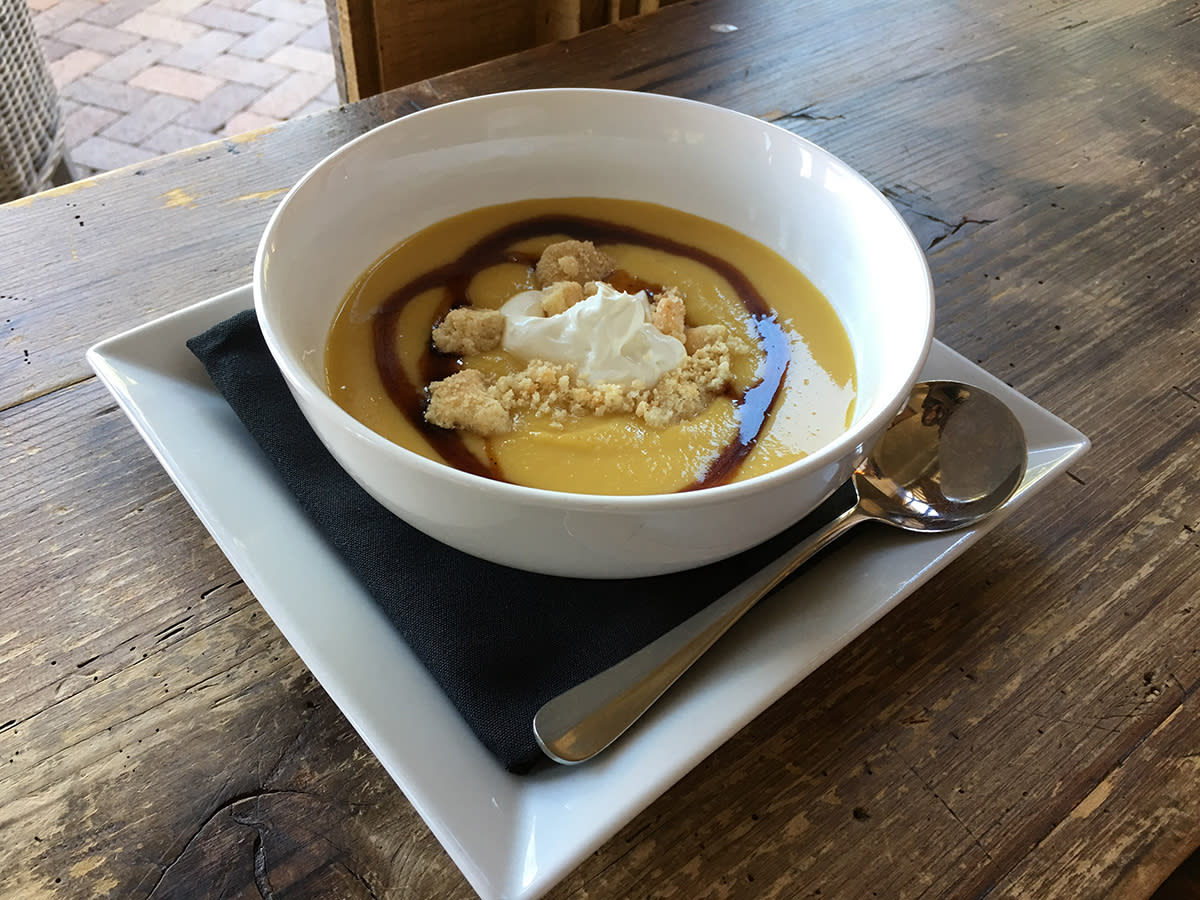 Courtesy of Executive Sous Chef Chris Knouse at The Wigwam
3 acorn squash, cut in half and seeds removed
2 tbsp olive oil
2 carrots, chopped
1 granny smith apple, cored and chopped
½ yellow onion, chopped
1 tsp kosher salt
1 tsp fresh ground pepper
⅛ tsp cayenne pepper (optional)
⅛ tsp ground allspice
4 cups vegetable stock
1) Preheat oven to 400 degrees.
2) Line baking sheet with aluminum foil or parchment paper. Place squash, skin-side-down, onto baking sheet. Lightly sprinkle with kosher salt and ground black pepper. Roast in oven for 45-50 minutes, or until flesh is tender and skin is starting to turn golden brown. Remove from oven and allow to cool. Once cool, remove flesh from skin by using a spoon and scooping out the flesh. Discard skin and set flesh aside.
3) In a large, deep pot, heat olive oil over medium-high heat until hot. Add carrots, apple and onion and sauté until tender, about 6-8 minutes. Once tender, add salt, cayenne, allspice, squash and vegetable stock. Stir well and bring to a boil. Reduce heat and simmer for 15-20 minutes.
4) Remove pot from heat and puree mixture, either with an immersion blender, a blender (in batches) or a food processor.
5) Once pureed, season to taste.  Garnish with ginger cream fraiche, pomegranate molasses, and anise cookie.
Artichoke Garlic Stuffing
1 bag croutons
4 tbsp pine nuts
3 tbsp olive oil
1 small onion
2 cloves garlic
6 sundried tomatoes in oil
½ cup marinated artichoke hearts
3 tbsp chopped fresh basil
3 cups vegetable stock
1 tsp salt
¼ tsp black pepper
1) Place croutons in a large bowl and set aside. In a dry skillet, toast pine nuts over medium heat until golden brown (about four minutes).
2) Add the nuts to the bread cubes. Heat two tbsp of oil in the same skillet over medium heat. Add onions and sauté for five minutes.
3) Add garlic and cook for an additional two minutes, stirring often. To the bread bowl, add the onions and garlic along with the sundried tomatoes, artichokes, basil, stock, salt and pepper. Stir until combined well.
4) Transfer bread mixture to a medium-size casserole dish. Drizzle the last 1 tbsp of oil over the stuffing. Cover and bake for 30 minutes. Uncover and bake for an additional 20 minutes in a 350-degree oven.
Lamb Rack and Fava Bean Cakes
Courtesy of House of Tricks Restaurant
Chimichuri Sauce:
½  bunch each: parsley and cilantro
6 garlic cloves
½ cup mint
½ cup olive oil
¼  cup rice vinegar
Salt and pepper
½ tablespoon honey
Place all ingredients in a blender, blend until sauce is nearly pureed but still retains some character.
Tomato-Greek Yogurt:
½ cup Greek yogurt
Juice of ½ lemon
¼ cup sun dried tomatoes
Place all ingredients into processor and pulse until well blended.
For the lamb:
2 tablespoon mayo
½ cup panko
1 tbsp Sriracha
½ cup sliced almonds
1 tbsp honey
1 tbsp rosemary, chopped
1 tbsp dijon mustard
½ tsp each: salt, pepper
1) Over medium-high heat on grill sear 2 lamb racks for 5 minutes, rendering some of the fat and giving the meat a nice color. Be sure to watch for flare-ups, turning and moving the racks as needed.
2) Remove racks from grill. In a small bowl mix together the mayo, sriracha, honey and dijon, and coat the racks with this blend covering the meat only.
3) Mix together the panko, almonds, rosemary, salt and pepper and dip the racks in this blend to coat the meat evenly. Place racks in pre-heated 425-degree oven for 15 minutes for medium rare. Remove from oven, let rest for a few minutes, then slice into individual chops, cutting along the bone.
4) While racks are resting, heat a small amount of olive oil in a pan and fry the fava bean cakes on both sides, in batches, adding small amounts of olive oil as necessary.
5) Place fava bean cake on plate, with a little tomato-yogurt on one side, a bit more chimichuri into the center of plate, arranging the individual chops around the fava bean cake standing up.
The "Day After Thanksgiving" Sandwich
Crusty country bread
Vine-ripe tomatoes
Leftover toasted turkey breast
Leftover mashed potatoes
Leftover cranberries
Leftover stuffing
Creamy gravy
Salanova lettuce
Your favorite mayonnaise
1) Slice and toast your favorite crusty country bread.
2) Generously spread mayonnaise on one piece of toast.
3) Heat turkey in a sauté pan with a touch of turkey of chicken jus.
4) Shred or slice the turkey and place on toast.
5) Heat left over mashed potatoes and spread on top of turkey.
6) Heat stuffing and stick into mashed potatoes to prevent it from rolling off the sandwich.
7) Heat and drizzle gravy over stuffing.
8) Top stuffing with tomatoes and season with sea salt.
9) Layer with lettuce.
10) Spread the cranberry jam onto the second piece of bread.
11) Top sandwich with the second slice.
Rhubarb Cranberry Crisp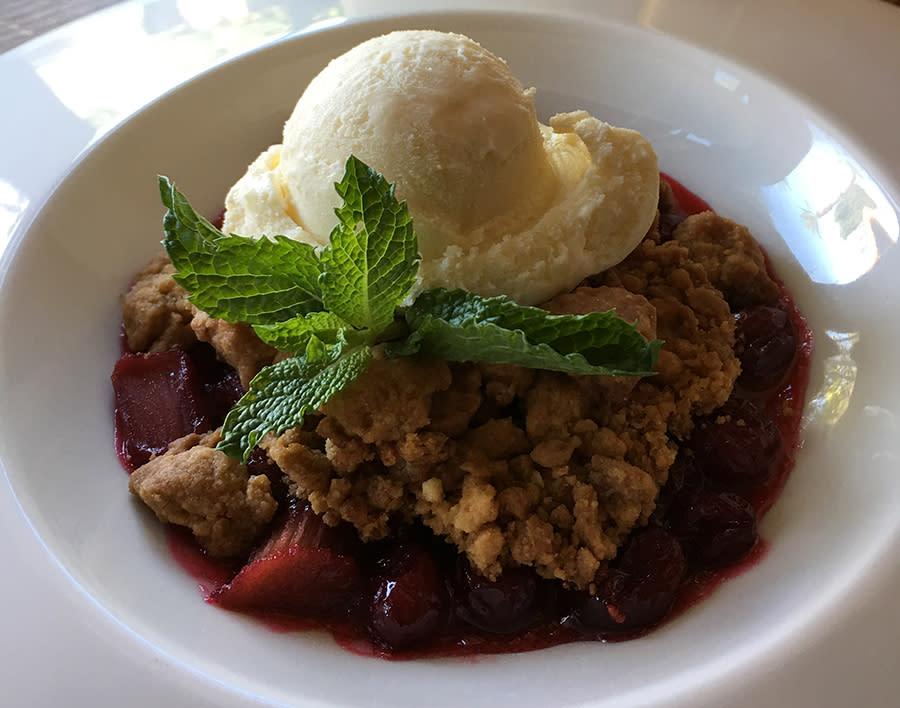 Courtesy of Executive Sous Chef Chris Knouse at The Wigwam
Crisp Filling:
⅔ cup granulated sugar
¼ cup all-purpose flour
2 cup rhubarb, chopped
2 cup cranberries
Streusel:
¾ cup unbleached all-purpose flour
½ cup granulated sugar
¼ cup packed brown sugar
6 tbsp cold unsalted butter
⅓ cup ginger snap cookies, chopped
Rhubarb Cranberry Crisp
1) Preheat oven to 375°F and butter a 9×9, 2-quart shallow baking dish.
2) In a bowl stir together sugar and flour. Add rhubarb and cranberries to sugar mixture, tossing well, and spread mixture in baking dish.
3) In a bowl whisk together flour and sugars. Cut butter into 1/2-inch cubes and with your fingers or a pastry blender blend into flour mixture until mixture resembles coarse meal. Add cookies and toss well.  Sprinkle streusel over top of filling in baking dish.
4) Bake crisp uncovered on top rack of oven until filling is bubbling and topping is crisp and golden, about 50 minutes.
5) Serve crisp warm or at room temperature, with vanilla ice cream
Pumpkin Cheesecake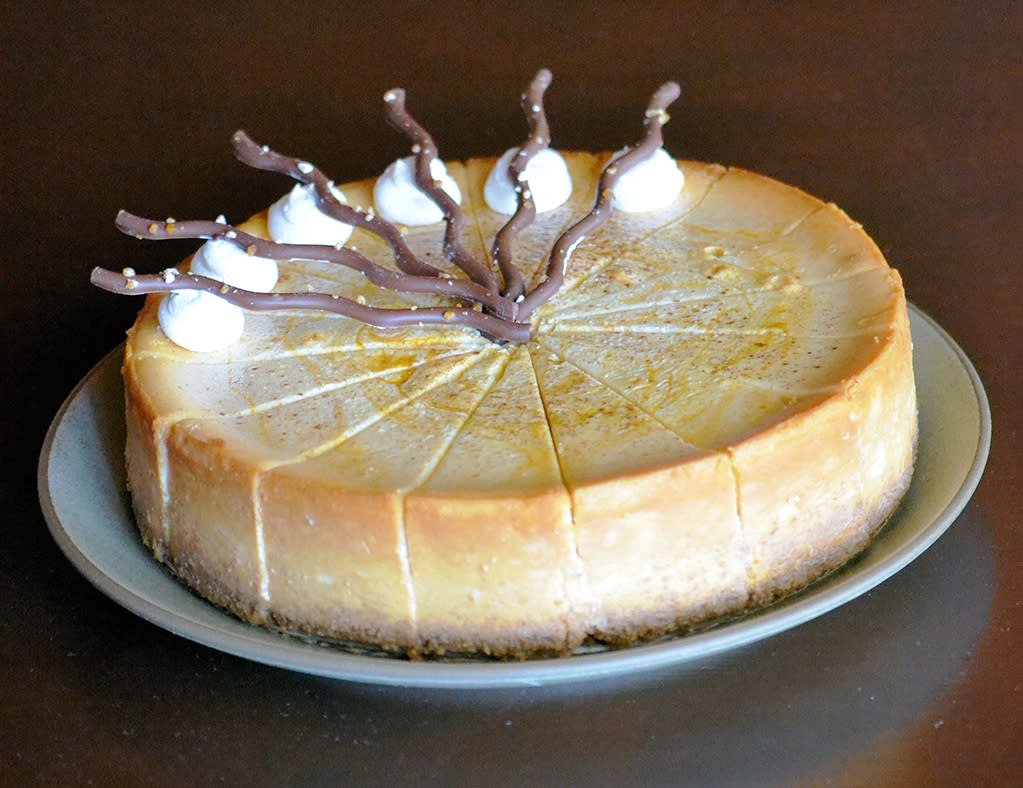 1 ½ cups gingersnap cookie crumbs
3 tbsp butter, melted
12 ounces cream cheese, at room temperature
½ cup pumpkin pie filling
2 large eggs, lightly beaten
½ cup sugar
1 tsp vanilla extract
1 tsp cinnamon
1 tsp ground ginger
1 pinch ground cloves
1 tbsp cornstarch
1) Mix the cookie crumbs and butter together, then press into a 8-inch spring form pan lined with parchment paper
2) Place cream cheese into mixing bowl and mix with paddle on low
3) Scrape down as often as necessary to avoid lumps
4) Combine the sugar, spices and cornstarch, and then add to the mixer
5) Add the pumpkin filling and mix on low
6) Slowly incorporate the eggs
7) Spoon the batter into the prepared cake pan and bake in an oven preheated to 350-degrees
8) Bake the cheesecake for 20-25 minutes or until it is done
9) Allow the cheesecake to cool to room temperature before refrigerating
Kabocha Apple Soup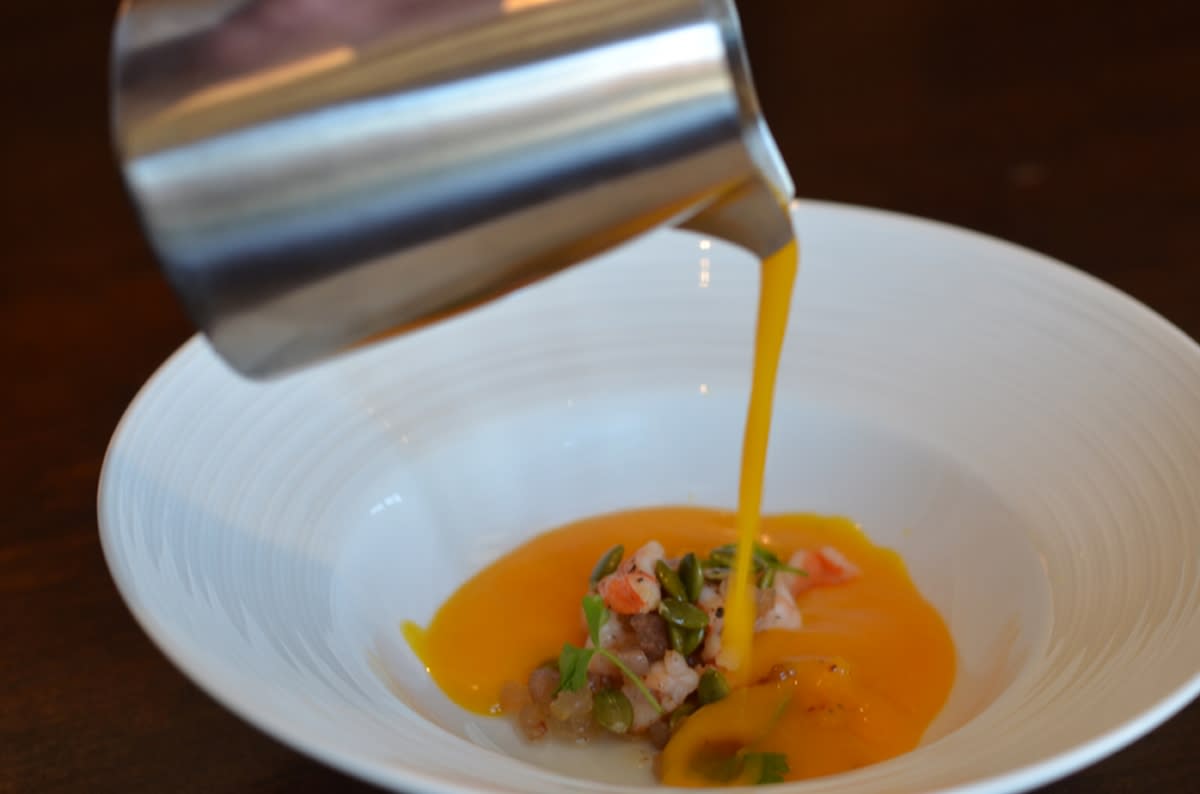 Courtesy of Executive Chef Jeremy Pacheco at LON's at The Hermosa
1 lb Kabocha squash, seeded
8 oz apple, skin on, no core
3 oz shallots, julienne
3 cups chicken stock
.3 cup Meyer lemon oil
Per Bowl:
1 each, Kauai shrimp
1 oz Guancialle (small dice)
5 pieces pumpkin seed (roasted)
1) Season the squash and apple with salt, black white pepper and olive oil and roast at 325-degrees for 25 minutes.
2) Sauté the shallots in olive oil.
3) Add the roasted squash and apple.
4) Add the chicken stock and bring to a boil.
5) Blend, while adding the meyer lemon oil. Rectify seasoning if necessary.
6) For each serving, render diced guanciale, add diced shrimp and saute. Place 1 shrimp, guanciale and roasted pumpkin seed in bottom of bowl. Pour soup over the top.
Andouille Sausage and Tasso Ham and Corn Bread Stuffing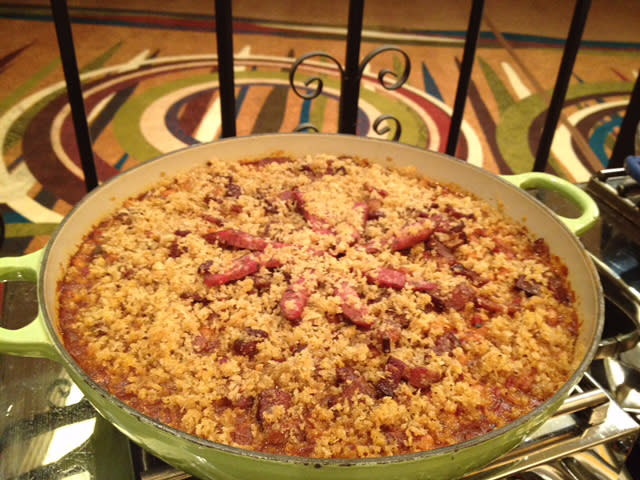 Courtesy of Sheraton Grand Phoenix
3 cups day old bread
6 cups corn bread, broken into 1-inch pieces
1 lb andouille sausage, quartered lengthwise and sliced crosswise 1/2 inch thick
3 tbsp butter
2 onions, diced
1 bunch celery diced
½ cup scallions diced
1 lb Tasso ham diced
1 tbsp minced garlic
2 tbsp chiffonade sage
1 tbsp fresh thyme leaves chopped
3 cups chicken stock
1 bunch rough chopped flat-leaf parsley (leaves only)
Salt and freshly ground pepper
1) Preheat the oven to 350°. Butter a 10-by-15-inch baking dish.
2) Place both breads in a bowl. In a large skillet render the andouille & tasso ham over medium heat until lightly browned and the fat is rendered, about 10 minutes. Add to the bread.
3) Add butter in the skillet. Stir in the onions, celery and half of the scallions and cook over low heat until softened, about 10 minutes. Add the garlic, sage and thyme and cook, stirring, until the Veg is translucent, about 3 minutes. Add mixture to bread.
4) Add stock to the same skillet, bring the stock to a boil. Pour the stock over the corn bread and stir well. Add the parsley and the remaining scallions and season the stuffing with salt & pepper. Spread the stuffing in the prepared baking dish and bake for 45 min -1 hour until golden brown.