We're lucky here at the Visit Phoenix offices. When the lunch bell rings – figuratively speaking – we can walk out our door, head off any direction into downtown, and know that we'll come across a number of spots worth filling our bellies at.
There are dozens of great restaurants for lunch in downtown Phoenix, and here are the ones you're most likely to run into us:
Grab a spot on the airy patio or indoor communal tables and start exploring the variety of items on the seasonal, locally-sourced menu. Get there by 2 p.m. and you can order off the breakfast menu, too.
Order the…Flanched Flarney Garney breakfast sandwich, Chicken Salad Sandwich, or Pork Chile Verde Pot Pie
14 E Pierce Street
(602) 253-2700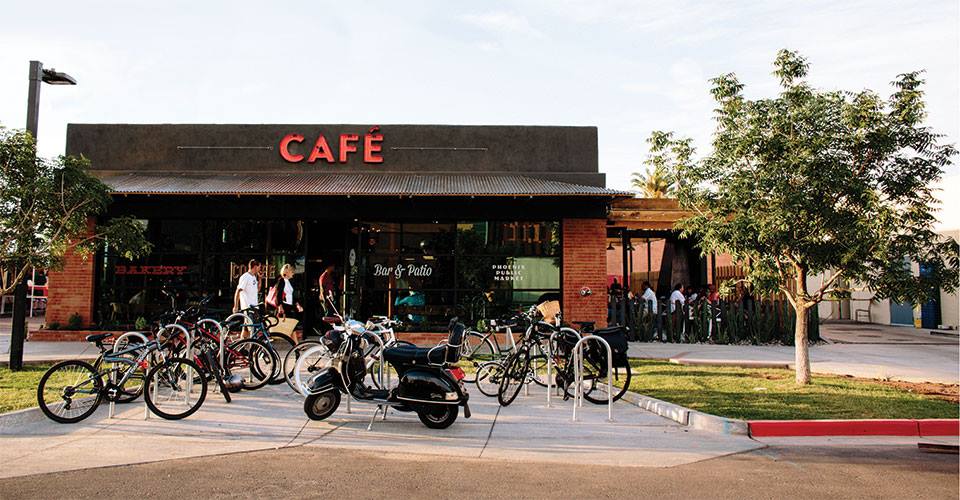 The Phoenix Public Market Cafe. Photo via Facebook
When a taco craving hits—which it often does—Crescent Ballroom's Cocina 10 is our first stop downtown. Carne asada, al pastor, tinga chicken: We dig them all. And with all-day happy hour on Mondays and $2 tacos on Wednesday, we can fill up while barely denting the wallet.
Order the…carne asada tacos
308 N 2nd Ave
(602) 716-2222
Chris Bianco's nationally-lauded restaurant is famous for its wood-fired pies, but also known for the lengthy wait for a table that may preface your pizza. Lucky for us, Pizzeria Bianco is now open for lunch, where odds are you'll have a much shorter wait – if any at all – than you would at dinner.
Order the…Rosa or Margherita
623 E Adams Street
(602) 258-8300
Cibo is a local favorite with world-class pizzas, but it's the lunch menu's salads and sandwiches you'll want to dig into midday while soaking in the ambiance of the 1913 bungalow and front patio.
Order the…Spek sandwich (Smoked prosciutto, sliced tomatoes and smoked mozzarella)
603 N 5th Avenue
(602) 441-2697
Go green at Kaleidoscope. They use 100% organic ingredients in their cold-pressed juices and high vibe food. The quality of their ingredients show in items such as their quinoa with cucumber and kale salad, one of our favorite lunch items in downtown.
Order the…Quinoa and Kale Salad or Immortal Machine smoothie
1 N 1st St
(602) 258-8673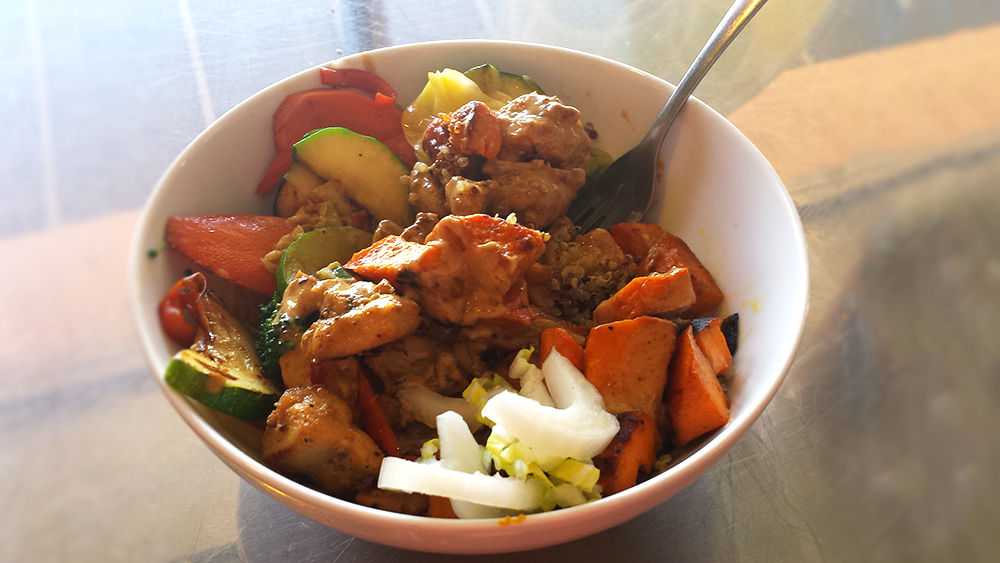 Teriyaki protein bowl at Kaleidoscope Juice
Fresh seafood, steak, burgers, salads: The Arrogant Butcher has it all. Keep it light with a grilled chicken tabbouleh salad or go all Mad Men with an Old Old Fashioned (yes, double the Old) and a chicken fried pork chop.
Order the…items mentioned above and start with the house soft pretzels and provolone fondue.
2 E Jefferson
(602) 324-8502
This ale house may be dominated by its massive chalkboard of 31 tap list offerings, but it doesn't skimp on its hearty food offerings, including fresh flatbreads, smoked burgers and sammys, and entrees like cirspy chicken legs, a braised pulled pork burrito and beer-battered fish tacos. Don't miss getting a homemade pop tart for dessert.
Order the… Nutter, a grown-up PB&J with house ground peanut butter, raspberry chipotle preserves & banana. Add marshmallow fluff or peppered bacon for extra.
810 N 2nd St, Phoenix 85004
602-252-2630
Like Pizzeria Bianco, Matt's Big Breakfast has received national attention for its simple yet delicious fare and is known for long waits due to the hordes of hungry morning people getting their Matt's fix. Skip the long lines and head to Matt's for a weekday lunch and you're likely to have only a short wait, if at all. Plus, in addition to their famous breakfast menu are lunch items only available to the lunch crowd after 11 a.m.
Order the…daily special. Doesn't matter what it is, it's always delicious. Waffle fans swear by Matt's made-from-scratch Belgian-style waffles.
825 N 1st Street
(602) 254-1074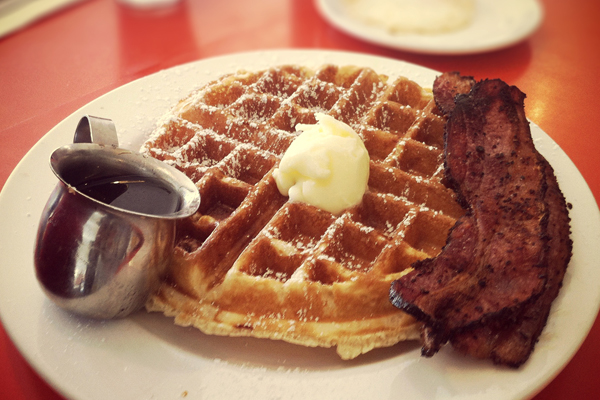 Matt's Big Breakfast
The locally-sourced menu of contemporary American cuisine updates seasonally and they even use herbs from their own on-site garden.
Order the…Ask about the Daily Trio special. Or go with the always tasty All-American Burger.
320 N 3rd Street
(602) 817-5400
Pizza so good, it's certified. La Piazza PHX is VPN (Verace Pizza Napoletana) certified, which means you're getting the tastiest pizza Italy has to offer right here in Phoenix.
1 N. 1st St. Ste. 103 Phoenix, AZ 85004
(602) 795-7116
Order the…Dolce Diavolo for a spicy and sweet pie, featuring chiles and Arizona honey.
110 N Central Avenue
(480) 420-8424
114 W Adams Street
(602) 759-8736
If you're looking to spice up your lunch, head to Adams Street between Central and Second Avenues. There you'll find this duo of Thai restaurants offering up affordable lunch specials and fast, friendly service that's perfect when you're short on time.
Order the…pot tom yum at Tom Yum and the yellow curry at Thai Basil.
Tasty box is proof that quick, grab-and-go lunches don't have to sacrifice nutrition or flavor. The Tasty Box concept invites you to "think inside the box" with bento-style menu options with an international twist, including several vegan and vegetarian choices. The fresh offerings are seasonal and vary by day of the week, so check the website for what's cooking.
Order the…Diablo with black beans in salsa sauce
621 N. 7th St, Phoenix 85006
602-535-8772
Located in the Roosevelt Row Arts District, Carly's draws a nighttime crowd for live music and drinks, and catches attention with its vibrant streetside murals. During the day, you can find a nice spot on the outdoor patio for a Mediterranean and Southwest-inspired menu of soups, salads and sandwiches.
Order the…. Southwest Chicken Sandwich
128 E Roosevelt St, Phoenix 85004
(602) 262-2759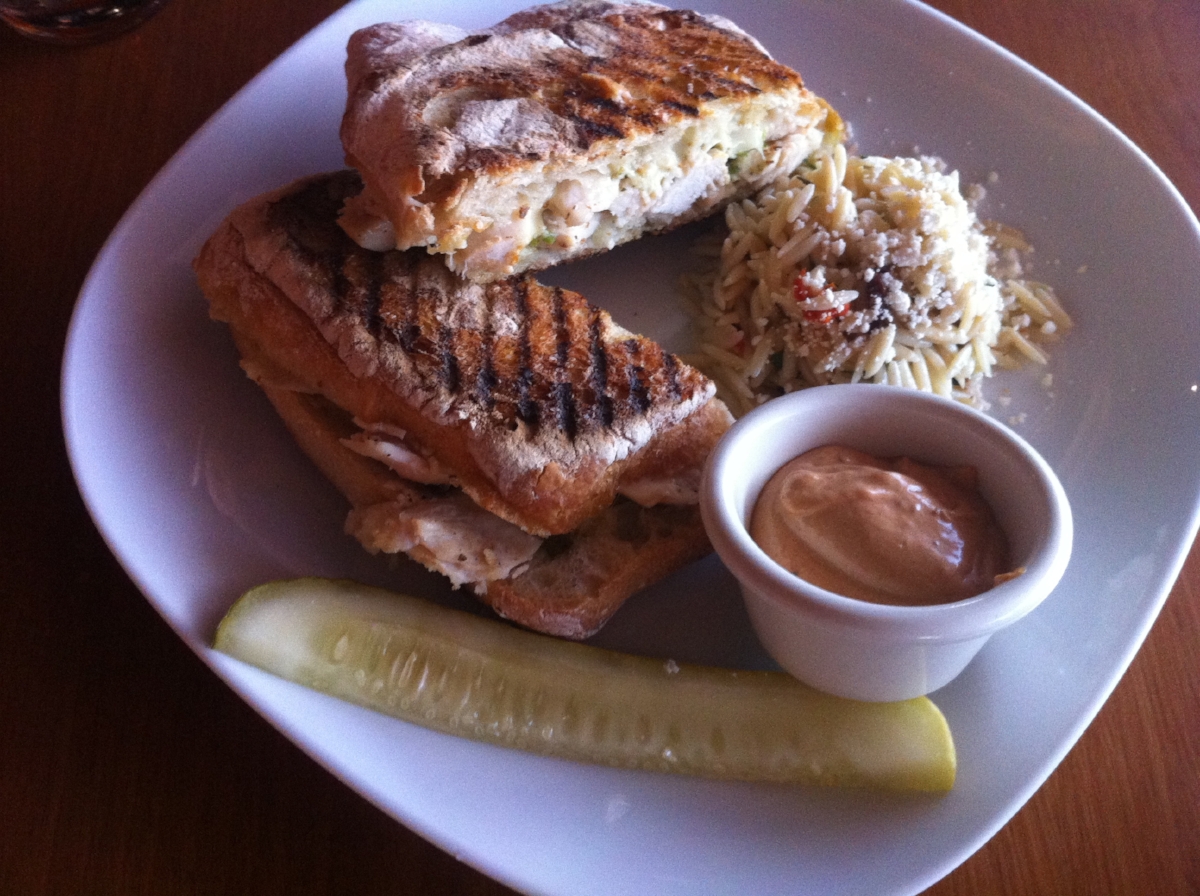 Southwest Chicken Sandwich at Carly's Bistro
 
Italian meets Japanese at an eatery dedicated to a shared food passion: the noodle. If you're in the mood for pasta, grab a plate of rolled lasagna, alfredo or veal and beef bolognese. Or, order up some yakisoba, chilled-noodle chukka or variety of ramen bowls. Noodle Bar also serves small plates, salads and bar for sake and wines.
Order the... Hakata Ramen
114 W. Adams St, Entrance on 1st Ave,Phoenix 8500
(480) 454-7877
Take street food, and dress it up. That's the concept inside The Dressing Room, where burgers, tacos, burritos, yakitori, fish and chips, and ceviche get a sit-down, craft-food treatment, with cocktails, wine and beer to complement. 
Order the.... RoRo Burger
 220 E Roosevelt St, Phoenix 85004
(602) 777-0763
This sandwich shop's mission is twofold: 1) Make delicious sandwiches for you, and 2) donate from sales to help non-profit partners feed those in need. Now they're even-steven. The fresh, casual spot specializes in everything between slices of bread, from banh mi to reubens to grilled cheese. They've also got salads and local craft beer and coffee to fuel your day. 
Order the...Mihami Vice
21 W. Van Buren St, Phoenix 85003
(602) 258-4833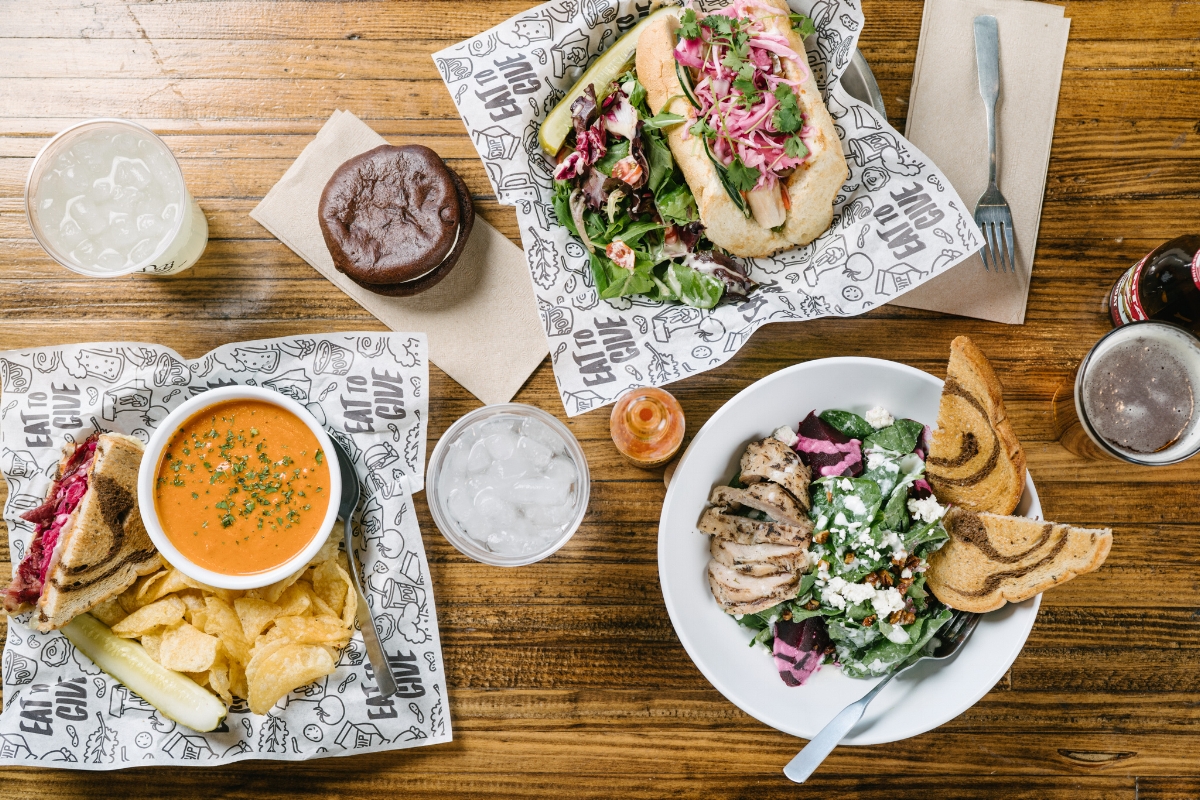 Even Stevens
Tucked on a corner of 1st Ave, this inconspicuous sushi shop is a hidden gem serving amazing rolls, tempura and other favorites for a great price. The fan favorite is the OMG Roll. We won't spoil it entirely, but it's a must for first-timers and involves fire.
Order the... OMG Roll
114 W Adams St, Ste C101, Phoenix 85003
(602) 258-0131
This pizzeria boasts an authentic Neapolitan certification and a long-standing  family recipe. The result is delicious, wood-fired pizza, flavored with Mediterranean sea salt and high-quality sauces. You'll find a great Margherita, Napoli or namesake Pomo on the menu, among others.
Order the....Quattro Stagioni
705 N 1st St #120, Phoenix 85004
(602) 795-2555