We've got the lowdown on haunted houses, trick-or-treat events, family-friendly festivals and more things to do for Halloween in Phoenix 2017.
Family-Friendly Festivals
Enchanted Pumpkin Garden
October 20-29
Halloween spirit invades Carefree in the form of whimsical pumpkin carvings from master sculptor Ray Villafane. The Enchanted Pumpkin Garden is open to the public and woven throughout the 4 acre Carefree Desert Gardens. Visitors are invited to stroll the gardens where Villafane's 3-D characters will be posed.

Photo via Ray Villafane and the Town of Carefree's Enchanted Pumpkin Garden
Haunted Harbor at Lake (un)Pleasant
October 20-21 and 27-28
Dock your boat (and your fears) at Lake Pleasant and take part in Haunted Harbor. Enjoy a hauntingly great Halloween experience complete with lakeside movies, hot air balloon rides, trunk 'n treat, and live music. 
Halloween Spooktacular and Car Show
October 20
Enjoy a night of family fun at the Halloween Spooktacular and Car Show. Admire vintage cars while trunk-or-treating, enter a costume contest, and join a kids' dance party. 
Queen Creek Trunk or Treat
October 21
Trunk or Treat provides a safe environment for families to enjoy an inexpensive evening of Halloween fun in a festival atmosphere. Children trick-or-treat by going from car trunk to car trunk on "Trunk or Treat Street" to get their bag filled with goodies. The event will also feature carnival games, costume contests and a Teen Zombie Film Festival.

Photo via Queen Creek Trunk or Treat
Goofy Ghost Walk
October 21
Embark on a quarter-mile journey through the desert in costume for a chance to see live animals and listen to spooky tales from Ranger B. Gather around the amphitheater for a marshmallow roast at the end of the evening.
Halloween Party and Ghost Hunt Night Hike
October 21
Estrella Nature Center invites families to participate in a Halloween party followed by a ghost hunt night hike. There will be music and dancing, games, crafts, creepy crawlers, and even trick-or-treating with fun surprises everywhere you look. Don't forget to come dressed in costume.
Brick or Treat at Legoland Discovery Center
 October 21-22, 28-29
On select October dates, Legoland Discovery Center will feature Halloween-themed activities to celebrate the spooky holiday, including scavenger hunts, costume contests, mask building and a pumpkin patch. 
Ghostly Stories Festival
October 22
Ghosts gather around for haunted stories with a historical twist. Kids of all ages are invited to wear their spookiest costumes to enjoy snacks, story time, a free book giveaway, and chalk art mural.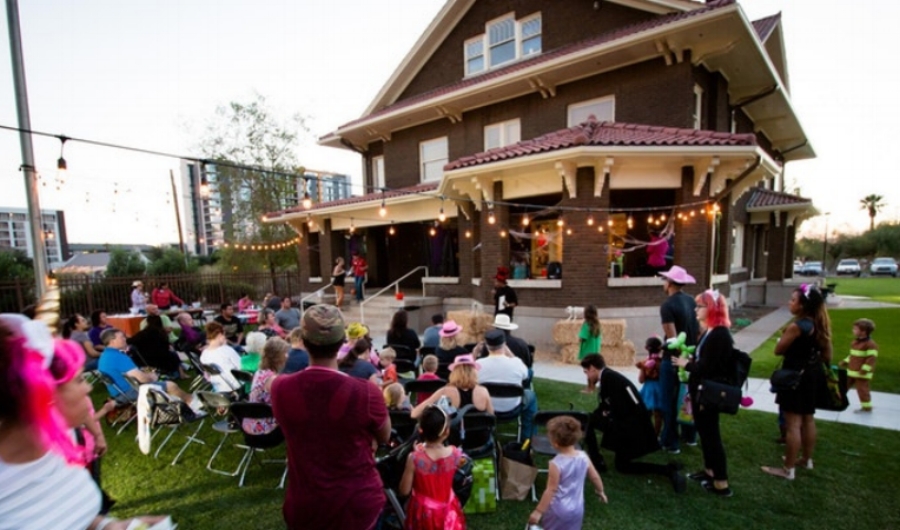 Photo via Ghostly Stories Festival
Chandler's Halloween Spooktacular
October 27
Chandler invites all ghosts, goblins, ghouls, creatures, characters and superheroes to join them for an evening of safe family fun. There will be food, games, arts and crafts, costume contests, souvenir photos, and a Haunted House.
Salt River Fields Balloon Spooktacular
October 27-28
The Balloon Spooktacular features more than 20 hot air balloons on display and 4,000 pounds of candy for trick-or-treaters, live music, food and beverage, a Kids Zone, vendor market, tethered balloon rides, a haunted house, fireworks and much more.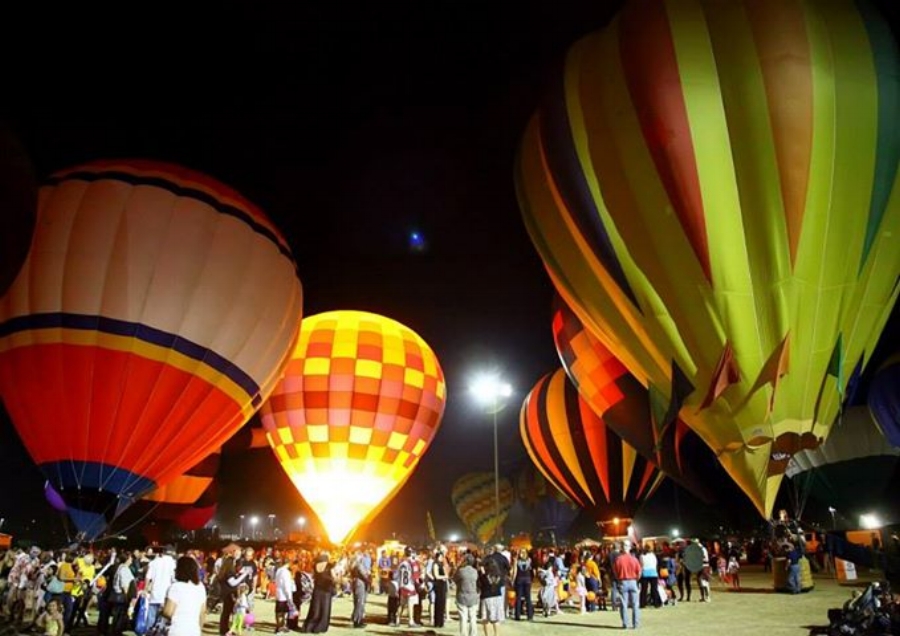 Photo via Salt River Fields Balloon Spooktacular
Strange Garden
October 27-28
The Desert Botanical Garden gets spooky this Halloween. Mad Botanists will dazzle you with stories about peculiar plants and you'll dance 'til you drop at the Monster Bash. Bring the whole family to witness strange sights, fun tricks, and enchanting creatures.
Howl-O-Ween at the Phoenix Zoo
October 27-28
Howl-O-Ween features delightfully spooky experiences for the whole family. Activities are designated as "Merry" for all ages or "Scary" for guests over eight years old who like a good scare. Enjoy themed crafts, a trick-or-treat trail, games and monster mash dance party. And if you're looking for thrills, be careful where you turn: witches, ghosts, and the Headless Horseman could be lurking around the corner.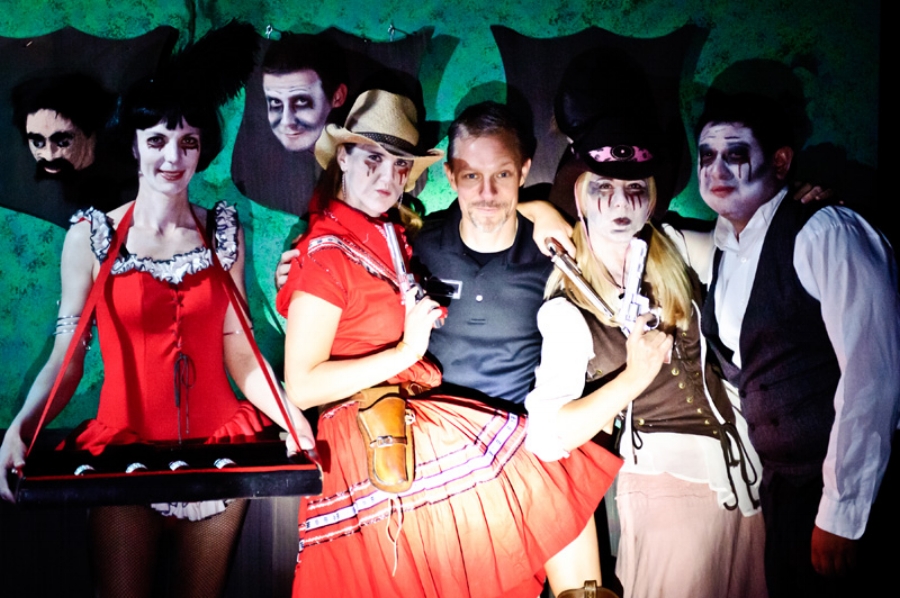 Photo via Howl-o-Ween at the Phoenix Zoo
 
OdySea A-Scarium Halloween Weekend
October 27-29
Head to the Odysea Aquarium for a special Halloween weekend. Come in your best costume and catch Professor Slithers with her creepy crawlers or catch a Ghost Driver on the SeaTrek. Tricks and treats are complimentary for kids and exhibitions are themed throughout.
Zombie Walk
 October 28
Have you been practicing your zombie walk? Slump and limp your way through the heart of downtown Phoenix with the fellow zombie community, featuring live music, food and drink, and a zombification station.
Peoria's Halloween Monster Bash
October 28
The city of Peoria's annual Halloween Monster Bash features a wide variety of family fun including trick or treating, entertainment and contests. It wouldn't be Halloween without candy, so safe trick or treating is held throughout the complex. Additional fun includes a haunted house, inflatables, a rock wall, arts and crafts, carnival-style games and more.
Scottsdale Fall Festival
October 28
Scottsdale's annual Fall Festival invites you to come win candy at the game booths, jump around in one of the many bounce houses, view live entertainment and more. End the evening with a bang by staying for the fireworks show.
Dia de los Muertos Festival
October 28-29
Spirits will connect at the Mesa Arts Center's annual Dìa de los Muertos Festival. The Day of The Dead festival will feature delicious foods, a colorful mercado featuring an assortment of Dìa de los Muertos merchandise, jewelry, arts and crafts.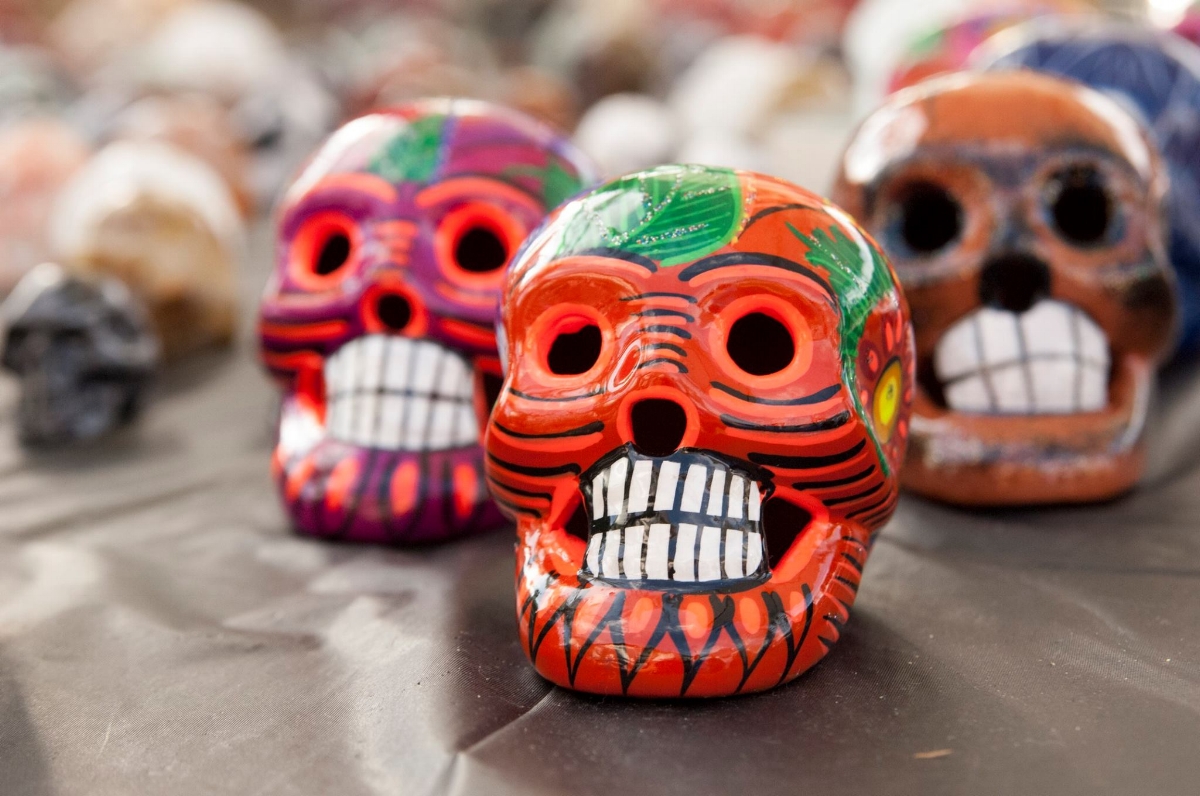 Photo via Dia de Los Muertos at Mesa Arts Center
Cave Creek Wicked
October 28
Join Cave Creek Wicked for its all day and night Halloween event. Bring family, friends, and pets to compete in the costume contest, enjoy live music, visit the petting zoo and have fun with arts and crafts. When the sun sets, a late-night costumed crowd is invited to board a complimentary bus to the town's top saloons for contests, themed cocktails and prizes.
Costume Day at Butterfly Wonderland
October 28
Boys and ghouls of all ages are sure to enjoy Costume Day at Butterfly Wonderland. Score $3 off admission when you come dressed as a butterfly, reptile, or rainforest animal and enter to win a costume contest.
Family Halloween Carnival at Kiwanis Park
October 29
Your family will have a bewitching good time with live entertainment, a costume contest for goblins of all ages, carnival-style games and food booths. The carnival also features bounce houses, train rides and the return of the popular Tot Town, which includes activities for children ages five and under and their parents.
Creepy Candy Crawl at Westgate
October 29
Goblins, ghosts, and ghouls alike are invited to the first Creepy Candy Crawl. Dress up in your best costume for a chance to win a special prize, parade through Fountain Park, and trick-or-treat through the shops of Westgate. 
Dia de los Muertos PHX Festival
October 29
The Dia de los Muertos Phx Festival is an interactive, cultural immersion event blending traditional Mexican experiences with a twist of Southwestern flavor. Bring a blanket or chair and experience a uniquely Arizonan, grass-roots celebration of ancestors and community diversity. Children's activities, art mercado, food booths and many masked performers brings culture to life.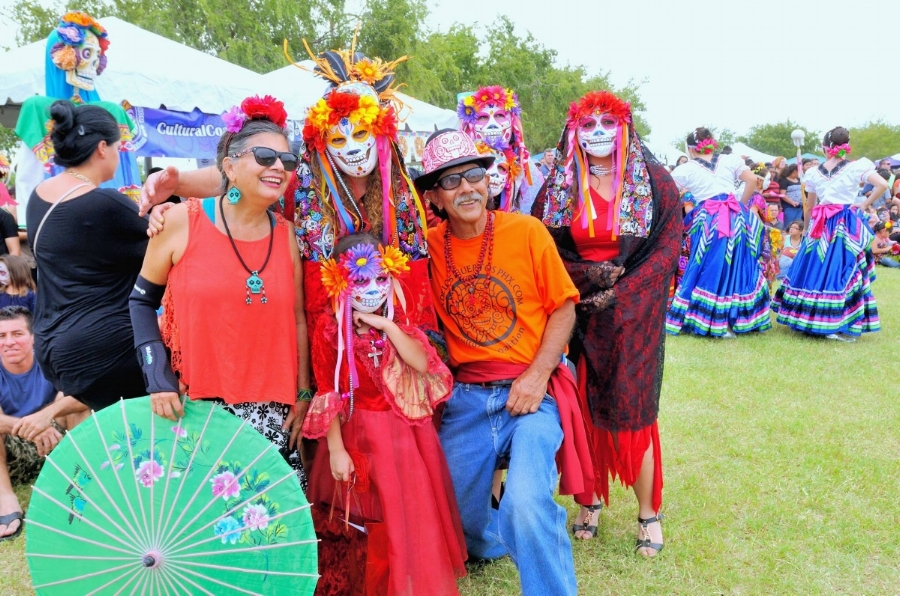 Photo via Dia de los Muertos PHX Festival
Apache Junction Halloween Festival
 October 29
Celebrate the spooky season at Apache Junction's Halloween Festival, featuring games, food, live music, bounce houses, a petting zoo, a costume contest, pumpkin carving contest, Howl-o-ween canine costume contest, and more.
Halloween in the Hills
October 31
Head to Fountain Hills for a scary good time for all ages. Halloween in the Hills features two costume contests for best kids costume and people and their pets, as well as trick or treating, games, a spider village, martial arts demonstrations, music and much more.
SeaLIFE Halloween Spooktacular
Saturdays and Sundays through October
If you've wanted to cross underwater pumpkin carving off of your bucket list, now's your chance! Head to the SeaLIFE aquarium for haunted stories of deep sea creatures, a children's costume contest, and yes, underwater pumpkin carving. 
Spooktacular Mini Golf at Golfland Sunsplash
Daily throughout October
This year, one of Golfland Sunsplash's popular mini golf courses will once again undergo a spooky transformation. While playing on the spooky miniature golf course be sure to avoid stepping through one of the many graveyards. You may also encounter a few spooky costumed characters, but don't worry, they only want to give you a Halloween treat.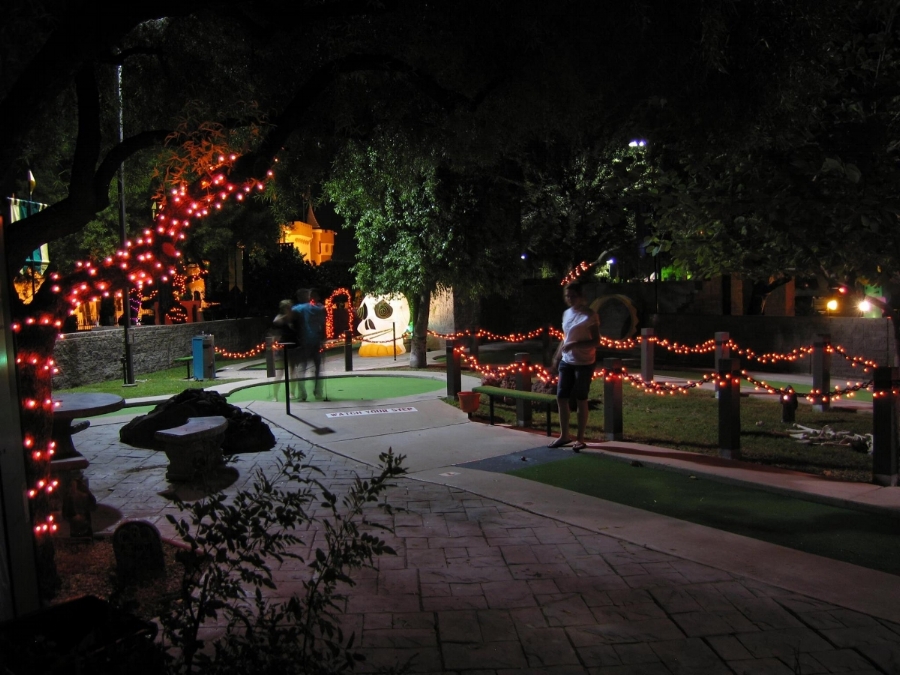 Photo via Spooktacular Mini Golf at Golfland Sunsplash
Dia de los Muertos Celebration
November 4-5
Celebrate Día de los Muertos at the Desert Botanical Garden at this two-day family-oriented festival that uses music, dance and storytelling to explore the beauty and meaning of this special holiday. Children will love the crafts and face painting and the whole family will enjoy the entertainment and browsing the Mercado filled with art, jewelry and other wares.
 
Adult Events
Haunted Hotel Ball
October 28-29
Don your most sultry, gruesome or creative costume, put on your dancing shoes, bring friends and check-in to the Haunted Hotel Ball, an annual Halloween festival of adult fantasy and fun. The bash will feature three epic parties with over a dozen of Arizona's top nightclub and radio DJs at The Saguaro in the heart of Old Town Scottsdale.
Stranger Things Halloween at LUSTRE Rooftop Bar
October 28 and 31
Travel to The Upside Down this Halloween. Transforming into a scene from the 80s, Lustre Rooftop bar hosts a Stranger Things rooftop party complete with a costume contest, ghoulish libations, and a photo booth.
Wicked Ball
 October 29
Treat yourself a night at Talking Stick Resort's Halloween party. The biggest three room bash will feature a carnival room, outdoor ultra lounge and EDM superstar Adventure Club. 
Haunted Houses and Farms
Fear Farm
 October 6-9, 11-15, 18-31, Nov 3-4
Fear Farm is the largest outdoor haunted attraction in Greater Phoenix, with 30 acres of pure terror, 6 indoor/outdoor haunted attractions and, for the faint of heart, a 10 acre corn maze. 
Sanctum of Horror
October 13-15, 19-31
For years, Sanctum of Horror has been scaring Phoenix with breathtaking makeup and incredible detail that will surely frighten the soul. Not only will you be terrified, but be immersed in the Sanctum's world. Will you have what it takes to enter?
Nightmare on Princess Drive: CarnEvil
October 28
Step right up to the most twisted show in Phoenix this Halloween at Scottsdale's Fairmont Princess. The eighth annual Nightmare on Princess Drive returns under the big top for a night of carnival games, specialty cocktails, a live DJ, and a costume contest.
Ahwatukee Haunted House & Hayride
 October 28-30
Enter a world of thrills, chills and terror. Visitors will enjoy a haunted hayride through the park and encounters with various creatures of the night. And just as you thought it was safe, more fear awaits you as you are dropped off at the front of an eerie haunted house. Sweeten up your scary night with free candy.
Mount Mayhem Haunt
October 27-29 and 31
Step onto the haunted grounds of Mount Mayhem, a family-run Halloween display, for a thrilling encounter with creatures of the dusk. As the story goes, these creatures have been swarming among us without any restrictions. It is certain that as the sun sets, they will make themselves known at Mount Mayhem.
Bitter & Twisted's American Psycho Party
October 31
When the sun goes down this Halloween night, throw on your best costume and head to Bitter & Twisted. Order a drink from the custom menu of American Psycho themed cocktails and dance to your favorite 1980s tunes, but make sure to look out for the flying chainsaws.
AZ Field of Screams
 Fridays and Saturdays in October, and October 31
Do you have what it takes to enter the corn field planted over an old forgotten cemetery, where the dead now seek revenge on anyone trespassing on their grounds? Have a screaming good time with your friends and family in this haunted corn maze at Tolmachoff Farms.
Scarizona Scaregrounds
Thursdays through Sundays in October; and October 31
Tour two haunted houses and fight off zombies on a zombie paintball course. Attempt the chainsaw gauntlet to see how fast you can escape! The Scaregrounds also features different nightly entertainment, live bands, DJs, and the Beer and Wine Cemetery where "spirits" come to life.
13th Floor Haunted House
 Select days throughout October
Created by nationally-recognized and award-winning haunted house designers, the 13th Floor will transport you to new levels of horror. Prepare to be terrified by two epic haunted attraction walkthroughs for one all-inclusive price. The 13th Floor is an intense, graphic, theatrical show that will take you on a gut wrenching ride of visceral thrills and psychological horror.
The Gauntlet Haunted House
Select days throughout October
The Gauntlet is a terrifying maze full of heart-pounding terror. This multi-level haunted house contains ground-breaking special effects, animatronics and skilled actors. Participants will be required to crawl and climb over objects and stairs.
The Crypt Haunted Attractions
 Select days throughout October
The Crypt and Asylum houses return with all new scares to torment those who dare enter. For more spine-tingling thrills, enter the haunted Chaos Maze.
The Outbreak at Schnepf Farms
 Thursdays through Sundays in October
The spread of an infectious disease has turned legions of people into zombies. Your mission: Hop in the back of Schnepf Farms' Zombie Combat Vehicles (hayrides) and shoot a paintball gun to protect the farms' fields from the undead.
Performances
Poefest
Fridays and Saturdays throughout October, and October 31
PoeFest—a month-long celebration of the works of Edgar Allen Poe and other horror authors of the era—is not a reading. The actors perform Edgar Allan Poe's stories in character as inmates from a 19th Century asylum for the criminally insane. New thrills await festival-goers this year with PoeFest Séance, an evening that promises creepy demonstrations, experiments, and manifestations.

Photo via Poefest
Ghostfest Improv Marathon
October 13-14
Get in the spirit and with themed acts and performances during Ghostfest, featuring 80 different shows from the sublime to the ridiculous.
Orpheum Theatre Ghost Tours
October 20, 21, 29, 31
Do you believe in ghosts? The historic and amazing Orpheum Theater of Phoenix was saved from the wrecking ball over 25 years ago. Residents of Phoenix are grateful but perhaps not as much as some deceased Phoenicians. Come join us – and them – on a truly unique tour that will take your breath away in more ways than one.
A Vampire Tale
 October 26-28 and November 2-4
Often referred to as the "Nutcracker of Halloween", this very popular, original dance production pre-dates all of the current vampire pop-culture. A Vampire Tale indulges audiences with all of the trimmings: dark and sexy drama, quirky and comedic episodes, and visually stunning dance and aerial feats.
The Woman in Black
October 31- November 4
In a world of eerie marshes and roaring winds lives The Woman in Black. Head out to Playhouse on the Park to watch a thrilling performance this Halloween season. 
Looking for more events? Check out our calendar of Halloween events and our blog of fall festivals.