While most of Greater Phoenix's streets hew to a strict grid pattern, Seventh Avenue takes an unusual swerve as it passes through the bustling midtown neighborhood of the Melrose District.
Thanks to an error made by city engineers in the 1940s, the segment of Seventh Avenue that runs between Indian School and Camelback roads has become known as "The Curve," and you won't find a more colorfully diverse and inclusive community anywhere else in Greater Phoenix.
Once upon a time, buildings in the Melrose District (officially the historic Woodlea Melrose neighborhood) housed dry cleaners and auto repair shops. Today, visitors will find these spaces reimagined into dining hotspots, retro furniture stores, coffee shops and nightlife destinations — all with their architectural heritage intact. One of a few thoughtful new additions is the iconic "Melrose Arch," which greets visitors approaching from the south (driving north past Indian School Road), an artistic touch that's key to defining the neighborhood and its eclectic character.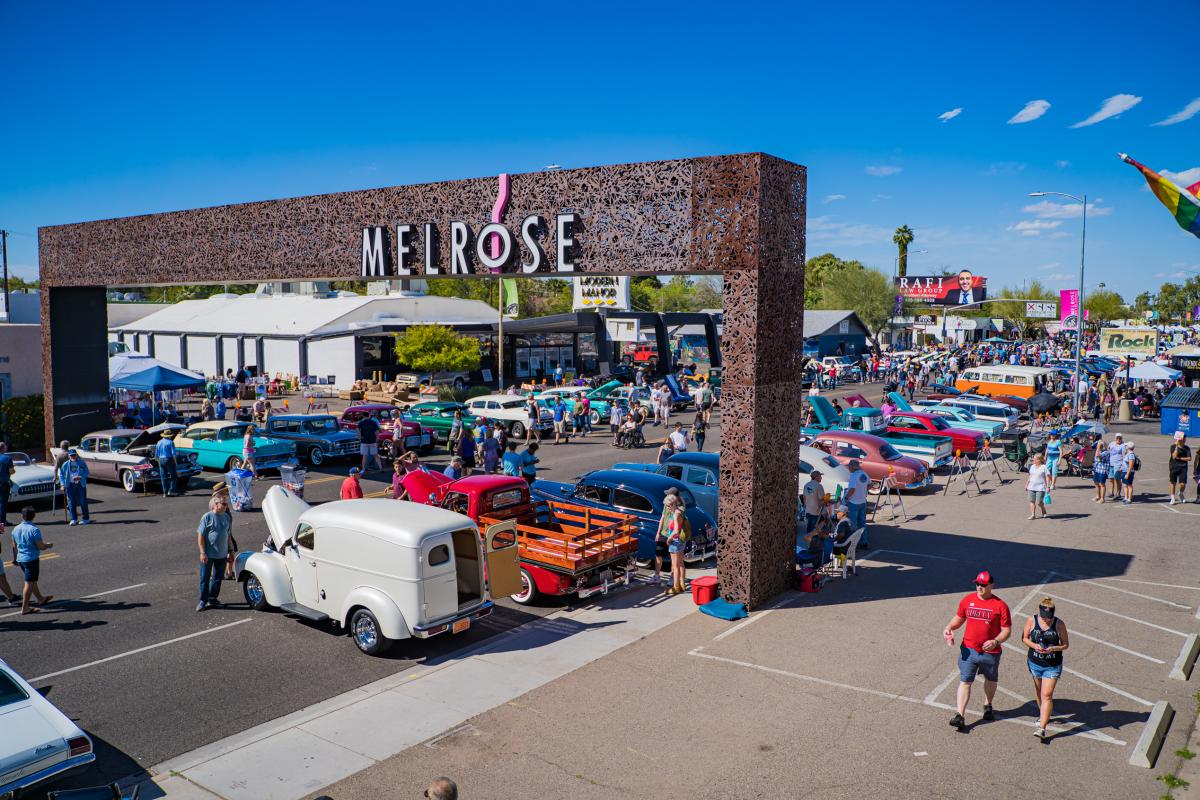 The Melrose Arch during the Seventh Avenue Street Fair on Seventh Avenue. Visit Phoenix/nightfuse.com.

The Googie-style roof and porte-cochere of what was once Paris Laundry & Dry Cleaner, for example, continues to greet guests at what is now Modern Manor, a vintage-furniture showroom. At the northeast edge of Melrose, the developers of Rise Uptown repurposed a pair of 1960s-era office towers by Phoenix architect Fred M. Guirey into the core of a new, midcentury-inspired hotel.

As for things to do in the district, there's plenty.

"Melrose offers the best kind of choose-your-own-adventure game," says Marshall Shore, widely known as Arizona's Hip Historian. who has been hosting events, offering lectures and giving historical tours throughout the state since 2009.

Shore suggests foodies enjoy a multicourse dinner at Restaurant Progress, or pop into the James Beard American Classics award recipient Fry Bread House, a Tohono O'odham owned and operated eatery that's known for its sweet and savory fry bread tacos. For innovative espresso selections or craft cocktails, depending on the time of day, Valentine is a trendy Midcentury Modern tribute to all things Arizona. For no-nonsense drinks, full-size arcade games, a patio that delights and, on occasion, a DJ or special event that beckons, Thunderbird Lounge familiar retro-chic space.

As locals know, Melrose has been a destination for the LGBTQ+ community for decades, thanks to a high concentration of bars and clubs; the perennial rainbow flags that which have turned the nondescript home of Community Church of Hope into a neighborhood landmark; the larger-than-life pair of rainbow wings painted across the north side of Stacy's @ Melrose, which is home to a everyone-inclusive bar, patio and dance floor; Off Chute Too, which is somewhat of an alternative gift shop; and other LGBTQ+ centered spaces.

Enduring favorites include country-themed dance bar Charlie's Phoenix, which opened in 1984, and Pat O's Bunkhouse, which Shore says is housed in a building that several gay and lesbian bars have called home since an even earlier date.

Just a few steps outside Boycott – recently featured in a national documentary called the Lesbian Bar Project as one of the only remaining lesbian bars in the United States – is one of two rainbow crosswalks. Check out additional businesses in our Guide to the Melrose District.

And, earlier this year, transformation of five autobody shops kicked off. The end result, The Royale, will be a gay-owned business complex that will house Cult Hair Salon & Spa, Window Coffee Bar, Stem Swag, Rocco Designs, LIX Uptown Ice Cream and more upon opening in early 2023.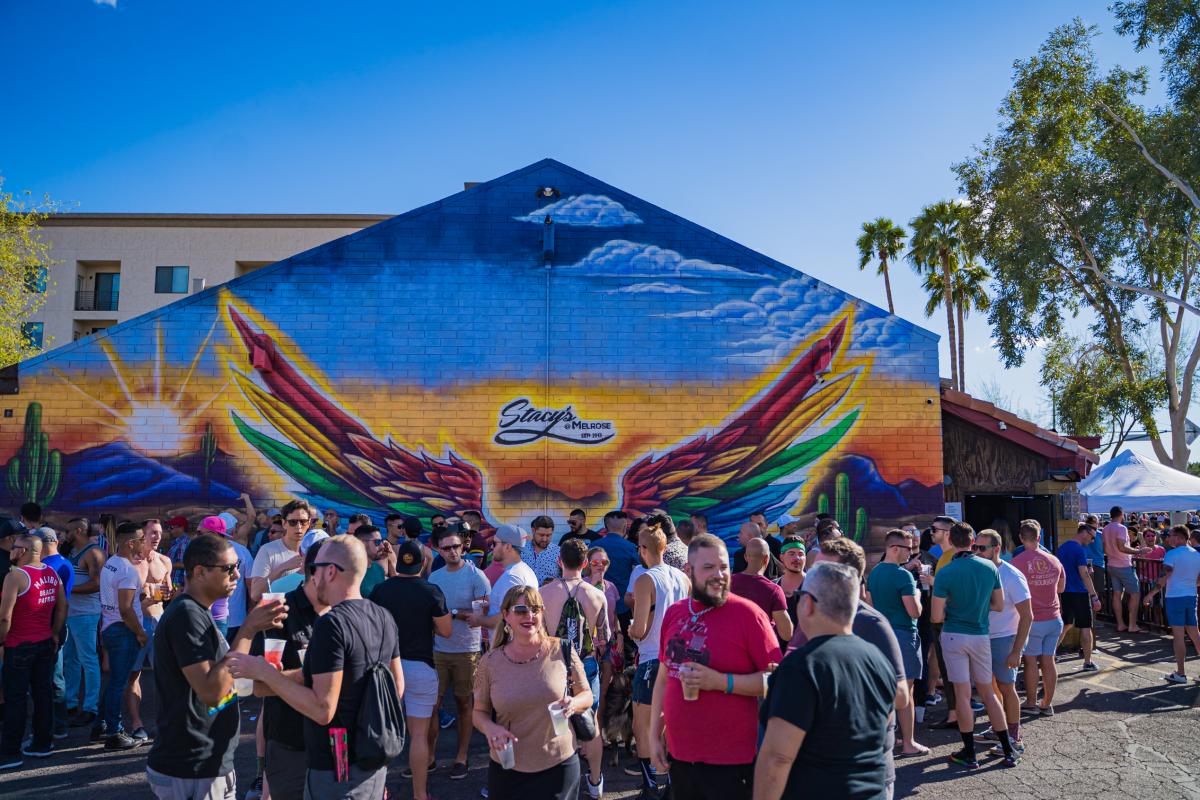 Stacy's @ Melrose is home to one of our most-noteworthy mural walls. Visit Phoenix/nightfuse.com.

Most days, pedestrians are encouraged to stay on Melrose's sidewalks. But one weekend each spring, during the Melrose Street Fair on Seventh Avenue, a large section of "The Curve" is closed to accommodate thousands of attendees who hit the street to check out food trucks, live music, a classic car show, pop-up beer gardens, vendor booths and more. That same stretch of Seventh also serves as a year-round trailhead from which walkers and bikers on the Grand Canalscape, an urban recreational path that's decorated in over 60 murals, thanks to the 2021 Phoenix Mural Fest. (Also check out our first-person account of one writer's adventures exploring the nearby Arizona Canal.)

To encourage smaller gatherings year-round, the Melrose Community Alliance helped turn 11,000 square feet of street-facing open space into The Lyceum, a public park and performance space with an outdoor stage and shaded seating.

"The Melrose District's cultural, ethnic and even economic diversity helps create a neighborhood that exemplifies how successful and attractive a truly mixed community can be," Shore says. When both the city and the community recognize and embrace a gayborhood, and everyone benefits from having a safe space to be themselves.