Heading to Phoenix's East Valley? We've got details on where to eat and top things to do in the cities and communities of Mesa, Tempe. Scottsdale, Queen Creek and more. 
Phoenix is the heart of what we locals call the Valley of the Sun. More than 20 cities and towns comprise this bustling metro area and all have something unique to offer visitors. Over the coming weeks, we'll be highlighting the can't-miss things to do and places to eat in some of the different parts of greater Phoenix.
This post: Things to do in the East Valley, which includes Mesa, Tempe, Chandler, Scottsdale, Gilbert, Queen Creek and more.
Things To Do
Cool off with friends and family on a tubing trip at the Salt River. Experience the beauty of one of Arizona's natural waterways, and be sure to keep an eye out for the area's wild horses.
9200 North Bush Highway, Mesa 85215
480-984-3305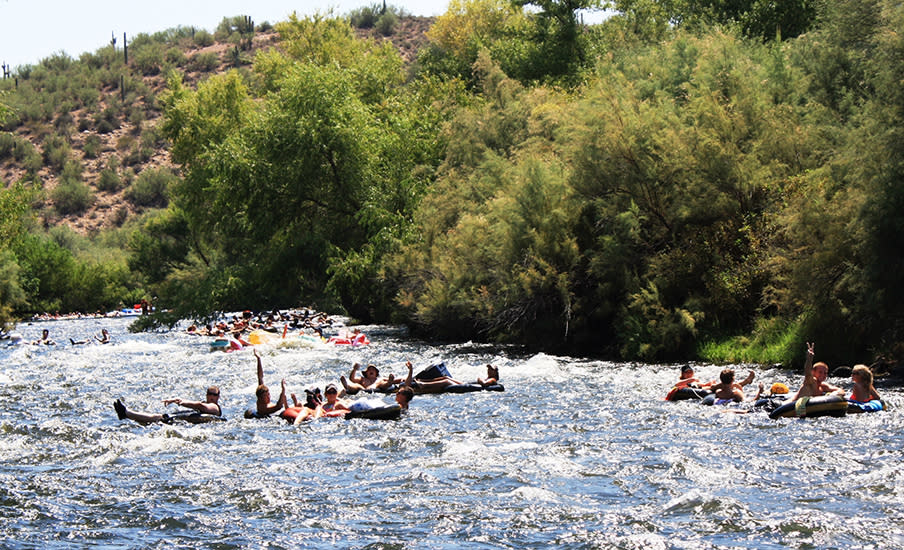 Salt River Tubing
Queen Creek Olive Mill grows and presses olives to produce high-quality extra virgin olive oil on this local family-owned farm. Not only does the olive mill produce olive oil but also cold pressed oils, vinegars, tapenades, and stuffed olives for consumer purchase. Stop by their eatery for salads, sandwiches and more, and check their calendar for a variety of family-friendly events throughout the year.
25062 S. Meridian Road, Queen Creek 85142
480-888-9290
Nestled in the Tonto National Forest in the Superstition Mountains, this 1904 town and stagecoach stop is a must-see when driving the historic Apache Trail. After exploring this historic buildings, hop on a saddle at the bar (yes, the bar really uses saddles for stools) and enjoy a burger, chili, and cold sarsaparilla.
1 Main St, Tortilla Flat 85190
480-984-1776
Hit the high waters of Tempe Town Lake where guests can rent kayaks, stand-up paddleboards, and a variety of watercrafts. And after some fun in the sun, take a stroll down Mill Avenue and peruse the local shops and restaurants.
72 W. Rio Salado Parkway, Tempe 85282
480-303-9803
Have some family fun at Schnepf Family Farm and see their organic gardens and orchards. At the farm, a designated Arizona treasure, guests can visit a country store and bakery along with farm tours, train rides, petting zoo and more. Check their calendar for family-friendly events throughout the year.
24810 South Rittenhouse Road, Queen Creek 85142
(480) 987-3100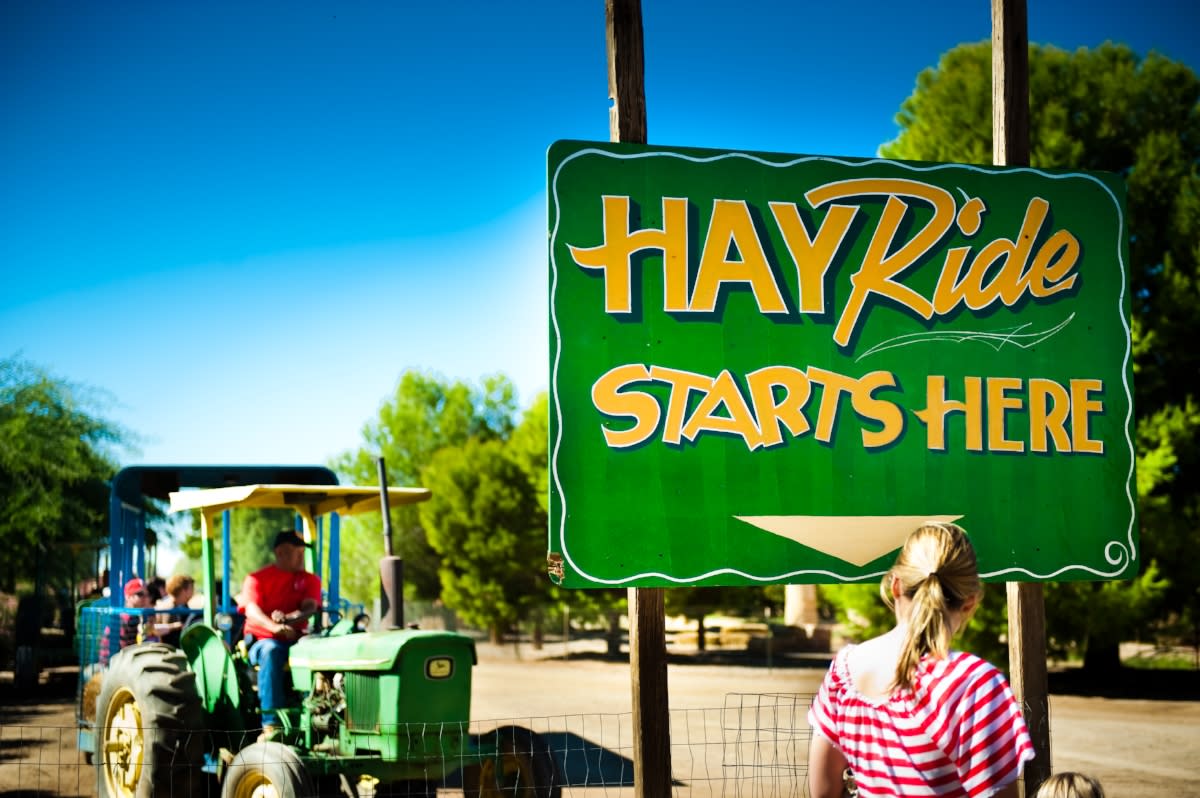 The annual fall Pumpkin and Chili Party. Photo via Schnepf Farms
Fulfill your need for speed at this renowned facility, designed by world champion driver Bob Bondurant. The school lets you get behind the wheel of powerful machines and features up-to-date cars and equipment, such as Corvette C7 Stingrays, and qualified staff to help each driver reach their goals. Check out Radford for a day of racing or program packages that last up to four days.
20000 S. Maricopa Road, Gate #3, Chandler 85226
1-800-842-7223
One of the most beautiful and photographed regions in the state is the Superstition Mountains and Lost Dutchman State Park. Pictures don't do the park justice, especially on a sunny spring day when fields are full of blooming wildflowers. Enjoy the day with a leisurely stroll on one of the park's nature trails or test yourself on their signature Siphon Draw Trail. Siphon Draw can be a brute, but the view at the top is inspiring.
6109 N. Apache Trail, Apache Junction 85119
480-982-4485
Take a trip through history at this museum, which is home to myriad of aircraft on display.  More than 15 aircraft dating as far back as WWI are displayed in full glory. Guests can also take the ride of a lifetime in a restored B-17 Flying Fortress, or one of several other classic warbirds.
2017 N. Greenfield Road, Mesa 85215
480-924-1940
Take a step back in time to the Wild West at Goldfield Ghost Town. Take a tour of the town's historic gold mine and learn about the town's history at the museum. Stay alert when moseying through the town's shops, as an Old West gunfight could break out at any time (all in fun, of course).
4650 N. Mammoth Mine Rd., Apache Junction 85119
480-983-0333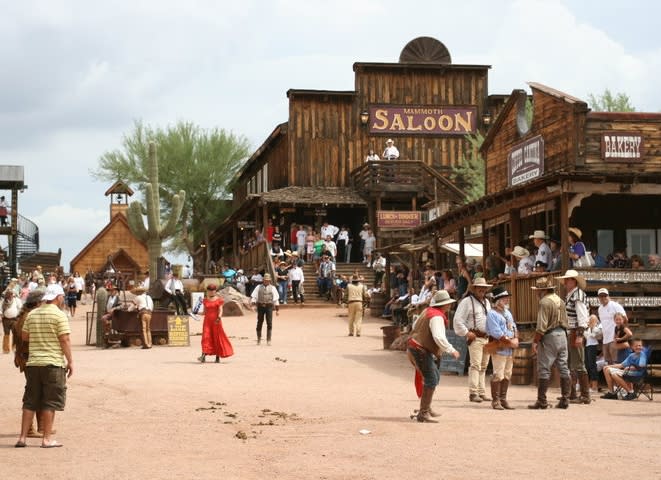 Photo credit: Goldfield Ghost Town
The Sunsplash side features water slides, pools, a lazy river, bumper boats, and splash pads. Golfland has multiple activities including miniature golf, an arcade, laser tag, race karts, and more. Sunsplash is closed during the fall and winter, but Golfland stays open all year.
155 West Hampton Ave, Mesa 85210
480-834-8319
San Tan Village, the largest outdoor shopping center in the region, is the perfect place to fulfill your shopping desires on a sunny day. Apple, Banana Republic, Fossil, and Sephora are just some of the village's featured retailers.
2218 E Williams Field Rd #235, Gilbert 85295
480-282-9500
Strap on your skates and hit the ice and the official training center of the NHL's Arizona Coyotes. Visitors of all ages can participate in public skating sessions and programs, hockey programs, and figure skating. And during the summer months of June, July, and August, the Ice Den converts its third rink from ice to field turf for soccer, lacrosse, flag football, kickball and more.
7225 W Harrison Street, Chandler 85226
480-598-9400
The East Valley is home to a variety of premiere golf courses that fit any budget. Here are some of our top picks:
7555 E. Eagle Crest Drive, Mesa 85207
480-396-4000
2155 S Dobson Rd, Mesa 85202
480-644-2291
Gold Canyon (Two 18-hole courses)
6100 S Kings Ranch Rd, Gold Canyon 85218
480-982-9090
5601 E Longbow Pkwy, Mesa 85215
480-807-5400
Ocotillo (27 holes)
3751 S. Clubhouse Drive, Chandler 85248
480-917-6660
We-Ko-Pa (Two 18-hole courses)
18200 E. Toh Vee Circle, Fort McDowell 85264
480-836-9000
Whirlwind (Two 18-hole courses)
5692 W. North Loop Road, Chandler 85226
480-940-1500
Explore the Sonoran Desert at these Maricopa County Regional Parks
Located in the northeast Valley, this park offers outdoor enthusiasts nearly 40 miles of hiking, mountain biking and horseback riding trails that range from easy strolls to vigorous treks.
16300 McDowell Mountain Park Dr., Fountain Hills 85255
480-471-0173
This 10,000-acre scenic park in the southeast region offers eight miles of multi-use trails. Keep your eyes peeled for javelinas, coyotes, rattlesnakes and more as you hike past saguaros, creosote and more desert foliage.
6533 W. Phillips Road, Queen Creek 85242
480-655-5554
Usery Mountain Regional Park
Adjacent to the Tonto National Forest, this park spreads over 3,648 acres at the western end of the Goldfield Mountains. Soak in the panoramic views of the surrounding region on their signature Wind Cave Trail.
3939 N. Usery Pass Rd., Mesa 85207
480-984-0032
Where to Eat
Originally built in 1892 as a creamery, the Four Peaks Brewery provides a variety of quality beers that are local favorites. Beer fans can't leave Phoenix without trying an 8th Street Ale or Kiltlifter. Four Peaks also serves a menu of quality grub to pair with your beers, with items such as their Southwest burger and tap room tenderloin.
1340 E 8th St, Tempe 85281
480-303-9967
From salads, sandwiches, to fresh pressed juices, the Original ChopShop offers an assortment of dining options to please an array of tastes. The cuisine promotes a healthy lifestyle and aims to brighten your day with their family recipes and seasonal twists of ingredients.
222 E. University Dr., Tempe 85281
480-307-9336
35 W. Boston St., Chandler 85225
480-426-0216
7158 E. 5th Ave., Scottsdale 85251
480-794-1536
It's tough to beat the freshness of ingredients at Joe's Farm Grill. The local favorite, known for their fresh burgers, fries, salads, sandwiches and more, gets many of their veggies, fruit and herbs from the gardens right outside their front door. Joe's has also been featured on Food Network's Diners, Drive-ins, and Dives.
3000 East Ray Road, Gilbert 85296
480-563-4745
You won't find boring ol' lagers at this joint. Named Esquire's best new brewery in the world in 2014, Arizona Wilderness puts their passion into unique brews such as German sour wheat ales and coffee stouts made with locally-roasted coffee and Madagascar vanilla beans. Grab some grub with your beer, such as their Arizona Trail burger or green chili pulled pork sliders.
721 N Arizona Ave, Gilbert 85233
480-284-9863
Englishman Dean Thomas brings his love of pasties to the desert at Cornish Pasty Co. In addition to classics such as Shepherd's Pie and The Oggie, Thomas mixes it up with chicken tikka masala, spicy asiago chicken and other unique pasty combinations.
960 W. University Dr., Tempe 85281
480-894-6261
1941 W. Guadalupe Rd., Mesa 85202
480-838-3586
3800 N Goldwater Blvd., Scottsdale 85251
480-945-1220
SanTan Brewing Company
In the heart of downtown Chandler, SanTan brewery has been providing visitors with specially-tailored craft beer since 2007. SanTan's craft beers have won both state and national awards and they're a frequent participant in local food and beer festivals. Don't miss their weekly live music and award-winning happy hour.
8 S. San Marcos Place, Chandler 85225
480-917-8700
Known for its made-from-scratch breakfast creations, Over Easy is loved by locals for its throwback décor, friendly hospitality and, of course, the delicious food. The Food Network has even stopped by to check out chef Aaron May's fare. Feeling especially hungry/gluttonous? Take on The Wolfpack, which is two eggs, bacon and choice of cheese between two layers of hash browns.
9375 E. Bell Road, Scottsdale 85260
480-270-3447
6451 E. Southern Ave., Mesa 85206
480-832-3447
211 E Warner Rd #103, Gilbert 85296
480-507-3447
4730 E. Indian School Road, Phoenix 85018
602-468-3447
Enjoy rooftop panoramic views of downtown Chandler at The Perch Pub and Brewery. Their courtyard with lush garden landscapes makes a great place to enjoy a craft beer with over 50 tropical rescue birds to keep you company.
232 S. Wall Street, Chandler 85225
480-773-7688
Head to Kai for a fine dining experience that is tough to top. The AAA Five Diamond Award winner features a cuisine that is rooted in Native American culture, specifically the Pima and Maricopa tribes.
Sheraton Wild Horse Pass Resort & Spa, 5594 W. Wild Horse Pass Blvd., Chandler 85226
602-385-5726
It's easy to overlook this charming spot near the Arizona State University campus, but you'll be glad you didn't. The seasonally-inspired contemporary cuisine features unique items such as smoked Texas wild boar and Moroccan fruit and chicken shawarma salad. Their tree outdoor tree-covered bar is a wonderful spot to enjoy a glass of wine on a sunny day.
114 East 7th St., Tempe 85281
480-968-1114
Satisfy your sweet tooth at the award-winning Udder Delights. They craft their ice cream, butter, cheeses and more with fresh ingredients from the nearby Superstition Farm.
Val Vista Towne Center, 1385 E Warner Rd #103, Gilbert 85296
480-507-3859
Don't be scared if you see long lines coming out the doors at Joe's Real BBQ. They keep the line moving at this family-owned joint, and the BBQ, some of the best in the Valley, is worth the wait. With their finger-lickin' fare and motto of "clean, delicious, and friendly," Joe's has become a Gilbert institution.
301 N Gilbert Road, Gilbert 85234
480-503-3805