Make a point of exploring downtown's diverse neighborhoods, where you'll find everything from Major League Baseball and craft beer breweries to galleries showing the works of emerging artists and a bar serving rums from around the planet. Best of all, everything is located a short walk, a brief bike ride or a five-minute car ride away.
With its mix of retail, hotel accommodations, restaurants and nightlife, the CityScape complex takes up two city blocks in the midst of downtown's financial and governmental districts and has spurred a rebirth in the surrounding area.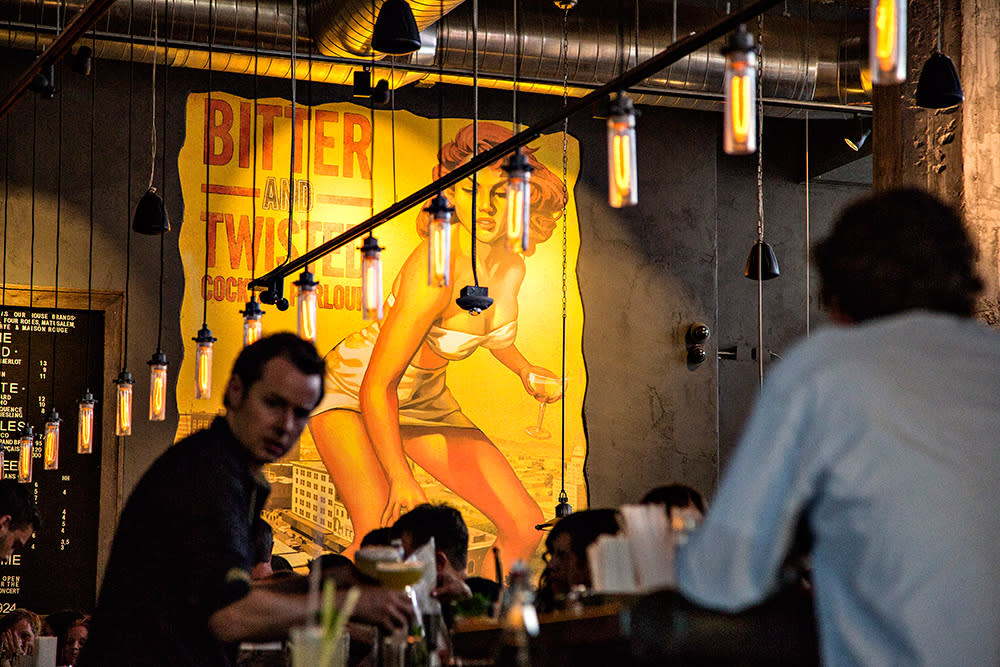 Bitter & Twisted Cocktail Parlour
Do
Local and regional rock bands take the stage above dozens of beer taps at Copper Blues Rock Pub & Kitchen. 
Drink
Located in a historic 1920s high-rise, Bitter & Twisted Cocktail Parlour has a bona fide "Book o' Cocktails" from which you can choose the likes of an Agrodolce (Campari, Curaçao and fruit juice) or straight-up shots of Zubrowka bison grass vodka.
Sister establishment to Bitter & Twisted, Little Rituals offers city views and a sexy, sophisticated atmosphere with cocktails like the Instagrammable and gin-based Big City Nights, decorated with a miniature of the bar's mural printed on edible paper.
At the Kimpton Hotel Palomar Phoenix, Blue Hound Kitchen & Cocktails sports an urban look and is a favorite after-work gathering spot for classic old fashioneds and shareable plates like steak tartare.
The Whining Pig has a rumpus room vibe, where you can try one of dozens of craft beers on tap and play old-school board games such as Operation and Yahtzee.
Eat
Hang on the patio overlooking the CityScape plaza or inside chic, modern Chico Malo, known for its elote and crispy avocado taco appetizers, short rib barbacoa and pozole, not to mention margaritas and sangrias.
The Kettle Black Kitchen & Pub has a cozy, British pub ambiance and a menu laced with fish and chips, pork belly sliders and mussels.
Boasting vintage bungalows, mid-century storefronts and gleaming high-rise condos, Roosevelt Row has become a nexus of downtown's burgeoning art scene and is especially lively on weekend nights.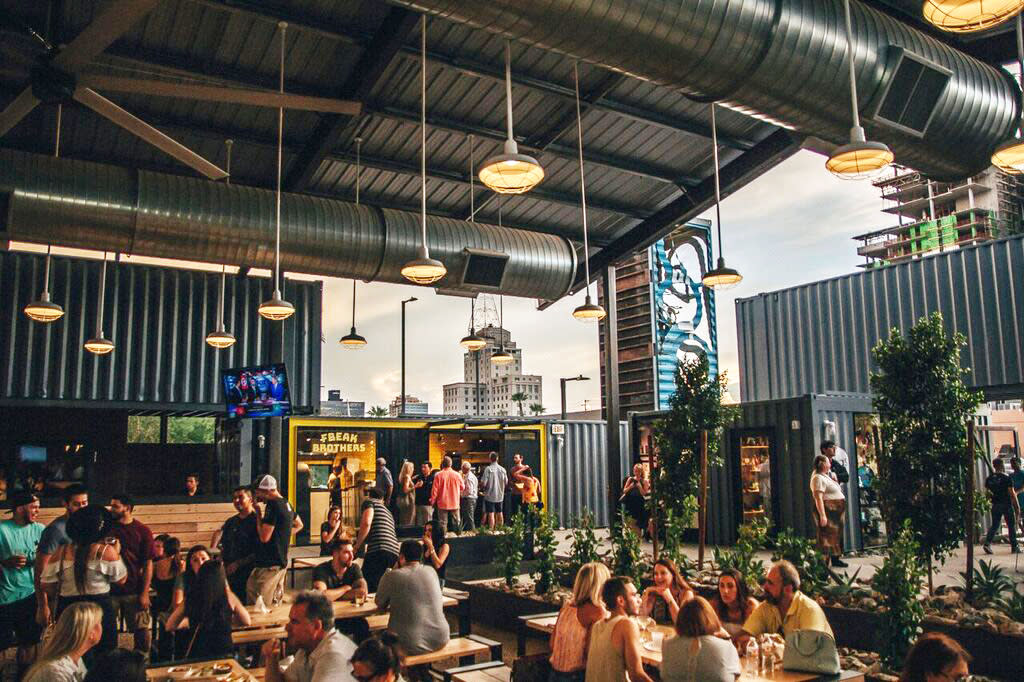 The Churchill
See
Galleries, studios and pop-up art spaces showcase works by emerging Arizona artists. Keep your eyes peeled for colorful murals adorning the sides of buildings.
Do
Phoenix First Fridays and Third Fridays art walks bring out the crowds for free art gallery and cultural venue tours, live music and street vendors.
Check the calendar at Margaret T. Hance Park for outdoor happenings hosted at the park, including the annual live music event M3F, various beer and food festivals and other cultural events.
Meet
Composed of 19 former shipping containers, The Churchill plays host to an eclectic mix of seven bars and restaurants and three retail shops—all surrounding a shared outdoor courtyard with picnic tables and lawn games. Local art and murals, a courtyard and a rooftop deck round out the mix.
Listen
Local and national jazz acts hit the right notes at the intimate venue The Nash, recognized by DownBeat magazine as one of the top jazz venues in the world.
Eat
Urbanistas like Matt's Big Breakfast for its modern-meets-diner ambiance and the hearty, signature Chop & Chick, a skillet-seared pork chop plus two eggs.
Portraits of Frida Kahlo watch over you as you enjoy micheladas, chicharrones and carne asada tacos at Taco Chelo, a collab between chef Suny Santana, restaurateur Aaron Chamberlin and artist Gennaro Garcia.
Next door, the sweet, smokey scent of barbecue wafts through the air at Trapp Haus BBQ, where you can get hot chicken skins, smoked beef brisket, hotlinks and more.
Drink
The Breadfruit & Rum Bar serves up modern Jamaican food in a cozy, leafy setting, but cocktail connoisseurs come for the selection of 150-plus rums from around the planet, not to mention mojitos, daiquiris and a daily rum punch special.
At Arizona Wilderness Brewing Co., many of the ingredients are locally sourced, so feel good about choosing one of the 20-plus beers from their rotating tap list and feasting on a burger made with locally raised, grass-fed beef. The beer garden's convivial atmosphere adds to the fun.
Part of the original townsite of Phoenix, park-like Heritage Square spotlights a collection of museums, as well as preserved 19th- and 20th-century homes and commercial buildings now used as restaurants.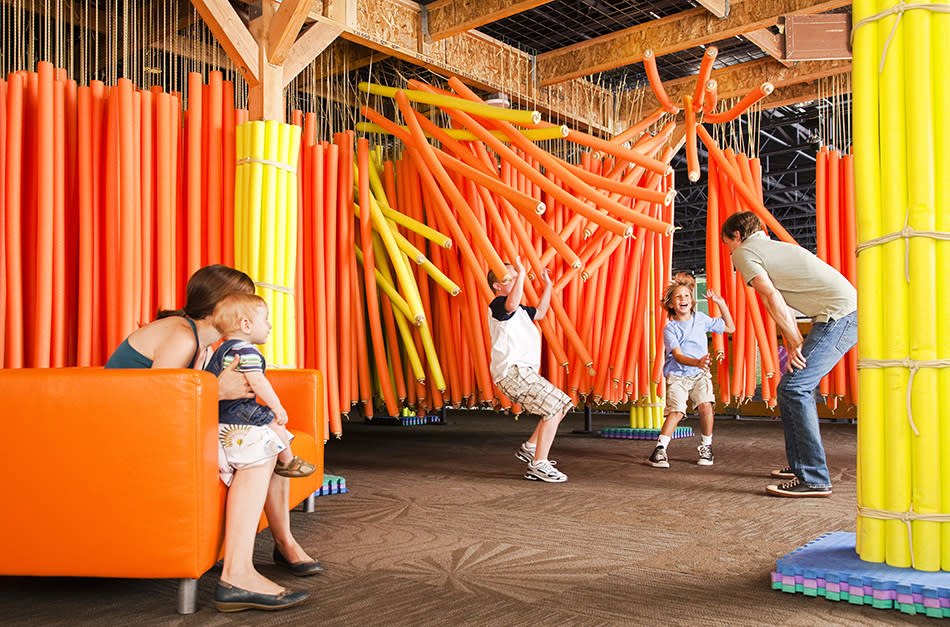 Children's Museum of Phoenix
Do
Catch an Arizona Diamondbacks baseball game at Chase Field, with its impressive structure forming a modern backdrop to Heritage Square.
Meet
The square's Lath House Pavilion won architecture awards for its contemporary take on a 19th-century garden gazebo and easily accommodates big outdoor events. Smaller group? Try the adjacent indoor meeting rooms.
Eat
James Beard Award-winning chef, Chris Bianco, serves up what's said to be the best pizza in the country at his Pizzeria Bianco, housed in a historic brick industrial building.
See
In town with kids? Wear them out at the super-interactive Children's Museum of Phoenix, housed, appropriately, in a historic elementary school.Kids and adults alike will be mesmerized by exhibits that explore the natural and technological worlds at Arizona Science Center.
Industrial buildings and warehouses that served Arizona's citrus and cotton markets during the early 20th century have now blossomed into office space for tech startups, galleries, studios, restaurants and venues.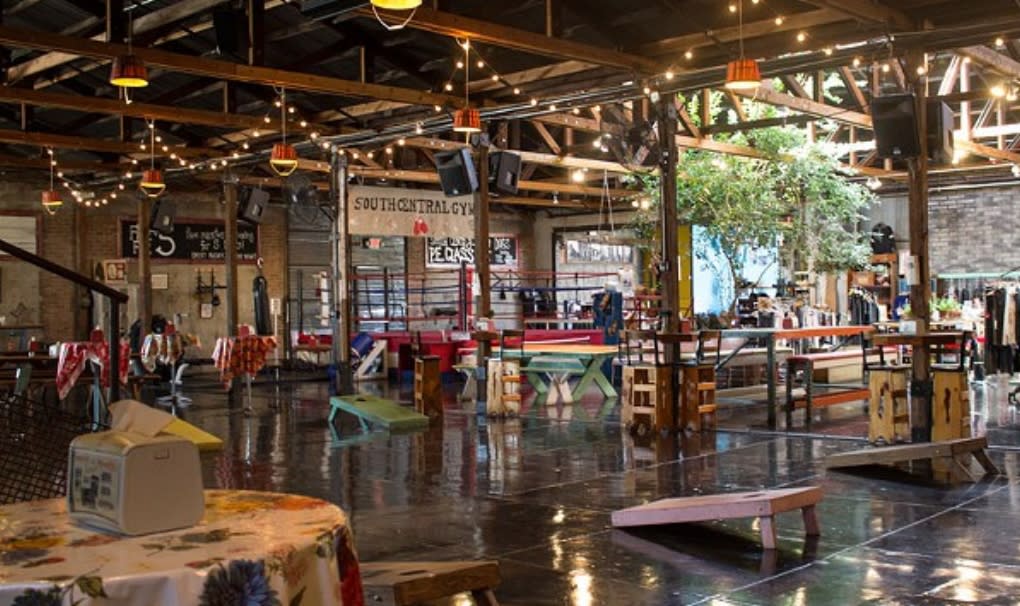 The Duce
Meet
The Croft Downtown features more than 100,000 square feet of rustic elegance with numerous rooms to suit various occasions. The charming veranda comes alive at night with cozy bistro lights.
Listen
Cozy, intimate Last Exit Live hosts diverse music acts, both local and national, on a stage framed by a red velvet curtain.
Do
Play foosball, get in the boxing ring or shop for home accessories at The Duce, an eclectic warehouse where you can also sip a Harvey Wallbanger or order grub cooked in a vintage Airstream trailer parked inside.
Eat
With concrete floors and modern art on the walls, The Larry — located at Galvanize, a former warehouse-turned-coworking and tech-education space—has an urban appeal and serves as the neighborhood's hangout, offering caffeine and avocado toast in the a.m., then segueing into craft cocktails and pizzas as the day progresses.
This article originally appeared in the Visit Phoenix 2020 Meeting & Travel Planner Guide.